Home
CATEGORIES
LGBTQ
Indian Territorial Army officers distribute essential kits to sex workers and transgenders...
Indian Territorial Army officers distribute essential kits to sex workers and transgenders in Mumbai
The nationwide lockdown has gravely impacted several communities. The most affected of these are commercial sex workers, transgenders, daily wagers hailing from the overpopulated slum areas. In an attempt to support the vulnerable groups in Mumbai, three officers of the Indian Territorial Army have come forward to distribute ration and hygiene kits.
The undertaking was successfully conducted in association with Mumbai Police, with the assistance of Additional Commissioner Central Region, Veeresh Prabhu, IPS. Essential kits were arranged and sponsored by NASSCOM Foundation, the social arm of the

IT-BPM industry body, working towards the goal of social transformation

.
The initiative was undertaken by Major Pradeep Arya, IRS, SC; Captain Neil Shaji, VSM and Major Sanjay Raole to aid the vulnerable groups who lost their livelihoods due to the COVID-19 pandemic. They successfully distributed these kits in the streets of Kamathipura and Falkland regions of Mumbai, home to innumerable sex workers and transgenders. This community is particularly hard-hit as their source of income is incurred daily.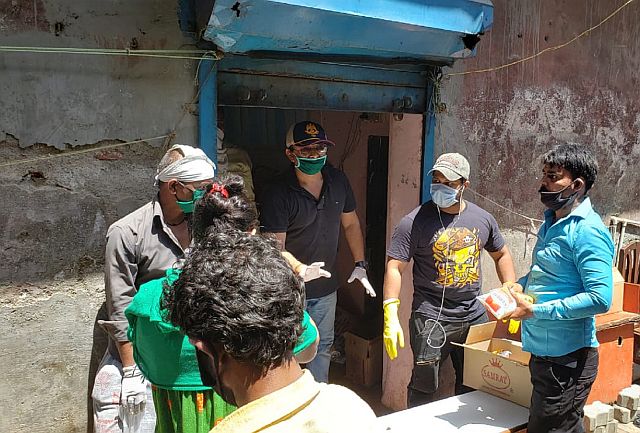 These kits contain 5 kg of wheat flour, 5 kg of rice, 2 kg of tur dal, 200 gms of turmeric powder, and chilli powder. Along with the ration kit, 3 soaps, 2 detergent soaps, hand wash and sanitary napkin are also being distributed as part of the hygiene kit.
"With the support and assistance of Mumbai Police and partnered NGOs, we were able to swiftly implement the first stage of this course. The distribution of the necessary kits began on 22nd May and is to continue among other sectors and regions of Mumbai. Catering to the basic needs, each kit will contain not only groceries but also hygiene products. We aim to distribute 4500 ration kits and 4500 hygiene kits in the first stage," said Captain Neil Shaji. Additionally, these assorted essential kits will also be distributed to similar regions of Sion-Agripada, Cotton green, Charni Road and Kandivali.
"A large number of livelihoods are affected by the lockdown, so as our duty we will continue to work towards the relief for the vulnerable groups in the days to come," said Major Sanjay Raole.
The officers received the support of NGOs like Prerna Foundation, Apne Aap Collective, Rescue Foundation for their work with the Community Sex Workers and Arju Foundation for their assistance with the transgender community.
Disclaimer: This media release is auto-generated. The CSR Journal is not responsible for the content.