Coming five months after India announced a national ban on animal testing for cosmetics, the ban on import of all cosmetic products which have been tested on animals comes as a breakthrough victory for pro-life groups fighting all over the world, through Beauty Without Cruelty and other campaigns to prevent cosmetic giants to stop using animals to test their products. Humane Society International (HSI), one of the largest global campaigning bodies on animal cruelty had petitioned the Ministry of Health earlier this year with over 70,000 signatures requesting the import ban. The imposition came into effect earlier this month on 13 November, 2014.
Alokparna Sengupta, Humane Society International/India's Be Cruelty-Free campaigns manager, said: 'With this historic ban on the import of newly animal-tested cosmetics, India has made history for animals in South Asia. This is a huge achievement that could not have been possible without the compassion of our government, consumers and industry. We feel confident that if this vision is applied to other areas of product testing, this can be a defining moment in the modernization of India's safety science, with potentially hundreds of thousands more animals spared pain and suffering.'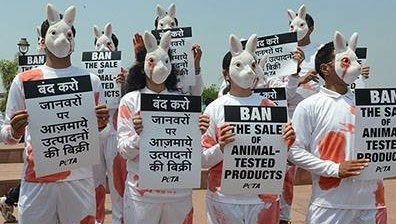 Millions of cat, mice, rabbits and other animals are maimed, injured and poisoned through cruel tests every year in order to evaluate toxicity of consumer products used by humans. The infamous L50 test that was introduced during World War 1 and still continues today. The test involves administering doses to animals until 50% of them die. There are several reasons apart from animal welfare, to not use animals for the testing products. One reason that makes this practice self-defeating in it's main purpose is that different species may react differently to exposure to the same chemicals leading to erroneous results.
India's dual test and import ban mirrors that of the European Union and is the latest victory in a string of achievements for the Be Cruelty-Free campaign globally. Earlier this year, Be Cruelty-Free campaigners in Australia, Brazil, New Zealand, Taiwan and the United States all celebrated the introduction of bills proposing national cosmetic animal test bans. Efforts by Be Cruelty-Free China also resulted in China's removing mandatory animal testing for many domestically-produced cosmetics.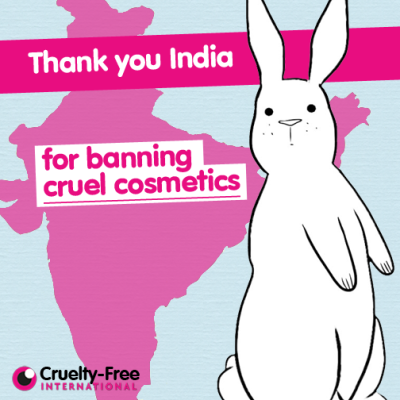 Besides causing cruelty to the animals the cosmetic industry is also causing incalculable harm to the environment. This is more so in Asia where a growing population and burgeoning middle-class, is creating heavy demand for cosmetics & personal care products. Consequently cosmetic and ingredient firms in the region are coming under pressure to reduce their environmental footprints.
Customers need to be more discerning as well. They can play an important role in putting caution on the cosmetic producers. Saying no to cosmetics which involve animal testing & degrading environment footprint can be a good way to get started. Opt for brands that declare themselves cruelty free. Customers can look out for a certified Vegan logo or a PETA logo that declares that the product and their ingredients are cruelty free. Or look out for a Leaping Bunny sign that signifies that the product is animal friendly. Products manufactured by the well established brand names which are certified to be produced out of organic, chemical free, natural and herbal ingredients is another way to go. In the past few years many such ethical, sustainable brands have created a presence in the Indian market and along with many new and upcoming enterprises so if you are thinking of going switching over to a cruelty free & environmentally sustainable products there are many options to choose from.
Here's a quick look as some sustainable beauty and personal care brands in India.
Here's a quick look as some sustainable beauty and personal care brands in India.