Home
Press Release
CSR News: Joy Personal Care distributes 1 lakh hygiene kits to sex...
CSR News: Joy Personal Care distributes 1 lakh hygiene kits to sex workers and transgenders in Kolkata
Joy Personal Care (from RSH Global Private Limited) has launched a drive to help ensure the safety and sanitisation of one of the most marginalised and neglected communities during the pandemic. This CSR initiative has distributed over one lakh hygiene and personal care products to underprivileged transgender and sex workers amidst the COVID-19 pandemic in Kolkata.
While people in India are doing everything they can for the welfare of the underprivileged groups amidst the pandemic, sex workers and transgenders are amongst the worst hit and in need of hygiene and personal care kits more than ever. Their source of income has largely ceased as a result of social distancing and lockdown measures, making it difficult for them to make their ends meet.
Additionally, the residents of the red-light area in the city live in smaller rooms with about 10 to 12 people making it difficult to practice social distancing. They also share a common bathroom which often does not have adequate water supply or appropriate sanitisation norms. Hence, providing them access to personal hygiene products to help them maintaining sanitisation is of utmost importance for this community.
The Personal Care Company recently launched 'Joy Pure & Safe', its range of hygiene products and wanted to make a humble offering by providing personal sanitisation products to them. The brand partnered with renowned NGOs – Sombhabona and Durbar Mahila Samanwaya Committee who have been doing a commendable job for the welfare of sex workers and underprivileged transgenders.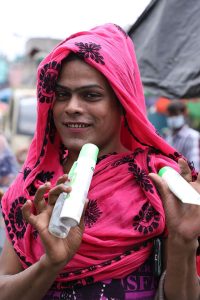 Sunil Agarwal, Chairman, RSH Global, said, "The COVID-19 pandemic has given a chance to all corporates to showcase their solidarity and inclusiveness, but we realised that unfortunately the most vulnerable members of society have been largely ignored. These people are participating members of the economy, invisible, unfortunate and marginalised though they may be. Times of crisis do not exclude them: they hit them harder. The most vulnerable in society are always most easily ignored and forgotten, we wanted to make a small yet significant change in their hygiene conditions by distributing these products & we will continue to extend support in future."
Poulomi Roy, Chief Marketing Officer, RSH Global, said, "While sex workers have lost business as a result of the coronavirus pandemic shutdowns; underprivileged transgender has also been severely financially compromised. The COVID-19 pandemic has created a catastrophic health and economic crisis for them. Therefore, Joy has launched a humble CSR initiative aimed at improving the personal hygiene conditions of the sex workers and transgender community to support them during the pandemic."
A representative at Durbar Mahila Samanwaya Committee, said, "We are extremely happy to join hands with Joy Personal Care in their endeavour to spread awareness on the importance of hygiene in the fight against COVID-19, especially amongst the marginalised sex workers and underprivileged transgenders. We wish more brands come ahead with similar initiatives." A rep at Sombhabona, said, "This is a wonderful addition in the transgender care and contribution support work that we've been doing for years. Hope other brands realise the importance of the welfare for the transgender community."
Disclaimer: This media release is auto-generated. The CSR Journal is not responsible for the content