A water ATM reduces the dependence of citizens on packaged drinking water, which otherwise is an expensive option, especially for those living in rural areas.
The United Nations recognizes access to clean water as a basic human right. Yet, the World Resources Institute (WRI) found that over 100 million people in India are living in areas where water is severely polluted. The Government of India estimates that 70% of available water is unfit for consumption without prior treatment. The WRI research also shows that 54% of the nation is facing high to extremely high water stress and this is only bound to get worse.
To address the grave problem of accessibility to water, Parag Agarwal started JanaJal back in 2013. This initiative help in tackling the problem of water scarcity as JanaJal works with an AAA philosophy which is making safe water "Available, Accessible and Affordable".
Its focus lies only on potable water that is used by households daily for drinking and cooking. This is done by installing, operating and maintaining water ATMs at various public places such as railway stations, bus stands, places of religious worship, urban slums, etc where the need for water is acute.
What is a Water ATM?
Water ATMs are automated water dispensing units, which provide communities with 24/7 safe water access. They are solar powered and cloud connected, thus enabling remote tracking of the water quality and of each pay per use transaction.
Revenue streams
Before JanaJal, Sarvajal was started by the Ajay G. Piramal Foundation, the corporate social responsibility arm of the Piramal group, in August 2008 as a charitable initiative in the village of Bagar of Rajasthan. But it soon became a regular business venture when its founders realised people were ready to pay for safe drinking water. Initially bootstrapped by its founders, in February 2017, JanaJal secured an investment of $5 million from Tricolor Cleantech Capital, a social impact fund based in the US.
Another company, Waterlife was the brainchild of three idealistic young men, Sudesh Menon, Mohan Ranbaore and Indranil Das, who quit jobs with multinational companies to set it up in January 2009. Thus Waterlife embarked on a public-private-partnership model which was unique at the time: the three men persuaded state governments to let them maintain the water purification plants the states were setting up, charging a user fee from customers for doing so.
JanaJal is a social enterprise that installs, operates and maintain water ATMs using its own capital investment under concession of a minimum of five years to make safe drinking water available to the people. Revenue is generated from the consumer who pays for the water based on their requirement, the company utilizes this revenue for installation and maintenance of more Water ATMs.
Urban flow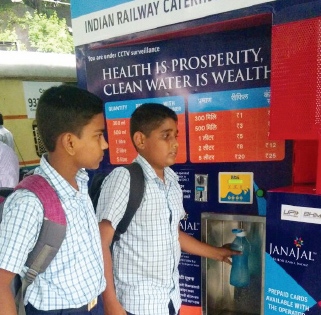 JanaJal has installed the first 26 water ATMs out of a total of 75 water ATMs in the NDMC in the heart of New Delhi. The project is expected to be one of the largest clusters of water ATMs in any urban area in India and will serve at least 50,000 citizens daily. The project is part of a plan to install largest decentralized footprint of water ATMs under PPP model in Delhi NCR. The plan includes operating fixed and WOW – Water on Wheels – mobile water ATM for delivery of safe water and dispensing at various public places.
The enterprise has commissioned almost 100 water ATMs in association with IRCTC and Indian Railways at various stations in Mumbai such as Borivali, Panvel, Kalyan and Chembur extending up to Khopoli, Lonavala and even Igatpuri.
Employment generators
These companies additionally create jobs for the youth, impart training and upskill them to work as operators on water ATMs thereby earning a livelihood. In 2017 alone, JanaJal created over 350 jobs and aims to touch 1,000 by the end of 2018.
Bouquet of benefits
A water ATM machine brings several advantages for citizens:
1. It dispenses safe and pure water 24/7 round the year. People can purchase water on the 'pay per use' basis as and when they want.
2. Can be installed in schools, hospitals, bus/railway stations or community meeting places.
3. Saves the time and efforts that people spend on travelling or standing in queues to fetch safe and pure drinking water. They don't have to skip schools or work.
4. People learn to use water prudently as they have to pay for it; even it is a nominal cost.
5. Water ATMs reduce the generation of empty plastic bottles that are considered to be the biggest pollutant of the environment.
These and other advantages make water ATMs the modern solution we've all been looking for, to solve the issue of water scarcity.