Top 10 Indian companies for CSR in 2020
The verdict is out. Infosys has beaten Tata Chemicals for the Number 1 position in our 2020 India sustainability and CSR chart. Tata Chemicals held the top spot for three consecutive years, until now. Infosys was the second ranker in 2019, and has risen to numero uno for CSR in 2020. Infosys Foundation Chair Sudha Murthy's loving perseverance in supporting the most deserving has left a deep impact on other businesses to do social good. All the companies mentioned in this list are responsible businesses that place

corporate social responsibility (CSR)

high on the agenda.
CSR in 2020
Implementation in 2020 is a mixed bag, what with COVID-19 activities taking up the biggest chunk of funding. A number of cyclones and floods wreaked havoc in large parts of the subcontinent. As a result, funds were also directed to disaster relief operations in Assam, Kerala, Bihar, Odisha and West Bengal. Sustainability and CSR in 2020 is a work in progress, since we haven't reached the year-end yet. However, these rankings take into account the FY 2019-20 CSR projects which have been running since last year. Factors we took into account were impact assessment, compliance, funding and implementation on ground.
Which Indian companies topped CSR in 2020?
Tata Chemicals has dropped to the third position after being No. 1 for the past three years. Infosys has climbed one spot. Mahindra & Mahindra has climbed two spots to claim the second rank in the top 10 Indian companies for CSR in 2020. ITC has also climbed up from No. 5 to the fourth position this year. The Vedanta Group has outdone itself in the corporate citizenship realm, making it to the top 5, from its previous 8th rank. A new entry on the chart is Grasim Industries. The part of the Aditya Birla Group, Grasim won numerous awards for its flagship programmes. Without further adieu, here's our top 10 for CSR in 2020.
1. Infosys Limited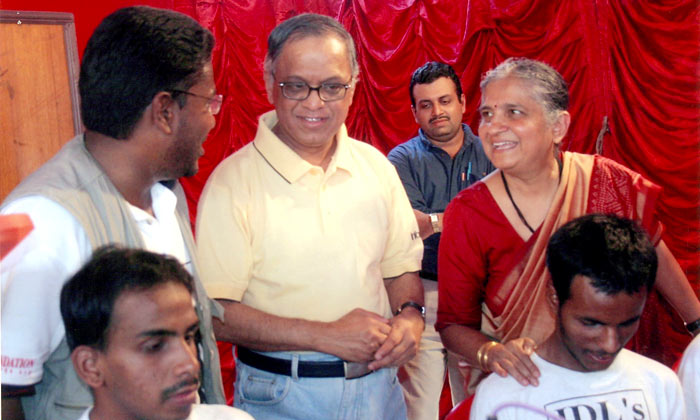 "CSR can't be merely a job, it's a passion," says Sudha Murthy, Chairperson, Infosys Foundation, the CSR arm of IT services conglomerate Infosys. The company spent nearly Rs. 360 crore towards various CSR schemes this year. COVID-19 relief work dominated the activities, with education and health-related programmes following after.
Among the

main CSR initiatives

in the financial year 2019-20 were a 100-bed quarantine setup in Bengaluru in partnership with Narayana Health City, and another one which had 182 beds for COVID-19 patients for Bowring and Lady Curzon Medical College & Research Institute.
Infosys Foundation primarily works with non-governmental organizations as the nodal agency for implementing projects. Highlights of the Foundation's interventions in the past include the introduction of Aarohan Social Innovation Awards, restoration of water bodies in Karnataka, enabling the pursuit of access and excellence in sports through the GoSports Foundation, and disaster relief efforts in Tamil Nadu, Karnataka and Kerala.
2. Mahindra & Mahindra Ltd.
Anand Mahindra, Chairman of the Mahindra Group, declared a series of interventions after the pandemic hit the nation, from manufacturing ventilators to using Mahindra Holidays resorts for COVID-19 patient care. Project teams have assisted the Government and the defence forces to build quarantine facilities. The company has set up a special fund through the Mahindra Foundation to assist small businesses and professionals who have been affected financially. The chairman donated 100% of his salary to the fund, and urged his colleagues to volunteer their contributions.
Mahindra & Mahindra spent INR 93.50 crores on CSR initiatives during the financial year 2018-19, according to the annual report published by the company. The company spent INR 8.36 crore on Project Nanhi Kali which provides educational support to underprivileged girls in India through an afterschool support programme. Through Mahindra Hariyali 0.95 million trees were planted which contributed to improving green cover and protecting bio-diversity in the country. Of these, 0.83 million trees were planted in the Araku valley, which besides greening the environment also provided livelihood support to tribal farmers growing coffee in this region.
3. Tata Chemicals Ltd.
Although the prescribed CSR for 2019-2020 was 21.39 Crores, the company went on to spend 37.81 crores on community development projects. Improving the quality of life and fostering sustainable and integrated development in the communities where it operates is central to Tata Chemicals' corporate philosophy. Tata Chemicals spends INR 12 crores on CSR annually, and wildlife conservation accounts for 30% of the budget of the TCSRD. The spend is distributed over the three places the company has operations — Mithapur in Gujarat, Haldia in West Bengal and Babrala, Uttar Pradesh.
Tata Chemicals established Tata Chemicals Society for Rural Development (TCSRD) in 1980 as a society and trust. It lays emphasis on the spirit of participatory development by involving the beneficiaries at each stage of the development process which ensures viability and sustainability of the programmes.
4. ITC Ltd.
The Indian multinational conglomerate company headquartered in Kolkata has spent more than the prescribed CSR budget in the last three financial years.

CSR of ITC

Limited set up a COVID Contingency Fund of INR 215 crores for those affected. Together with local authorities, they distributed cooked meals, food and hygiene products across 25 States and Union Territories.
Responding to the needs arising out of the unprecedented lockdown, ITC has spearheaded a CSR initiative to enable the creation of an eco-system that would lead to significant livelihood generation for farmers and daily wage earners under the ambit of the Government's MGNREG Scheme.
ITC is among the top Indian companies for CSR because it believes that in the strategic context of business, enterprises possess, beyond mere financial resources, the transformational capacity to create game-changing development models. In line with this belief, ITC crafts unique models to generate livelihoods and environmental capital. Such corporate citizenship interventions are far more replicable, scalable and sustainable.
5. Vedanta Ltd.
Vedanta Limited on a consolidated basis spent INR 309 crores on social investments and CSR (Corporate Social Responsibility) activities. This is 26% more than the previous year's INR 244 crores. This money is spent across 1,169 villages, benefiting nearly 3.1 million people.
Vedanta has a large and complex CSR portfolio with multiple and diverse projects running across various locations. There are 10 broad thematic areas under which, it undertakes community development projects. The Nandghar Project is among the flagship initiatives, which aims to re-build Anganwadis for ensuring the health and learning of children in rural areas, and also for becoming a platform of women's empowerment and skilling.
6. Wipro Ltd.
Wipro has spent more than the prescribed CSR budget in the last three financial years. The implementation of the CSR programmes happens through multiple channels – Wipro Foundation, a separate trust set up in April 2017, Wipro Cares, the trust for employee contribution and in some cases, directly through functions and groups within Wipro Ltd. The implementation approach of Wipro is to primarily work through partners with established track records in the respective domains. The majority of projects are long-term multi-year programmes.
Wipro's work in primary health care from 6 projects across four states touches the lives of more than 70,000 people. Apart from providing regular health services, the emphasis is also to build the capacity of the communities in terms of higher awareness and developing a higher degree of self-reliance to handle their own primary health care needs. In terms of disaster management, Wipro has helped rebuild the lives of people affected by Karnataka Floods, Bihar Floods, Odisha Floods, the Japan Tsunami, Hurricane Sandy and Philippines Cyclone.
7. Hindustan Unilever Ltd.
Hindustan Unilever Limited (HUL), has spent INR 126. 45 Cr crore during FY 2018-19 towards various schemes of CSR and Sustainable Development programmes.
The company has

various flagship programmes

including Swachh Aadat Swachh Bharat, Lifebuoy Help a Hand Reach 5, Water For Public Good (water conservation), Project Shakti (women empowerment), Project Prabhat (sustainable community building), Domex Toilet Academy and Asha Daan.
HUL has pledged INR 100 crores to help the administration fight Coronavirus. The company also donated face masks worth INR 13 Crore and 29 ventilators to the Maharashtra government, Indian Council of Medical Research (ICMR), Metropolis Labs and Apollo Hospitals. In partnership with United Nations Development Programme (UNDP), the CSR team distributed sanitation and hygiene products to sanitation workers across 15 cities.
8. Godrej Consumer Products Ltd.
Godrej Consumer Products Ltd. (GCPL) spent Rs. 19.49 crore on CSR initiatives in FY 2019-20. Although the spending is 23% lower than the prescribed Rs. 25.34 crore, the impact of long term projects give it the 8th ranking on our list. Disease prevention, waste management, livelihood with a focus on women are some of the areas of focus for its flagship corporate citizenship initiatives.
GCPL CSR is partnering with the Government of India to eliminate malaria by 2030. The company's flagship project EMBED (Elimination of Mosquito Borne Endemic Diseases) works with the government and NGOs for intensive behaviour change in Madhya Pradesh, Uttar Pradesh and Chhattisgarh.
As part of its CSR efforts, GCPL runs community waste management projects using circular economy principles. Some of the projects include collaborations with the Hyderabad and Kalyan-Dombivali Municipal Corporations, a partnership with the Pondicherry Municipal Corporation, another one with a social enterprise in Guwahati for turning plastic waste into fuel. GCPL is working with a nonprofit in Assam that recycles forest and agricultural waste to produce briquettes (used as biofuel). The goal of these waste management projects is to prevent 50 metric tonne of waste from going to landfills daily.
9. Grasim Industries Ltd.
The new entrant in 2020 is Grasim Industries, part of the Aditya Birla Group. The total CSR expenditure by Grasim was Rs. 47.14 crore. This sum funded CSR initiatives that had 7,12,140 direct and indirect beneficiaries. World CSR Congress bestowed the Halol unit with the 2019 Global CSR Excellence and Leadership Award. CMO Asia recognised Grasim's Jagdishpur unit with Asia's Best CSR Practices Award 2018-19.
The company's CSR work is carried out under the aegis of the Aditya Birla Centre for Community Initiatives and Rural Development, with Rajashree Birla as the Chairperson. The Centre gives the CSR team a strategic direction and ensures performance management.
Says Rajashree Birla:
"The societal challenges we are facing require a pace of change and innovation that can only be achieved by working together across sectors and industries. Our motivation to engage and collaborate goes beyond economic, social and environmental responsibility. We want to create lasting value for all our stakeholders by building partnerships across the value chain."
CSR of Grasim includes managing and operating hospitals and schools in the surrounding communities. The company provides an immunisation programme for children as well as a programme on antenatal and postnatal care.
10. Bharat Petroleum Corporation Ltd.
Bharat Petroleum Corporation Limited (BPCL) is a Government of India controlled Maharatna oil and gas company. BPCL employees stood strong in the fight against the virus. They made a collective contribution of INR 4.27 Crores from their salaries. As part of its corporate social responsibility for COVID-19 relief, the PSU organised '

Swachhta Pakhwada 2020

' from July 1 to 15, 2020. This special initiative was in support of the Indian government's Swachh Bharat Abhiyan.
Under the umbrella of "enabling quality education", the

focus of BPCL CSR

is on imparting holistic education, preferably through technology apart from catering to adequate infrastructural facilities, access to education and improvement of education systems. BPCL's CSR philosophy also includes involving the creation and maintenance of toilets, associated sanitation facilities, Waste Management initiatives leading to overall health and hygiene for the communities.
This wraps up our take on the top Indian companies for sustainability and CSR in 2020.