The Complete Report on CSR Activities of Nestle
Nestlé India Limited, a leading Nutrition, Health and Wellness Company has been in India for about 100 years. The company, since its inception, has projected a responsible behaviour by ensuring the welfare and upliftment of communities around which it operates. The company believes that creating better livelihood opportunities for the communities residing around its operations, is its responsibility.
Through its Corporate Social responsibility (CSR) initiatives, Nestle focuses on areas in which it can create maximum value. These areas include:
– Nutrition: India bears the double burden of malnutrition for a large part of her population. Nestle's CSR initiatives aim at improving nutrition awareness of communities with a special focus on school children.
– Water and Sanitation: India is among the world's most water-stressed countries. Many citizens of India do not have access to safe drinking water. The CSR initiatives of Nestle India aims to help farmers with techniques to reduce water usage in agriculture, raise awareness on water conservation and provide access to safe drinking water and sanitation.
– Rural Development: Nestle CSR has chosen to focus on rural development in order to support the sustainable development of farmers, which would allow them to grow as the company grows.
The below video highlights the various CSR activities of Nestle:
1. CSR at Nestle
Nestle firmly believes in the purpose of 'Enhancing quality of life and contributing to a healthier future'. The company operates around this mantra and is mindful of the needs of the communities around it. It not only strives to be sustainable with the community but also works to make a positive difference and create maximum value for the society.
Nestle India focuses its efforts in society on the three pivotal ambitions of enabling healthier and happier lives for individuals and families, on helping develop thriving and resilient communities, and on stewarding the planet's natural resources for future generations, with particular care for water.
Nestle believes in creating partnerships with stakeholders including communities, academia, civil society, expert organisations and so on. It chooses to take up such CSR activities that have been aligned with national priorities such as public health, education, livelihood, water and sanitation etc. These areas are mapped with the activities as prescribed in Schedule VII to the Companies Act, 2013.
Nestle India Limited spent more than the prescribed 2% in corporate social responsibility programs in the financial year 2018-19. While the prescribed CSR expenditure as per Section 135 of the Companies Act, 2013 was 38.07 crore rupees, actual CSR spend during the year amounted to INR 38.31 crores.
2. CSR Policy
The Company follows a structured governance procedure to monitor CSR activities. The CSR Policy is governed by the Board of Directors. In terms of the Companies Act, 2013 the Board of Directors have constituted the Corporate Governance and Social Responsibility Committee ('CSR Committee') to formulate and recommend to the Board of Directors the CSR Policy indicating activities to be undertaken as specified in Schedule VII and the amount of expenditure for the CSR activities.
The CSR Committee monitors the CSR Policy of the Company from time to time. The CSR Department monitors the status of each project and reports its findings to the CSR Committee periodically. In addition, Independent Director(s) may visit one or more projects, from time to time and report their findings to the CSR Committee.
2.1 CSR Committee
The Nestle India's Corporate Social Responsibility Committee comprises of:
1. Dr. (Mrs.) Swati A. Piramal (Chairman of L&T CSR Committee)
2. Ms. Rama Bijapurkar
3. Mr. Suresh Narayanan
3. Nestle Healthy Kids Programme – CSR in Nutrition – Project Jagriti
India is home to 40 million stunted children and Nestle believes that no child should suffer health concerns because of the lack of resources and access to nutritional food. Malnutrition impacts not only the present of the country but also the future as these stunted children will become leaders of tomorrow. As Nestle is one of the foremost nutrition companies in the world, it chose to create a healthier India through education, information and intervention.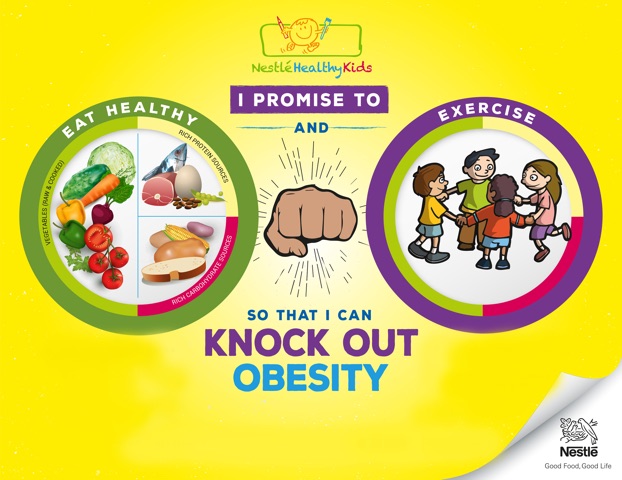 3.1. Project Jagriti – A unique partnership to create healthier communities
Nestle CSR partnered with MAMTA Health Institute for Mother and Child to realise their shared vision of creating healthier communities. The project has a specific focus on 4 groups consisting of adolescents, pregnant women, lactating mothers and married couples. Creating an enabling environment for the women, it targets the sensitization to institutional deliveries, post-natal visits to the hospital, awareness on family planning. As malnutrition affects an individual over his/her entire life, the project makes considerations and strategies which minimise this effect and bring about a holistic development of the individual.
It focuses on creating awareness about early initiation of breastfeeding, exclusive breastfeeding and improving breastfeeding practices in the community. Adolescents are included by conducting sessions which covers topics of hygiene, health, menstrual hygiene, and other important topics related to health. Young couples are provided access to family planning services, made aware of gender equity norms, and are counselled and educated on preconception care, marital communication, issues of preventive mental, sexual and reproductive health.
This CSR initiative by Nestle has a dedicated team of outreach workers who conduct door to door awareness visits to counsel those who are in need of it. The outreach workers primarily act as facilitators for the groups, guiding from the backdrop to encourage peer to peer learning.
Initially, the programme embedded the peer mentorship approach as it enabled a smoother transfer of knowledge with group members being educated by a person who is from the same community and aware of a similar situation. In 2019, the programme moved to system-led approach with a focus on counselling and development of front- line workers such as Accredited Social Health Activists (ASHA) and Anganwadi Workers etc. This approach is useful in populations that are deficient in knowledge and unaware of their health needs and rights.
The programme started with a pilot in Delhi in year 2014, reaching out to over 100,000 people in marginalized communities. In 2019, the Company scaled up the programme in high priority districts across Delhi (West Delhi); Uttar Pradesh (Banda, Lucknow, Prayagraj, Varanasi, Kaushambi); Maharashtra (Nagpur); Rajasthan (Churu, Sri Ganganagar); and Odisha (Bolangir, Naupada).
Till 2019, the programme has impacted over 5 million lives across 8 states and Union Territories in India.
3.2 Nestle Healthy Kids Programme – 10 years of promoting adolescent's nutrition, health and wellbeing
20% of India's population constitutes adolescents (10 to 19 years), which makes adolescent health particularly important to meet the Sustainable Development Goals (SDGs) – a set of universal goals to end poverty, hunger and achieve equality.
The Nestlé Healthy Kids Programme was a breakthrough initiative which was launched in 2009 to show the company's commitment to promoting nutrition, health and wellbeing among adolescents.
Nestle has extensively worked in the nutrition domain all over the world and it uses this knowledge and core competency in its CSR activities as well. Creating and selling products in the health and nutrition space has armed the company with the right knowledge on how to tackle the evil of malnutrition. The key to Nestle Healthy Kids Programme is the understanding of a balanced diet, healthy eating habits, awareness of food and personal hygiene and regular exercises in form of some physical activity like sports and games.
This CSR program was started by Nestle in 2009 and it is celebrating its 10th year of implementation. Over the last 10 years, the programme has done some phenomenal work and has expanded to include other facets of tackling the problem of malnutrition. It also includes parents and teachers as direct beneficiaries in the programme as they are important stakeholders if we are to defeat malnutrition.
Nestle CSR collaborates with other partners with a common cause who have the expertise in the local conditions to create real impact and bring about a real change in the life of the community where the company operates. The company is implementing this programming in two modes:
1. Conduct Classroom sessions in partnership with Six Regional Universities
2. Partnering with Magic Bus India foundation that has pioneered the 'Sports for Development' model
a) The classroom sessions are conducted in partnership with Universities through the Department of Home Science and Food Science, wherein information on the nutrition status of the local food habits is collected through their extension activities and the programme content is developed jointly with Nestlé India team. Each student receives nutrition training – encouraging them to eat more vegetables and fruits, ensuring their meals are as nutritious and diversified as possible. Pre and post programme behavioural and knowledge tests are conducted to measure the effectiveness of learning and implementation.
b) Embracing non-traditional learning method of 'sports for development', implementing partner Magic Bus India Foundation, engages with the adolescents in interactive sessions in which they receive nutrition knowledge and are encouraged to play regularly. By their very nature, sports is about participation, inclusion and a sense of belonging, and as a result of the Magic Bus sessions, the entire community comes together to promote a healthier lifestyle.
Till 2019, over 3 lakh adolescents across 23 states have been encouraged to live healthier lives through Nestlé Healthy Kids Programme.
4. Water Conservation
70% of India's population depends on agriculture and hence puts tremendous pressure on the water resources of the country. In spite of being blessed with perennial rivers, major regions in India are facing water scarcity. India's water withdrawals are one of the highest in the world and it needs to start focussing on water productivity which will lead to higher agricultural production with depleting water resources. 'Water Productivity Mapping of Major Indian Crops' a study conducted by NABARD and ICRIER indicates that rice and sugarcane are examples of unsustainable use of water resources. So Nestle CSR has started a pilot project targeting these two crops.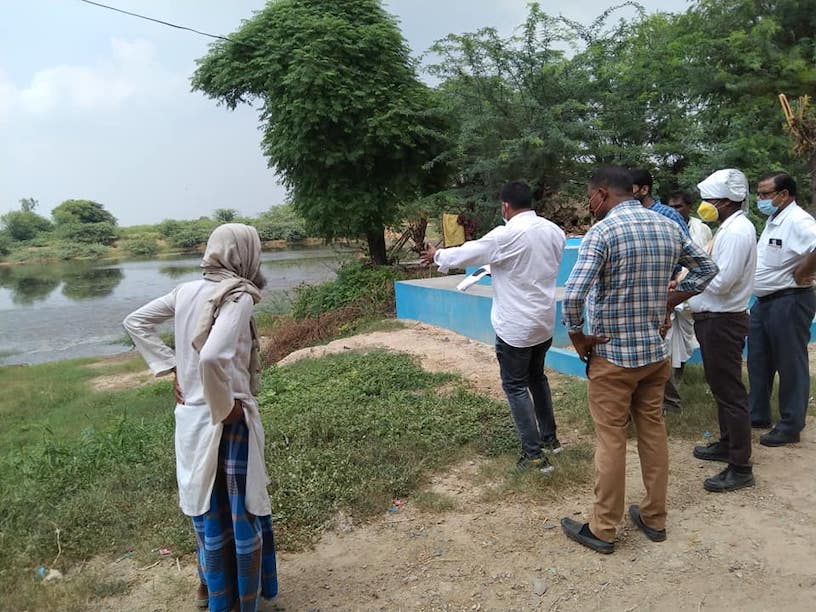 Nestle launched a water stewardship CSR initiative with AgSri at the Kabini river Basin in Karnataka to develop sustainable agricultural practices for rice and sugarcane. As agriculture is the largest user of water from the catchment, engaging farmers on ecologically sustainable practices of System of Rice Intensification (SRI) and the Sustainable Sugarcane Initiative (SSI) are helping to reduce the agricultural water withdrawal and improving agricultural productivity. These interventions make it possible to have more yield and good income by using less seeds, less water and fewer fertilizers besides reducing the number of labourers and expenditure.
Till the year 2019, over 300 progressive farmers have adopted the SSI and SRI methods in their farm fields, covering total area of 180 hectares for both sugarcane and paddy.
5. Nestle CSR – Project Serve Safe Food
In India, street food is a delicacy and provides employment and livelihood to a large portion of its population. Street food vending makes a major contribution to the local economy but lack of training in food safety and good hygiene practices is widespread among these street food vendors. This puts street foods at risk of contamination at all stages of handling.
Street food vendors lack access to resources and knowledge about standard hygiene practices. COVID-19 pandemic has created another roadblock in the lives of the street food vendors. Street foods are almost always stored at wrong temperatures and sold from vending sites including kiosks, make-shift accommodation, and pushcarts as well as other temporary structures. The Government of India is undertaking several initiatives to improve the existing scenario. The Food Safety and Standards Authority of India (FSSAI) is implementing programmes that involve training and capacity building of the street food vendors.
Nestle believes there is a huge scope to better the livelihoods of street food vendors and also make the street food safer and more hygienic. In 2016, the Company launched Project 'Serve Safe Food' to provide training to the street food vendors to enable them to voluntarily adopt the hygienic practices that improve food quality. The programme involves collaborative approach, The Company partner with local authorities and the training is conducted by National Association of Street Vendors of India (NASVI) which includes topics such as good food handling practices, waste disposal, health, personal and cart hygiene. With these training, the street food vendors learn about simple aspects of food hygiene such as hand washing practices and usage of disposable gloves etc. The street foods vendors under good sanitary conditions prevents the spread of foodborne diseases. It also contributes to increasing in sales, as a clean food stand or premise attracts more consumers based on aesthetic appeal.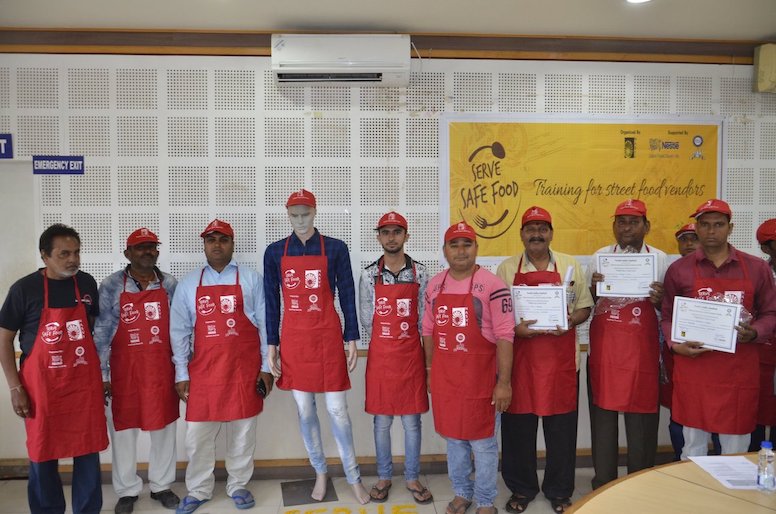 Till 2019, the programme has been implemented across 17 states/UTs including Telangana, Karnataka, Meghalaya, Puducherry and Assam., impacting over 20,000 street food vendors who were also awarded a certificate and presented a hygiene kit at the end of the training.
6. Sanitation Initiatives
Access to basic sanitation is a luxury for many citizens in India. Open Defecation is often a result of lack of infrastructure. Considering the health risks associated with open defecation, especially for women, the government of India with its 'Swachh Bharat Abhiyan (Clean India Mission) is working to sensitise the population about sanitation issues and has brought sanitation into the prime focus of the policymakers, private sector and citizens for collaborative action.
Nestle strongly believes in the cause of safe sanitation for healthy living. Through its CSR initiatives, the company is committed to increasing access to sanitation.
Nestle under its CSR initially focused on constructing sanitation facilities around its factory locations. As the company focuses on the holistic development of communities, it observed that majority of the schools in the area it operated, lacked separate toilets for boys and girls. This is a major concern for the female students of the area who choose to drop out of the schools in the absence of safe sanitation facilities.
With an aim to create an equitable educational opportunity for males and females, the Nestle CSR has been supporting the construction of modern, easily maintainable modular toilets for girl students in schools across all its factory and branch locations. hygiene facilities in these schools are providing the basis of a healthy learning environment, encouraging education and empowerment of female students.
Till 2019, the Company has been able to benefit over 200,000 female students by setting up sanitation facilities in over 600 government schools.
7. Nestle CSR Rural Development – Project Vriddhi
A majority of India's population lives in villages. It is therefore important to focus on the development of villages in order to ensure inclusive development of the country.
Nestle launched Project Vriddhi under its CSR initiatives in order to work towards building a healthier society and positively impacting the lives of people in marginalised communities. Project Vriddhi, in collaboration with SM Sehgal Foundation, is a three-year village adoption project started in 2019. The project is aimed at improving the livelihoods of 1,500 people in Rohira village in Nuh district, Haryana.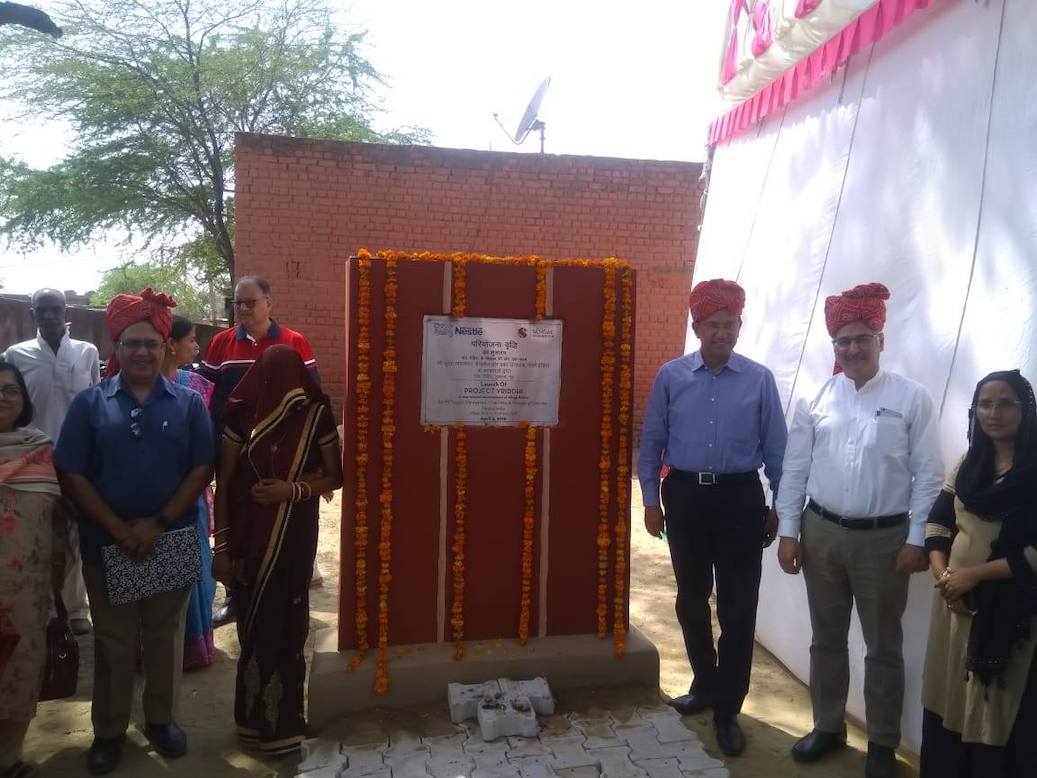 Project Vridhi focuses on improving access to clean drinking water for communities, promoting water-saving irrigation practices, increasing awareness on nutrition, enhancing farm productivity and providing a healthy learning environment in schools by improving hygiene and sanitation practices. The project team is working towards the village slowly evolving to a level of sustainability and continue the developmental progress even without direct participation in the day to day affairs of the local community.
8. Plastic Waste Management Awareness
The use of plastic is vital in the prevention of food wastage, food storage and ensuring quality and safety of food products. However, lately, the irresponsible disposal of plastic waste has led to plastic pollution in the environment, which has ultimately disturbed the natural environmental ecosystem.
In order to generate awareness about safe disposal of plastic waste, Nestle CSR is working to create awareness about anti-littering and waste segregation at source, which is a key to establish sustainable waste management systems.
8.1 Project HILLDAARI
Nestle CSR has initiated the project "HILLDAARI" in Mussoorie, Dalhousie, and Nainital in order to empower waste workers. The project focuses on working collectively with local stakeholders like urban local bodies, institutions, residents, households, waste generators, and waste workers to raise awareness about anti-littering and segregation at source.
Conclusion

Nestle's CSR initiatives, founded on strong principles of transparency, honesty, integrity and fairness are playing a significant role in building an equitable and just society in the country.