The Complete CSR Report of Mahindra and Mahindra Limited
Mahindra and Mahindra Limited, the flagship company of the Mahindra Group is a mobility products and farm solutions provider. The company has grown rapidly since its inception in 1947. It currently offers a wide range of products and solutions ranging from SUVs to electric vehicles, pickups, commercial vehicles, tractors, two-wheelers and construction equipment.
Mahindra focuses its Corporate Social Responsibility (CSR) initiatives to drive positive and sustainable change in building resilient communities. Its core purpose states, "We will challenge conventional thinking and through innovative use of all our resources, drive positive change in the lives of our stakeholders and communities across the world, to enable them to Rise". It is amply evident that CSR is integral to and at the core of the company's philosophy.
The company's CSR work is directed mainly at the development of girls, youth and farmers who are supported through initiatives in education, health and the environment. Below is the video that highlights the CSR initiatives of Mahindra and Mahindra Limited.
Mahindra and Mahindra Limited has been diligent in its CSR spending. Since the FY 2014-15, when the companies were mandated to spend to per cent of their net profits on CSR, Mahindra and Mahindra has been spending the prescribed amount for CSR without fail. In FY 2019-20, the company exceeded its CSR spending to 126.6 Crores from its prescribed amount of 106.56 Crores. Below is the graph that highlights the CSR spending of Mahindra and Mahindra Ltd. of the last five years.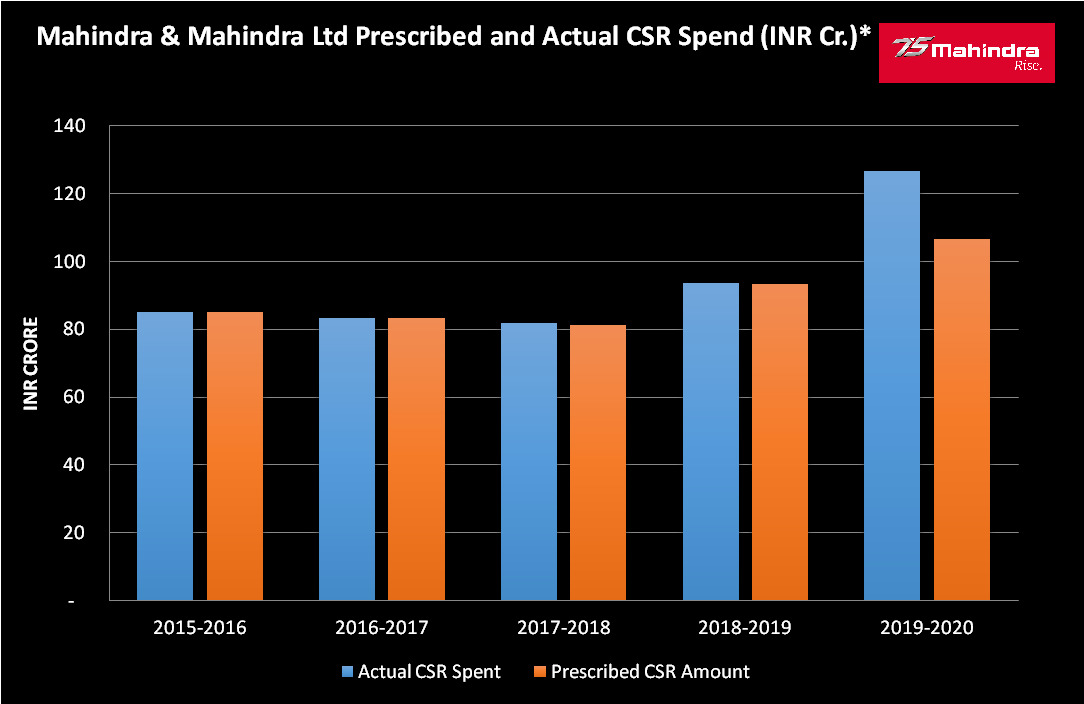 1. Mahindra and Mahindra CSR
For Mahindra and Mahindra Ltd., responsible business practices include being responsible for its business processes, products, engaging in responsible relations with employees, customers and the community. Hence for the Company, Corporate Social Responsibility goes beyond just adhering to statutory and legal compliances and creates social and environmental value for its key stakeholders.
The company implements its CSR projects either directly through its ESOPs structure where the Mahindra employees directly implement the CSR programmes or through implementing partners which include NGOs having an established track record of at least 3 years in carrying on the specific activity. The main implementation partners the company works with are the Mahindra Foundation, The KC Mahindra Education Trust, Tech Mahindra Foundation and Naandi Foundation.
2. CSR Policy
Mahindra and Mahindra Limited in line with its core purpose has set its CSR vision to focus its efforts in critical constituencies that contribute to nation-building and the economy. In this manner, Mahindra and Mahindra Limited aims to enable its stakeholders and communities to RISE.
The company aims to focus its CSR efforts within the constituencies of girls, youth & farmers through programmes designed in the domains of education, health and environment. Apart from making contributions to its Corporate Foundation's/Trust's projects (KC Mahindra Education Trust and Mahindra Foundation), the Company may also make contributions towards the corpus of the said Foundations / Trusts subject to the approval of the Board. The Company may also make contributions to 'think tanks' 2 for projects permitted under Schedule VII of the Act.
The Board level Corporate Social Responsibility Committee of the Company is responsible for monitoring the CSR Policy from time to time. The CSR Committee is responsible for approving and recommending to the Board, the projects or programmes to be undertaken, the modalities of execution and implementation schedule from time to time. Apart from recommending and approving budgets for project implementation, the Committee is also responsible for instituting a monitoring mechanism to track the progress of each project.
2.1 CSR Committee
The members of the Board Level CSR Committee of Mahindra and Mahindra Limited include Dr Vishakha N. Desai (Chairperson & Independent Director), Mr Anand G. Mahindra, Dr Pawan Goenka and Mr Vikram Singh Mehta (Independent Director).
In addition to this, the company has set up a CSR Council chaired by the President – Group HR and Communications & Member of the Group Executive Board. This comprises senior management executives from all sectors, senior CSR executives and a CSR advisor. The CSR Council implements the CSR strategy and reports to the Board level CSR Committee.
3. Project Nanhi Kali
Project Nanhi Kali, which translates to a 'little bud' in Hindi, supports the education of underprivileged girls in India. Designed to support girls from low-income families to complete ten years of formal schooling, the flagship CSR project of Mahindra and Mahindra Limited has impacted the lives of over 450,000 girls (called Nanhi Kalis) from underserved communities across the country.
Currently, the project supports the education of 1,74,681 Nanhi Kalis across 6,001 academic support centres, in 9 states. The project provides 360-degree support to girls from Class 1 to 10, including two hours of free after-school remedial classes every day, and an annual school supplies kit to enable them to attend school with dignity. In addition to this, the project has extended its support to 78,437 girls in secondary schools by enabling them access to digital tablets which are pre-loaded with smart educational content. The Nanhi Kali team also works to sensitise parents and communities on the importance of educating girls and to become their collective guardians.
In order to ensure that underprivileged girls continue their education at this critical time, the Nanhi Kali team has doubled its efforts by investing in providing quality digital education to girls, so that they are equipped to face the post-covid world. Every girl in the Nanhi Kali project receives holistic support including:
Academic support and access to an adaptive learning software via digital tablets:

Daily academic support is provided at Nanhi Kali Academic Support Centres which are set up within government schools and operate for 2 hours before/after school. In partnership with leading EdTech organisation, Educational Initiatives every Nanhi Kali at these centres receive access to a personalized, adaptive learning platform called Mindspark. This widely recognized software has been proven to significantly improve learning outcomes amongst users. Through Mindspark, Nanhi Kalis will learn Maths, their local Language and English from Class 1-10, and additionally, Science from Class 6-10. Powered by Artificial Intelligence, Mindspark will match instructions to the learning level and pace of each Nanhi Kali, ensuring that she learns with understanding. The software will be pre-loaded onto digital tablets, allowing access to quality education even in remote locations.
Trained Women Tutors:

Nanhi Kali tutors (called Community Associates) are women from local communities who facilitate learning and mentor the Nanhi Kalis through their schooling, and also engage with parents/community stakeholders to create girl-friendly ecosystems.
Sports Curriculum:

A professionally designed sports curriculum has been built into the programme, giving Nanhi Kalis the opportunity to participate in sport and fitness activities regularly.
School Supplies Kit:

A kit including a school bag, stationery and a pullover/raincoat is provided to every Nanhi Kali annually. With 45.6% of teenage girls in India still following unhygienic menstrual practices, a 12-month supply of branded sanitary napkins is included in each kit to help the girl attend school with dignity.
In 2019, Mahindra and Mahindra Limited was awarded at the National CSR Awards Ceremony, organised by the Ministry of Corporate Affairs for 'National Priority Area Education for Project Nanhi Kali'.
In 2018, Nanhi Kali in association with Mahindra Group launched a new campaign focusing on the education of a girl child titled 'Ladki Haath se Nikal Jaayegi'. The campaign aims to dispel the misconceptions around girl child education by taking on a fresh view of the phrase with the campaign. The campaign has been recognised with several accolades. It won Gold in the Special Abby (Gender Sensitive) category at Goafest in 2019.
4. Mahindra Pride Schools
The Mahindra Pride School is a unique 90-day livelihood training programme for youths from socially and financially disadvantaged communities. With a 100% placement record, the nine schools in Pune, Patna, Chandigarh, Srinagar, Hyderabad, Varanasi and three in Chennai, trained and placed 6,045 students in FY 2019-20. Till Date, 39,280 youths have been trained through this programme.
A network of 200+ corporates, many of which have been repeat recruiters of the graduates of MPS. This is a validation of the quality of training provided at MPS. The alumni of MPS who are employed with different companies serve as role models in their community. Active alumni clubs regularly send referrals to MPS and at least 30-40% of a batch comprises referrals. The alumni also act as peer leaders and mentors to students undergoing training at MPS, motivating them to overcome their challenging circumstances
In FY 2019-20, an additional 1,01,391 students were trained through 2,374 Mahindra Pride Classrooms conducted through ITIs, Polytechnic and Arts & Science Colleges in 16 States. The Mahindra Pride Classrooms provide 40-120 hours of training to final-year students on topics that include English speaking, life skills, aptitude tests, interviews, group discussions and digital literacy.
5. Project Hariyali
Project Hariyali is the green initiative of Mahindra and Mahindra wherein the company aims at adding 1 million trees to India's green cover every year. The project, launched in 2007, has today become a movement among the company's employees, customers, vendors and dealers, as they undertake tree plantation drives across the country.
In FY 2019-20, Mahindra & Mahindra planted 1.32 million trees, taking the total tally to 17.93 million trees. Of these, 10.78 million trees have been planted in the Araku Valley, which besides greening the environment, also provides livelihood support to tribal farmers growing coffee in the region.
In 2020, the project was adjudged with India's Best CSR Project in the Environment and Sustainability Category at the Indo French Chamber of Commerce and Industries (IFCCI) CSR conclave. The honour recognises the project's contribution and commitment to providing nature-based solutions to address the issues related to climate change.
The project was also featured in the 2020 edition of the Limca Book of Records for 'Most trees planted'.
6. Integrated Watershed Management Programme
Integrated Watershed Management Programme is a project implemented in a Private Public Partnership (PPP) model with the Government of Madhya Pradesh in Bhopal, and in Hatta with the National Bank for Agriculture and Rural Development (NABARD), to increase the groundwater table of the region.
Implemented in 48 villages (35 villages in Bhopal and 13 villages in Hatta), this project is aimed at helping to increase agricultural productivity and improve the overall standard of living, benefitting 38,447 people residing in these villages.
The project was accorded with the honour of National Priority Area Agriculture and Rural Development for Integrated Watershed Management Programme in MP at National CSR Awards organised by the Ministry of Corporate Affairs in 2019.
7. Saving Lives with Safer Roads
M&M Ltd. is partnering with SaveLIFE Foundation and Maharashtra State Road Development Corporation Limited (MSRDC) to create India's first Zero Fatality Corridor (ZFC) on the Mumbai-Pune Expressway through interventions in 4Es i.e. Engineering, Enforcement, Education and Emergency Response.
The ZFC is a pioneering attempt to build a replicable model for road safety that can be implemented on any road. The aim of the initiative is to reduce the number of road crash fatalities on the Mumbai-Pune Expressway (MPEW) from an annual average of 140 to 0 by the year 2020, which marks the end of the UN Decade Of Action For Road Safety.
8. Employee Social Options
A long-running Employee Volunteering Programme, ESOPs is where Mahindra employees channelise their time and skills to address the needs of local communities. In FY 2019-20, 22,877 M&M employee volunteers contributed 1,63,818 person-hours towards giving back to society.
9. COVID-19 Relief
Resilience was tested at the end of the FY 2019-20, marked by the COVID-19 crisis. The crisis is testing the world's capability to respond to a pandemic at a time when the world is already grappling with acute inequalities based on gender, class, access to livelihood opportunities, amongst others. With the socio-economic impacts of the pandemic hitting vulnerable and marginalised groups particularly hard, there was a need for businesses to step up to support communities in need.
Swiftly responding to this, Mahindra and Mahindra extended its support to the efforts of the Government machinery by responding to the crying need for products required to fight the COVID crisis. Accordingly, a decision was taken to use the company's manufacturing facilities to make personal protection equipment e.g. low-cost innovative ventilators, face masks and face shields.
Further, the company set up a COVID-19 relief fund under the aegis of Mahindra Foundation, to provide relief to those most severely affected by the pandemic e.g. small businesses and traders, workers in the supply chain, and daily wage labourers.
Mahindra and Mahindra also contributed Rs. 20 crores to the 'Prime Minister's Citizen Assistance and Relief in Emergency Situations Fund' (PM CARES FUND). Through these initiatives, the company has not only provided support to the Government agencies but has reached out to a large section of the poor and vulnerable by providing immediate relief.
Conclusion
Mahindra and Mahindra addresses the core developmental and environmental challenges through its CSR initiatives. Its USP lies in the impactfulness of its CSR programmes which have been recognised time and again at various platforms. In 2019, Mahindra and Mahindra Limited was accorded with the award for 'Excellence in CSR' at the National CSR Awards organised by the Ministry of Corporate Affairs, Government of India.