Home
Header News
National Cancer Awareness Day: Why and where to donate your hair for...
National Cancer Awareness Day: Why and where to donate your hair for cancer patients
Cancer. The physical pain and mental fear associated with the disease is enough to shatter the self-confidence of any person and make them feel, 'I am going to die'. To make the situation even worse comes the loss of hair and even baldness which often happens as a side effect of the treatment. Powerful medicines like chemotherapy drugs attack the rapidly growing cancer cells in the patient's body, and even their hair roots, making the person lose hair from all over their body.
As a result, a person often struggles to accept the way they look during or after treatment and even during the recovery process. In such a situation, a hair wig can tremendously help the cancer patient to restore his/her look and make them feel better psychologically, accept the changes in their body and even make them start loving their body, thus boosting their self-confidence, positivity and will to live.
Several NGOs, foundations, hospitals and even salons across India are working for this noble cause of receiving hair donations from people which are used to make wigs for cancer patients. One such NGO is Swapno Udaan from Bongaon in West Bengal's North 24 Parganas district.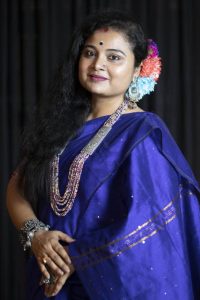 On National Cancer Awareness Day, Rama Das, President, Swapno Udaan opened up to The CSR Journal talking about why we should spread the word about hair donation for cancer patients and encourage more people to come forward for the cause.
How the journey began?
Opening up on how and when they started receiving hair donations for cancer patients, Rama told The CSR Journal, "Our NGO began for the purpose of donating stationery and chocolates to underprivileged children in 2019. Gradually we began doing other activities like donating blankets etc to the needy. One fine morning, Amit Sadhu, a brother from our neighbourhood approached me saying, 'I want to donate my hair for cancer patients. Where can I donate?' While trying to help him find the right place, we decided that we will start taking hair donations for cancer patients as this is a very noble cause which will actually change the lives of many cancer patients bringing a smile on their face."
First hair donation
"Our first donation happened in December, 2020. Amit grew his hair long and then completely shaved off his head to donate it for cancer patients. After we posted about his initiative on social media, more people started approaching us for hair donation. Initially, we had a tie up with Hair Crown NGO from Delhi and we would send all the donated hair to them and we honour our donours with a certificate," Rama informed.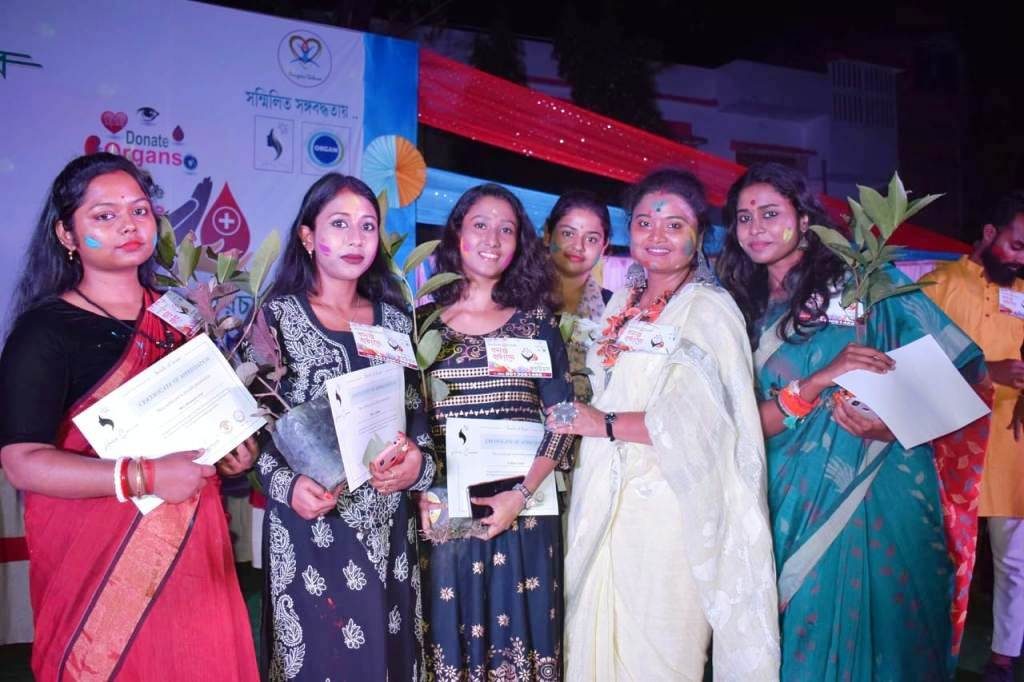 Donations till date
"We receive donations from local residents as well as people from Kolkata who cut their hair as per our instructions and courier the same. Till now we have received total 35 donations. Mostly women from the age group of 20-25 donate their hair for this cause. However, we have also received donation from two men and three child donours so far," she added.
Quantity and quality of hair for donation
Not every kind or any length of hair can be donated for this cause. Rama explained, "Coloured, treated or straightened hair that we receive, that is actually checked by our experts whether it is in a suitable condition for making wig. Some people have extremely damaged hair and we have to tell them that we cannot receive it because wigs cannot be made with this kind of hair."
"When a donour approaches us, we first explain them the terms and conditions for hair donation. The length of donated hair should be at least 12 inches. Tie up your long hair in a braid, measure it, put a rubber band at 12 inches and cut it off from there. Sharing a video of the hair cut and still pictures of themselves after hair cut is mandatory for every donour, because we share these on social media to encourage more people to come forward for this noble cause. Every donour is also asked to share their story why they want to donate their hair for this cause. After receiving the hair, we place it in an air tight zip locked carry bag and we send it to Hair for Hope India," informed the NGO President.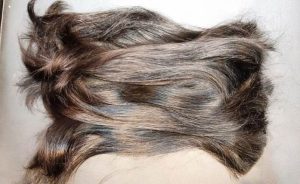 Superstitions against hair donation
"Even in the present day, many people believe in superstitions like donating hair, which is a part of their body, will cause them some kind of harm. Some people refuse to cut their hair on a particular day of the week, saying it will be harmful for them. Even if somebody is willing to donate hair, their family forbids them. Many people are sceptical about whether their donated hair will reach the right place for the right cause. In such cases, we talk to these people and explain them about the cause, how their hair will benefit cancer patients by bringing a smile on their face and in no way will it harm the donour or his/her family. We also encourage them to spread the word among their friends, relatives, colleagues and neighbours so that the awareness spreads among more people," explained Rama.
How cancer patients suffer
Rama feels it is extremely important for every people to learn about the sufferings of cancer patients. Because, only then will more people come forward to donate their hair for making wigs. She recalled, "A female relative of mine had cancer and as a child, I have seen her suffer mentally after she started losing her hair."
"The problem is, in our society, we grow up with the mental construct that long hair makes women beautiful and traditionally, girls in Indian society are expected to keep long hair right from childhood. First of all, when a person is detected with cancer, they start living with the fear that whether I will survive and till how long. On top of that, when that person starts losing their hair due to medicines or chemotherapy, that person, especially females, suffer a mental break down. They find it difficult to accept their body, the way they look now and many people even feel suicidal due to the same. In such a situation, a wig made with your donated hair can actually be life changing for that person," explained the Bongaon-based social worker.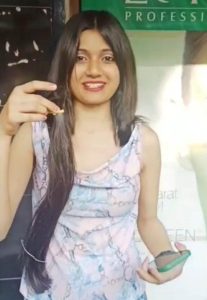 Why donours should spread the word
"It is necessary for every donour to spread the word about their hair donation, be it verbally or via social media posts or videos. This is how more people get to know about this and they will also feel encouraged to donate their hair. Many people till date do not even know that such a thing (hair donation for cancer patients) happens. Many people are eager to donate their hair but they do not know where to go or whom to contact. In such cases, a donour can encourage and help these people to reach NGOs like us which receive hair donation in different parts of India," Rama expressed.
Urging mothers to enourage their children
She concluded before signing off, "I am mother to an 8-year-old daughter. I have already started encouraging her to donate her hair for this cause when she reaches teenage. I will be a proud mother the day my daughter donates her hair for this cause. I want more mothers to come forward and encourage their children to donate hair for this cause. By doing this, you are contributing to changing a person's life, adding a smile on their face and making them want to live. In return, your get countless blessings."
Where can you donate hair for cancer patients:
Cope with Cancer – Madat Charitable Trust, Mumbai
Address: Madat Trust, Mangal Anand Hospital, 2'nd Floor, 48, Swastik Park, Sion-Trombay Road, Chembur, Mumbai 400 071.
Contact number: 099877 79639 (SMS and WhatsApp only, Open 10 am – 5 pm)
E-mail: support@copewithcancer.org
Hair for Hope India
E-mail: acdmkt113@gmail.com
Address for donations from Southern India: Fr. Jaison Mundanmany CMI Associate Director, Amala Medical College Hospital, Amala Nagar P.O, Thrissur 680555, Kerala, India
Contact number: 0487230401/04872304000
Address for donations from rest of India: Copewithcancer- Madat Trust, Mangal Anand Hospital, 48 Swastik Park, Chembur Mumbai 400071,
Contact number: +91 22 25277979
Swapno Udaan
Address: Swapno Udaan Trust, Shimultala, Bongaon, District: North 24 Parganas,
Pin: 743235, West Bengal
Contact number – 8013061468
Inventive Helping Hand Society, Jaipur
Address: 576, Sector-9E , Chitrakut Yojna, Vaishali Nagar, Jaipur, India, Rajasthan
E-mail: ihhsociety.jpr@gmail.com
Contact number: 96800 55771
Hyderabad Hair Donations for Cancer Patients
Address: H. No: 1-33-3/1/B, near Kerala Church, Kailash Nagar, Chanda Nagar, Ramachandrapuram, Telangana 500050
Contact number: 096664 06586
E-mail: shivayadav274@gmail.com
Hairdonation West Bengal
Address: Paschim Pathri, Hilji Co-operative Society, Kharagpur, Paschim Medinipur, West Bengal, 721306
Contact number: 7003281980 (Call between 10am – 5 pm)
Note: For donating hair, the minimum length should be minimum 12 inches.
Hair Crown Tamil Nadu
Address: Shri Renuga Vidhyashram, Theni Main Rd, Lakshmipuram, Tamil Nadu 625605
Contact number: +91 948 612 1062 ((Mon-Saturday 9am-5pm)
E-mail: haircrownoffice@gmail.com
Bangalore Hair Donation
Contact: 7349190758
E-mail – tbhdc123@gmail.com