Green initiative at West Bengal's Jhargram to reduce plastic use and support local women
At a time when the world is battling a gigantic issue of plastic pollution, a 'green initiative' started by a few women from a remote village in West Bengal's Bankura district is surely an inspiring move! Supporting this eco-friendly initiative is a group of kind hearted souls from the neighbouring district of Jhargram.
Handmade bags made of Sal tree leaves
Few women hailing from tribal-dominated Ranibandh village have started making carry bags with Sal leaves, Sal trees being abundant in the nearby jungles. These women travel by foot to go to the jungles, collect the Sal leaves and bring them home, which they sun dry and stitch into bags.
These eco-friendly carry bags are transported all the way from Ranibandh to Jhargram town and are offered to customers who come to buy medicines at the town's Pradhan Mantri Bhartiya Janaushadhi Kendra. The eco-friendly handmade bags are priced at a very nominal price of Rs 4/bag. This has been done to discourage the use of plastic carry bags among local residents.
Sal leaf bags offered to customers at generic medicine shop
Asim Kumar Sinha, President, Lions Club of Jhargram Green runs the generic medicine shop, which comes under The Ministry of Chemicals and Fertilizers' 'Pradhan Mantri Bhartiya Janaushadhi Pariyojana'. Mr Sinha has started this eco-friendly initiative with the aim of reducing the use of plastic carry bags among the local residents and making Jhargram green.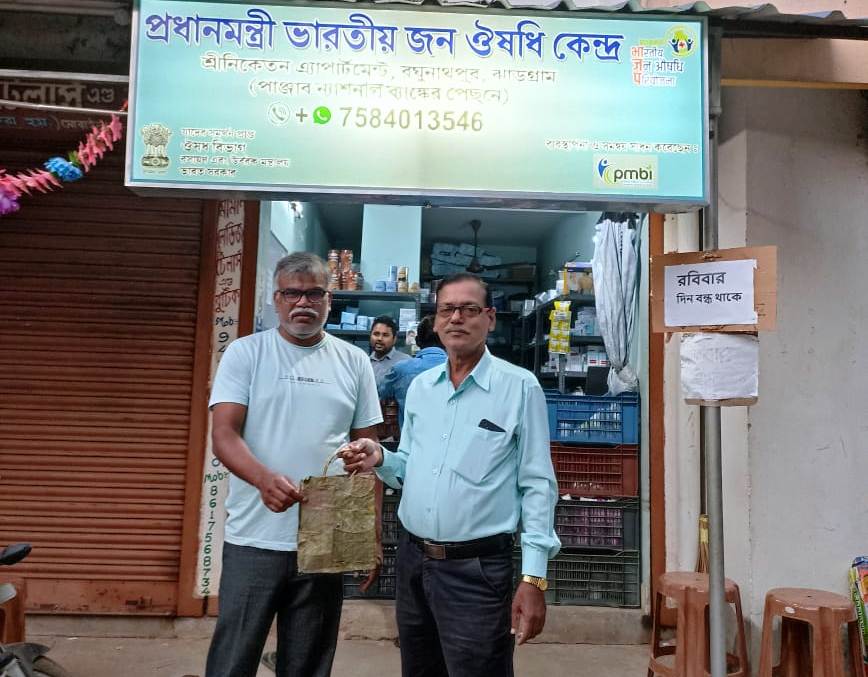 Opening up on the same, Asim Kumar Sinha told The CSR Journal, "Few women started the initiative of making carry bags with Sal tree leaves. They reside in the remote village of Ranibandh which is located at the border of Jhargram and Bankura districts. When I heard about their initiative, I personally visited to the place which is almost 75 kms from Jhargram and spoke to these women learning about their initiative of handmade eco-friendly sal leaves carry bags. Presently a group of 7-8 women are working to make the bags under the leadership of village girls Bandana Singh and Urmila Singh Sardar."
Lions Club of Jhargram Green supporting women manufacturers
"These women come from extremely underprivileged families and a little financial assistance can lure more women into this eco-friendly venture, which will benefit them and support their families as well. We at Lions Club of Jhargram Green have decided to help them as much as we can so that more women feel motivated to be associated with this initiative and they can manufacture a higher number of bags," the Club President added.
"At my Pradhan Mantri Bhartiya Janaushadhi Kendra shop, I normally do not give plastic carry bags to the customers. I always ask them to bring their own carry bags from home. But those who still forget to do that, can now buy a Sal leaf bag, which is priced at Rs 4, to carry the medicine home. Apart from the transport cost which goes into bringing these bags from Ranibandh to Jhargram, the entire sale price of these eco-friendly bags goes to these village women," he informed.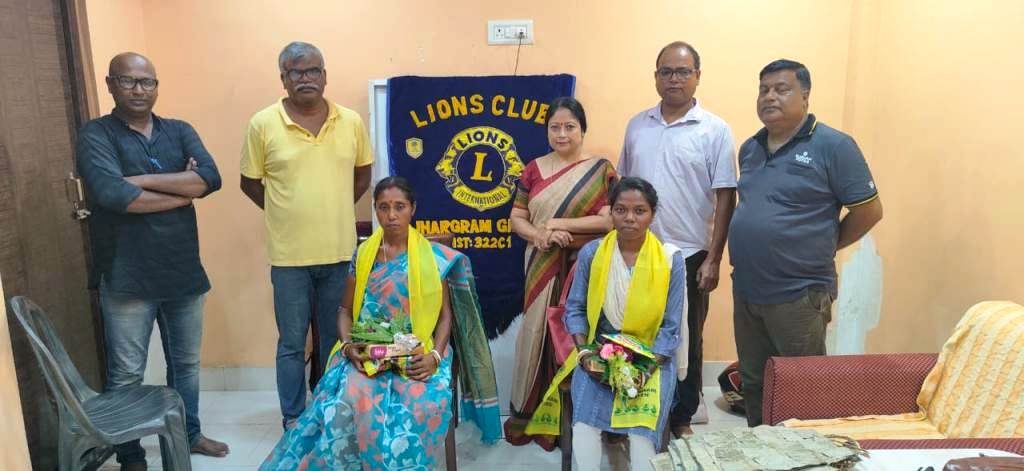 How are these bags made?
Throwing light on the same, Jhargram resident Ananda Ranjan Dasgupta, an activist working to spread awareness against the use of plastic, told The CSR Journal, "These women collect Sal leaves from dense jungles, dry these leaves in sunlight and stitch bags with them. They cut the leaves and stitch it in second hand sewing machines and later put them in a compressor machine to get the shape right. The handles of these bags are handwoven with Babuidori, a kind of strong and sustainable grass which grows in this region. Initially, these women started selling the bags, which come in different sizes in the local haats (temporary markets). When I came to know about this venture, I posted on social media and members from Lions Club of Jhargram Green visited them to enquire about the same."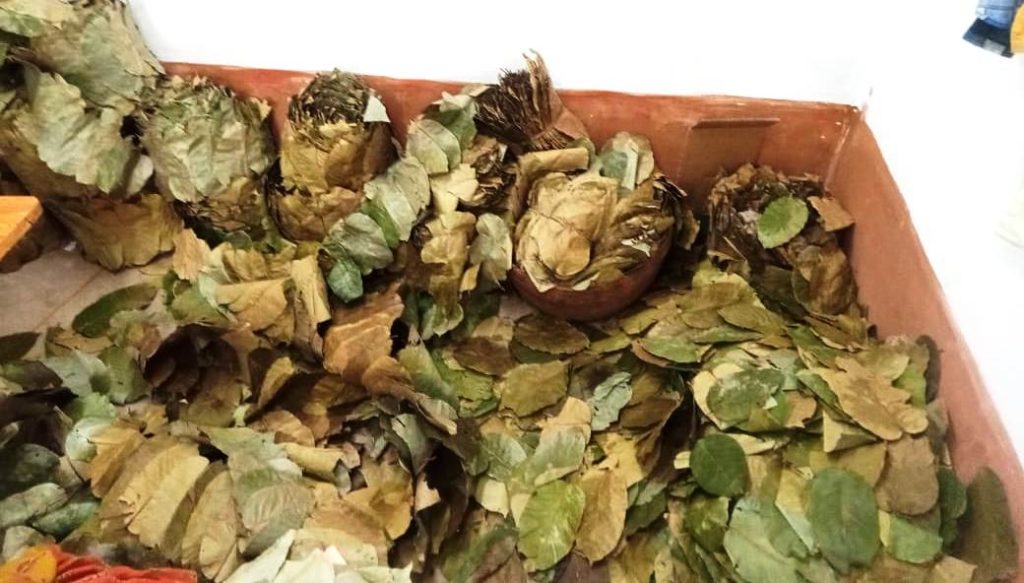 Challenges faced by the women
However, the task is not easy as these women from the remote tribal area lack adequate machinery, manpower and financial support. Seeking support from their husbands and other members of the family is also not easy for the ladies as they have still not started earning a good profit by selling the bags.
Talking about the same, Dasgupta who runs 'Plastic Free Society' awareness page on social media, said, "These women need some backup and support like new sewing machines and a compressor machine so that they can make at least 200-250 bags daily. A hotel in Kolkata has shown interest in purchasing the bags but they want a bulk amount like 5000-10,000 which cannot be delivered in the present scenario. We are trying so that more and more local women can get engaged in this business so that there is a mass production and the bags can be sold to different places and bigger cities like Kolkata."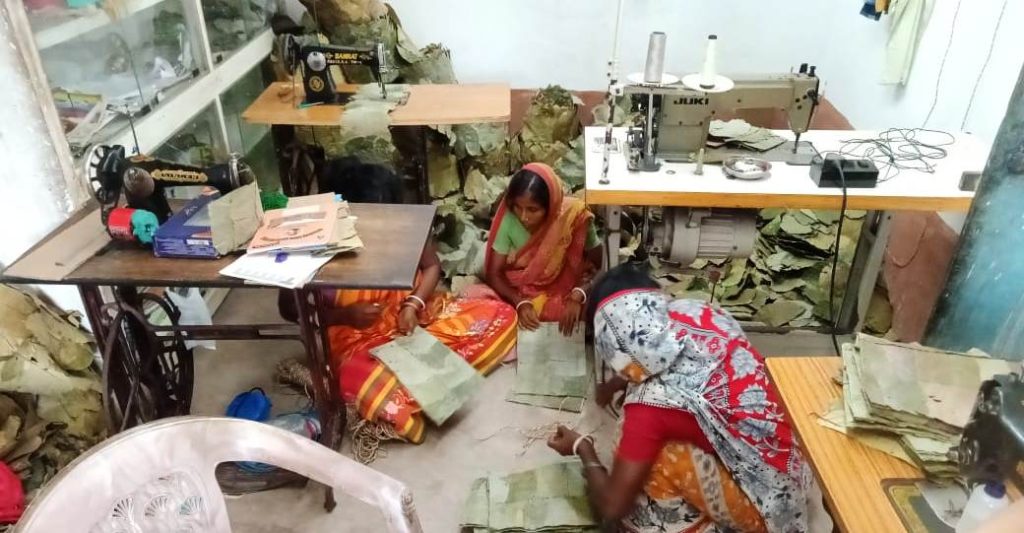 Elaborating on the problem, Lions Club of Jhargram Green President Asim Kumar Sinha added, "We have to pay a higher transportation cost right now because the women are making these bags at smaller numbers. As soon as they begin manufacturing in bulk, the transportation and other cost will automatically go down. But for that to happen, these women need machinery and financial support. Currently, they are stitching the bags with normal sewing machines meant for clothes; as a result, the raw material wastage is very high. Businesses from Kolkata have shown interest in purchasing these bags but they want it in bulk amount like 2000 or 3000 pieces which these women are unable to make at the moment."
Inviting CSR donation and support from businesses
Little help from the local administration, local residents, local industrialists, or a CSR donation of at least sewing machines for these women would be a great start, feel the people who are trying their best to support this initiative by these extremely underprivileged village women. Only with the necessary machinery and financial support can more people be involved into this project and there can be a bulk manufacture of these eco-friendly bags, which will empower these women and at the same time, be a great step to spread the awareness and reduce the use of harmful plastic carry bags.