Entrepreneur couple creating eco-friendly stationery and packaging
Giving back to the environment, many people think of doing this but only a handful of people on this planet actually practice the idea. Entrepreneur couple Subham Das and Mandira Karmakar from Kolkata's Jadavpur has started manufacturing eco-friendly gift items, stationery and packaging under their label 'Amuktika'.
Opening up on the same, Subham Das told The CSR Journal, "The term 'Amuktika' translates to 'free from any bondage'. We have three organizations- Amuktika industries run by me, where we recycle plastic and paper waste having our unit at Joka, Kolkata; a startup called Amuktika headed by my wife Mandira Karmakar, under which eco-friendly products are made at our factory at a mass scale, especially sustainable alternatives to plastic products; and Zero Waste India Ecological Solutions Trust- direct from producers and free training on environmental protection."
Amuktika – home for eco-friendly stationery, gift items and packaging
"Amuktika started off as an oxidized metallic jewellery recycling business in 2015. During the second phase of lockdown last year, we started thinking about how plastic waste can be reduced. For example at any event like a seminar or conference, they will give you a folder and a pen, which are mostly made of plastic, along with a notepad. As an environment-friendly alternative to this, we have started making folders with paper and paper pens and notepads at a very nominal price of Rs 25.80. These are biodegradable, hence will not harm the environment even if you throw it away after use. We began from February, this year," Subham informed.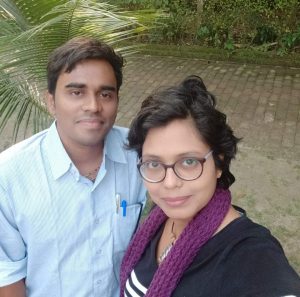 What inspired them to create eco-friendly products?
"In October 2019, my wife and I attended a training program on experiential learning and waste management under the MGNCRE or Mahatma Gandhi National Council of Rural Education (under the Ministry of Human Resource Development, Government of India). While conducting events on waste management, we found out that two major sources of plastic waste are events and small scale businesses. Small scale businesses generally work at a low capital and hence cannot afford eco-friendly packaging, which you normally have to purchase in large numbers. Our eco-friendly packing bags are very reasonably priced and we deliver at a minimum order quantity of 24 pieces only," he shared.
What kinds of eco-friendly products they make
Subham revealed, "We mainly manufacture environment-friendly welcome kits (folder, notepad and pen) which are given to participants at official events; the stole or scarf that is presented to the guests- we make these with purely cotton clothes with zero plastic; mementos, which are either made of plastic or are plastic-coated- we make these with paper, cellulose fiber and agricultural waste. Mementos available in the market normally come at a starting price of Rs 300, while ours are priced at Rs 70. So, apart from being eco-friendly, our products are also very much pocket-friendly."
"Apart from this, we sell earthen pots and plant saplings which are organically grown by rural women with our support. We make stationery products like eco-friendly pens, diaries, pencils etc. We have installed a refilling plant, where the refills of pens are replenished in order to reduce the manufacture of plastic refills. We sell gift items like coasters, nameplates and wall hangings made of cellulose fiber and wood in very little amount. These are strong and water-resistant," he added.
"We also sell products made of bioplastic ( a type of plastic made from natural resources) and manufacture festival-specific products like organic colours made with flower extracts and arrowroot for Holi, biodegradable rakhis carrying plant seeds so that they germinate into saplings once thrown away, diyas or earthen lamps for Diwali etc.," he further said.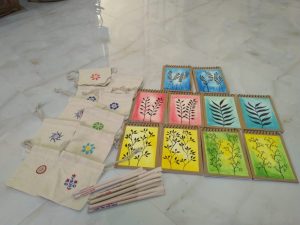 Eco-friendly packaging in demand post single use plastic ban
The Government of India has banned the manufacture, import, stocking, distribution, sale and use of certain single-use plastic items across the country from July 1, 2022. The demand for eco-friendly packaging bags have been increasing ever since, informed the 28-year-old entrepreneur.
"We make non-woven tote bags with cloth, paper and cellulose for product packaging. These normally come from 40-180 GSM and are priced between Rs 240-400 per kilo or Re 1- Rs 2 per piece. The demand for these has gone up so much ever since the government implemented single use plastic ban that we have to stay up all night on most of the days to ensure manufacturing and delivery within the given deadline. We are under so much pressure due to a sudden increase in demand that even I have to deliver the bags personally to some of the customers as and when required. Mostly blood banks, restaurants, vegetable sellers and boutiques buy these from us," he said.
Despite all efforts to protect the environment, plastic or foil items like chips and biscuit packets continue to flood the markets. There is a reason to worry because these cannot be recycled, feels Subham.
Creating a better world for children
Not just protecting the environment, the entrepreneur couple is also working towards educating children so that they grow up to be aware and responsible citizens.
Subham informed, "Forty percent of our income from Amuktika is used to impart free training to children regarding green technology. These include green construction or creating items with eco-friendly raw materials and even from waste, how to make biodiesel (renewable, biodegradable fuel manufactured domestically from vegetable oils, animal fats, or recycled restaurant grease) and hygiene management especially because there is a predominance of vector-borne diseases in our country."
Message for all
The entrepreneur concluded with a note urging all to step forward and fulfill their duty towards the environment. "Pollution free Environment is a right of every living being on earth and we humans need to ensure it. Do your bit to reduce pollution, especially plastic pollution and save the earth, which is our only home," he said.