Mother-daughter in Mumbai rescuing stray dogs since lockdown
Mumbai girl Kahani Kaintura and her mother have been rescuing stray dogs in the city ever since the Covid-19 pandemic induced lockdown happened two years ago. Why did they suddenly start feeding and rescuing stray dogs?
Sharing her story, Kahani told The CSR Journal, "I and my mom started this around two years ago in April-May, during the lockdown. We started feeding two-three stray dogs which used to loiter outside our building. We also got them sterilized. Initially, we thought it is an easy task to feed them every day. Then we started observing the dogs in the locality and discovered that most of them are scared of humans. Also, most of the dogs were starving and not sterilized, which is a huge problem. We found that there are almost two-three pregnant dogs in every lane. So, we started sterilizing them from our own pocket."
Kahani's father stays in their hometown Dehradun in Uttarakhand, where he runs a business, while her mother is a homemaker. Kahani stays with her younger brother and mother in Charkop, Kandivali. The 20-year-old, who has just completed her graduation, runs an online thrift store selling sustainable fashion and recycled clothes.
The journey began during lockdown
What inspired the youngster to start rescuing street dogs and taking care of them? Kahani recalled, "When I first adopted my dog, a 4-year-old Pomeranian in February 2020, I instantly developed an emotional attachment with her. After knowing her story, how she was abused and beaten by her previous owner, I was really shocked. During the lockdown later that year, I started reading everywhere that we should feed strays which are starving and dying. So, I decided that I want to contribute as much as I can in my limited capacity. Before this, I had no idea that stray dogs suffer so much. That's how we began. I feed over 45 dogs daily now."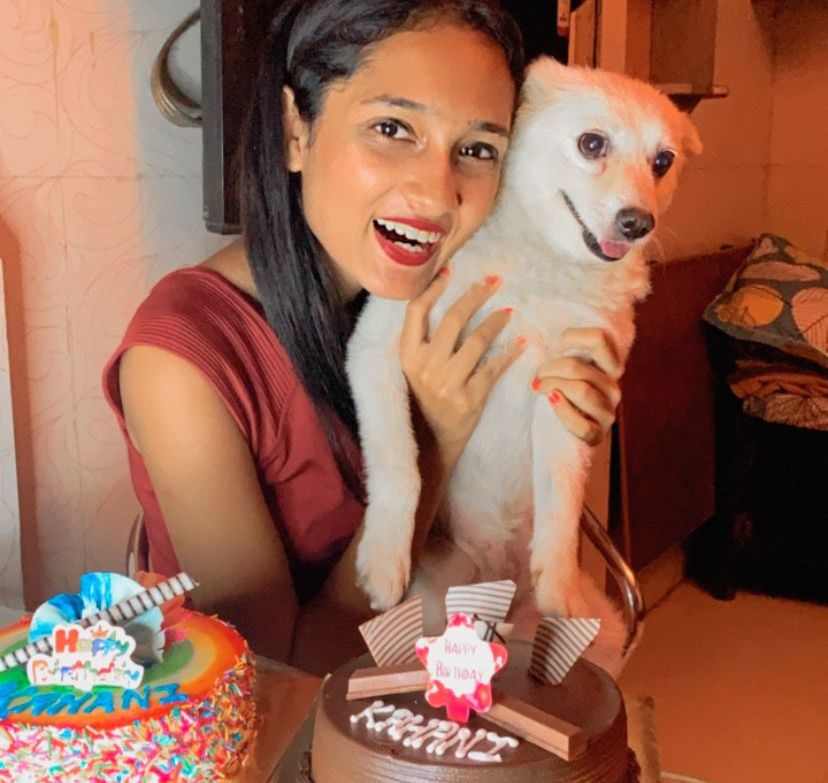 Biggest support
Kahani revealed that her mother Kiran Kaintura has been her biggest support. "When I started rescuing stray puppies and bringing them home, mom never asked me why you are bringing them. Instead, her mindset has been like good that you brought them home or else where will they go. My mother is the most emotional person I have ever seen. Initially, she was a little uncomfortable with dogs but she gradually grew fond of them. When mom learnt about how my Pomeranian was abused and beaten by its previous owner, she became very emotional. Now mom gets attached to every dog we rescue," Kahani informed with a smile.
Feeding over 45 stray dogs daily
"We feed 45-50 stray dogs daily at night. Sometimes we give them dog food, but mostly we feed them with rice and chicken cooked at home. We cook 7-8 kg of rice and 4-5 kg of chicken daily. I pack the food in my scooty and take it to the roads to feed the stray dogs, while my mother feeds around 10 strays in our locality," she revealed.
Rescuing stray dogs and getting them adopted
"At one time there were 21 dogs in our home including adults and puppies. Currently, we have five dogs, the rest of them have been adopted. One of them is a Pomeranian, while the other four are Indie dogs. We feed dogs, sterilize them and take care of them until they are adopted. I have gotten 115 dogs adopted in the past two years, all of which were rescued by me. We make sure the owners are kind and nice to the dog they are adopting and we follow all adoption formalities. Recently, I sent a dog to Pune for adoption. Now we have three pregnant cats, who have come on their own," Kahani shared.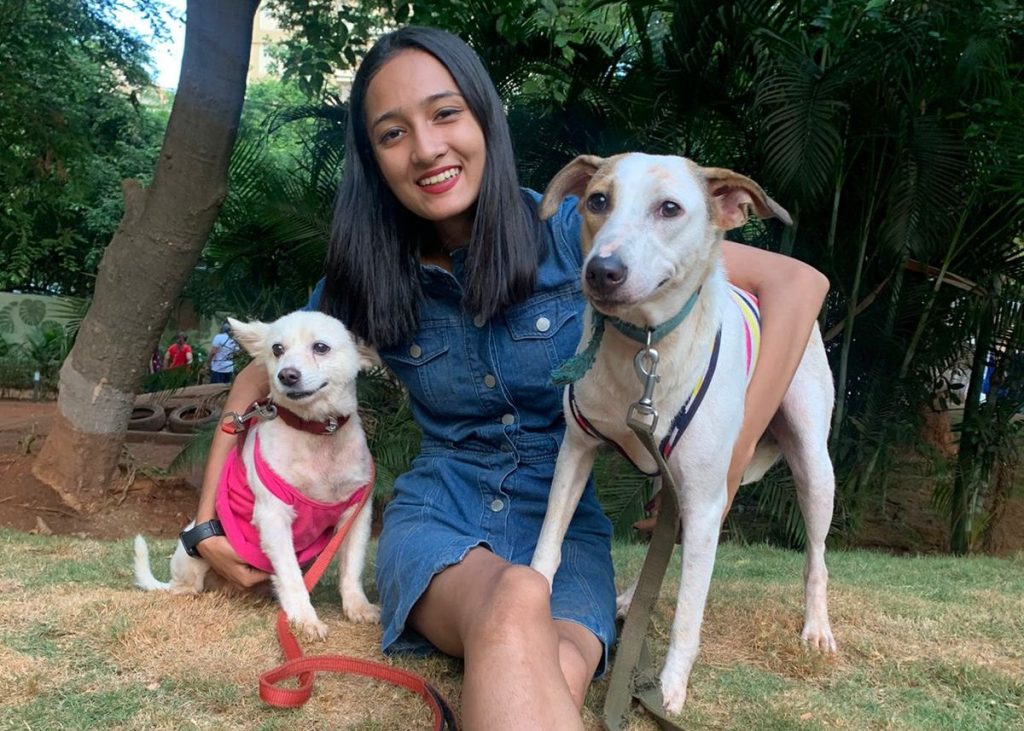 Challenges and obstacles
Any social work comes with its share of challenges and obstacles and Kahani's story is no different. She alleged, "In our society, people are charging us Rs 3000 per month as maintenance cost 'for keeping more than one dog', which is otherwise Rs 600. I have tried to explain to them that we are not doing something illegal. The dogs that we are fostering, we have kept them very nicely. All are vaccinated and most of them have been sterilized. We are doing everything in our capacity."
"Sometimes people try to hit our dogs with brooms. Also, a lot of local residents complain if our dogs cry, because they consider it as a bad omen. However, they don't want to find out why the dog is crying. They have even complained to the police against us and threatened us with legal action if we don't pay the huge maintenance cost that they have imposed," the 20-year-old said with a tone of helplessness.
Donation
Soon after Kahani started posting on social media about her dog rescue activities, donations started flowing in. She informed, "Gradually, we started receiving donations. Some people send rice while some send dog food or money. Sometimes, we get an aid of Rs 5,000-10,000, but the remaining 15-20k goes from our pocket only. At least 20,000 is our monthly expense for feeding over 45 dogs every day. At one time, we started a paid foster service, because we were really short of funds and there was no donation. We used that money to feed the dogs. However, we don't charge for adoption, it's free."
"Unfortunately, some residents of our society objected to we getting donations too. The main problem is they don't want to do anything for these animals and when we are doing something, they want to stop us. This mindset towards animals is very shocking," Kahani exclaimed.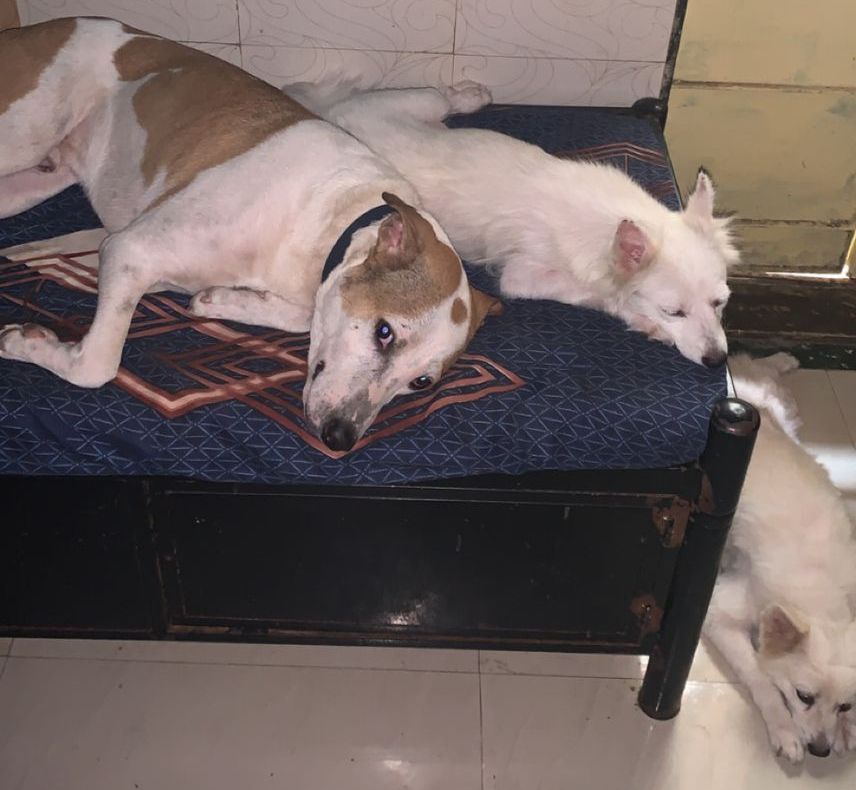 Where do the dogs come from
"Now, people in the area know that we rescue stray dogs and take care of them. So, a lot of them come to us with dogs they have rescued from the street. We also rescue abandoned puppies from the streets and even from the drains. Sometimes their mother dies; sometimes the mother is relocated elsewhere by the residents of a society, leaving the pups in a helpless state. Some of these puppies are also injured or bitten by rats.  I have even seen 15-20 days old puppies in cartons and boxes lying on the road," the girl revealed. "Sometimes people, who call themselves rescuers, come to us with rescued pups and just disappear after that. We start taking care of those dogs, their vaccination, sterilization etc.," she further said.
Lack of support
Kahani has only her family standing by her in her battle for saving strays. Appeal for help and support on social media didn't work. "Yes, people give us a lot of verbal support and assurance on social media, but till there only. Nobody comes to help us for real," she said.
What is the next step
The youngster is also planning to start an NGO for taking care of stray dogs but she wants to become a little more stable financially before taking the step. "Mom and I are planning to shift to Panvel side in a year or two, so that we can live a little more peacefully with our animals. We need a bigger space to accommodate all of them and there will also be greenery around us, which is good for the dogs' health," she concluded.