World Nature Conservation Day 2023: Corporate responsibility towards making the planet greener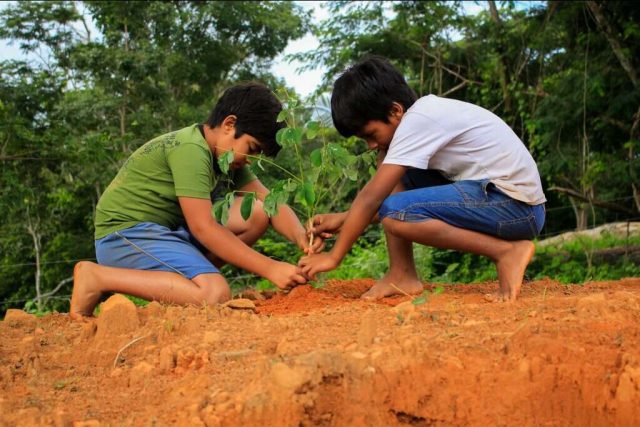 A planet full of fresh oxygen, greenery, clean air and pure water or a planet full of plastic and air pollution, lack of clean air to breathe and dirty water – which of the above would you like to leave behind for your coming generations? It's high time that we wake up to our responsibilities towards our environment, towards planet earth, which is our only home or else, we leave our future generations to suffocate and die.
World Nature Conservation Day is celebrated on the 28th of July every year to encourage people to adopt practices towards sustainable living in their day to day life and make a difference. While corporate companies in India are working to ensure accessibility to basic needs, education and healthcare for underprivileged sections our society through various CSR initiatives, how much is their responsibility towards the environment? What actually is being done?
CSR to protect biodiversity
Answering that, Ashwini Saxena, CEO, JSW Foundation, shared, "Today as the world grapples with unprecedented environmental challenges, the role of Indian corporates in nature conservation has never been more significant. We must recognize that the resources we utilize and the progress we achieve must be harmonious with nature and strike a delicate balance. Integrating sustainability into our core operations is not just a choice, but an imperative for corporate entities today.
Through CSR initiatives, we have the unique opportunity to invest in innovative and impactful projects that protect biodiversity, promote sustainable practices, and support communities that depend on the ecosystem with a long-term lens. Collaboration between the corporate sector, government, and civil society is vital in forging a path toward a greener and more resilient future. Of course, communities would be the centre point of all these initiatives to re-emphasize the symbiosis between nature and its inhabitants."
Planting trees
Manoj Tulsian, Joint Managing Director & CEO, Greenply Industries said, "While commemorating World Nature Conservation Day today, we are prompted by the fundamental value that nature holds in nourishing life on our planet. We trust that protecting our environment is not just accountability, but also an ethical imperative that we must hold passionately. As one of the leaders in the industry, we have embraced this philosophy, and we incessantly strive to lessen our ecological footprint while promoting sustainable practices across our operations.
Our sustainable sourcing policies, investments in state-of-the-art technology to optimize energy consumption, our plantation projects and extensive range of Zero Emission plywood is a testimony to our commitment to conserving the environment while meeting the varied needs of our customers. We stand firm in our commitment to nature's conservation, and our pledge to plant 50 million saplings by 2025 is a step in that direction. We are also the first in the wood panel industry to release its maiden ESG report for FY'22."
Addressing deforestation, pollution and loss of biodiversity
Pradip Shah, Founder, Grow-Trees.com, expressed, "I find immense pride and purpose in celebrating World Nature Conservation Day. It serves as a powerful reminder of our responsibility to preserve the environment for future generations. Nature Conservation Day highlights the urgency to address environmental issues such as deforestation, pollution, and the loss of biodiversity. It prompts us to reflect on the impact of our actions and choices on the delicate balance of nature.
Our mission revolves around promoting sustainable practices and reforestation to combat the escalating challenges posed by climate change and habitat destruction. By planting trees, we aim to create a positive and lasting impact on the environment, as trees are vital to maintaining ecological equilibrium, sequestering carbon dioxide, and supporting diverse ecosystems. World Nature Conservation Day is a reminder that conservation efforts are not limited to a single day; they must be a continuous journey towards sustainable practices and mindful living. It is a day to renew our dedication to preserving nature's bounty and nurturing a shared sense of responsibility towards the Earth."
Investing in environmental projects
"Responsible business practices are a critical foundation for protection of the environment. Adopting a 'materiality' approach to sustainability, businesses can identify relevant aspects of not only their operations but the entire value chain and focus on setting realistic, incremental goals. This involves both internal stakeholders and external entities, fostering collaboration and creating value from the time and resources invested. Businesses are essential partners in nature conservation. They must also drive change through investment in cleantech innovations, environmental projects and raising awareness amongst youth, and larger communities to secure a better future for the planet," opined Tejashree Joshi, Head, Environmental Sustainability, Godrej & Boyce.
Integrating environmental commitment into corporate strategy
"In today's world, it is critical for organizations to integrate environmental commitment into their corporate strategy, business operations and products which goes beyond compliance. We have embraced sustainable practices as an integral part of our business operations. The Bisleri Greener promise anchors our sustainability initiatives, namely Bottles For Change to improve plastic circularity and Project Nayi Umeed, focused on water conservation. We are proud to share that we recycle more plastic than we consume and replenish more water than we process. These steps taken towards conserving natural resources make us an organization that is responsible, accountable, and purpose driven. Moving ahead, we are committed to investing in eco-friendly solutions, prioritizing the planet and people at the core of our business strategy," said Angelo George, CEO, Bisleri International Pvt. Ltd.
Switching to sustainable mobility
"As the world faces environmental challenges such as climate change, loss of biodiversity, deforestation, and pollution, both corporates and NGOs have a significant role to play in safeguarding the environment and promoting sustainable practices. Being an EV retrofitter and OEM manufacturer, we recognize the dual responsibility towards nature conservation in the present day. Through our Corporate Social Responsibility initiatives, we commit to not only developing sustainable transportation solutions but also actively investing in environmental projects. We strive to collaborate with NGOs and communities, driving positive change and accelerating the transition to a greener, more sustainable future for generations to come.
Being in the EV 2 wheeler sector, we are striving hard to conserve our environment. Abiding by the Government of India's scrappage policy, we are turning vehicles with internal combustion engines into electric vehicles. This is beneficial for the environment as having transportation options with clean energy is helping in reducing the carbon footprint and creating a sustainable atmosphere," expressed Shrikant Shinde Founder and CEO of GoGoA1.
Adopting eco-friendly practices
Saloni Bhardwaj, Co-Founder & CTO, Lotus Petal Foundation said, "Looking at the need of the hour, conserving nature is a collective responsibility of both corporations and NGOs. We must undertake the responsibility of preserving the ecosystem, if we need a sustainable environment to live in. Regardless of the scale, we must align our infrastructure that respects the environment. Practices such as optimum utilization of resources and the adoptation of eco-friendly practices by the employees must be the beginning in truly serving corporate social responsibility.
Furthermore, larger corporations may come forward to take local community engagements. Through mobilizing awareness and practicing eco-friendly actions, corporations and NGOs together can make a big difference in making the masses understand that the need of the hour is to collectively restore the planet".