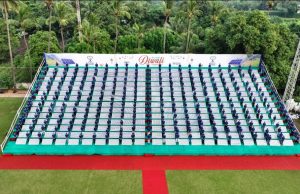 One of the world's leading diamond crafting companies, Shree Ramkrishna Exports Pvt. Ltd. (SRK), announced at its 'Pure Diwali Get Together' celebration that it...
From coal to petroleum, every natural resource is exhaustible, but the one resource that is inexhaustible is the sun. So, in timeswhen our energy...
Solar panel systems are an affordable and reliable source of energy, and they are gradually gaining ground in India and other parts of the...
The United Nations is facing a severe liquidity crisis, reaching its deepest deficit of the decade. Several emergency measures have been put in place by...
Atlas Copco has started powering its compressor factory in Chakan, India, with solar panels. The move contributes to Atlas Copco's goal to continuously reduce...
The process and benefits of developing solar energy are still not understood by people, which gives rise to hesitation in investment and adaptability. It is a widely unexplored area, which can save money, pollution and can result in greater scientific and economic development.
With the Indian Government announcing elaborate plans to tap the Solar potential right up to border areas and The Ministry of New & Renewable Energy announcing subsidies on the installation cost of solar photovoltaic power plants, Solar Power has all the makings of a 'bright' business opportunity or a wp program with 'glowing' prospects.