Home
Press Release
Going green: AIIMS Delhi begins its sustainable energy journey with solar rooftop...
Going green: AIIMS Delhi begins its sustainable energy journey with solar rooftop through CSR support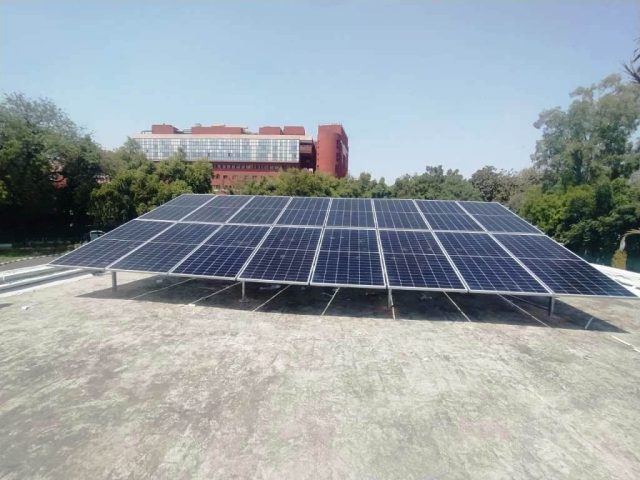 New Delhi, India: Jakson Group, a leading Energy & Infrastructure company, headquartered at Noida, has collaborated with AIIMS, Delhi to Go Green with Solar Rooftop Solution. This 9 KW project, on the rooftop of AIIMS Director's Bungalow, has been developed under the aegis of Jakson Welfare Trust, the CSR arm of Jakson Group.
The solar plant is expected to generate ~13,140 units per year, resulting in 100% of the power consumed through the solar plant. The company has installed its latest high efficiency Helia series solar panels, which are built on A+ category of half-cut MonoPERC solar cells, to provide lower LCoE resulting in higher performance.
The project has been inaugurated by Dr. M Srinivas, Director of AIIMS and Shri P K Das, Chairman and Managing Director of IREDA, on 1st August 2023. The program was attended by key dignitaries from the Ministry, AIIMS, Confederation of Indian Industry and Jakson Group.
Speaking on this occasion, Mr. Sameer Gupta, Chairman and Managing Director of Jakson Group, said "We are delighted to collaborate with AIIMS, Delhi, for this project. As a diversified energy company, Jakson is firmly committed to support the nation-wide Net Zero Mission, through a bouquet of renewable energy solutions, and our partnership with AIIMS demonstrates this commitment. We congratulate AIIMS for embarking on their Green Journey and setting an example for other prominent healthcare institutions to join this environmentally conscious movement."
Further emphasizing on the importance of this initiative, Dr. M Srinivas, Director of AIIMS, Delhi, said " To build the Rooftop Solar project is an important step towards attaining our environmental objectives. We recognise green energy's important role in not just improving our operational efficiency but also contributing to the greater environmental cause. This collaboration illustrates our commitment to advancing sustainable healthcare practises, and we hope it will encourage other institutions to do the same."
With this project, Jakson has inked another landmark with the prestigious healthcare institution along with providing power back-up solutions and EPC services in past for its Bhubaneshwar and Rishikesh Campus.
Disclaimer: This media release is auto-generated. The CSR Journal is not responsible for the content.