While we love decking up our homes during the festival of Diwali with lights, flowers, candles, earthen lamps and various home decor items, it would also be a great idea to light up a few more homes around ours, the residents of which wait round the year to sell diyas handmade by them, artificial jewellery, flowers, paper lanterns (kandeel) and items for Diwali decoration and celebrate the festival with the meagre profit which they make by selling these.
Why shop local
The Covid-19 pandemic taught us why it is important to support local businesses. There were people who would run their homes just by selling grocery, hand sanitisers and masks. Similarly, when you buy marigold garlands for decorating your home's temple or handmade Torans for putting up on the main door, or maybe a dozen of handmade earthen diyas, you are helping spread smiles and light up another home during the festival of lights.
While it is necessary to buy from the shops in the local market, those sitting on the roads with just a handful of items on display need our support even more.
By buying local, we are not only supporting small businesses, which are crucial for the nation's economy, but also giving a boost to local handicrafts and handloom. When we shop local we are not only lighting up the homes of the seller but the hundreds of workers who are associated with the manufacturing of these products and their families who are dependent on them.

Embracing local culture and tradition
"Diwali is a widely celebrated festival in India. Being able to shop locally during this time means celebrating the festival with traditional snacks which are homemade and sold at the local markets and enjoying locally made diyas, lights and home decor items which are mostly handcrafted. Every place in India, rural or urban, has distinctiveness when it comes to festivities, and Diwali is no exception. Therefore, being able to shop and celebrate locally embraces these local cultures and traditions that have been going on for generations," shared Mumbai-based homemaker Kaljender Kaur Aulakh.
Easier on the pocket
"We have grown up buying candles from local shops. It is indeed a different feeling to see localities lit up before Kalipuja and Deepavali with some local shop owners resorting to occasional selling of candles and fairy lights. Not only those sold online are expensive sometimes, they are like any standardized commodities sold on the online market. Such commodities may be attractive but the experience of procuring them lacks the festive angle. It's like purchasing any everyday household thing at the hit of a button. Not only local shops offer the scope for bargaining and give good discounts on the price, they render the commercial dimension of the festival of lights much more culturally embedded," expressed Kolkata-based Assistant Professor of Sociology Dr. Pinaki Roy.
"I make sure that I always shop local especially for festivals like Holi, Diwali or Navratri to support small businesses and local manufacturers. This year, I have purchased made in India lights and diyas from a footpath seller to light up my home for Diwali. I have purchased a beautiful Nameplate from a local artist which has been handmade. I have also purchased tea cups and coffee mugs which are locally manufactured to serve guests coming at my home for Diwali," informed banking professional Avirupa Bhattacharya.
Shop local, save the environment
"Diwali is all about bringing light to our lives and to those who make our lives better and easier. I have always relied on roadside stalls for my Diwali haul. From earthen lamps (diyas), sparklers, and firepots – these small indigenous shops have given me two things : a wide range of options and a reasonable price. By buying local, I think we can contribute to saving our environment as these products add less carbon footprint than those being shipped across cities. Also, buying local products helps to boost the economy and strengthen the local identity and small business owners. I have always been vocal for local products," said Sreeparna Dutta, a PR Professional.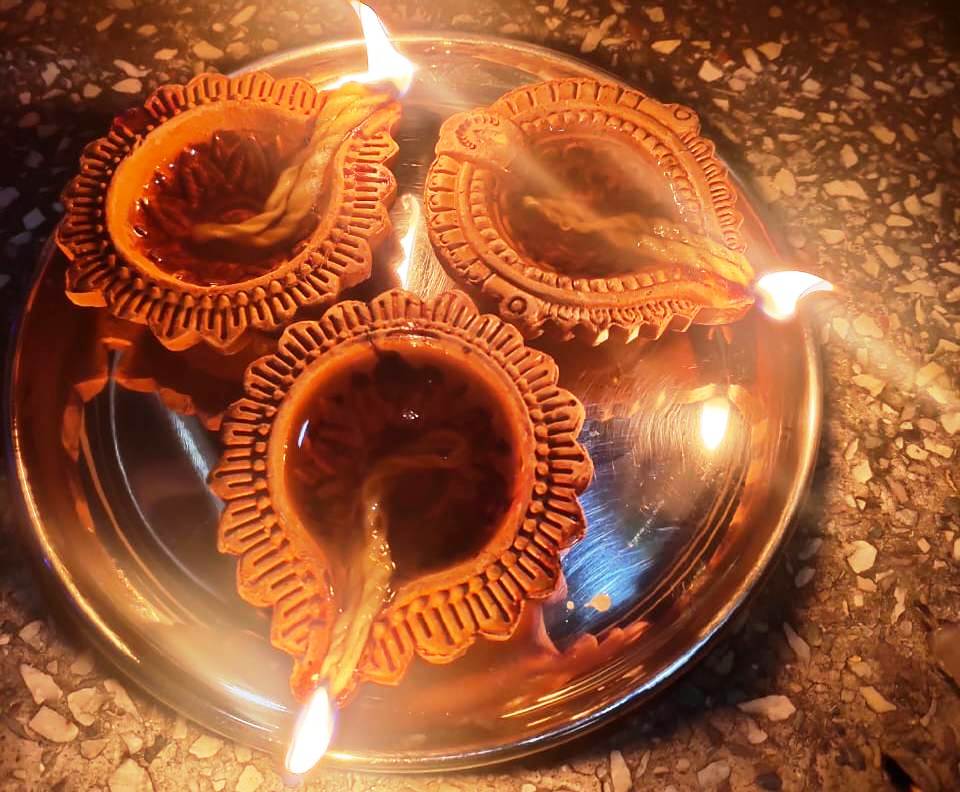 PM Modi 'Vocal for Local' ahead of Diwali
Prime Minister Narendra Modi has always been 'Vocal for Local' urging Indian citizens to support local businesses and goods manufactured in India. Recently, while addressing people in the 106th episode of 'Mann Ki Baat, the Prime Minister made an appeal to Indian citizens to purchase locally-made products during festive days and on special occasions.
Urging people to support local businesses for the festival of Diwali, PM Modi also posted on X (Twitter) on Wednesday, "This Diwali, let us celebrate India's entrepreneurial and creative spirit with #VocalForLocal threads on NaMo app.  Buy products which have been made locally and then post a selfie with the product or the maker on the NaMo App. Invite your friends and family to join your thread and spread the spirit of positivity. Let us use the power of digital media to support local talent, encourage the creativity of fellow Indians and keep our traditions thriving."
This Diwali, let us celebrate India's entrepreneurial and creative spirit with #VocalForLocal threads on NaMo app. https://t.co/NoVknVXclo

Buy products which have been made locally and then post a selfie with the product or the maker on the NaMo App. Invite your friends and…

— Narendra Modi (@narendramodi) November 8, 2023
'Diwali Utsav' at Khadi Lounge, New Delhi
Empowering the spirit of 'Vocal for Local', Chairman of the Khadi and Village Industries Commission Manoj Kumar inaugurated a five-days 'Diwali Utsav' Gramshilpa, Khadi Lounge in Connaught Place, New Delhi earlier this week.  To connect the people of Delhi with the appeal of the Prime Minister, a special range of local products has been made available during the 'Diwali Utsav,' to ensure that more and more locally manufactured products reach the common people. When Khadi products are sold, they provide economic self-reliance to the artisans working in rural India.
On the occasion, Manoj Kumar said "A wide range of local products are available here for Khadi lovers in every budget. Starting from products like clay diyas made by potters in Delhi, priced from Rs.50 to Rs.1000 to beautiful idols of Lakshmi and Ganesh, handcrafted clay temples, products made from millets by Village Industries and PMEGP units, candles, Agarbatti, Khadi jackets tailored by Khadi artisans and designers, and a special range of various fashionable Khadi garments are available as well."
Celebrating the spirit of Diwali Utsav and Aatmanirbhar Bharat, the Khadi Gramodyog Bhavan located at Connaught Place, New Delhi is also offering special discounts, including up to 20% off on Khadi products and 10% off on Village Industries products.