Under the project Right to Play, Roots Foundation's endeavour is to ensure that every child in the National Capital Region who desires to play football – be it professionally or simply for leisure – is given a chance and adequate infrastructure. The management team has pioneered the setting up of prominent football academies in Delhi for the underprivileged.
Roots Foundation is in the process of setting up one of Haryana's largest not-for-profit football academies in partnership with one of Delhi's top football clubs. Budding talent from various initiatives is given full exposure and support to foray into the professional space. In a similar vein, Roots is setting up football academies in Delhi NCR and Uttarakhand.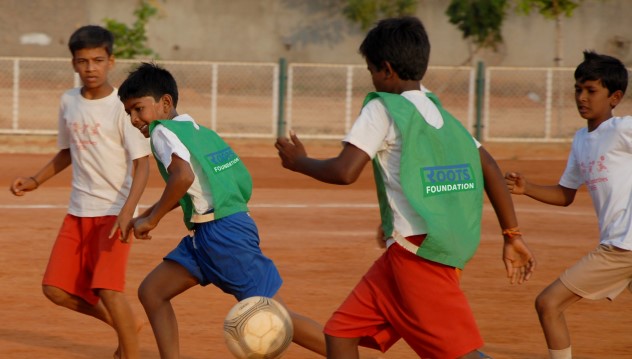 Roots Foundation is a society registered under the Societies Registration Act, 1860 with registration number ROS/North/5/5/2012. It is also registered under sections 12A and 80G of the Income Tax Act, 1961. The nonprofit organisation strives to design and operationalize innovative and sustainable ecosystems that facilitate the empowerment of the less privileged by providing them with opportunities to realize their potential.
The management team of Roots includes agricultural science graduates, dairy technologists, economists, academicians, medical practitioners, rural development professionals, textile designers, sportspersons and management graduates from top Indian educational institutions such as IIM-Ahmedabad, All India Institute of Medical Sciences (AIIMS), St. Stephen's and Shri Ram Colleges (Universities), National Institute of Fashion Technology (Delhi), Institute of Rural Management (Anand), National Dairy Research Institute (Karnal), etc.
To fund this project, write to editor@thecsrjournal.in