Dairy in Ujjain offering discount discouraging single use plastic
The government of India has banned the manufacture, sale and use of single use plastic items from July 1, 2022. Following this, a dairy in Madhya Pradesh's Ujjain has come up with a unique idea to discourage their customers from using single use plastic carry bags. Ujjain's Amrit dairy, is giving a one-rupee discount per litre on milk to customers bringing their own utensils from home. Not only this, any person bringing their own utensil will be treated as a 'VIP customer' and served in priority over those buying in plastic carry bags!
Why this initiative
Talking about the same, Amrit dairy owner Abhishek Bhawsar told The CSR Journal, "Time and again we have seen initiatives being taken by the government and administration to stop the use of single use plastics. Even the local municipality over here has been hosting awareness camps about this. Single use plastics are causing a heavy damage to the environment. In dairy business, milk and other products are often sold in polythene packets, so the dependence on plastic is high. But we want to support the government and local administration in their attempt to stop single use plastics. If we stop giving milk in plastic packets, then people will automatically bring utensils from home, which will benefit the environment."
How did it start?
"Initially, we started requesting our customers to bring utensils from home for carrying milk. But the general tendency is that people do not listen, instead, they will go to some other dairy to buy milk. People are not used to carrying utensils from home, so even if we tell them, a lot of them forget that while coming to the dairy. Hence, we thought of doing something like giving an incentive, which will motivate the customer to stop using plastic bags. That's when we announced that we will give Re 1 discount on milk to customers who are bringing their own utensils. For example, a family that buys 5 litres of milk daily, saves Rs 5," informed Abhishek.
"Now when people are getting discount, they have started carrying utensils from home. Not only this, if you bring utensils, you will be our priority customer, i.e., we will serve you before other customers who are buying milk in plastic, even if they have come before you and are waiting at the que," he added.
Since when did they start the offer
The dairy owner shared, "The government of India has banned single use plastics from July 1. The local municipality had also instructed us to find a way out for using an alternative to plastic bags while selling milk and other dairy products. We started giving discount for not using plastic bags from July 15. Most of our customers, who live close by, now bring their own utensils. Customers who come from distant villages, find it difficult to carry utensils from that far."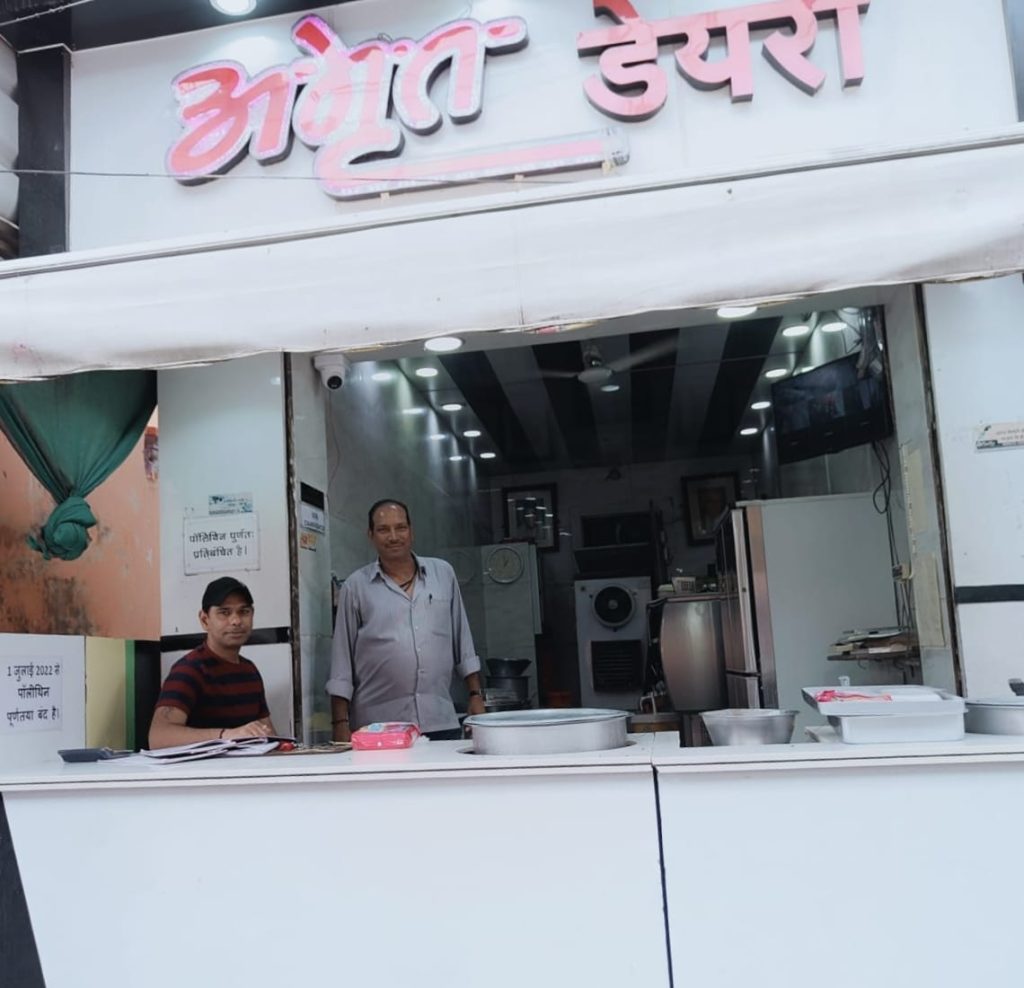 About Amrit Dairy, Ujjain
Residents of Ujjain since a very long time, Abhishek and his father Amritlal Bhawsar has been running the dairy, which was started decades ago by his grandfather. He said, "Our dairy is very old, at least over 60 years. My grandfather started it. I was not even born at that time. It is a family business, my father, uncle and everyone is involved in it. We don't sell any branded milk. We get cow milk from nearby villages within 50 kms and sell them. Apart from milk, we also sell full cream paneer, curd and ghee, all manufactured by us."
Inspiring others to follow their footsteps
Abhishek feels it would be great if other shops also start giving similar offers to their customers, because that would motivate more people across the nation to stop using plastics carry bags. "Re 1 is not a big thing, it is just an incentive for making people listen to our request. The change is coming even though slowly, but it's happening, so I am happy. The local municipality has also lauded our initiative. I've heard that some dairies in Indore are also planning to follow our footsteps," Abhishek expressed with a smile.