CSR Concerning International Day of Persons with Disabilities
An analysis of disclosures by listed companies reveals that the share of Persons with Disabilities (PwDs) is a negligible 0.46% of their employee base. Today is the International Day of Persons with Disabilities. Over the years, the Indian Government has created several policies to support differently-abled people. Unfortunately, families and institutions remain in the dark about these policies, which deprives disabled people from enjoying various benefits.
The theme for IDPD 2021 is "Leadership and participation of persons with disabilities toward an inclusive, accessible and sustainable post-COVID-19 world." On the United Nations' International Day of Persons with Disabilities, The CSR Journal takes stock of whether CSR is empowering PwDs and enhancing their lives.
GMR Group
GMR Varalakshmi Foundation (GMRVF), the CSR arm of GMR Group, organized special camps to distribute aids and appliances to 400 physically challenged persons of Telangana. These camps are being organized in coordination with the National Institute of Locomotor Disability (NILD) at three places: Suryapet, Choutuppal, and Shamshabad of Telangana from 26th to 29th of September.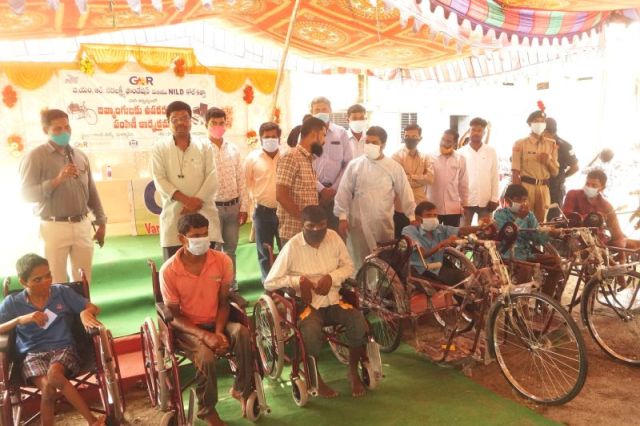 NILD, Kolkata is an autonomous body under the Department of Empowerment of Persons with Disabilities, Ministry of Social Justice and Empowerment, Government of India. Its mission is to conduct disability assessment camps in different parts of the country and provide required aids and appliances, free of cost, to persons with disabilities.
Earlier GMRVF has partnered with NILD and organized such assessment camps and distribution of aids and appliances in its project locations for two years. As part of this CSR initiative, GMRVF will mobilize the beneficiaries to the camps from its project locations which will be held in its premises. It will also provide all the logistic support and other arrangements for this program.
In the 2019-20, NILD has conducted disability assessment camps to identify needy beneficiaries in four of its project locations in Telangana viz. Suryapet, Choutuppal, Toopran, Shamshabad. A total of 400 beneficiaries with disabilities were identified from these locations. However, due to the pandemic, this distribution activity had been suspended and with the Covid situation now largely under control, the CSR programme has recommenced. The aids and appliances given to the PWDs include wheelchairs, hand propelled tricycles, artificial limbs, hearing aids, crutches, walking sticks, foldable walkers etc.
Vision-Aid
On the occasion of International Day of Persons with Disabilities, Vision-Aid, an international NGO that works for the welfare of the visually impaired has partnered with Dr. Shroff's Charity Eye Hospital, one of the largest tertiary eyecare institutes of India based in New Delhi, to provide smartphones to the visually impaired.
The CSR programme aims to help the community of visually impaired gain access to assistive technologies through the smartphones that can have a life-changing impact on them. Various AI-based applications available in the smartphones will help them navigate and connect them to a range of digital education resources thereby opening the doors to sophisticated and freely available mobile applications.
Through this programme, Vision Aid intends to provide a few hundred smartphones over the next few months. The initiative will be implemented in phases, with an initial pilot of Phase-1 whereby 100 smartphones will be distributed, followed by a larger rollout covering couple of hundred smartphones in Phase-2. Vision-Aid partners with NGO Trees for Life India which provides matching grants for their smartphone program.
The mobile phone dissemination will be followed by a Mobile Technology training program to onboard users with the assistive features of the Smartphone, as well as the various applications available. The training will be conducted at the Lacchman Dass Gupta Vision-Aid Resource Center at Dr. Shroff Charity Eye Hospital, a resource center funded by Ram & Meetu Gupta, philanthropists from Boston, USA who support the centre in honor of their late father Lachhman Dass Gupta of Delhi. Following the completion of the training programme offered at the resource center, the beneficiaries have to take a short online assessment conducted by Vision-Aid Academy before they are certified for the same. The Vision-Aid center offers many other types of innovative training programs and technology resources for the blind and visually impaired.
Cognizant
Marking the International Day for Persons with Disabilities, Cognizant Foundation, the CSR arm of IT service major Cognizant, at a virtual event announced the launch of its flagship program – Tech4All, to empower and skill persons with disabilities (PwDs) for jobs in technology and technology-enabled services. The program will be implemented across India in collaboration with multiple partners.
Aligned with the Foundation's increased focus on 'inclusion and technology as an enabler,' the programme will be implemented in phases. In the first year of implementation, with Rs. 1.95 crores in funding from Cognizant Foundation, the program will partner with Dr. Reddy's Foundation and Cheshire Disability Trust to train 700 people, including women from underserved communities, in basic and advanced IT skills with an aim to place them in technology related jobs.
As part of the first phase, Tech4all will be piloted in four states – Delhi-NCR, Karnataka, Telangana and West Bengal. Additionally, Cognizant has also partnered with EnAble India to develop Blimey, a cloud-based learning platform to make digital learning accessible for visually impaired in multiple local languages. Blimey facilitates distance learning and will be accessible to learners around the globe since it is built as an open-source platform. It enables visually impaired users to learn computers independently, with very little or no help, and work with screen readers like NVDA, JAWS, and magnifiers.
Spark Minda, Ashok Minda Group
To ensure sustainability to the lives of Persons with Disability through ensuring their mobility, Spark Minda, Ashok Minda Group has developed a Program called "Saksham". It is supplementing to Accessible India Campaign (Sugamya Bharat Abhiyan), Ministry of Persons with Disabilities.
This framework is basically designed for differently abled people to create an inclusive workplace, where their skill and talent are valued and respected. Countrywide in different manufacturing locations 149 Person with disability are employed by the Group.
The Group engages PWD's with an affirmation of its commitment to sustainable business practice. The various functions where PWD's are employed are Assembly, Production, Paintshop, Administration, Wire joint taping, Store Department, Inspection etc. Frequent job rotation is also carried out to provide ease to them while working.
Under Saksham, Spark Minda Foundation organises regular

Empowerment Camps for PwD's

in cities like Pune and Noida in association with local NGOs. The camps provide end-to-end support in Limb fitment, Caliper fitment, Walkers, Elbow Crutches, Tricycle, wheelchair and other assistive aids to persons with a disability.
Through Saksham, the Group aims to provide accessible and assistive technologies, impart skill training through OJT (On the job training), create inclusive workplace and ergonomics, train them for 5s and life skills, employ PWD's in keeping with the objectives of the International Day of Persons with Disabilities.
Tech Mahindra
Tech Mahindra Foundation works with children and youth with disabilities in the areas of education and skill development. Activities under the disability programme focus on the dignity and independence of persons with disabilities.
ARISE+, or All Round Improvement in School Education, is a special programme which encompasses the Foundation's work in the area of school education for Children with Disabilities. In 2018-19, ARISE+ programme reached and benefitted, approximately, 2500 students by providing chronic therapy as well as special education, to help them lead fulfilling lives. Working with diverse groups within the domain, the Tech Mahindra Foundation empowers Children with Disabilities, including sight impairment, hearing/ speech impairment, loco-motor disabilities, and a range of intellectual impairments across India. The SMART+ programme was launched in 2013 to include Persons with Disabilities. A specially designed curriculum plus well-equipped classrooms enable effective communication in classrooms so as to enable Persons with Disabilities to learn.
Mindtree
Mindtree, a Larsen & Toubro Group company, has partnered with the National Centre for Promotion of Employment for Disabled People (NCPEDP) to create equal opportunities and an enabling work environment for people with disabilities. Every year, they identify 10, differently-abled people who are outstanding performers across India and felicitate them with the NCPEDP Mindtree Helen Keller award.
"The inclusivity of differently-abled people is a crucial part of Mindtree's charter, and the Mindtree Foundation is doing extensive work in developing technologies to assist them. In fact, when Mindtree was created 20 years ago, our first logo was designed by 17-year old Chetan, who has autism. Today, we work with over 45 differently-abled colleagues, with amenities provided to them so they thrive in their roles and feel they are a big part of the organization," said Debashis Chatterjee, CEO & MD, Mindtree.
As a tech company, Mindtree is trying to make the daily lives of PwD's easier via assisted technologies. Towards this, they have delivered two assistive technology products to Aravind Eye Hospitals in Madurai, Tamil Nadu:
1.
Visual Intervention Kit with Analytics for Special children (VIKAS)

: VIKAS is an assorted collection of nine major exercises in 21 sub-exercises with 22 screens to redress cognitive visual dysfunction (CVD). CVD is vision impairment occurring due to damage to the brain where the eyes are able to see, but the brain is not able to process / interpret what is being seen. CVD can be due to prematurity, structural / functional damage to the brain, autism, cerebral palsy, etc. It can affect all aspects of educational, physical, social and emotional development.
2.
Digital Nethra for Eye (DIGNI)

: This is an Android mobile application that reads the page of a printed book from a table-lamp-like structure, converts in to audio and speaks it out through a headphone. This application performs optical character recognition (OCR) of text and converts text to voice. It reads the contents of the entire page (except the pictures). After a page is read, it prompts the user to turn the page.