The Ultimate Report on Wipro CSR
Diversity and Inclusion. Employee engagement and satisfaction. LGBT allyship and tolerance. Social transformation and sustainable development. Wipro CSR comes out tops on all the beats that matter. In our ed#LetstalkCSR series, The CSR Journal explores the corporate social responsibility strategy and flagship programmes of the global IT, consulting and biz process services corporation which is helmed by the most generous Indian on record. 
The company's Founder Chairman Azim Premji is a genuine high-thinking, simple-living philanthropist. He has

topped the Edelgive Hurun India Philanthropy List 2020

, making him India's most generous person. With someone of his principles at the highest point of leadership, it's no surprise that Wipro has a strong foundation in good governance and corporate citizenship. Although he's openly critical of the 2% CSR mandate, this tech giant has been consistently shelling out a lot more than the prescribed budget on social programmes. 
Take a deep dive with our comprehensive report on Wipro corporate social responsibility strategy, spend, programmes and impact.
1. Wipro CSR

 
What differentiates the corporate social responsibility of Wipro from other Indian corporates running sustainability initiatives is the finesse. The quality of resources and personnel that CSR activities of Wipro engage, the attention to detail in laying out the intervention's plan, the thoughtful consideration for challenges that NGO partners may face, and the readiness to come up with solutions. It takes a long term view and sets goals in accordance. The change you see is systemic rather than superficial.
The Wipro corporate social responsibility journey began 20 years ago, with an education programme for school children. The success of that intervention led to more social projects for rural development, ecological conservation and community transformation. 
2. About the company
Wipro Limited is at the cutting edge of robotics and cognitive computing today and has more than 180,000 employees in offices spread across six continents. However, this tech giant began as a vegetable oil manufacturer 75 years ago in a small town of Maharashtra. From cooking oil to soaps and other products, it was a journey of more than three decades before Wipro ventured into Information Technology. 
Computers were a new innovation in the 1980s, poised to revolutionise the lives of practically all the people who would go on to inhabit the planet. From manufacturing mini-computers in the Eighties to software development in the 1990s and non-IT businesses in 2013, this innovative firm has seen and done it all. Today, the focus is entirely on the vast global IT business. 
3. "The Spirit" and Values
If there was one underlying entity that guides how everything moves and everyone acts at this firm, it's The Spirit of Wipro. The Spirit lies at the core, it is the essence of being, it reflects in the behaviour of the management and employees alike. Deeply rooted and unchanging, it is the beacon. The Spirit gives a sense of direction and is naturally the touchstone of Wipro CSR activities.
Azim Premji quit his position as Executive Chairman last year to focus on philanthropy. His son Rishad Premji took over the baton with the same humility and rootedness you see in Premji Sr. The confident Harvard grad believes that business organisations must serve a larger social purpose. His vision of corporations as active and engaged citizens of the world is in tune with the millennials and Generation Z who are taking over the workforce. 
4. Chairman's message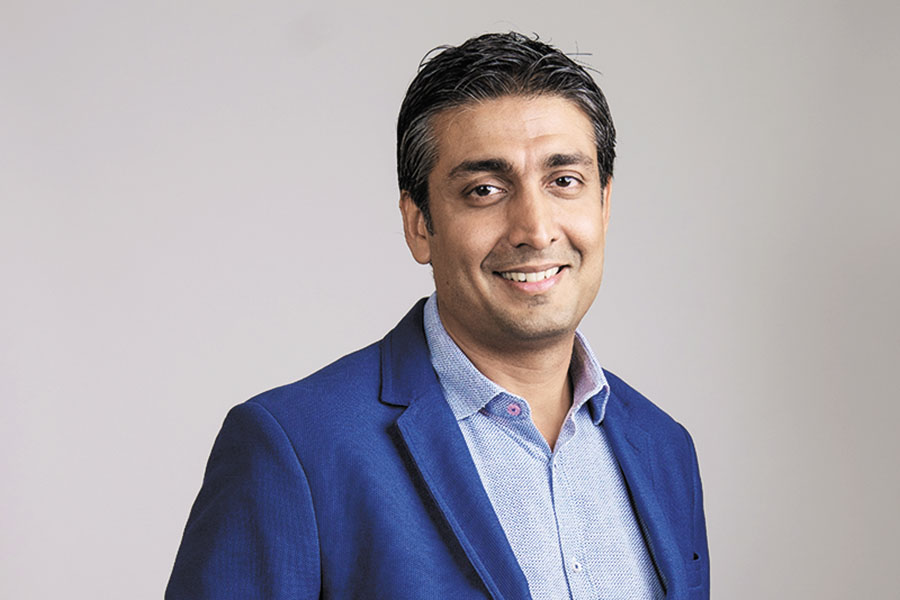 Says Chairman Rishad A Premji:
"As the world's best scientific minds scramble to find a vaccine or a cure for the virus, as businesses we have a deep responsibility to the communities within which we operate. Our response is an integrated set of carefully targeted actions that we are implementing in close collaboration with the Azim Premji Foundation and Wipro Enterprises Pvt Ltd, where we have jointly committed Rs. 1,125 crores. Our commitment rests on two crucial pillars, the first is to balance short-term relief with medium-term requirements over the next 12-18 months and the second is to prioritize our effort to the most vulnerable sections of society who have been most adversely affected."
5. Recognition and recent landmarks
Wipro Limited consistently features in the Great Place to Work index because of a culture that fosters inclusion and openness. Speaking of inclusiveness, it won the NASSCOM Diversity and Inclusion awards (2019) for 'Gender Inclusion'. It bagged a spot in the Bloomberg Gender Equality Index 2020. So strong is the reputation for this trait, it scored 90 out of 100 on the 2020 Corporate Equality Index and was listed in the "100 Best Companies for Women in India" list. It was dubbed a "Champion of Inclusion" in the 2019 Working Mother & Avtar Most Inclusive Companies Index (MICI).
Wipro has become a world member of the Dow Jones Sustainability Index for the tenth time in a row. Ethisphere Institute has dubbed it World's Most Ethical Company for the ninth year in a row, which shows steadiness in its ethics and values. The tech giant got a Gold rating from Ecovadis and is a member of the international FTSE4Good Index Series.  
6. Wipro corporate social responsibility strategy
There are two main focus areas for all the Wipro CSR activities: one is to make the company more sustainable in line with the triple bottom line approach; the other is to work towards a just, inclusive and sustainable society. While the main focus areas of Wipro corporate social responsibility are Education, Ecology, Primary Health Care and Disaster Response, the CSR activities of Wipro projects span various sub-categories including Urban Ecology, Access and Inclusion in Education to public spaces.
6.1. Social Partnerships
Working in silos is an archaic approach to corporate responsibility. The evolved management here recognises the importance of partnerships with social enterprises and nonprofits in making change happen. 
There is a lot of emphasis on social and natural capital. The team chooses partners based on how well they can foster social and natural capital. Apart from the implementation of CSR programmes, the company encourages partnerships for collaborative advocacy. It takes a long term view of problems, and designs programmes in line with its ethical standards. 
Last year, corporate social responsibility of Wipro worked with nearly 200 partners which include civil society organisations and academic institutions across India, US, UK, Europe and Asia-Pacific.
7.

CSR Committee
The Wipro CSR committee was formed in accordance with the norms in Section 135 of the Companies Act, 2013. It is part of the Board Governance, Nomination and Compensation Committee. It comprises three Independent Directors (William Arthur Owens, M. K. Sharma and lreena Vittal) with Mr. Owens also being the Chairman of the CSR Committee.
8. CSR spend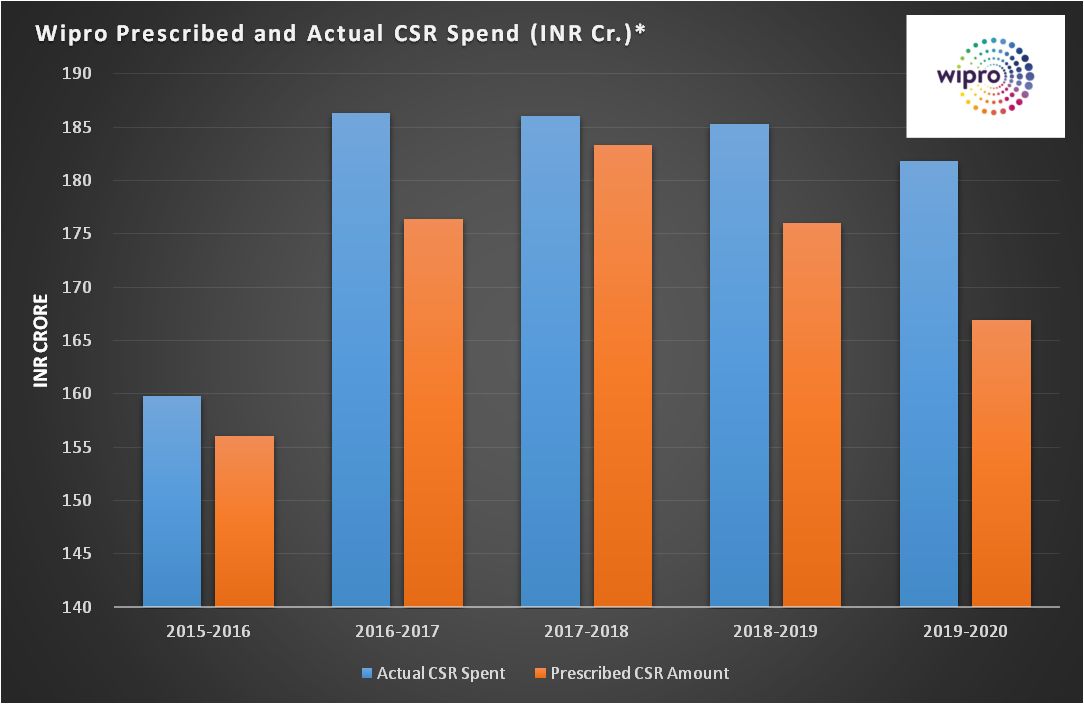 The Company spent Rs. 181.8 crores towards corporate social responsibility activities in the financial year 2019-20, according to the latest integrated annual report. As you can see in the graph, the actual spend is much higher than the prescribed amount every year, for the past five years. This is true of previous years as well, since the firm has been engaged in Nation Building decades before the mandate came into effect. 
Over and above the annual spend of Rs. 181.8 crores, the company pledged Rs. 100 crores towards COVID-19 relief work. The sum is being invested in helping frontline health professionals fighting the pandemic, medical aid, and essentials for the most vulnerable people affected by the coronavirus pandemic and resultant lockdown. 
9. Education
The majority portion of the CSR budget is directed towards education and skilling initiatives. The belief is that a good education brings about a better society, as has been proven in countless impact studies. The interventions span primary and secondary schooling, and higher education in India and abroad. 
9.1 Systemic Reforms in School Education
This initiative was the first in corporate social responsibility by Wipro back in 2001. It has been bringing change in education for two decades, by either working on the issues related to school reform or by supporting organisations doing good work in this area. The initiative also encourages civil society organisations in other fields to implement education projects in conjunction with their goals.
9.2 Education for underprivileged children
Street children, kids in slums, children of migrant workers, and those affected by HIV are often deprived of quality schooling. Not only does the initiative help educate children from low-income families it also takes into account their nutrition, enrolment and offers counselling for their parents. 
9.3. Wipro Earthian
Wipro earthian is the flagship CSR programme that intertwines Education and Sustainability at the school and college levels. It has two components: the pan India outreach programme and the CEP (Continuous Engagement Programme). In fact, it's our country's biggest sustainability education CSR initiative.
The year 2020 is special because it marks the 10th anniversary for Wipro earthian. The idea was to get young people thinking about the environment and come up with new ideas. The youth is made aware of the impact of their actions on the environment. Climate change is no longer a theoretical idea for many kids who have participated in the exciting annual event.
Approximately 8,000 schools and colleges submit their ideas on challenges related to sustainability. The 20 best entries are awarded. CEP begins after the awards, where Wipro corporate social responsibility works closely with the winners, faculty and students in the area of sustainability education. Youth are exposed to fresh perspectives outside their comfort zone on subjects related to biodiversity, water and waste. The institutes they represent, in turn, become partners in change. 
Watch the latest Wipro Earthian school winning teams here:
9.4 Education for Children with Disability
CSR programmes for Persons with Disabilities about, but there isn't enough in inclusive education or support for children with disabilities from impoverished households. This initiative is not only an educational one, although specially trained teachers are tutoring the kids. This programme also integrates other important factors that children with disabilities need, like assistive technology, health care and nutritious food.
9.5. Azim Premji University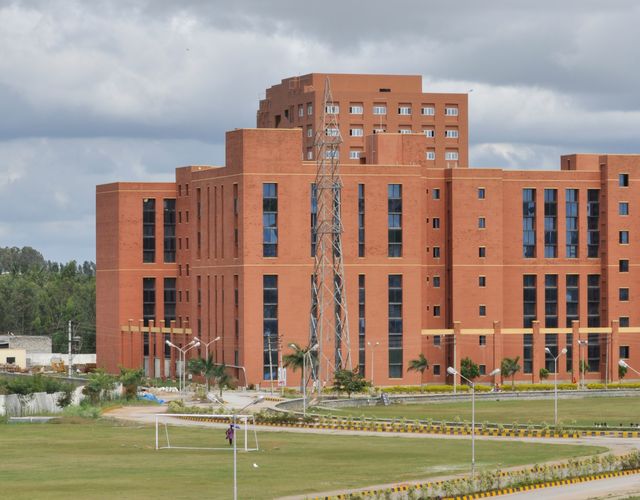 Azim Premji University originated in response to the challenges that Azim Premji Foundation came across in over a decade of work in elementary education. It is contributing to the Education sector and overall Development of India through its courses and need-based scholarships. 
Azim Premji University makes an explicit commitment towards social change using the vehicle of education. The programmes are in the service of building a just and humane society. The values are liberal and humanistic but the intent is the political and social development of the country.
10. Scholarships and Fellowships

 
Wipro CSR activities take a distinct approach in using scholarships and fellowships for achieving SDG 4 (quality education for all). Rather than the usual mode of monetary assistance, promising students are exposed to the latest tech in their field that will go on to prove fruitful in their career of choice. WASE and WiSTA are two such scholarship programmes. Santoor Women's Scholarship has proved successful for focussing on girl child education in three states that rank low on education parameters.
10.1. Santoor Women's Scholarship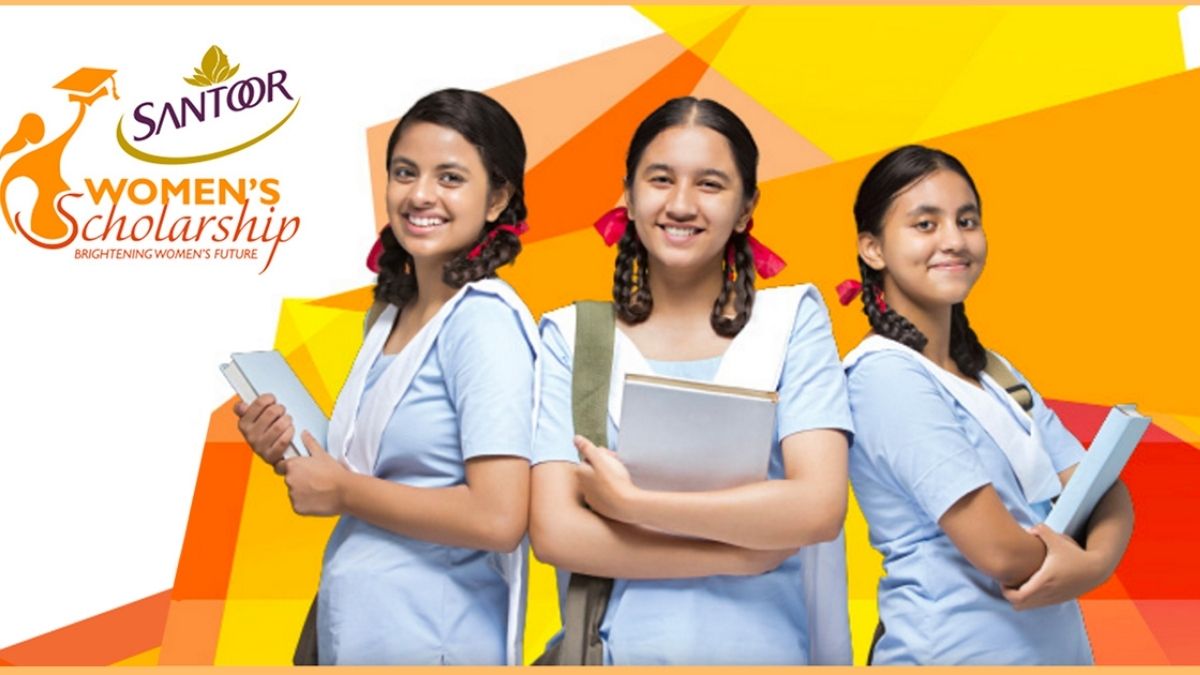 Wipro Consumer Care and Wipro Cares are at the helm of this scholarship which has gone on to become popular with young women in Andhra Pradesh, Telangana, and Karnataka. Santoor Women's Scholarship is meant for girls in these three States who have completed Class 12 and want to pursue higher studies but don't have the means to. As many as 900 female students from low-income backgrounds get access to this scholarship annually for a degree in science, arts and the humanities.
This CSR programme for girl child education has reached out to 3,600 students in the past four years. Not only has their education received a boost with the scholarship, they have renewed confidence in themselves and find themselves financially better off after completing their studies, since they are also job-ready.
10.2. Engineering and IT scholarships
Wipro Academy of Software Excellence programme (WASE in short) is run in CSR partnership with BITS Pilani (Birla Institute of Technology & Science, Pilani). This is a scholarship for Science graduates looking to get higher education in Software Engineering. Wipro Infrastructure Management School (WIMS) is also running with BITS Pilani, to nurture talent in IT infrastructure, with Cloud Computing as the main theme. 
Wipro Software Technology Academy (WiSTA) has Vellore Institute of Technology (VIT) as the partner. WiSTA is designed for data science students. The programme began back in 2011 when becoming a data scientist wasn't considered a career option. Cut to 2020, data science is one of the fastest-growing employers in tech jobs. WiSTA is another testament to the visionary planning we laud the corporate social responsibility of Wipro for. 
Under the scholarship programmes WASE and WiSTA, the team selects B.Com, B.Sc and BCA students every year who are looking to pursue higher studies in software engineering, IT and data science but don't have the financial resources to do so. They get a college education along with a monthly allowance for living comfortably as a student.
10.3. Wipro SEF Programmes in USA and UK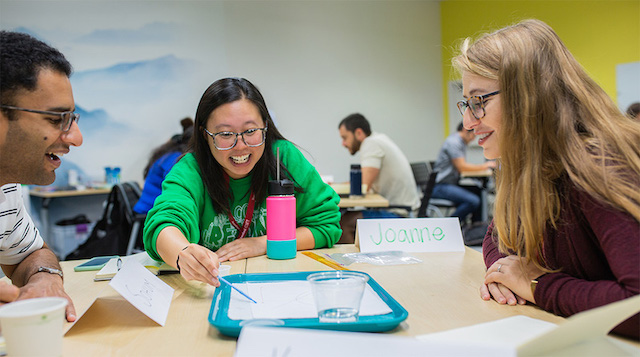 Wipro Science Education Fellowship (SEF) was started in the United States in 2012 and in the United Kingdom last year. The two-year SEF programme fosters teacher leaders who will bring a fresh wave of positivity in science education.
Wipro corporate social responsibility teamed up with Kings College London for Britain's first Master's programme in STEM education. In conjunction with Sheffield Hallam University, STEM teachers get a professional upgrade through Wipro Teacher Fellowship and Teacher Mentor programme. The goal is to build a strong STEM ecosystem for the next generation of students.
11. Community Care
The company empowers disadvantaged communities in a meaningful way through the Community Care initiatives, which are run through Wipro Cares. The platform matches employee contributions with Wipro Limited contributions in a 1:1 ratio (the company matched employee contributions for COVID-19 in a 2:1 ratio).
In FY 2019-20, the CSR programme provided primary healthcare across five states to 1,22,000 people and restored livelihoods of 8,000 unfortunate people whose lives were devastated by floods and cyclones. The solid waste management project in Bengaluru and Mysuru reached out to 12,000 waste workers. 
12. Community Ecology
From agro-forestry to urban solid waste management and sustainable farming, the Community Ecology programmes cover diverse ground. It is helping farmers in rural Tamil Nadu be more effective in their sowing practices. The cities of Bengaluru and Mysore have hundreds of workers in the informal waste sector who have better health and food security via this CSR initiative.
13. Corporate Volunteering
Wiproites are equal participants in the CSR paradigm. Corporate Volunteering through Wipro Cares is integral to quite a few projects. They also make monetary contributions from their paycheque, which are entirely voluntary. In 2019-2020, 14,000 employees across India collectively put in 44,000 hours of volunteering for various CSR initiatives.
14. Biodiversity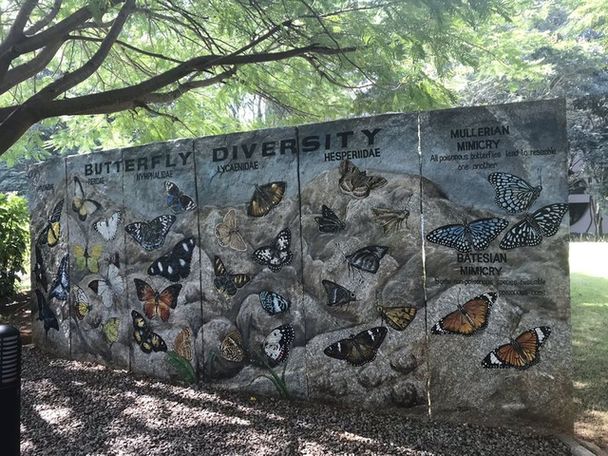 The campus urban biodiversity CSR programme has a strong advocacy component. Corporate social responsibility of Wipro wants to convert five of its campuses into veritable biodiversity zones.
The first flagship project in this regard was the Butterfly Park and biodiversity zone at the campus in Bengaluru. It houses 106 species of plants and attracts butterflies of all hues. The Pune campus has more than 300 native plants growing across five gardens, including a Ficus garden and a Spice garden. 
Biodiversity at the Bengaluru campus – 
14.1. Bengaluru Sustainability Forum
This forum fosters dialogue about sustainability in the future and partnerships for that purpose. The Bengaluru Sustainability Forum was established in 2018 in collaboration with the National Center for Biological Sciences. One outcome from last year was the Science Gallery's first interactive exhibition 'Submerge' and nine events in Bengaluru city. The forum also had collabs with the Indo-Germany Energy Forum (IGEF) and the German Consulate General on the 'Energy Transition' exhibition, besides supporting various grant proposals for waste and biodiversity. 
15. Response to COVID-19
Soon after the news of the pandemic emerged, Wipro Enterprises Pvt Ltd pledged Rs. 100 crores towards tackling the COVID-19 outbreak. The disaster response team lost no time getting in action for on-ground response, humanitarian aid, and enhancing the healthcare capacity for those affected by COVID-19.
Marginalised communities on the brink of destruction got food, water, dry rations, face masks and safety kits. CSR of Wipro partnered with a number of NGOs to share sanitisers, masks and essential items.
The company itself took a broader view of technology. It has shifted from reactive to proactive thinking. It is working on solutions for a resilient future. They will be executed in an integrated manner by Wipro, Wipro Enterprises Pvt Ltd. and the Azim Premji Foundation.
In conclusion, The CSR Journal says
Wipro CSR has specific targets for social growth that its well-designed programmes are working towards. Establishing an ecosystem for STEM and sustainable education, for example. Or fighting climate change and preserving the environment through collaborative advocacy in water, waste and biodiversity. CSR activities of Wipro are making student's lives easier with a range of scholarships, in turn freeing them up to pursue higher goals.