India's top philanthropists and CSR donors in 2020
It's official. Tech magnate Azim Premji is India's most generous person. With a donation of Rs. 7,904 crore, Wipro chairman
Azim Premji & family tops the EdelGive Hurun India Philanthropy List 2020

, which is just out!
Azim Premji Endowment Fund owns 13.6% of the promoter's shareholding in Wipro and has the right to receive all money earned from promoter shares. On 1 April 2020, Azim Premji Foundation (Rs. 1,000 crore), Wipro (Rs. 100 crore), and Wipro Enterprises (Rs. 25 crore) have together committed Rs. 1,125 crore towards

tackling the COVID-19 pandemic

outbreak. These are in addition to the annual CSR activities of Wipro, and the usual philanthropic spending of the Azim Premji Foundation.
"Azim Premji is a role model for Indian philanthropy and is continuing to inspire other entrepreneurs into giving," said Anas Rahman Junaid, MD and Chief Researcher, Hurun India.
The CSR Journal presents excerpts from the EdelGive Hurun India Philanthropy List 2020. Read on to know which do-gooders made the list, which lady is India's most generous woman and which companies are spending the highest amounts on CSR.
Who are India's top philanthropists?
HCL Technologies founder chairman, Shiv Nadar & family has been ranked 2nd

on the List. Nadar credits his success to the education and scholarships that he received during his early years. As of 2019, Nadar has invested over US$ 800 million through the Foundation, impacting over 30,000 students directly. Nadar's wife, Kiran Nadar chairs the Kiran Nadar Museum of Art, India's first private philanthropic art museum exhibiting modern and contemporary works from India and the subcontinent.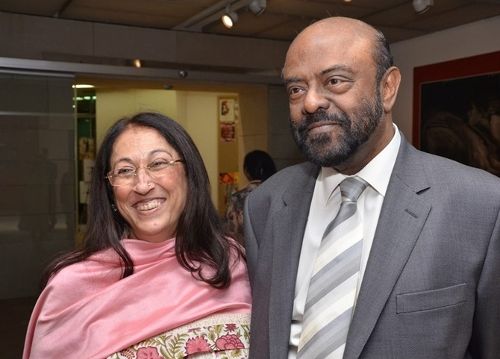 With a donation of Rs. 458 crore,
Mukesh Ambani & family, the Chairman of Reliance Industries occupies the 3rd spot

in the EdelGive Hurun India Philanthropy List 2020. On 30th March 2020, Reliance Industries announced a donation of Rs. 500 crore to the PM CARES Fund and Rs. 5 crore each to the Chief Minister's Relief Fund of Maharashtra and Chief Minister's Relief Fund of Gujarat to support their fights against the Covid-19.
With a donation of Rs. 276 crore,
Kumar Mangalam Birla & family ranks 4th.

On 3rd April 2020, Aditya Birla Group donated Rs. 400 crore to the PM CARES Fund and Rs. 50 crore to FICCI-Aditya Birla CSR Centre for Excellence. Also allocated Rs. 50 crore for supplying N95 Masks, PPE's and ventilators.
The
5th position

is occupied by the

founder and chairman of Vedanta, Anil Agarwal

& family who donated Rs. 215 crore. In September 2014 Anil Agarwal pledged 75% of his wealth to charity. The foundation work towards education and computer literacy, vocational training, women and child empowerment, and community welfare.
With Rs. 196 crore donation,
Ajay Piramal & family has made it to the 6th rank

among the nation's top philanthropists. On 31st March 2020, Piramal Group commits Rs. 25 crore to PM CARES Fund. In November 2019, Piramal Foundation and Gates Foundation partner to set up a Tribal Health Collaborative and will work closely with the Government of India to achieve Sustainable Development goals by 2030.
Co-founder and
chairman of Infosys Nandan Nilekani ranked 7th

with a donation of Rs. 159 crore. Nandan Nilekani & Rohini Nilekani, signed the Giving Pledge in 2017, committing to donate half of their wealth towards philanthropy.
Hinduja brothers enter at 8th rank

with a donation of Rs. 133 crore. Established in 1968, Hinduja Foundation focuses on Water Stewardship, Healthcare, Education, Rural Development, and Arts and Culture.
With a donation of Rs. 88 crore,
Gautam Adani & family, Chairman of Adani Group is at the 9th spot

. Adani Foundation works in four key areas such as Education, Community Health, Sustainable Livelihood, and Community Infrastructure Development, in alignment with the Sustainable Development Goals. On 29 March 2020, Gautam Adani led Adani Foundation announced Rs. 100 crore donation to PM CARES Fund.
With a donation of Rs. 74 crore,
Rahul Bajaj & family ranks 10th.

Bajaj family has a long tradition of generous philanthropy over 100 years. The family foundation of the Bajaj group, Jamnalal Bajaj Foundation, works to bring about change in areas of healthcare and education, rural and urban development and to promote sports, Indian heritage and arts.
Top 10 philanthropists in India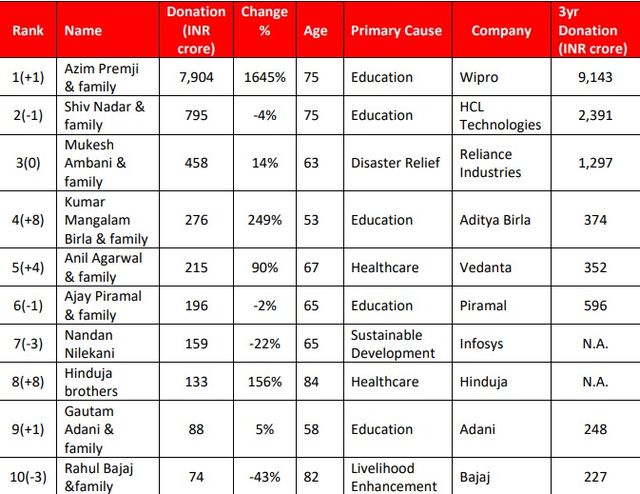 What is EdelGive Hurun India Philanthropy List 2020?
Hurun India and EdelGive have released the EdelGive Hurun India Philanthropy List 2020. This is the 7th annual ranking of the most generous individuals in India. This is their attempt to highlight India's remarkable givers and to capture the growing importance of individual givers in India's philanthropic landscape towards nation-building.
Donations were measured by the value of their cash or cash equivalents from 1 April 2019 to 31 March 2020. This is the seventh year of the list and it follows on from the Hurun India Rich List, a ranking of 828 richest individuals in India, released on September 2020 for the ninth year. EdelGive Foundation has partnered with Hurun India towards creating this report to understand philanthropic giving in the country from a data and evidence point of view.
The report is not only significant in understanding data of giving but also throws light on the sectors and geographies which are at the receiving end of this giving. Through this report, they aim to bring to notice the strength of the social sector and access areas which require further growth. This year's EdelGive Hurun India Philanthropy List 2020 features individuals who have donated Rs. 5 crore or more during the period under review.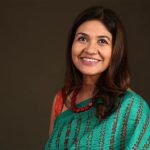 "Reports of this nature are rare, but give us deep insight into the philanthropic sector and the patterns of giving that are ever-evolving. This year, we also looked at our methodology closely – ensuring we keep the process transparent and proactively invite leaders of a diverse group to participate in the list. I am certain the EdelGive Hurun India Philanthropy List will inspire a lot of new philanthropists towards strategic giving," said Vidya Shah, Chairperson and CEO, EdelGive Foundation.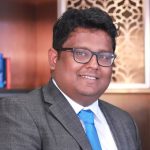 Mr. Junaid from Hurun India said: "The preferred cause of India's top philanthropists has been education, although poverty alleviation has grown dramatically to become the second most popular cause this year. I hope the list can help people understand the mindset of some of India's most successful entrepreneurs and philanthropists, as well as inspire future generations to give back."
Methodology of reporting
To put together a comprehensive list of the largest philanthropists of India is an almost impossible task. However, the EdelGive Hurun India Philanthropy List is the most serious and authoritative effort to date, identifying the individuals and highlighting the causes they donate to.
To make this list, the Hurun Report surveyed India's most successful entrepreneurs, including those from the Hurun India Rich List 2020, meticulously cross-referencing the results with media reports and charitable foundations. In the course of the research, Hurun Report attended non-profit related seminars, as well as meeting with scholars, experts, philanthropists, and senior members of charitable foundations.
Hurun Report includes cash and cash equivalents pledged with legally binding commitments for the twelve months from 1 April 2019 to 31 March 2020 and the latest available CSR data filed with the Ministry of Corporate Affairs.
Since most of the PM Care Fund donations were announced after the cutoff date, the same is not considered for arriving at the total donation unless it is mentioned in FY 20 CSR spend in the annual report of the respective companies.
Hurun Report included donations made by companies in which an individual had a significant share by applying the percentage the individual has of the company on the donations. So, for example, Biocon for the period made donations of Rs. 8 crore, and Kiran Mazumdar-Shaw holds 60.68% of the shares of the company, so Hurun Report recorded Shaw's donations as Rs. 4.92 crore. In 2015, Azim Premji had transferred a significant part of his shareholding amounting to 39% of the shares of Wipro to trust and foundation, which has been taken into account that year. Since this is a one-time philanthropic donation, it has not been included this year.
The list includes only the individuals born and bred in India regardless of the passport they currently hold. Values are rounded, and past figures are subject to exchange rate fluctuations.
Average age of India's top philanthropists
The average age is 66, three years older than entrepreneurs on the Hurun India Rich List and two years older than philanthropists on last year's EdelGive Hurun India Philanthropy List.
"Binny Bansal is the first philanthropist under the age of 40 to enter the philanthropy list. This is possibly one of the best news from the list. I hope this will inspire more young wealth creators to not only donate but also to speak more about their donations," said Mr. Junaid.
Personal philanthropy gaining traction
21 individuals on the list donated Rs. 5 crore or more in their personal capacity. "One of the core objectives of this report is to tell more stories about philanthropists who have donated on their personal capacity. If we were to add the taxes paid on the dividend payout, which was allocated towards philanthropy, the value of private donations would be even higher," said Mr. Junaid.
Top 15 personal philanthropists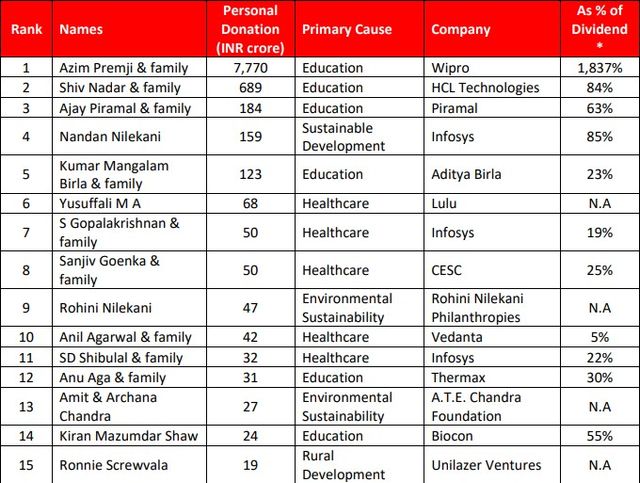 Azim Premji has committed 67% of economic interest in Wipro towards philanthropic activities. In 2020, the promoter holdings in Wipro earned a dividend of Rs. 422 crore and the 2019 share buyback program fetched another Rs. 7,347 crore – all of these would be donated towards philanthropy based on his endowment pledge.
Shiv Nadar runs the Shiv Nadar Foundation that supports rural education and provides scholarships for underprivileged students to study abroad. In FY20, Shiv Nadar donated Rs. 689 crore through Shiv Nadar Foundation.
Nandan Nilekani and Rohini Nilekani individually donated Rs. 159 crore and Rs. 47 crore respectively. In FY 20, they donated more than Rs. 100 core towards Societal Platform, aimed at creating a shared space to solve problems, at scale, speed, and sustainably.
Anu Aga & family of Thermax

have committed 30% of their dividend income towards philanthropic causes.
The husband-wife duo, Amit and Archana Chandra of A.T.E. Chandra Foundation are the only individuals not featured in the Hurun rich lists to enter the EdelGive Hurun India Philanthropy List 2020.
Kiran Mazumdar-Shaw is the first woman to sign The Giving Pledge

. She has committed to giving away half of her income towards philanthropy on an annual basis.
New entrants in 2020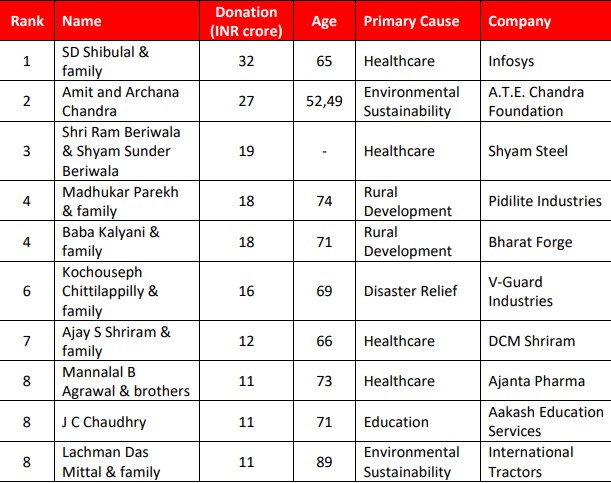 28 philanthropists entered the list for the first time. The top new additions in the list are SD Shibulal of Infosys with a donation of Rs. 32 crore, followed by Amit and Archana Chandra of A.T.E. Chandra Foundation who donated Rs. 27 crore, and Ram Beriwala & Shyam Sunder Beriwala of Shyam Steels who donated Rs. 19 crore.
"This rising new additions to the list is very inspiring. Based on the commitment towards COVID-19, we believe the list of new additions would go even higher in the next year's list," said Mr. Junaid.
Which women are top philanthropists in India?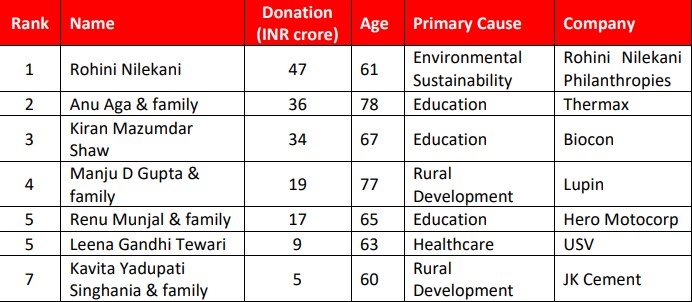 7 women are on this year's list of top philanthropists in India. With a donation of Rs. 47 crore, Rohini Nilekani of Infosys is India's most generous woman, followed by Anu Aga & family of Thermax who donated Rs. 36 crore, and Kiran Mazumdar Shaw of Biocon who donated Rs. 34 crore.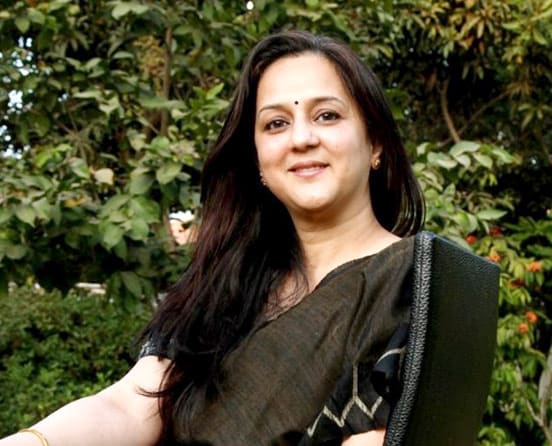 "In addition to 7 women in the list, it is also important to highlight the role played by women in running the family's charitable trusts. For instance, in most of the family-run businesses that are featured in the list, the spouses of the entrepreneurs lead the charitable trusts," said Mr. Junaid.
India Inc's COVID-19 response
Indian wealth creators were the first to step up to support the COVID-19 response. Since mid of March 2020, many corporates have come forward in support by donating towards the relief funds. Film stars such as Akshay Kumar have donated Rs. 25 Crore towards the cause.
"CSR and philanthropy play an important role in reducing the gap with government funding. The COVID-19 response was a case in point to understand the swiftness in which India's super wealth creators responded to this funding support call by PM Modi," said Mr. Junaid.
Biggest COVID-19 donations by companies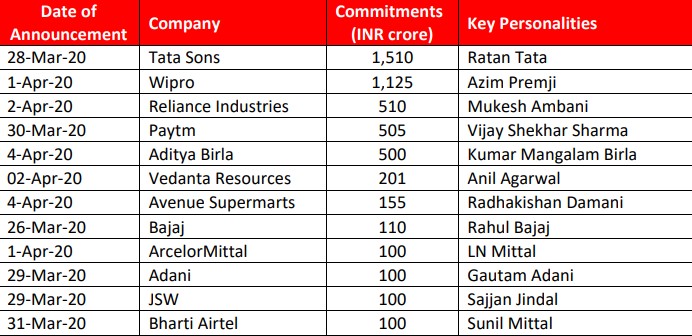 Most Favoured Philanthropic Causes in 2020
With 79% of donations, Education remains the most favoured philanthropic cause followed by Healthcare (5%) and Disaster Relief & Management (3%).
"Education has been the biggest cause supported by the donors not only in India but also in Hurun's Global Philanthropy List. Healthcare and water conversation witnessed a spike in donations compared to last year. In 2021, we expect much of the donations could be towards healthcare," said Mr. Junaid.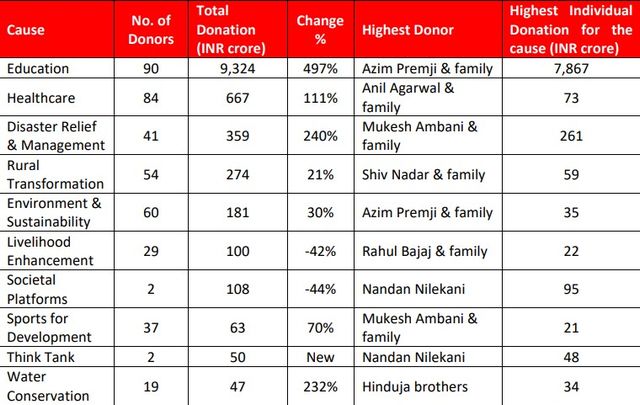 Top companies by CSR spend
Here are some of the companies that spent more than the government-mandated 2% towards CSR. Not surprisingly, all of them also feature on The CSR Journal's list of

top companies for CSR in 2020

.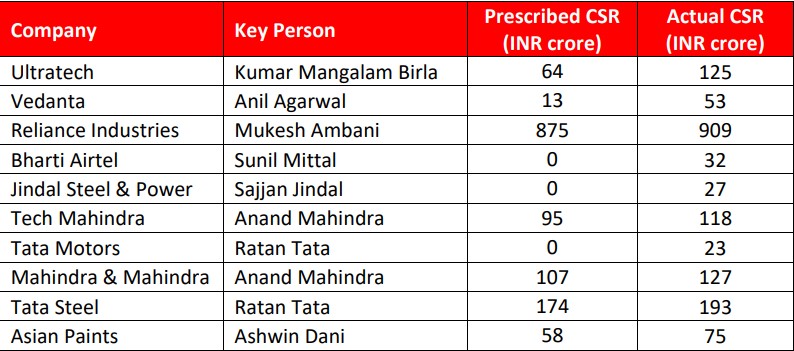 CSR spending of BSE 200 companies
Government, Civil Society, and the Corporate are the three distinct pillars sustaining the nation-building process. Corporate Social Responsibility is moving away from chequebook charity donations to a more long-term strategic engagement for the company. The cumulative CSR spend of BSE 200 companies has grown Rs. 5,561 crore FY15 to Rs. 11,881 crore in FY20.

The proportion of unspent capital has been on the decline since the FY15. The shortfall in spending was 4% of the total spend or Rs. 456 crore in FY20. The gap stood at 30% in FY15.
Sectors donating most towards CSR
With Rs. 3,743 crore CSR Spend Energy leads followed by Financial with Rs. 2,335 crore Technology with Rs. 1,575 crore. Also, CSR spending by Indian companies is skewed towards education and healthcare.
Mumbai is the philanthropy capital
With 36 individuals, Mumbai is the philanthropy capital of India, followed by New Delhi and Bengaluru. Indian corporates prefer to donate on a pan India basis than limiting their focus to HQ locations.
Growth in number
Since the inception of the Hurun India Philanthropy List in 2013, the number of entrants in the EdelGive Hurun Philanthropy List has grown 3 times during the same period. Interestingly, Hurun India Rich List has also registered a similar growth. "With more wealth being created, personal philanthropy is booming in India. Cut off to enter Top 10 has increased by 130% since 2018 and the top 25 has increased by almost 173% since 2016," said Mr. Junaid.
The CSR Journal says…
Azim Premji is known to fly economy class, even taking rickshaw rides on his way to the airport. Nandan and Rohini Nilekani unwind by taking long walks in the morning sun. The immense wealth of these rich entrepreneurs has not corrupted them; rather it has made them humbler and more generous. Take a leaf out of their mindset and be a philanthropist in your own right. You don't need to donate vast sums of money to be one. Giving food to the hungry is philanthropy. So is donating your time to a worthy cause.
Disclaimer: The above report is extracted from the EdelGive Hurun India Philanthropy List 2020 prepared by Hurun Report India and EdelGive Foundation. Any third party brands, names, or trademarks contained in the report belong to the relevant third parties.