Top CSR Projects in Bengaluru
Bengaluru is known for being the IT hub of India. The growth of IT sector in the region has made the city an attractive place for corporates of many other sectors, to set up their headquarters in and around Bengaluru. Presence of such major conglomerates has also led Bengaluru and regions around it to be a destination for CSR initiatives of these businesses.
Bengaluru was the largest recipient of CSR funds in FY 2021-22 in the state of Karnataka. The district of Bengaluru received a total of Rs. 77.41 Cr. of CSR funds. Let's take a look at the top CSR projects in and around Bengaluru.
Feeding India by Zomato and Akshayapatra to feed students of 83 Bengaluru schools
Feeding India by Zomato announced earlier this month that they, in collaboration with Akshayapatra, are expanding their school feeding program titled 'Poshan to Pathshala' to government schools. The program has been launched in four cities – Bengaluru, Varanasi, Gorakhpur and Dehradun and promises to provide one meal daily to 38,410 beneficiaries. Around 83 schools in Bengaluru are expected to benefit from this program.
Himalaya Wellness Company and NIMHANS launch project SURAKSHA
To improve access to mental health in districts of Karnataka, Himalaya Wellness Company, announced in September, this year that they have partnership with the National Institute of Mental Health and Neurosciences (NIMHANS), Bengaluru to develop an indigenized pilot model framework for suicide prevention research and surveillance.
Titled Project Suraksha, this pilot program is expected to assess the feasibility and acceptability of community-based suicide prevention programs and their cost-effectiveness across varied nodal stakeholder groups involving farmers, laborers, daily wage workers, student communities, media professionals, and women groups. It is also expected to establish a cohort for future longitudinal studies that is to repeatedly examine the same individuals to detect any changes that might occur over a period. Following the pilot research and feasibility study, the project will be scaled up to a national level over a period of three years.
Ericsson and Save the Children donate life support ambulances
Looking at the critical need for access to emergency health care in remote and rural areas especially post COVID19, Ericsson, in collaboration with Save the Children India, handed over 6 life-support ambulances to health care facilities in various districts of Karnataka. These life-support ambulances were donated to Taluk General Hospital Gangavathi in District Koppal, Community Health Centre Gurumatkal, District Yadgiri, Taluk Hospital Doddaballapura, Bangalore Rural district, Government Hospital Gokarna, Uttara Kannada District, Primary Health Centre Kyalanuru, District Kolar, and St. Anne Hospital District Mysore.
These patient transport ambulances are reportedly fitted with – life support equipment to check vital signs and defibrillators to stabilize patients in transit.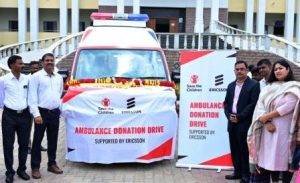 Stonehill International School donation to The Morning Star Ashram
Dr. Brian Brumsickle, Head of School, Stonehill International School, Bengaluru, along with a few students, parents and other members of the school visited the Morning Star Ashram, a home for underprivileged children with physical and mental illnesses. They donated the proceeds raised during the Stonehill Founder's Day Run that was held on the 25th of September 2022. The Run is an annual event to celebrate the anniversary of the School. Stonehill was founded by Mr. Jitu Virwani, Chairman and Managing Director, Embassy Group in 2008.
Biocon Foundation's health camp and science fair
Biocon Ltd. dedicated the 44th Founder's Day celebrations to the memory of John Shaw, former Vice Chairman of Biocon Group, who passed away in October, this year. The Founder's Day on Nov 29, celebrates the day Biocon started operations in 1978. To mark the day, Biocon Foundation, the CSR arm of the Biocon Group, organized a health camp and a science fair at Sipani Seva Sadan (Old Age Home) and Government Higher Primary School, Huskur, respectively.
Biocon announced that around 350 residents of the Sipani Seva Sadan, including 100 elderly citizens, were screened as a part of the health camp organized by Biocon Foundation. Besides height, weight and body mass index (BMI), vital signs such as temperature, respiratory rate, pulse, blood pressure, blood oxygen saturation etc. were also measured. Blood glucose testing, anemia screening, dental examination, ECGs, ENT consultation and general consultation with a geriatric specialist were also provided.
The Science Fair organized by the Foundation was reportedly attended by 1,200 students, teachers, and family members. The aim of the fair was to ignite interest and curiosity among school children in the fields of science and medicine.
DrinkPrime donates water purifiers at 6 institutions
With #DonateWithDrinkPrime, a CSR initiative by DrinkPrime, the Bengaluru-based startup on a mission to make safe drinking water accessible to everyone, the company is providing 790+ people with clean and safe drinking water, out of which 754 are students. The company announced in November, this year that they have donated eight water purifiers and are associated with six institutions including five government schools and the YMC Kayaking Training Centre in Bengaluru.
DrinkPrime shared that they have installed their customized water purifiers at Government Higher Primary School, Bettahalasur, Government Higher Primary School, Subhash Nagar, Government Higher Primary School, Bidaraguppe, Government Lower Primary School, Suggatta, Government School, Sonnappanahalli, and the YMC Kayaking Training Centre.
iOPEX Technologies and Yuva Parivartan's computer science course
iOPEX Technologies recently announced that they have partnered with Yuva Parivartan, a Non-Profit Organisation working in the slums of Bangalore for more than 15 years, to provide training in vocational skills to underprivileged youth through its existing Livelihood Development Centre.
More than 200 underprivileged youth within the age group of 18 to 35 years will be provided with short-term livelihood-oriented courses in Computer Science, Accounts, Retail Sales and Apparel Making. Entrepreneurial training will also be provided as part of the program.
'Post the completion of the program, trained and certified youth will be linked to livelihood opportunities. For the students who would like to take up jobs, placements in local businesses would be identified. However, for the youth interested in self-employment, they will be helped with setting up of individual businesses or contracts,' they announced.
Kennametal and United Way India's Devanahalli Lake restoration project
Kennametal India Limited, in partnership with United Way India (UWI), a non-profit organization announced in October this year that they have completed the Devanahalli Lake restoration project at Bengaluru, India.
The project reportedly spans nearly 17 acres of land, and the lake itself has a capacity of over 535 million liters of water. This initiative, which is expected to raise the ground water table and improve the moisture content in the soil, should benefit up to 5,000 people living in and around Devanahalli. The project took place over 5 months with the help of UWI and its on ground implementation partner, Environmentalist Foundation of India (EFI).
Orchids-The International School initiates #ShineYourCity Campaign and tiger adoption
Ahead of Diwali, this year, the students of Orchids – The International School planted tree saplings in neighborhood areas around the school branches across the country. Renowned environmentalist Suresh Heblikar flagged the 'Shine Your City' campaign at Bengaluru's Nandini ground, BTM layout to encourage the kids.
The students brought a variety of saplings, including Indian Beech tree, Hibiscus, Ashoka, Neem, Bhelpatra, etc. These were planted in an open area outside the school premise, which was unclean and required reformation. The students, along with the teachers, first cleaned up the complete area and then planted the sampling. They also pledged to look after the planted saplings, plant more and more trees, and encourage others to do the same. Students from grade 9 to grade 12 participated from Orchids The International School (BTM layout branch) in the cleanliness and tree plantation drive at the Nandini ground, BTM Layout.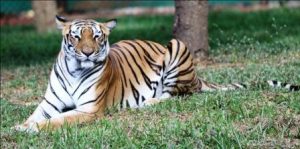 Earlier this year, students of Orchids – The International School, BTM Layout, reportedly adopted an 8-year-old Bengal Tiger named Mithun, from the Bannerghatta Zoo, Bengaluru to spread awareness regarding Tiger conservation in India.
Virtusa extends support to Spastics Society of Karnataka
Virtusa Corporation, a global provider of digital strategy, digital engineering, and IT services and solutions joins hands with Spastics Society of Karnataka (SSK) to support differently- abled children with everyday mobility requirements. In order to facilitate seamless commute for students to and from the SSK premises, Virtusa announced that they have donated a 17- seater van, built to cater to children with special needs.
CapitaLand builds second Hope School in Bangalore to provide quality education to over 400 children
CapitaLand Hope Foundation (CHF), the philanthropic arm of CapitaLand Group in September this year announced launching its second CapitaLand Hope School in Bengaluru to provide more than 400 children from underserved families with access to education. CHF announced that they have contributed INR 50 million towards the construction of the school. Through the schools, CHF aims to provide children with a holistic education for a better start in life.
Located in Krishnarajapuram, Bengaluru, the Government Kannada and English Medium Higher Primary School reportedly comprises eight classrooms, a staff room, a multi-purpose room, a playground, a kitchen, a sick room, library, computer and science laboratories, art & crafts room, and lavatories.
AstraZeneca expands its flagship CSR initiative 'Young Health Programme' to Bengaluru
On World Cancer Day in February this year, AstraZeneca, a science-led biopharmaceutical company, and Plan India, an NGO striving to improve the lives of millions of children and young people, signed an MoU to expand its 'Young Health Programme' (YHP) in the state of Karnataka after Delhi and Tamil Nadu.
YHP aims to reduce the uptake of unhealthy behaviours in young people to improve their health outcomes as adults and help address the growing burden of NCDs on health systems.
Inauguration of Nand Ghar in Karnataka's Haveri District
Chief Minister of Karnataka, Shri Basavaraj Somappa Bommai and Hon'ble Union Minister of Parliamentary Affairs, Coal and Mines, Shri Pralhad Joshi inaugurated reportedly the 3600th Nand Ghar in a ceremony held at Luxar Bazar village in Haveri district of Karnataka. Senior leadership from Vedanta Mr. Sauvick Mazumdar and Mr. Krishna Reddy were present during the inauguration ceremony.
Nand Ghar is the flagship CSR project of Anil Agarwal Foundation, the philanthropic arm of the leading natural resources conglomerate, Vedanta. The inauguration also marked development of 55 such Nand Ghars in Karnataka.
Volvo Group sets up a clean drinking water plant at Robertsonpet, KGF
Due to high levels of Fluoride and TDS in Borewell water in the KGF town, the water is not ideal for consumption. In order to provide access to safe and clean drinking water, Volvo Group announced in August this year that they have has set up an RO water plant at Robertsonpet, KGF in Kolar District, as part of its CSR outreach to the community.
SaPa and Pearl Coschem's CSR Fund imparts free music education to over 800 Students from NGO Schools
Subramaniam Academy of Performing Arts (SaPa) and Pearl Coschem's CSR Fund announced in September, this year that they will impart free music education to over 800 students from NGO Schools, including textbooks as part of their outreach programme. The Academy collaborates with Parikrma Centre for Learning and Sai Gurukul for the academic year 2022 – 2023.
The students in these schools will reportedly receive music education from SaPa in Schools faculty, who are trained and provided with an in-house designed curriculum andinstruments such as Xylophones, claves, shakers, tambourines, sleigh bells and handbells to teach music, they announced.