The 19th Kargil Vijay Diwas celebrations began at Drass War Memorial in Jammu and Kashmir to commemorate India's emphatic victory against Pakistan. Officially marked on 26 July, the Kargil Vijay Diwas is actually celebrated for three days; from 24th to 26th July.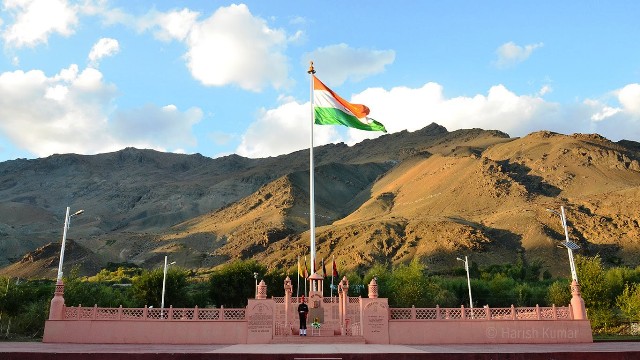 The day marks the victory of Indian forces over Pakistan in the hills of Kargil and the success of India's Operation Vijay in 1999. It remembers the supreme sacrifice of 500 war heroes who laid down their lives, and the war veterans who came out alive.
One of them is Brigadier Devinder Singh (retd), who commanded one of the largest brigades in the Kargil conflict in the Batalik sector. He believes that the sacrifices of the troops made in the conflict are being slowly forgotten. "The Kargil Diwas is not officially recognised at many levels. There has been a tussle at the political level whether the 1971 war Vijay Divas was the real one or Kargil Vijay Diwas is," he said in an interview to The Indian Express.
Also, the remembrance of the event seems to be focused only on the actions which took place at Drass and below and not at Kargil and beyond. "Thus, while the general public hears a lot about Tololing, Tiger Hill etc not much is known about the actions in the Batalik sector, Khalubar ridge, Kukarthang etc." he said.
Top leaders pay tribute
Meanwhile, President Ram Nath Kovind, Vice President M Venkaiah Naidu and Prime Minister Narendra Modi led the nation in paying homage to the martyrs of Kargil on Kargil Vijay Diwas today, reports PTI. "On Kargil Vijay Diwas, every Indian acknowledges the efforts and gallantry of our Armed Forces. We salute the ultimate sacrifice of the martyrs of Kargil, and record our everlasting debt to their families," the president said. Prime Minister Modi said a grateful nation pays homage to all those who served the nation during Operation Vijay and remembered former prime minister Atal Behari Vajpayee for his leadership during the operation. "Our brave soldiers ensured that India remains protected and gave a befitting answer to those who tried to vitiate the atmosphere of peace," he said.
Defence minister Nirmala Sitharaman and the three Service chiefs — Army chief General Bipin Rawat, Naval chief Admiral Sunil Lanba and Air chief Air Chief Marshal Birender Singh Dhanoa — laid wreaths and paid rich tributes to the martyrs on the 19th anniversary of Kargil Vijay Diwas at the Amar Jawan Jyoti in Delhi. "We salute all the bravehearts who proudly protect the nation," the defence minister said. External Affairs Minister Sushma Swaraj added that she saluted the "courage, valour and sacrifice of our martyrs and heroes". Union minister Arun Jaitley tweeted, "Salute to indomitable courage of our soldiers."
Brigadier Singh feels we are back to square one after two decades. "For various reasons, the focus on counter insurgency and anti-militancy operations is again gaining an upper hand. There are certain areas in the North, in Ladakh sector which may be again open to Pakistan misadventure. The Army will be well cautioned to look at the areas which are dormant," he warns.
The onus of reserving respect for what this day stands for, lies on us civilians. On Kargil Vijay Diwas, The CSR Journal salutes the Indian army officials who earned gallantry awards for their bravery in the war:
Grenadier Yogendra Singh Yadav, 18 Grenadiers, Param Vir Chakra
Lieutenant Manoj Kumar Pandey, 1/11 Gorkha Rifles, Param Vir Chakra, Posthumous
Captain Vikram Batra, 13 JAK Rifles, Param Vir Chakra, Posthumous
Rifleman Sanjay Kumar, 13 JAK Rifles, Param Vir Chakra
Captain Anuj Nayyar, 17 JAT Regiment, Maha Vir Chakra, Posthumous
Major Rajesh Singh Adhikari, 18 Grenadiers, Maha Vir Chakra, Posthumous
Captain Haneef-u-ddin, 11 Rajputana Rifles, Vir Chakra, posthumous
Major Mariappan Saravanan, 1 Bihar, Vir Chakra, Posthumous
Squadron Leader Ajay Ahuja, Indian Air Force, Vir Chakra, Posthumous
Havildar Chuni Lal, 8 JAK LI, Vir Chakra. Also awarded Sena Medal for gallantry and posthumously awarded Ashoka Chakra as a Naib Subedar.
Thank you for reading the story until the very end. We appreciate the time you have given us. In addition, your thoughts and inputs will genuinely make a difference to us. Please do drop in a line and help us do better.

Regards,
The CSR Journal Team