How a Pune-based social enterprise is upcycling plastic using traditional charkha and handloom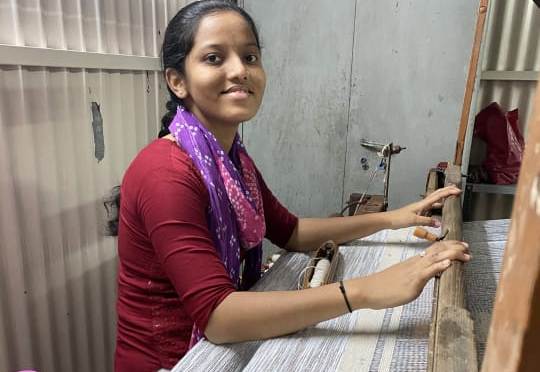 After cutting open a packet of Maggi, we put the noodles in saucepan for boiling and throw away its plastic wrapper in the dustbin. After opening a packet of biscuit at tea time, we tend to put the biscuits inside a container and the plastic wrapper ends up in the dustbin. Same happens to the chips packets after children are done eating the chips. But what happens to these wrappers? Where do they go? Plastic does not decompose, so these continue to remain in the landfill contributing massively to environmental pollution.
How to stop these plastics from entering the landfill? How about utilising plastics in a creative way to make something out of this? How about upcycling them? This is exactly what Pune-based social enterprise EcoKaari is doing! EcoKaari upcycles waste plastic and wrappers using traditional charkha and handloom!
However, not only for the environment, Ecokaari is working for a social cause also. The entire weaving of their fabric is done manually with the purpose of enabling livelihoods for rural artisans, most of which are women. Ecokaari boasts of their products as 'Proudly Made in India, cruelty-free, handmade, sustainable and vegan.'
The journey– how it began
How did EcoKaari start its journey? What was the inspiration to start this social enterprise? Opening up on the same, Founder and CEO Nandan Bhat told The CSR Journal, "We started the organisation in September 2020 in the middle of Covid. We are trying to conserve and upcycle single use plastics like biscuit packets, chips packets and gift wrappers. At the same time, we are trying to provide a livelihood option to women and youth. The whole process is done using charkha handloom."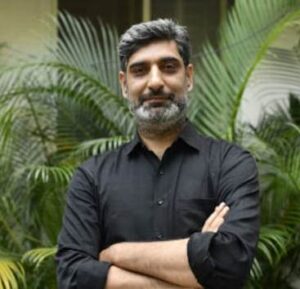 "I am a Kashmiri born guy. I have grown up in the middle of nature. When I came to Maharashtra for my education in the late 1990s, my friends and I we created a trekking group. While trekking we observed that tourists coming on weekend getaways are dumping plastic here and there. You can always see that plastic bottles and glass bottles are being picked (by waste pickers) because you fetch money out of it. But nobody collects waste bags because there is no commercial value. Hence we thought that can we do something with that. That's how we started."
Units, partnership with JSW Foundation
"We are a Pune based organisation, we started in September 2020 in Pune. We have started one more unit in April 2022 with the help of one CSR fund in Bellary, Karnataka. The Bellary unit is funded by JSW Foundation. So we have two units now. We have an office come store in Pune, where people come to donate plastics as well as for buying our products. We also have online presence. We survive heavily by exporting our products to Europe and East Asian countries. We also have a large part of our business coming from corporate gifting," informed the Founder.
"We are in talks with several companies to fund us with their CSR. Probably we will have 5 to 6 more units coming in 2023 most likely in cities like Kolkata, Bhopal, a couple of cities in Gujarat, Chennai and outside India in Nepal," he further said.
EcoKaari's products
EcoKaari offers different kinds of bags like duffle bags, backpacks, laptop sleeves, tiffin bags, totes, wallets, clutch bags, planters, water bottle covers, table mats, table runners. For corporate gifting, the products are customised as per the client's requirements.
Quizzed what kind of gift items are a popular choice among corporate, Mr Bhat replied, "Well, it purely depends from company to company. Mostly duffle bags are a popular choice which we have delivered in bulk to at least 5-6 corporates. They also order diary covers, book covers, backpacks, small thoughts where you can fit goodies during occasions like Christmas, New Year etc. We also work with a lot of wedding planners who customise small trays which are used for keeping gifts for the guests."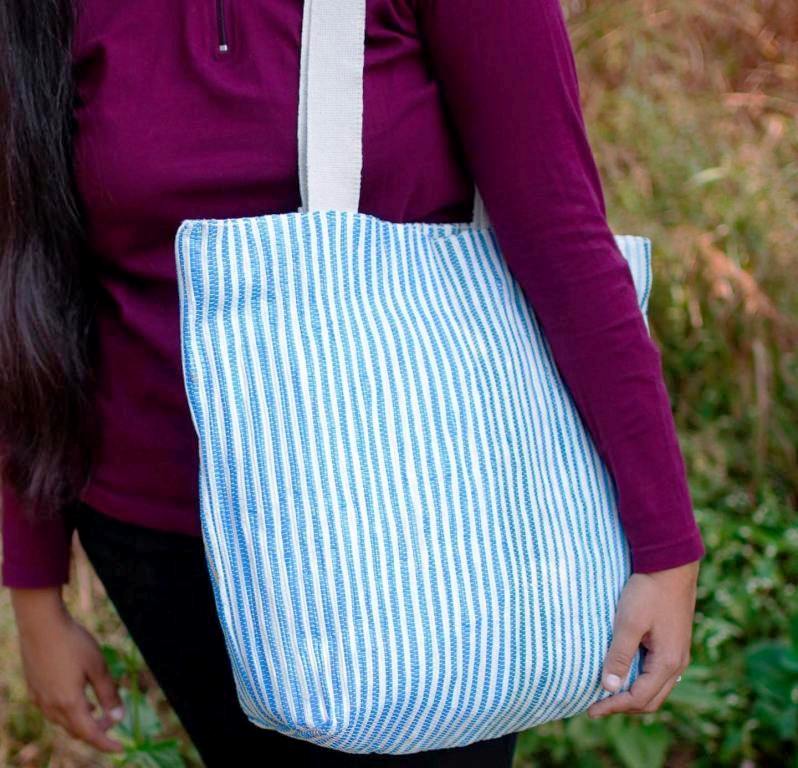 Source of plastic
The amount of plastic used to make these products is roughly close to 1000 kgs per month at Ecokaari's Pune unit and nearly 3000 kgs/month in Bellary, Karnataka. Where does this huge amount of plastic come from?
"We don't do the collection on our own. For that we have two sources. We have collaborated with couple of waste pickers organisations who have people collecting the waste and segregate them. The plastic which we need are given to us. The other part of our plastics comes from donation from individuals as well as corporates, food manufacturing companies etc. We also take it from wholesalers who are known as the bhangarwaalas," informed Mr Bhat.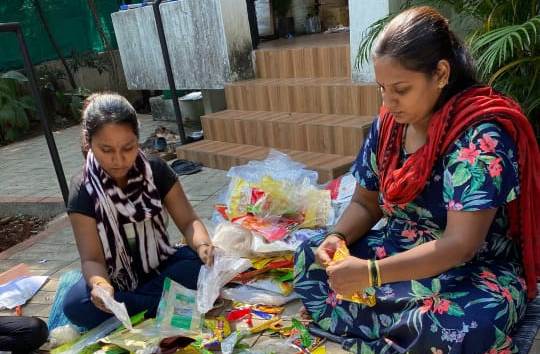 Upcycled plastic with charkha and handloom
"Once the plastic comes to the unit, the first thing that is done is these are washed, sanitized and dried. The complete process is manual; no machine is used in this. After that we sort them according to colour and grades. We do not use any chemicals. We keep the original colour of the plastic as it is. After segregation of the plastics they are cut into long strips using scissors, which are the enrolled on to the traditional charkha and then woven on handloom to create the fabric. Once the fabric is done we have a design team who work on it and make beautiful products out of the same," revealed the EcoKaari head honcho.
"We work heavily on the aesthetics of the products because we believe that they need to be sold on there on merit and not because of the story of how and why they have been created," he added with a smile.
Chemical-free products
Emphasizing on how their products are free from harmful chemicals, Mr Bhat shared, "If you look at fabrics, most colours and dies which are used are chemical-based. Since we do not dye our products, and retain the original colour of the plastic as it is, so that is how they are chemical free."
Employment to female artisans
In Pune around 19 artisans are working on the handloom. There is also a tailoring unit in Pune with the majority of tailors being males but their helpers being women. In Bellary, 75 female artisans working with EcoKaari.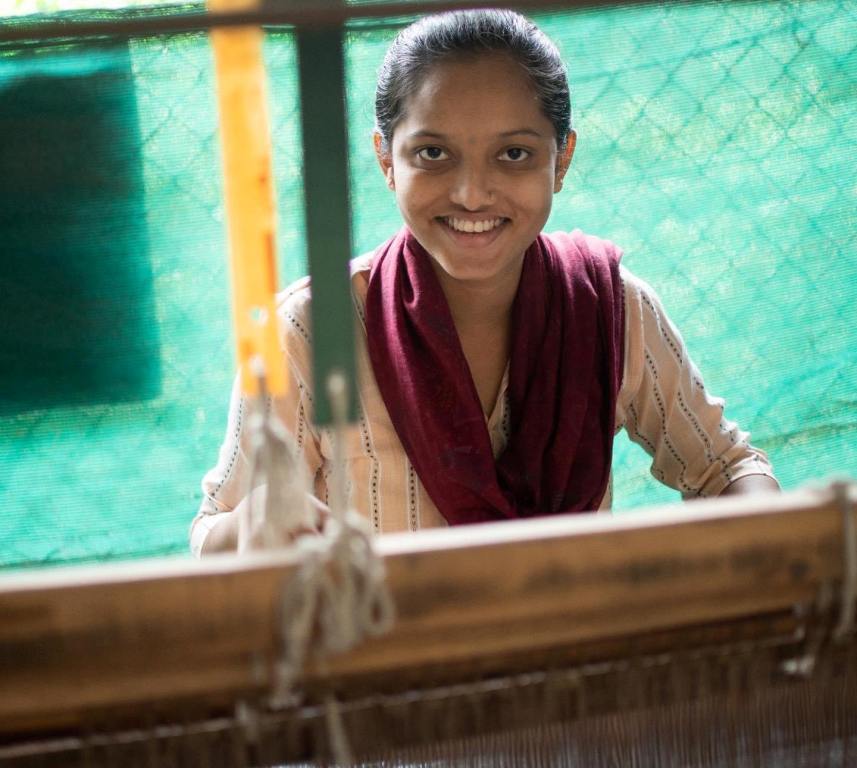 Cassette tapes collection, Maggi collection
The EcoKaari store offers interesting collections namely Cassette tapes collection and Maggi collection and a few more which are bound to make anyone curious!
Answering our curious question, the Founder expressed, "Audio cassettes are almost at the end of their life because nobody uses them anymore and you don't get recorders and other players now. People who still have it in their homes do not know what to do with it. So now we have started using the inside of the cassette tape and make fabric out of it. For Maggi collection and ITC collection we have tied up with Nestle and ITC respectively. They send us their own plastic waste which we convert to fabric. Then they give us the design, we make the products and then give it back to them."
Why segregate waste at source
Explaining why it is extremely important to segregate waste at source, Mr Bhat said, "This is really necessary. For example, if you are packing your sanitary waste in plastic and giving it to the waste picker, it becomes almost impossible to recycle or upcycle the same. Hence the best possible way is to segregate the waste at source at home only. Then the chance of recycling that plastic becomes very high."
"But then again it is all a matter of awareness. Segregation of waste at source is of highest importance but it will take time because awareness has to be created on a lot of levels. The government is trying to do this but it will take time. It is still a long way to achieve that in terms of awareness in India. And not only in India but also globally, because this is a global problem too," he signed off.
Ahana Bhattacharya can be reached at ahana@thecsrjournal.in