Home
Press Release
UK Football Tour to be hosted for underprivileged children from Maharashtra, Rajasthan...
UK Football Tour to be hosted for underprivileged children from Maharashtra, Rajasthan and Karnataka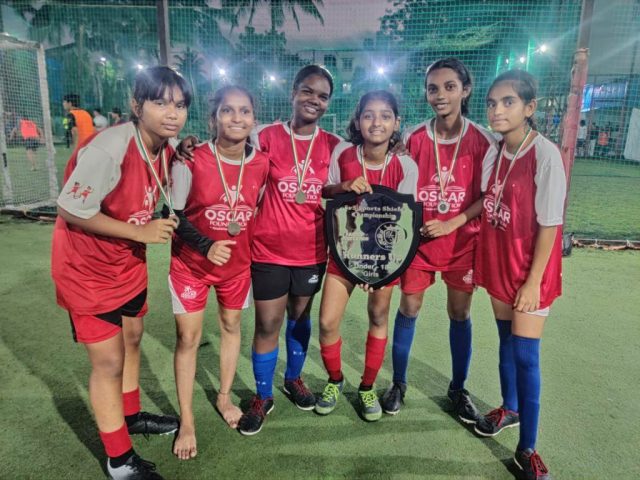 New Delhi, India: OSCAR Foundation, a community based Sports for Development (S4D) organisation from Mumbai announced the fourth tour of the United Kingdom for underprivileged children. The foundation is sending 10girls and boys from the underserved communities of Mumbai, 2 girls from Jhunjhunu, Rajasthan and 4 children from villages near Yadgir, Karnataka on a 15 day tour to the UK on 1st October 2023 to participate in a cultural exchange programme and play friendly football matches with European school students.
The OSCAR Foundation uses the power of football to encourage children to stay in school and equip them with skills to make them resilient and future ready. Through the football and life skills, education and Young Leader programmes, the foundation has empowered 15,000 children and youth in low-income communities in India since 2010.
Elaborating about the UK tour 2023, Ashok Rathod, Founder, OSCAR Foundation, said, "We strongly believe in the transformative power of sports, and our football and life skill programme is a testament to that. Through this programme, we not only help children acquire necessary skills, but we also motivate them to play football and grow academically at the same time. We are thrilled to partner with OSCAR International and give these children an incredible opportunity to visit the UK and play matches with school students for an international exposure. This year, 16 children from Mumbai, Jhunjhunu in Rajasthan and Yadgir in Karnataka will be visiting the UK under the programme, and we couldn't be more proud of them. Here's to fostering their growth and future readiness through sports.We are passionate about creating role models that come from all walks of life. Our mission is to inspire and motivate young individuals from economically weaker sections of society to strive for their goals and create their own future. Through our programs and initiatives, we aim to provide the necessary resources and support to make this happen."
Since OSCAR's inception, 107 children and youth have travelled abroad for exposure visits and tournaments in many countries including the United Kingdom, Spain, USA and Denmark, where the girls' team won the prestigious Dana Cup tournament. This year, it will be the fourth tour of the UK following successful visits in 2017, 2018 and 2019. Through the tour, schools across the UK host the beneficiaries and play friendly football matches while also organising academic, cultural and extra-curricular activities. Over the years, the OSCAR UK Tours have attracted visits from eminent personalities including World Cup Winner Juan Mata, Arsenal legend Tony Adams and HRH Sophie, the Duchess of Edinburgh.
The tours have had a life changing impact on the lives of the children attending. Members of the UK tour in 2018 went on to win the 2019 Dana Cup held in Denmark. Sagar and Rakesh, alums of the 2017 tour were awarded scholarships for a training camp at Bengaluru FC. Priya, an alum of the 2018 tour was selected to play for Maharashtra in 2019. Anita, an alum of the 2018 tour represented India at the recently held FIFA U-17 Women's World Cup while Omkar, an alum of the 2017 tour was selected to represent Mumbai City FC.
The tour spots are awarded on merit after open trials for OSCAR Foundation beneficiaries across the locations. The tour is sponsored by OSCAR International and the UK partner schools. Children and their families do not make any financial contributions towards expenses of the tour.
Disclaimer: This media release is auto-generated. The CSR Journal is not responsible for the content.