Mumbai's Sangita Porwal encouraging all to go green
"One of the first conditions of happiness is that the link between man and nature shall not be broken"
— Leo Tolstoy
Our connection with nature is extremely crucial for human survival. To begin with, nature provides the oxygen which we inhale every second to survive. We get every necessity for survival from nature be it oxygen, food or water but how many of us care? How many of us are grateful? How many of us follow ecologically responsible decisions and lifestyles? How many of us do something to protect our environment?
Today, The CSR Journal shares the story of Mumbai-based Sangita Porwal, who has been encouraging everyone to 'go green'. She is the curator of Sangita's Green Gallery, which has been motivating people to talk about all things green, from gardening as a hobby to gardening workshops for the corporate to encouraging people to be a 'plant parent'.
Talking about the same, Sangita Porwal told The CSR Journal, "I am a very passionate gardener. I always feel that green gifts are the best gifts. We must think about the environment, how to protect it. Also, I feel everybody must try their hands at gardening like growing a plant, having a small plant at home. That's the purpose of our DIY gardening kits which anybody can gift to someone else which will help initiate their gardening journey."
Inspiration for gardening
Sangita has been a gardening-enthusiast from a very young age. What was the inspiration? "As a young child, I've seen a lot of plants in our house. I come from a small town where there are big spaces and we have lots of plants. After marriage, I moved to Mumbai where there is space crunch. Still I would have small plants here and there. I always feel that being closer to nature helps. Having little plants here and there around the house makes the space livelier and it feels good. I have been encouraging people to keep little plants at home and begin their gardening journey," she informed.
Encouraging all to be a 'plant parent'
Sangita strongly believes that gifts and return-gifts should be eco-friendly and sustainable. Therefore, Sangita's Green Gallery offers a wide choice of environment-friendly gifting options customized as per the customer's choice and occasion.
Informing about the same, the veteran shared, "We offer seed starter kits which come in various options like sunflower, marigold, vegetables like tomatoes, green chilli, leafy veggies like spinach. These come with biodegradable pots and some natural fertilizers like dried cowdung and good quality seeds. These kits are something which, anybody from a beginner to an experienced gardener can use."
"Then there are microgreens growing kits. These are complete kits which come with trays, organic growing medium, step by step microgreens growing instructions and other accessories. These are wonderful return gift ideas I feel. We try to reduce and minimize plastic in our products as much as we can and prefer using sustainable alternatives," she added.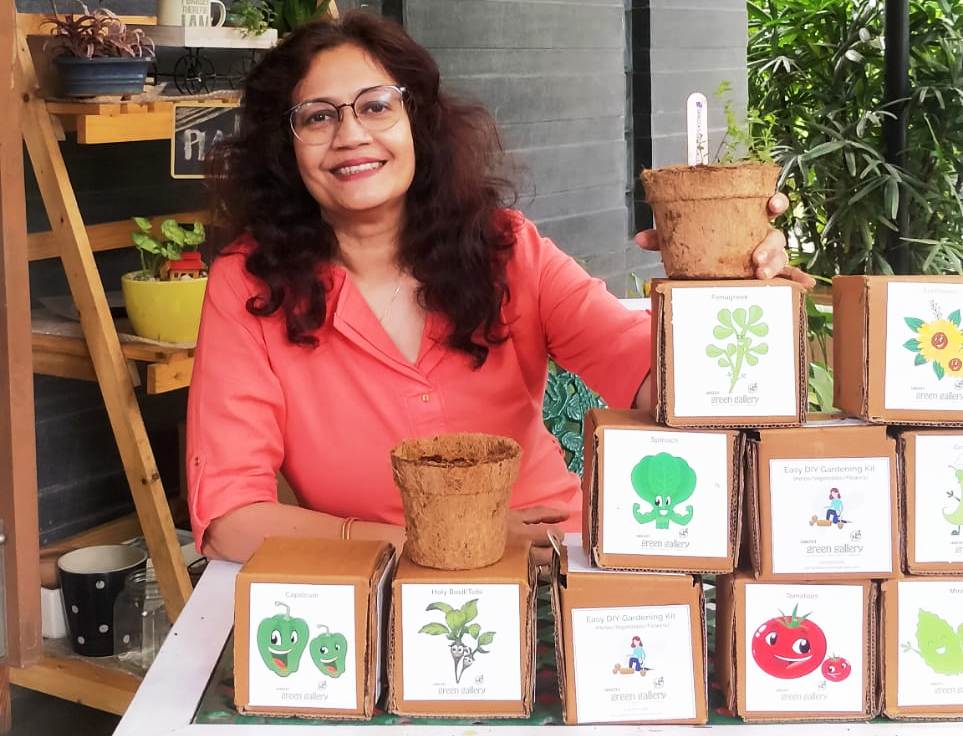 Motivating children to start their gardening journey
Sangita also offers something which can attract children towards gardening. She said, "We have kits in a smaller version which come with smaller pots. These are specially designed for children so that they can be introduced to gardening. So, the pot is small. With these children can begin growing, experimenting and seeing their plants grow from the seeds."
Urging people to gift eco-friendly
Sangita feels that buy gifting eco-friendly and sustainable gifts, we can encourage others to do the same. For example, if you gift someone a plant sapling today, that person will gift someone else a plant sapling tomorrow. That is how more people can contribute towards the environment. She said, "One should be conscious while gifting something to someone that it should be sustainable and eco-friendly. It doesn't make sense buying something made in China and gifting it to others, there is no happiness. If you gift something closer to nature, that way you are spreading the awareness."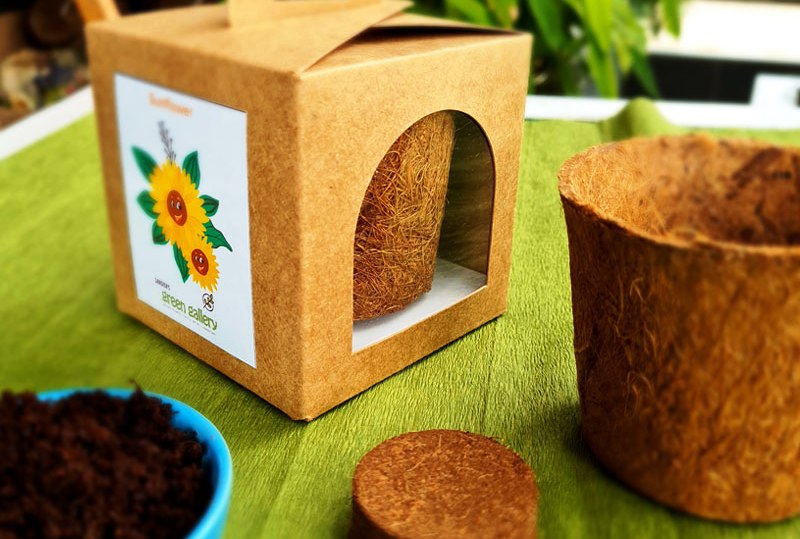 Managing waste at source
As a responsible citizen and nature-lover, Sangita also believes in managing waste at source. She said, "You responsibility towards the environment can begin from your house. For example, there is hardly any waste going out of my house. I manage a lot of waste at source. The greens coming out of my kitchen are composted."
"I try to teach waste management activities through workshops and YouTube Videos. You can reuse the greens that you have; they are wonderful for the plants. Instead of throwing away stuff like bottles etc, give it to those who buy. This reduces the burden on the corporation to dispose off that much of waste. These are little things which you practice in day to day life; you will be doing much for the environment that way."
Responsibility towards the environment
Spreading awareness about our responsibility towards the environment, Sangita reminded, "Everyone must give back to the environment. We should try to reuse, recycle and refurbish whatever we have. We have so much in the house itself. If we are reusing and recycling these things consciously, we are reducing unnecessary waste. I practice the same and I feel everyone must try to do this. It is not difficult. We need to be more aware and conscious and we need to take care of Mother Nature."
"When I travel abroad and I see the consciousness that people have towards nature, the efforts they take towards its conservation, it's really mind-blowing. If they can, why can't we? Not many people are consciously aware; I think that awareness has to come," she concluded.