Loocafé Founder Abhishek Nath shares how they are changing India's public toilet scene
Whenever we see a 'pay and use' public toilet on the street, the fear that instantly grips our mind is that, "It must be very dirty, I should not use it, I might catch an infection" etc. However, Hyderabad-based Abhishek Nath and his team has taken an initiative to bring the much-needed revolution in the public toilet scene of India. Abhishek has launched Loocafé, free to use, smart luxury public toilets in several Indian cities.
Loocafe's are a patented innovation by Ixora Group which revolutionized the idea of public washrooms by introducing the first of its kind free to use 'IoT' based luxury smart washrooms with a café.
What is Loocafé
Talking about his novel initiative Loocafé, Abhishek Nath, Founder and CEO, Ixora Corporate Services, told The CSR Journal, "It's a unique concept in the country. We started this journey in 2018. It's one of the first innovative concepts which we have built around public toilets. Loo Café is a modern public toilet which changes the perception of public toilets for the future."
"It's a shipping container, a part of which is used as a POS or point of sale, and toilets revolving around the entire shipping container. It's got a male toilet, a female toilet and a toilet for the specially-abled. It's well equipped with modern facilities, and free to use always. The revenue generation from the POS is used to manage and maintain the toilets," he added.

How Loocafé works
"How we work is basically on a PPP kind of a model where we take space from the government and install these toilets, generate revenues from the POS which is then used to manage and maintain the toilets and employment around that area. The concept of Loo café takes out the burden of managing and maintenance from the civic body and puts in on to a private player. Once we get the permission either for 10, 15 or 20 years for using the space, for that amount of years, 100 percent maintenance is borne by us. We even pay the electricity and water bills. We are one of the first ones who have devised a new concept when it comes to public toilets," informed the founder.
In which cities can we find a Loocafé
"We have 350 plus Loo cafes and out of 16 districts and 3 states across the country- Telangana, Tamil Nadu and Jammu & Kashmir, in cities like Hyderabad, Chennai, Srinagar and Coimbatore. We are the first start up in swachhata involved with J&K and have a fantastic Loocafé right opposite Nishat Garden in Srinagar. We are starting work with Maharashtra as well. We are already in touch with a lot of governments. In fact, it should come up very fast in Chandigarh," he shared.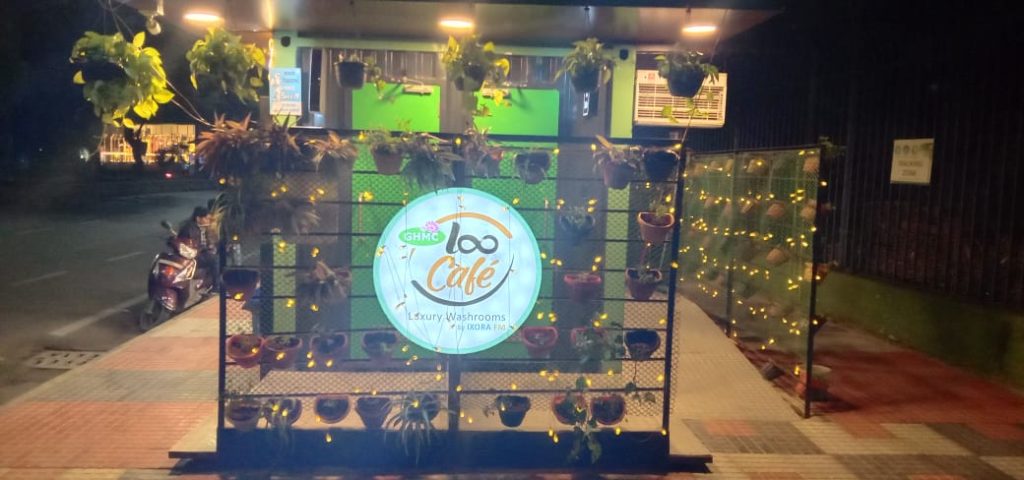 Aesthetics
The Loocafés have been created aesthetically with entrance from the sides. Plants planted around that area so that it looks more aesthetic.
Free of cost
"A Loocafé is designed inside a shipping container, where the café is on one side and the toilets are on the other side. You don't have to walk into the café to use the toilets. They are all accessible individually without even you entering or accessing the café and vice versa," said Abhishek.
"In a lot of areas we have also incubated or trained hawkers from the street even a shoe repair or cycle puncture guy or anybody. We have two models, a 20*8 kind of a model and the other is an 8*8 kind of a model. The latter is more for social entrepreneurs where people who are hawkers, street vendors, we train them, get them a little space," he added.
"The 8*8 model has two toilets – male and female. The social entrepreneur, who gets trained by us, manages these toilets along with his social enterprise. The smaller ones don't have the specially-abled toilets. The bigger one has these toilets having wheelchair accessibility. Also, there are baby feeding rooms in some of them," he further said.
Inspiration behind Loocafé
"We are basically a team, I being the founder. We all are from corporates. Each of us has been in the facility management industry for more than 20 years in leadership roles. In facility management, the biggest pain is always public toilets, or rather toilets in the buildings which we were managing. When we came into Ixora Corporate Services, we wanted to do something in the public domain. We realised public toilet is totally an unorganized market and there are no players at large who are trying to organize the space or get better quality service down the street. That's what made us start thinking and we came up with this innovative concept," expressed the Ixora head honcho.
Sustainable
"We have built a sustainable model, where we are not only employing a large man force but also incubating a lot of social entrepreneurs with us, who have built their livelihoods around managing toilets. It's a new concept and doing really well. Without having a sustainability model around it, it is impossible to sustain anything. That's what we have started working on," he expressed.
Cost of building
"The bigger ones 20*8, cost around 12-15 lakhs depending upon the location and space. The smaller ones, 8*8 cost anything between 3.5 to 5 lakhs," he informed.
Inviting CSR
Ixora group is open to receiving help from corporates for the Loocafés. Talking about the same, Abhishek said, "We are open to expansion. We are looking at various corporate bodies to help and fund us so that we scale it up much faster. The CSR activity will help the corporate to get a lot of branding around that area benefitting them. Meanwhile, HAL has helped us with a few of the corporate investments."
Loocafé 2.0
Loocafé 2.0 is being designed keeping in mind the safety of citizens, further enhancing the experience of IoT enabled washrooms with innovative sanitizing features. The high-end public toilet comes with uv copper-coated flooring, specially treated alkaline-acidic water (chemical-free) which kills viruses and germs, and IoT-based misting exhaust system, which will clean as well as disinfect.
Throwing light on the same, Abhishek shared, "This is something we are working on. We are trying to change the water into kangen water, i.e., changing the pH level of water. Then the water itself acts like a disinfectant. So the issue of bacteria spreading out of toilets will disappear. We are also working on changing the door knobs and handles from stainless steel to copper, a metal which is a natural disinfectant. Also, instead of touching a surface, you can just nudge it. Apart from this, we have increased the height of the ceilings so that there is enough airflow. Also, there is infusion of our Indian materials like terra cotta which we are getting in our 2.0 version to make it a little more eco-friendly."