Home
Header News
International Day against Drug Abuse and Illicit Trafficking 2023- Campaigns by Indian...
International Day against Drug Abuse and Illicit Trafficking 2023- Campaigns by Indian Police for a drugs-free society
The International Day against Drug Abuse and Illicit Trafficking is observed on the 26th of June every year with the aim of spreading awareness against the menace of drug consumption and peddling and promote a healthy life free of addiction. From time to time, police across Indian states and union territories have taken initiatives and launched campaigns to curb drug consumption and peddling especially among students and youths.
On the International Day against Drug Abuse and Illicit Trafficking 2023, The CSR Journal takes a look into some of the campaigns and initiatives by Indian police to combat the threat called drugs.
Chhattisgarh Police's 'Nijaat' campaign
'Nijaat' (riddance) is a campaign launched by Chhattisgarh police to stop smuggling of drugs and illegal liquor and promote ways of quitting addiction. The campaign to tackle rising cases of illicit substances and liquor was launched in in July 2021 and has also received national as well as international recognition.
Meanwhile, the United Nations Children's Fund (UNICEF) and Counsel to Secure Justice (CSJ) have recently collaborated with Chhattisgarh police for this campaign. The purpose is to spread awareness among youngsters against drugs abuse and crimes under the Nijaat campaign.
Minors who are addicted to drugs or involved in peddling and other drug-related crimes will be counselled and motivated to get back to normal life.

Punjab Police's 'OPS Vigil'
Punjab Police launched a campaign last month against drugs and anti-social elements. The two-day long statewide operation 'OPS Vigil' was aimed at keeping a tab on drug trafficking, anti-social elements and criminals. Police teams under the supervision of ADGP/IGP rank officers were deployed for this operation.
As part of this operation, the police kept a thorough check on crowded and vulnerable public places like markets, railway stations and bus stands. The police also conducted raids and frisked suspected persons and suspicious vehicles. Flag marches were also carried out by the police to boost confidence among the general public especially in vulnerable areas.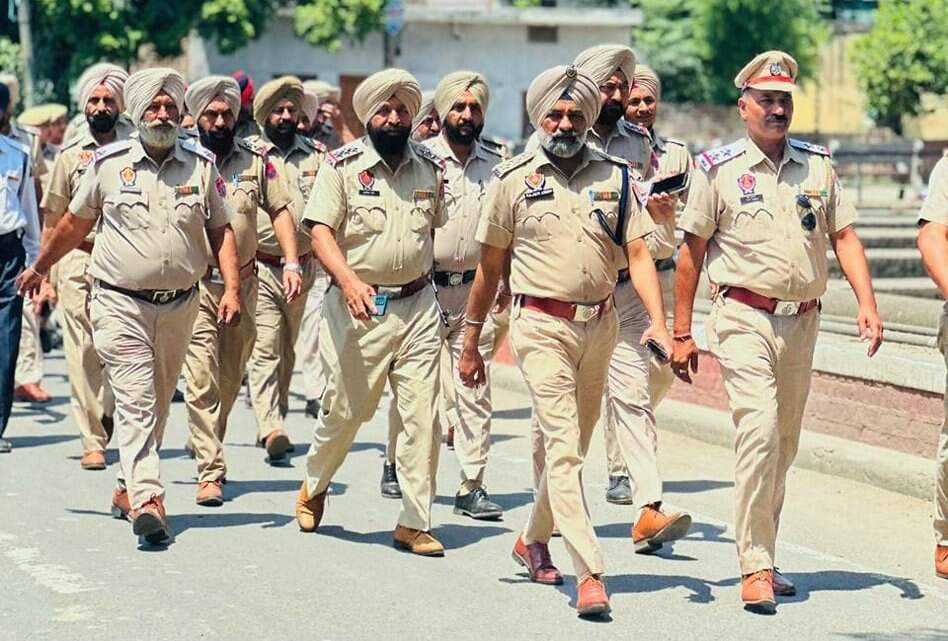 Delhi Police's 'Operation Kawach'
In an attempt to combat drug abuse and peddling in the national capital, Delhi Police launched 'Operation Kawach' in May this year. Under this initiative, the district units of Delhi Police together with Crime Branch conducted raids across the capital arresting drug offenders and bootleggers and seizing illicit liquor and drugs. The purpose is to combat the harmful influence of drug addiction on youth and children and curb the distribution and sale of illicit substances especially to students.
The Delhi Police has also signed a Memorandum of Understanding (MoU) with Xavier School of Management (XLRI), Jamshedpur last week, to collaborate on drug-related research and develop an Anti-Drug Awareness Strategy. The aim is to conduct research on drug-related issues prevalent in Delhi and come up with an action plan to address the challenges caused by drug abuse.
Mumbai police 'Drugs free Mumbai'
Mumbai Police's Anti Narcotics Cell Branch initiates action against persons who manufacture, transport, possesses, sale narcotics drugs, psychotropic substance like Heroin, Morphine, Ganja, Charas, Hashish oil, Cocaine, Mephedrone, LSD, Ketamine, Amphetamine and others substances under NDPS Act 1985.
The Anti Narcotics Cell launched the 'Drugs free Mumbai' campaign on 29th April this year to spread awareness about drug menace. As part of the initiative, several theatre performers performed street plays with a message against drugs. These were conducted in crowded areas like railway stations, bus stops and markets. During the performance, police personnel distribute pamphlets warning people against drug menace.
As part of the anti-narcotic drive, Mumbai police took action against several unauthorized hawkers and people under the Cigarettes and Other Tobacco Products (COTPA) Act. The police also conducted raids across the city as part of the campaign, penalising and arresting offenders involved in possession, consumption, sale or manufacturing of illegal narcotic substances.
Himachal Pradesh Police's 'Pradhav – Wipe out drugs'
The Government of Himachal Pradesh held a Half Marathon in Shimla with the purpose of making people aware of the ill effects of drug abuse on Sunday ahead of The International Day Against Drug Abuse and Illicit Trafficking. The marathon was organised by Himachal Pradesh Police. Flagged off by Governor Shiv Pratap Shukla, the Half Marathon had the theme of 'Run for Drug-Free, Safe & Green Himachal'.
The state government also plans to establish a dedicated special task force, which was announced by Chief Minister Sukhvinder Singh Sukhu during the 'Pradhav' – Wipe out drugs programme on Sunday.
Initiatives by Jammu & Kashmir Police
To address drugs menace and spread awareness among the masses against drug abuse, Jammu and Kashmir Police organised a seminar cum awareness programme themed on 'One Life-One Chance-Avoid Drugs' at town hall Ganderbal in March this year.
In April, the district administration of Rajouri organised an anti-drug campaign in a Government College. The event was aimed at sensitising the youth against the menace of drug addiction.
In January this year Jammu and Kashmir Police organised an anti-drug campaign and debate at Town Hall Pampore. The purpose was to spread awareness among the public about the menace of drugs, its side effects and how drug addiction can be completely eradicated.
Initiative by Telangana Police
The Telangana State Anti-Narcotics Bureau (TSNAB) in collaboration with the Department for Empowerment of Persons with Disabilities, Senior Citizens, and Transgender Person organised a three-day long anti-drug campaign last week. The campaign aims to combat drug abuse and illicit trafficking, spreading awareness especially among the youth, and fighting stigmas. It was held at Telangana State Police Integrated Command and Control Center (TSPICCC) in Banjara Hills.
Kerala Police's 'Yodhavu' mobile app
'Yodhavu' (Warrior) is a mobile app through which people can inform police about drug abuse and its distribution within the state. People can reach out to the number through photos, voice messages or videos if they come across anyone selling or using drugs. People can also contact via helpline number 9995966666.
As part of the Yoddhav project launched by the Kerala Police to control drug use among children and create awareness about its ill effects, the first phase of training for school and college teachers in the district was conducted in September, 2022 at the District Police Annex Hall.
Initiative by Indore Police
With the aim of creating a drug-free society, Indore Police has started conducting various awareness programmes. The police recently observed a de-addiction fortnight to sensitise citizens about the harmful effects of drug addiction/consumption and peddling. During this fortnight, programmes and workshops were organised by Indore Police to encourage ways of quitting.
The Training and Awareness Cell of the Indore Police also visited industrial units and Anganwadi centres where the police team educated all about the harmful effects of drug abuse and asked them to reach out on Police helpline for any drug-related complaint/assistance.