Gen Z Delhi boys win International Children's Peace Prize 2021
Fourteen-year-old Nav and seventeen-year-old Vihaan Agarwal are two teen brothers from Delhi who are making the country proud because of their responsible citizenry. They've just won the prestigious 17th International Children's Peace Prize, for their courage and commitment to tackling pollution in their city. Vihaan and Nav are trying to reduce the causes of pollution coming from the continuous burning waste on the landfills, to help children suffering from air pollution and to reduce children working in the landfills.
International Children's Peace Prize
Nobel Peace Prize laureate Kailash Satyarthi conferred the award on the eve of Children's Day. The International Children's Peace Prize — the most important youth award worldwide — is an initiative of the international children's rights organisation KidsRights. From an impressive 169 applicants from 39 countries, the KidsRights' Expert Committee selected Nav and Vihaan as winners.
The International Children's Peace Prize highlights the remarkable achievements of youngsters fighting courageously for children's rights across the world. Previous winners include Malala Yousafzai and Greta Thunberg. The prize was launched in 2005 during the World Summit of Nobel Peace Laureates in Rome, chaired by Mikhail Gorbachev. Since then, the prize has been presented by a Nobel Peace Prize Laureate every year.
On the eve of India's National Children's Day, during a grand ceremony held in the historic Hall of Knights in The Hague, Netherlands, Kailash Satyarthi, the 2014 Nobel Peace Prize laureate, presented the International Children's Peace Prize, the Nkosi statuette, a study and care grant for their education and a project fund of €100,000 to the boys. Half of the project fund will go to the winner's theme, and the other half will be invested by KidsRights in the projects of other young changemakers fighting for children's rights.
The story of Nav and Vihaan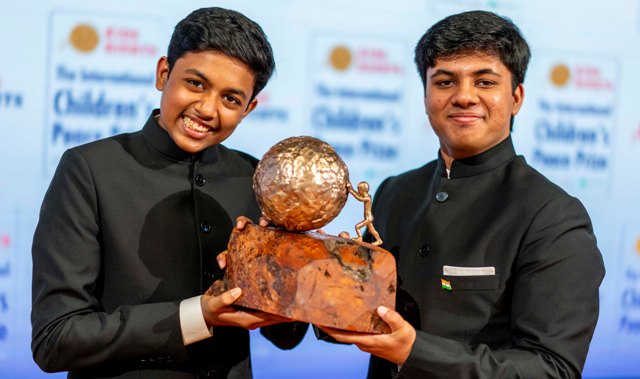 In 2020, Delhi was the world's most polluted capital for the third straight year. Growing up with asthma, Vihaan was frequently made sick by

Delhi city's poor air quality

, and the brothers were often unable to play outdoors. After seeing the link between waste and air pollution following Delhi's Ghazipur landfill collapse, the boys were inspired to create One Step Greener – an initiative which began segregating rubbish and organising waste pickup drives.
From just 15 homes, One Step Greener is now a city-wide operation, collecting rubbish from more than 1,000 households, schools and offices, and has recycled 173,630 kg of waste. The entrepreneurial brothers often devote 4-5 hours per day to the organisation and are working to bring their sustainability message to children across India. Learning materials they created are used in over 100 schools in Delhi and they have given presentations to over 45,000 people on the topic of waste. One Step Greener now has five full-time employees and 11 dedicated young volunteers working towards the goal of a 'Zero Waste India'.
After receiving the prestigious award, Nav and Vihaan Agarwal, said, "Air pollution is one of the most important issues of our time for children. It affects us directly, people in our community and young people across the world. What started from our home has turned into something much bigger and it shows what we can achieve when we take action. We would like to encourage all young people to start their own initiatives no matter how small they seem. By winning the International Children's Peace Prize we hope that other cities will support us in our goal of a zero waste India."
Said Kailash Satyarthi, "Vihaan and Nav have made history with their tireless work to tackle a problem which affects so many children worldwide. Their efforts will inspire many more to act with bravery."
To mark the International Children's Peace Prize 2021, KidsRights Foundation has produced 'Climate change, air pollution and children's rights', a report that highlights the impact of climate change on the world's children, one billion of whom are at extremely high risk. The study shows that air pollution and climate change are infringing children's rights around the world, and demonstrates how youngsters are holding governments to account and demanding action.