Hero MotoCorp CSR Report Shows It Stands By 'We Care' Motto
Hero MotoCorp is one of those automobile doyens that could be mistaken for a much younger company because of its young workforce and fresh work ethic. Despite being the world's largest manufacturer of two-wheels for the past two decades, the company is at the cutting edge of design and auto-innovation. It believes sustainability is the right compass to address long-term business as well as welfare goals. This is where its efforts in corporate social responsibility come in. Hero MotoCorp CSR interventions are aimed at enhancing social and environmental capital along with facilitating the generation of adequate ROI (returns on investment) and strengthening social license to operate.
1. Overview of Hero MotoCorp CSR
The automobile major runs all its flagship corporate citizenship projects under the CSR Umbrella 'We Care' with direct supervision from Chairman and MD Pawan Munjal. There are currently 5 flagship programmes. The CSR spend exceeded 100 crores in this financial year. The firm invested a total of INR 101.95 crores in FY 2019-20 on various CSR interventions.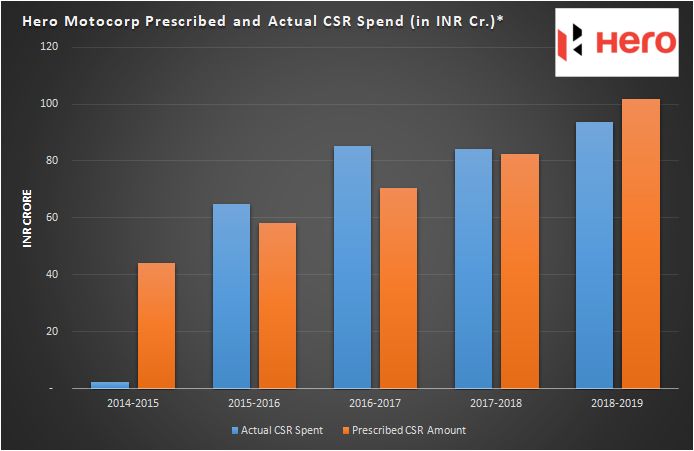 A testament to its transparency is that Hero MotoCorp is among the top 10 Indian companies doing annual SROI assessments of all their CSR programmes. On this list, it's arguably the only company to have achieved primary objectives of all large CSR programmes within three years of their implementation. It makes the Top 10 lists for companies contributing to Edtech, education infrastructure as well as skill development and vocational training CSR initiatives in a report on CSR and education in India published recently by CSRBox!
Education isn't the only focus area. It's among the handful of companies that gives road safety so much attention. Its flagship initiative Ride Safe India works towards inculcating road safety and good riding habits. Persons with Disabilities (PwDs) and Sports CSR are two other areas where Hero MotoCorp trumps. The beneficiaries of practically all Hero MotoCorp CSR programmes come from marginalised backgrounds. Thousands of them have already broken the cycle of poverty and live a life of dignity.

2. CSR Committee
The CSR Committee comprises the company's Chairman Dr. Pawan Munjal, Prof. Jagmohan Singh Raju, and Pradeep Dinodia. Further, the Company has designated Vijay Sethi, Chief Information Officer and Head of Human Resources, as Head CSR to ensure effective programme implementation.
3. Alignment with SDGs
It's a no-brainer that being a large business entity, the Hero Group has a critical role in the achievement of the SDGs (Sustainable Development Goals). The group ensures this through sustainable business practices and focused social investments. The Hero MotoCorp CSR strategy looks to address the most urgent social, environmental and economic challenges, much like the SDGs set by the United Nations. The company is doing its bit towards meeting most SDG targets set for 2030 by designing community welfare programmes accordingly. It aligns with practically each of the 17 Global Goals. Here's how the group's CSR framework aligns with the SDGs.
SDG 1 (No Poverty): Project Jeevika is focused at skilling youth, especially younger girls, and women so that they can leave the cycle of poverty behind. Self-help groups (SHGs) in villages turn women into entrepreneurs.
SDG 2 (Zero Hunger): The Midday Meal Programme feeds thousands of children every day. The company does large scale fruit tree plantation to poor communities free access to fruits.
SDG 3 (Good Health and Well-being): Project Arogya is taking free healthcare facilities to marginalised communities. Project Khelo Hero propagates participation in sports. Project Shiksha takes health and hygiene into account.
SDG 4 (Quality Education): Project Shiksha has the goal that no child within the company's areas of operations misses school. Project Jeevika runs employability-focused vocational courses.
SDG 5 (Gender Equality): Project Jeevika imparts employability-focused vocational courses to girls and women besides men. Project Ek Pahal gives wings to girls with a chance to learn two-wheeler riding, and in effect, experience freedom.
SDG 6 (Clean Water and Sanitation): Hero 'We Care' has set up RO water filters and toilets across schools around its areas of operations. The CSR team supports Namami Gange – National Mission for Clean Ganga (NMCG).
SDG 7 (Affordable and Clean Energy): Project Aarush focuses on the installation of solar-powered streetlights in rural areas. The same CSR project is also replacing old light bulbs with LED lights for poor households in villages. Some of the beneficiary schools use solar power.
SDG 8 (Decent Work and Economic Growth): Project Jeevika not only provides professional skills training for thousands of youth to get decent jobs, it also encourages entrepreneurs. Hundreds of rural women are earning their livelihood after completion of vocational courses under this CSR project.
SDG 9 (Industry, Innovation and Infrastructure): Repairable LED light bulbs, road safety infrastructure support to state police and Safety Training Parks in eight cities align with Goal 9.
SDG 10 (Reduced Inequalities): Project Enable propagates inclusiveness and supports PwDs. Project Khelo Hero supports para-athletes. The same project also creates an encouraging environment for girls to play.
SDG 11 (Sustainable Cities and Communities): Mass awareness campaigns for environmental conservation, and focused campaigns with children in cities on road safety and eco-consciousness.
SDG 12 (Responsible Consumption and Production): The factories meet energy demand through grid-electricity, natural gas and solar power. Natural gas has lower emissions and doesn't leave any solid and liquid wastes. Women-run self-help groups do upcycling of waste materials to produce handicrafts.
SDG 13 (Climate Action): Large-scale tree plantation drives and climate change awareness campaigns sensitise the masses.
SDG 15 (Life on Land): Forest guards and rangers across states are equipped with motorcycles to keep a check on poaching and illegal deforestation.
SDG 16 (Peace, Justice and Strong Institutions): Policewomen are handed two-wheelers to increase response time to distress calls. The company supporting various non-profits that propagate peace and justice for all.
SDG 17 (Partnerships for the Goals): Hero MotoCorp collaborates with UNDP, central and state government departments, industry associations and social organisations on CSR projects.
4. Ride Safe India
Lakhs of life are lost in road crashes each year. Planned interventions for propagate road safety are few. Safe driving and riding, awareness of traffic rules and the conscience to follow them aren't the first things that come to mind when you think of Indian roads. It was against this backdrop that Hero MotoCorp kickstarted road safety-focused CSR initiative Ride Safe India (RSI) programme.
Ride Safe India fits the company's ethic like a biker's glove. The modus operandi is to inculcate self-discipline among road users by drilling it into their subconscious. This is achieved through road safety campaigns, social media slogans and bloggers. The programme ropes in law enforcement agencies across states to run road safety campaigns for two-wheeler riders. The agencies impart road safety education to positively influence traffic behaviour patterns.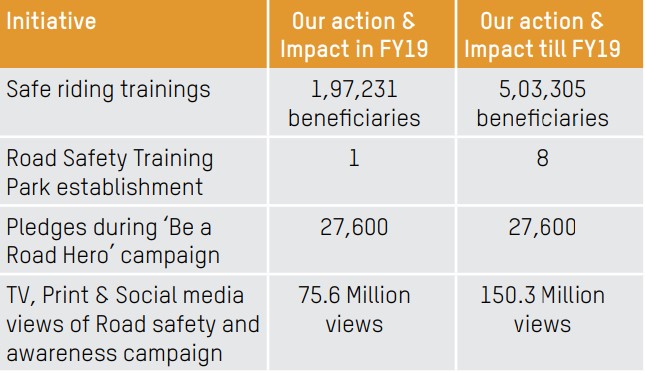 Hero MotoCorp CSR has adopted Traffic Parks at Gurugram, Delhi, Rourkela, Lucknow, Hyderabad and Nagpur, which are equipped with Riding Simulators. It has partnered with state police departments of Haryana, Chhattisgarh, Rajasthan, Uttar Pradesh, Telengana, Uttarakhand and Madhya Pradesh, and handed over more than 600 two-wheelers to them.
4.1 Road Safety Club
Ride Safe India recognises the positive influence of kids. The child is the father of the man, goes a famous adage. Children can inspire grownups to be responsible citizens. Road Safety Clubs in schools across various Indian states appoint road safety ambassadors among students. Children visit traffic training parks to understand the importance of being safe on the streets.
The road safety van is a unique concept; the Ride Safe India team transforms a van into a mobile classroom to impart theoretical and practical training. Needless to say, road safety clubs often park there. The Gurgaon police takes a road safety van to various schools in the Gurgaon area for practical lessons on traffic rules.
4.2 Two-wheeler Safe Riding
Road safety training parks aren't only one-stop spots to learn about road safety, they also give two-wheeler riding lessons. Riding simulators, tracks, stretches with varying road conditions and safety equipment make them the best place to learn. Plus, there are trained faculty on-ground to teach participants through road sign posters and videos. There are currently nine Road Safety Training Parks in the cities of Gurgaon, Delhi, Lucknow, Hyderabad, Rourkela, Nashik, Bilaspur and Nagpur.
The CSR team runs mass awareness campaigns during National Road Safety Week and the United Nations' Global Safety Week. They are directed at the masses in order to instill a sense of collective responsibility. It's the only way to reduce mortality and accident rates. It's not easy to bring about behavioural change when drivers and riders are used to being reckless. Hence, the campaigns use different media: print, electronic and BTL as well as social influencers. One of the more successful CSR road safety campaigns is about encouraging people to 'Be A Road Hero'. The focus is on creating awareness among the masses about the need to wear a helmet while riding a two-wheeler, ensure that seat belts are fastened when in a car and encourage people to help road accident victims.
5. Community Development
Nation Building is not possible without empowering communities, especially in the villages. Hero MotoCorp CSR takes a friendly approach towards community development rather than a high-handed one that corporates are notorious for. The regions where CSR programmes are implemented fall in the operational area of the company's plants and manufacturing units. Hero 'We Care' tries to make a positive influence on the aspects of healthcare and basic infrastructure needs like access to power and water. They work with implementing partners and agencies to make rural women self-reliant and encourage entrepreneurship.
5.1 Sustainable Villages
Apart from providing communities with basic healthcare facilities and revamping the schools in their villages, the company has been engaged in doing need-based interventions as well as following such practices which help in making villages self-sustainable. Some of the major interventions include the rebuilding of public health centres (PHCs) and community health centres (CHCs), development of community centres, rebuilding of hand pumps, water filters and roads. Additionally, Team Hero organises animal check-up camps for livestock of communities and also conducts workshops with farmers on how to have better produce.
6. Healthcare
Project Arogya provides easy access to basic healthcare facilities for communities residing in remote areas. It ensures that children studying in government schools get access to preventive healthcare.
Mobile medical vans run in four locations – Delhi, Dharuhera in Haryana, Neemrana in Rajasthan and Halol in Gujarat. These are benefitting people from rural areas by providing basic treatment as well as free medication. One eye check-up van consistently reaches out to people in Delhi to conduct basic eyecare tests. Another eyecare social initiative is a Satellite Vision centre, which was set up with support from AIIMS at village Malpura near the company's Dharuhera unit. The centre is accessible to over 40 villages in the vicinity. In areas further off, Project Arogya continues to conduct eye care camps and cataract surgeries.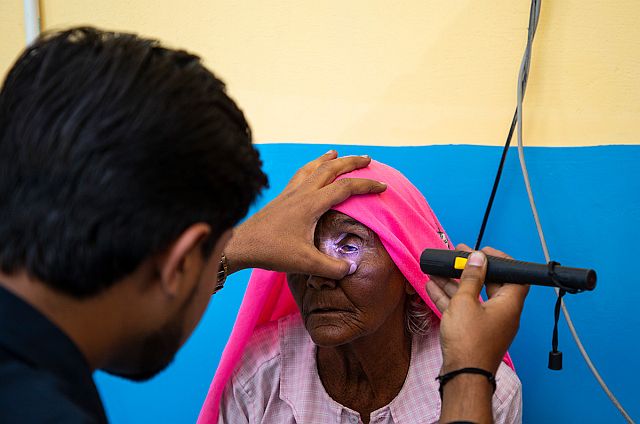 Preventive health check-up camps were organised for students studying in government schools last year. Adolescence education for teenage girls and yoga for the body and mind are also part of this camp.
7. Education
In the last two decades, the government has been announcing one nation-level scheme after another to augment academic performance as well as life skills of children. Team Hero's education-focused projects work in tandem with the government's efforts to ensure barrier-free access to education.
The outcome of these little interventions is the fact that most schools see 100% attendance, zero dropout rate and regular attendance from teachers as well (an issue swept under the carpet in policymaking). Ironically, parents in the vicinity of these schools are now withdrawing their children from private schools for admission to the better-equipped government schools.
The CSR team's partner organisations conduct remedial classes for students who cannot cope with the demands of the curriculum. These classes are helping students learn better and improve their performance across subjects. Likewise, through the 'We Care' remedial centres, the team ensures that girls do not drop out of schools due to community pressure and other socio-economic challenges.
Additionally,

Hero Talent Search project

focuses on supporting government school students who score more than 60% in academics and have the potential to do better if they enroll in free extra classes. The project started as a pilot in Jaipur, Rajasthan, and now supports hundreds of students who enthusiastically attended classes on weekends to understand concepts that were not clear to them in school.
7.1 School infrastructure
Interventions encompass separate toilets for boys and girls; safe and adequate drinking water facilities to all children; a kitchen where mid-day meal is cooked in the school; playground; arrangements for securing the school building by boundary wall or fencing as well as building libraries and laboratories as also providing necessary furniture.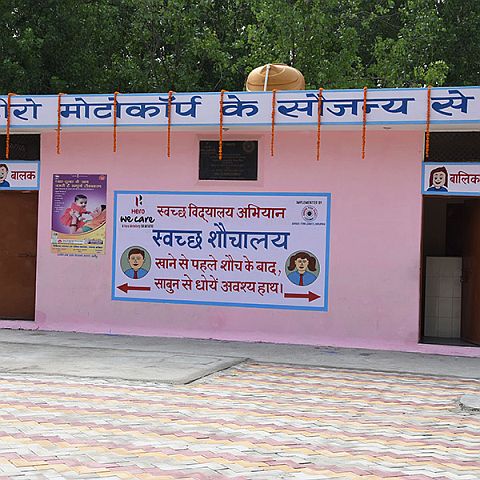 7.2 Mobile science labs
Mobile Science Labs (MSL) provide practical science lessons to government schools and as an extension of MSL, science lab on motorcycles called the Lab on Bike (LoB) are reaching schools in the remote areas of Rajasthan, Haryana and Delhi, and carry hands-on models covering a wide range of topics in physics, chemistry and biology.
7.3 Career guidance
Children need guidance, mentorship as well as consistent assessment of their passions and interests so that they can channelise their energy towards a choice that can help them better in their respective fields. EduConnect in association with NGO FUEL covers all students of Class 9 to Class 10 from selected schools in the project districts by providing them with knowledge of the career opportunities they can pursue in their educational and professional lives.
7.4 Digital learning
The digital learning CSR project had been launched in schools of Alwar, Gurugram and Rewari by providing ICT lab, Tab Lab and Smart Class facility. The idea of the intervention is to introduce children to engaging and entertaining audio-visual content, based on their existing English and Mathematics curriculum, which makes learning fun for young students. The labs have tablets loaded with focused content created for schools while other schools house smart classrooms wherein a large LED screen is engaging students. An interesting feature of these digital tools is that they are helping teachers by simplifying difficult lessons and clearing basic concepts of students.
7.5 Nutrition and sanitation in schools
The midday meal project provides better nutrition for school-going children. Primarily the programme supplies free lunches to children in primary and upper primary classes in government schools. As part of the global CSR programme WASH, there's a special focus on inculcating the handwashing habit in young children.
8. Skill Development
Apart from projects focused on skilling women through short-term courses, skill development CSR projects also support students pursuing professional certificate programmes. Currently, the support is being rendered to institutes that make youth employable in various technical trades in automotive, retail, insurance and banking sector.
The objective of establishing Centres of Excellence is to build key skill-set amongst youngsters for enhancing their employment opportunities in the automotive industry. These top-notch centres are equipped with a fully automated workshop; Pneumatic Tools, precision equipment, live cut sections of various Hero Engines and other parts. Trained faculty impart two-wheeler technician training to the youth.
Hero 'We Care' makes a special effort in skilling persons with disabilities in trades that ensure placement. In the last few years, hundreds of PwDs who have visual impairment, hearing or speech impairment and other such physical challenges have been gainfully employed after being skilled under this initiative.
9. Project Khelo Hero
The flagship project is focused on the overall development of sports in India. With this noble purpose, Khelo Hero has started various sports CSR initiatives across the country. Starting from the development of sports infrastructure at the grassroots to supporting the professional players' training and participation at highest-level international competitions, the company has included it all in Khelo Hero. From developing sports infrastructure in schools, supporting athletes including Paralympic athletes, amateur boxers training at boxing legend Mary Kom's academy to state-level sports promotion initiatives, it runs the whole course.
9.1 Schools sports infrastructure
The project develops sports infrastructure in rural schools and propagates a sporting culture at the grassroots level. In the last few years, many schools in Haryana, Rajasthan, Uttarakhand and Gujarat have received basketball courts, badminton courts, volleyball courts as well as athletics tracks. It undertakes repair and upgrading of school playgrounds.
9.2 Support to para-athletes
Hero MotoCorp CSR support to para-athletes has ensured that the country has had its largest-ever medal haul at Rio Paralympics 2016, World Para Athletics Championships London 2017, the Asian Youth Para Games 2017 in Dubai and 3rd Asian Para Games 2018 at Jakarta, Indonesia. Khelo Hero has supported about 300 para-athletes till date, making it among the top 3 CSR projects for specially-abled sportspersons in India.
10. Project Enable
The company strives to ensure Equal Opportunity & Inclusion across the board, from the factories and offices to social programmes. Project Enable is the CSR initiative promoting basic health care and education to all, irrespective of any kind of disability. It follows the ripple effect theory; one success story of a PwD (person with disabilities) inspires a thousand others who've lost their confidence from being physically challenged.
Project Enable develops opportunities and means for thousands of PwDs. The major intervention is focused at people who suffer from physical impairments, physical limitations and participation restrictions, or have a problem in body function or structure. They can avail laboratory testing, plastering, artificial limbs, crutches and wheelchairs to be able to get around independently.
It 'enables' them to live a life of dignity through self-realisation of their own potential and hidden talents. Every such person is special and talented. All he/ she needs is a chance to fulfil that potential. Project Enable creates an inclusive and motivating environment and presents them opportunities to become financially self-reliant. In this regard, it goes beyond run-of-the-mill programmes for the specially-abled. Team CSR at Hero MotoCorp works with partner agencies to skill PwDs in trades that specifically ensure paid employment. Project Enable has supported more than 6,900 underprivileged PwDs.
11. Women Empowerment
Women-focused Hero MotoCorp CSR projects not only empower women locally but also achieve Global Goals for development and sustainability (SDG 5, for example). Ek Pahal is one such project that breaks gender stereotypes. The notion in many villages is that only men ride two-wheelers. Ek Pahal trains women in riding so they aren't dependent on others for going places. Meanwhile, Project Sakhi works with the police departments of various states. Women cops in many small towns have to depend on male policemen to respond to emergencies or to reach an accident spot. Project Sakhi gives them their own set of wheels and—as a result—a feel for independent mobility.
The CSR team works with women self-help groups (SHGs) in many villages. Savings, internal loaning and social action by the SHGs have brought positive social-economic changes in entire communities. These investments in women's lives create a ripple effect that extends to the community as a whole.
11.1 Project Jeevika
Training programmes to improve women's employability and entrepreneurship are the goal of Project Jeevika. Apart from courses in tailoring and hospitality, economically and socially backward women are also taught personal grooming and self-esteem. This CSR project believes that technical and entrepreneurial skills are the first steps towards making them independent and confident.
11.2 Partnership with UNDP
Hero MotoCorp has partnered with United Nations Development Programme (UNDP) in Haryana for a special CSR project on business opportunities to women in the hinterland. Not only are they shown how to launch a start-up, they are also enlightened on female economic rights so that they can call out gender discrimination in business.