Sharda Gautam from Tata Trusts talks handloom revival
"Handloom is not only the second-largest sector after agriculture in providing livelihood but also the largest unorganized sector in India. However, handloom weavers are drifting away from the sector at an alarming pace. Precious skills of centuries could soon be lost with weavers in rural areas having abandoned the craft for want of proper returns," says Sharda Gautam, Anchor – Antaran Initiative, Zonal Manager at Tata Trusts.
Tata Trusts is one of India's largest philanthropic organisations with a 129-year history of development in interventions. In 2015, the Trusts made a strategic shift from being only a grant-giving foundation to starting a few direct implementation interventions.
Antaran was conceived as part of the craft-based livelihoods programme, and focuses on rejuvenation of the handloom sector. A pilot programme was designed to begin work in 6 weave clusters of India, which could pave the way forward to lift up the sagging handloom sector and show that weaving can still be a viable means of livelihood: while conserving rich traditional techniques.
In an exclusive interview with The CSR Journal, Gautam reveals that the answer to saving handloom lies in a fundamental shift in perspective. Read on to find out how:
Q 1: What prompted you to dedicate yourself to reviving weaving traditions?
My introduction to crafts began purely from the perspective of creating livelihoods for rural primary producers. However, as I learnt from the slow and intricate work of artisans, perspective clearly evolved. I realised that the beauty of craft and handloom cannot be qualified or measured through the lens of productivity.
I joined Tata Trusts because, given its history of contributing to the nation's poor and marginalized, and the organisation's keen interest in India's art and culture, it was a natural connection for me. In our country's larger philanthropic space, there are few institutions looking at craft with the seriousness and intensity it truly deserves.
Q 2: How has COVID-19 affected traditional handloom weavers?
Covid-19 has disrupted businesses across the globe and India's economy is not immune to it. Players across the spectrum have felt the effect of the downturn. The handloom sector has been severely affected with their traditional and contemporary markets closing completely.
– The sector has experienced sudden stalling of orders as retailers themselves are closed due to lockdowns
– Cash flow has stopped, with buyers unable to make payments and no or low sales
– Buyers are not able to place new orders – in the craft sector, orders are planned much in advance as the usual lead time required to complete a production cycle is 2 to 3 months.
– Retail events through which artisans get cash sales are also paused.
– The Summer season when cotton handlooms sell most has been entirely lost twice. This will not only create a liquidity crunch, but also severely impact the ability to invest in yarns for creating products for festive seasons (August to November) and winter, spring (October and to February) which are the other major selling seasons for handloom textiles
– The winter and spring seasons were also lost in the past 15 months
– Indian handlooms have been picking up in the slow fashion market internationally, but with this uncertainty, no overseas orders will be forthcoming
– Customer priorities may change with tightened budgets
– Small artisans and producer groups do not have the financial cushioning to hold through such a crisis nor would they get credit supplies from raw material suppliers
– Being part of an informal economy, artisans are also not able to access credit from banks and financial institutions.
Q 3: What is the scope for CSR in reviving ancient and traditional Indian art and craft?
I believe the purpose of Corporate Social Responsibility (CSR) is to give back to the community, take part in philanthropic causes, and provide positive social value which should be multi-fold and sustainable. India is a diverse land with endless opportunities where CSR activities by big conglomerates can make considerable impact within the communities. When we talk about the handloom sector, it is a known fact that not only is it the second-largest sector after agriculture in providing livelihood but also the largest unorganized sector. Thus, a backbone to the non-farming rural economy and a strong part of the cultural ecosystem of the country.
We are at a critical juncture, with the alarming pace at which handloom weavers, particularly young ones, are drifting away from the sector. Precious skills of centuries could soon be lost with weavers in rural areas having abandoned the craft for want of proper returns.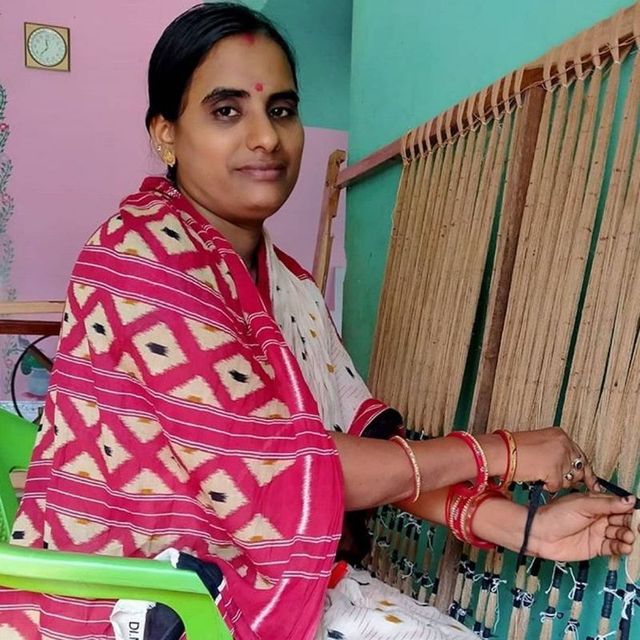 The answer to saving handloom lies in a fundamental shift in perspective: Recognizing that there is a human being behind every handloom textile and that handloom textile is a product and not a commodity.
While there is no denying that the entire craft sector is reeling under pressure from cheap goods made by machines, it is equally true that they have kept up with times and responded, digitally and with resilience, to the changing circumstances.
Q 4: What is Antaran's goal? Tell us more about the interventions in each cluster?
Antaran

is a key intervention of the Tata Trusts' craft-based livelihood programme. It was initiated to bring seminal changes in the development of the craft sector. The programme aims to rejuvenate ailing handloom clusters present across four states – Assam (Kamrup and Nalbari),

Nagaland (Dimapur)

, Odisha (Gopalpur and Maniabandha) and Andhra Pradesh (Venkatagiri) through an end-to-end intervention.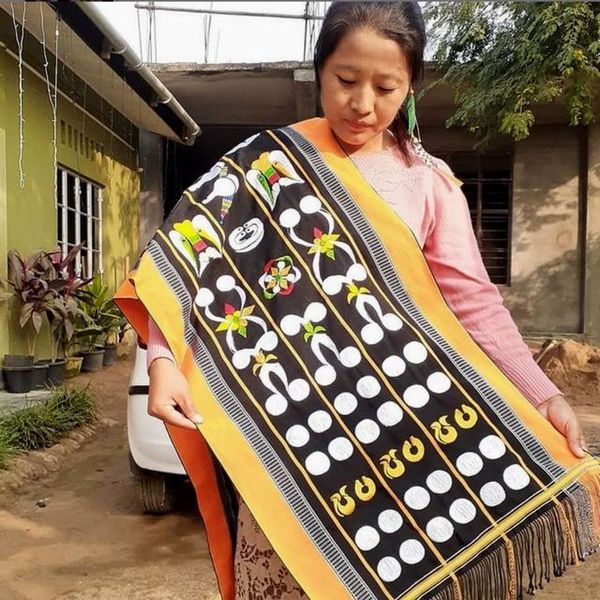 Incubation and design centres have been set up in the pilot clusters as a one-stop destination for buyers, designers, researchers, and lovers of traditional crafts. Each cluster has a unique set of gaps that the initiative has identified and is now planning, supervising, and executing customized steps, simultaneously, for intervention:
1) Education
With a comprehensive curriculum based on design, communication, business and marketing, education is imparted to artisans enabling them to deal with 21st-century markets. Antaran nurtures Artisan Entrepreneurs to create their own brands and develop entrepreneurial skills in tandem with a very rich repository of traditional knowledge.
2) Reintroducing Natural Fibres
Through the use of natural fibres, handspun yarn and non-toxic eco-friendly or natural dyes, weavers were able to revive and reinterpret the traditional designs in these selected clusters for wider markets. This activity has helped curb the mixing of synthetic, low quality fibres with natural fibres. This unwanted practice has continued to deteriorate the craft form and the quality standards.
3) Mobilizing the younger generation
The initiative focuses on retaining and mobilizing young talent in the artisan communities, by imparting design and business education which would enable them to build sustainable micro-enterprises and ensure better income, for themselves and associated artisans. Grooming artisans as individual entrepreneurs and helping them connect directly to markets will eliminate middlemen, making their craft remunerative, and ensuring distributive justice across the value chain.
Q 5: Which initiatives in these clusters are you proud of?
Organisation for Development of Economic and Self Help (ODESH) is a registered enterprise working for the Kauna artisans in Manipur by training them to make different items, other than the traditional mat. They link the products directly to the market and support the livelihood of 275 artisans. Odesh's products are completely natural and unadulterated with chemicals. These handcrafted products are made from materials that intrinsically have insulation capacities. Besides the traditional mats, they also make home decor and utilitarian products like picnic and laundry baskets, flowerpots, makeup boxes, and ladies' handbags among others.
Q 6: Tata Trusts had signed an MoU with Microsoft's Project ReWeave in 2019. How has the CSR partnership shaped up?
The partnership, aimed at empowering the artisan communities, has taken firm steps towards ecosystem strengthening and opened avenues to create and develop new designs and samples to be showcased to prospective buyers.

Microsoft and Tata Trusts continue to work together

and remain dedicated towards the endeavour.
Q 7: How is Tata Trusts making craftsmen digitally savvy and more connected?
In 2020, due to the pandemic, virtual markets emerged as the sole solution to many, as physical market spaces closed. The main challenge was to manage the transition of the sale-purchase experience as customers are used to choosing textiles through touch and feel, and not see and buy. The artisans were also accustomed to the face-to-face arrangement of taking the buyer through stories and the nuances of their crafts. To break this mental block, the team enabled artisan entrepreneurs with knowledge to deal with online market spaces –
– Interact with customers through phone, video calls
– Start using WhatsApp for business
– Product postings on Instagram and Facebook
– Product photography
Through this digital intervention and learning a new method of communication, artisan entrepreneurs found that unlike a physical platform, virtual relationships were driven at a more personal level with the customer. The platform was unique because unlike an e-commerce site where customers pay through faceless gateways, the customer here is interacting with the seller, choosing from a variety of options, and understanding the feel of the product better – just like an expert walkthrough of a piece in a shop.
This one-to-one engagement allowed both to make informed decisions. Artisans explored the preferences of customers, contemporary markets, while customers learned the intricacies of the art. The customer, as a result, does not remain a mere buyer but understands the whole process of weaving, socio-cultural aspects and becomes a patron of the craft. This is a situation where craft wins at the end of the day.
Team Antaran has also been instrumental in creating a first of its kind digital application for the craft sector, aimed at helping b2b buyers and artisans to connect and deal with each other directly. It is built with the objective to nurture healthy and successful working relationships between wholesalers, retailers, boutiques, and designers with artisans from across the country. The app has been conceptualized to overcome the limitations of informal communications between the two sides. It allows the artisans to post updates regarding different stages of product development. Artisans can directly raise invoices for the buyer, with terms and details for payment. The buyers can pay the artisans directly based on their mutually agreed terms and conditions. The application will be available on Web, Android and IOS platforms.
This is another step in the direction of empowering local artisans in remote clusters of India to embrace the power of digital technologies to keep their rich and culture-driven weaving techniques alive.