CSR at NMDC is most effective in conflict zones
India's single largest iron ore producer is public sector undertaking NMDC Limited. Short for National Mineral Development Corporation, it has an incontestably large presence in the states of Karnataka and Chhattisgarh. Apart from mining iron ore, the PSU also mines diamonds, minerals and magnesite. It has been around for more than 60 years, with the administration under the control of the Ministry of Steel, GoI. As recently as earlier this month, there was a big change in the company's top brass, with

Sumit Deb

– who was Director (Personnel) – being promoted to Chairman-cum-Managing Director of the corporation. Considering Deb has always been passionate about CSR at NMDC in his long stint at the company, corporate social responsibility is set to become more prominent.
1. CSR at NMDC
Not that it wasn't a highlight there. Apart from being accorded Navratna PSU status since 2008 and a Schedule-A public sector company by the government, this mining giant is also a responsible one. Rather than categorising the transformation of tribal villages under generic rural development, CSR at NMDC has an Integrated Village Development plan that encompasses healthcare, education, infrastructure, livelihood and skill development, culture and sustainable agriculture. Tribal villages in conflict-prone zones have benefited greatly from NMDC corporate social responsibility.
Tribals in India are a harangued lot. They are losing their sacred living spaces to mines and factories. The government has turned a blind eye to their pleas for protection from predatory corporate forces. Adivasis are subjected to land grab. Their low literacy and socio-economic status make them more susceptible to exploitation. In this scenario, NMDC CSR has improved the quality of life for many tribal villagers in its areas of operations. 
The scope of sustainable development has led to excellent relations with the Chhattisgarh government, although there are differences of opinion in certain business operations and adherence to mandates. Most of the flagship CSR initiatives are running the conflict zone of Bastar in this mineral-rich State. Needless to say, there has been quite the transformation in the lives of the tribal villagers there.
2. CSR Spend
The mining giant spends the lion's share of its CSR funding on welfare initiatives in Chhattisgarh; as much as 85% of the total budget allocated to corporate citizenship. For example, out of a total of Rs. 199.99 crore allocated for NMDC CSR initiatives, Rs. 172.41 crore was spent on welfare projects in this region.
No wonder Chhattisgarh chief minister Bhupesh Baghel questioned why the PSU has diverted Rs. 150 crore of CSR funds to the central govt's PM CARES Fund for fighting COVID-19 rather than spending those financial resources on the State in this time of crisis. The chief minister has put restrictions on the company and has asked Union steel minister Dharmendra Pradhan to instruct NMDC Ltd. to pay up Rs. 1,000 crore as pending penalty for violations.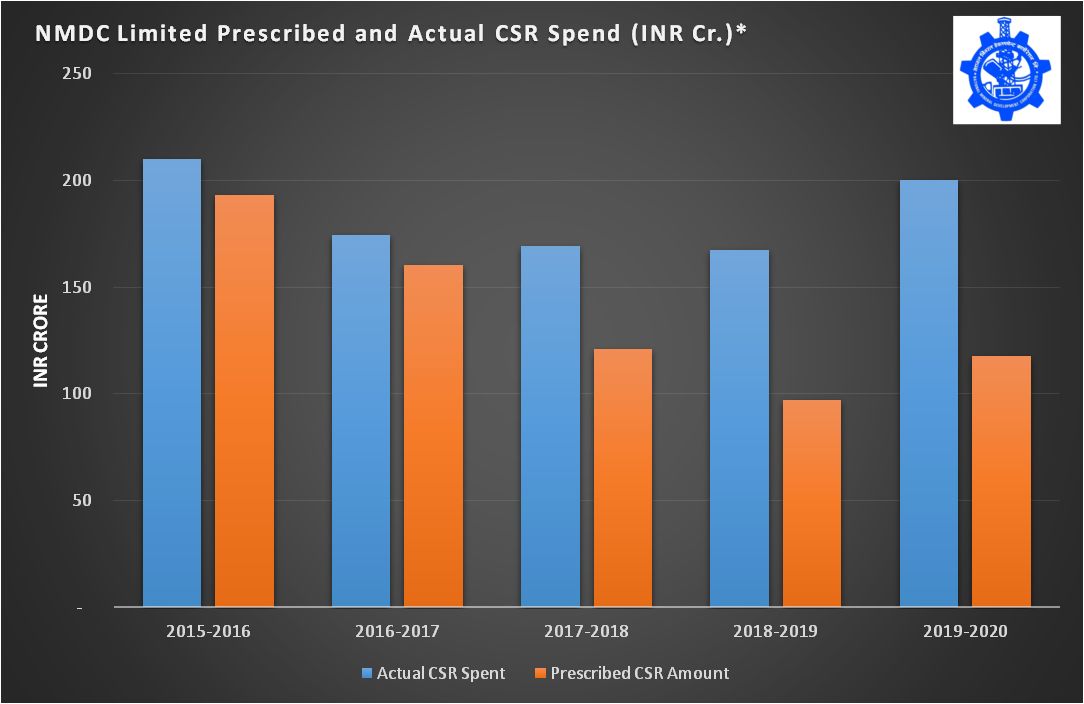 Nevertheless, when it comes to compliance with CSR norms, the corporation is clearly on solid ground. Its monetary contribution to Nation Building has been substantial in the corporate sphere. A year-on-year comparison of the CSR spend in the last 5 years shows that the company almost always spends more than Rs. 165 crores on average, outdoing itself in 2015-16 by going well over the 200-crore mark.
The company more than meets the prescribed CSR amount every year.
In fact, it has been spending more than the mandate. In 2019-20 alone, the actual spend is Rs. 80 crore more than the prescribed amount! In that sense, this public sector undertaking is leading by example for many others who are regularly notified for non-spending and non-compliance according to the provisions set by the Ministry of Corporate Affairs.
3. Approach to CSR
Healthcare, education, sanitation, safe drinking water, rural infrastructure development and employable skill development are the core sectors for CSR of NMDC. The corporation has adopted an all-in approach to corporate social responsibility (CSR). The committee brings all the stakeholders on board and consults them before putting to paper the plan for sustainability programmes.
From the gram panchayat to villagers, the government departments and the nonprofit organisations, everyone is invited for stakeholder consultation, so much so that its approach to CSR is held up as a model for other Public Sector Enterprises. CSR of NMDC works closely with the state governments to implement projects.
3.1 Recognition for social contribution
NMDC is the first Indian organisation to win in the CSR category, the prestigious S&P Global Platts Global Metals Awards. Moreover, it has been conferred with this prize for the last two consecutive years. For its influential Education initiatives, the corporation won the 2019 ICC Social Impact Award as well as the 2019 Global CSR Award by the Energy and Environment Foundation in the Platinum Category.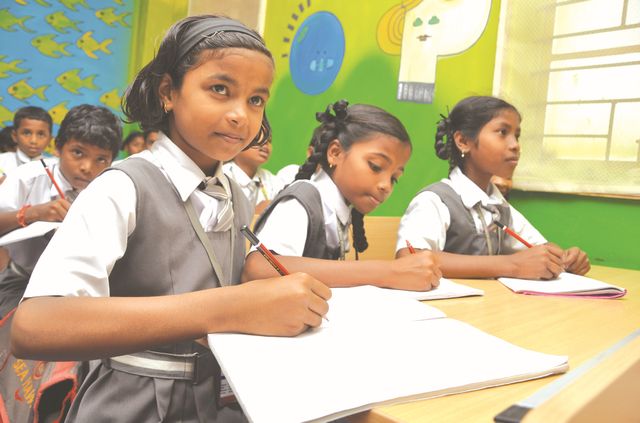 The corporation was a multiple award-winner at the 2018 ET Now CSR Leadership Award for its "women empowerment" and "community development" CSR programmes. Other awards for sustainable development projects include SKOCH BSE Order of Merit, a commendation at the CII-ITC Sustainability Award 2017 and a Certificate of Distinction in the domain of CSR by "ET 2 Good 4 Good" system created by The Economic Times and KPMG India.
4. Integrated Village Development
The Integrated Village Development programme is actually an umbrella of various welfare initiatives that were started a decade ago, much before the importance of corporate social responsibility was drilled into the Indian industry psyche. It has borne fruit because the socio-economic progress of tribals and adivasis has been the single-minded focus of all the interventions.
Tribals have a history of exploitation in the industrial era. They are continuously displaced from their place of origin. Their right of possession over the land they have inherited down the ages is constantly challenged by greedy corporates and lawmakers. Their ancient cultural traditions and rituals are endangered. Their societal isolation, their lack of literacy and economic savvy mean they are unable to fend for themselves or defend their basic rights.
NMDC started the Integrated Village Development programme in 2009 to empower these adivasi and rural groups. The idea behind the umbrella of interventions was to metamorphosize tribal communities near its areas of operations into model villages. IVD seeks to improve the profile and earning capacity of the people.
IVD started with just two villages, and has expanded into 18 model villages benefitting 20,000 people in remote rural areas. The measure of IVD's success is the positive influence on the literacy, self-confidence and finances of the community members.
4.1 Women empowerment
It's a widely known fact that SHGs (Self Help Groups run by women) in a public-private partnership with the government have changed the face of rural female empowerment. The SHG method has given rural Indian women an outlet to channelise their potential, organise their savings jointly, become entrepreneurs and fund business projects. IVD helped set up 56 SHGs across 15 villages.
IVD also conducts vocational training programmes on a regular basis to upskill women in sectors. The training is done in a way to instill enough confidence and impart advanced skills so that they can earn a livelihood independently.
4.2 Agricultural interventions
The agrarian activities are all about enabling farmers to increase agricultural productivity. Experts provide them with technical knowledge for sustainable farming. They encourage farmers to do crop rotation, interchange between grains and organic vegetables for enriching the soil and to change up the pattern of sowing.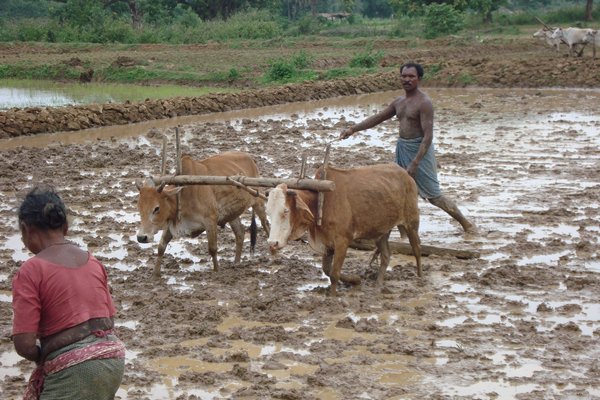 Irrigation is a priority; without sustained irrigation, there is no guarantee that the new methods will bear fruit. The CSR department has developed 13 water storage tanks, 24 wells, 18 ponds and 50 irrigation pumps last year. The company has a team for the maintenance and repair of these water structures. These changes have increased farmer incomes substantially. Paddy yield has gone up from 2 units per acre to 35 since they adopted the new methods of farming and irrigation.
4.3 Vocational training
Food production is not the only source of income for tribals. IVD looks after the needs of people engaged in non-agricultural trades through vocational training. While young people are the future of India, women's advancement signifies the family's progress and hence the nation's sustainable development on a larger scale. So, it's no surprise that youth and women are chosen as the main beneficiaries of skilling initiatives.
The CSR team considers the trades traditionally present in the area with the most potential for gainful employment and active engagement. It designs training based on these findings. Workshops on tailoring, sewing, house painting etc are conducted for free. Once the students have completed the training successfully, they are also linked to modes of output.
4.4 Health services
Hospital on Wheels is a mobile IVD service active in 26 villages in Chhattisgarh. Mobile clinics are, of course, a strong component of CSR programmes in hard-to-reach rural areas where people's access to qualified doctors is questionable.
Another health concern that IVD addresses is malnutrition in rural kids. Their parents are either unaware or unable to provide the right kind of food and vegetables to these kids. Under the nutrition programme, 46 Anganwadi centres dispense dietary supplements to children.
4.5 Education services
Given that basic education itself is missing in remote villages, quality education seems like a pipe dream for many parents in India. They send their kids to government schools, hoping that their children are educated better than they were, which isn't saying much. IVD is working towards improving these low standards with after-school programmes. Dedicated staff teachers and tutors interact with children before or after school hours to make learning fun and engaging.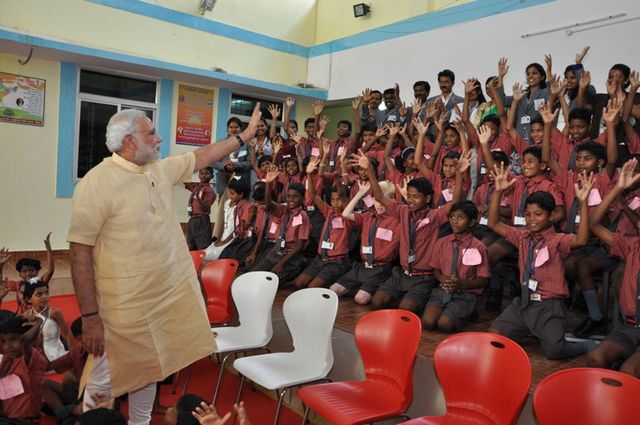 Conclusion
Tribal villages are among the most neglected in our country. Adivasis hold remnants of ancient India, yet find themselves neglected and displaced. Handled sensitively, they could transform into powerful change-makers. CSR at NMDC has its heart in the right place when it comes to the integrated development of the communities that retain the disappearing Indian heritage.