Imre Havasi, MD, Cargill Animal Nutrition (India) talks food security and livelihoods
As a global leader in the food and agriculture sectors, Cargill CSR plays a critical role in food security. Cargill and its Animal Nutrition business have set a wide range of sustainability goals. These include reduced emissions from manufacturing plants, incorporating new, to eco-friendly ways to generate energy. This global food corporation has also been putting emphasis on being a supporter of local communities in order to preserve their way of life and enhance their livelihood.
In an exclusive interview with The CSR Journal, Imre Havasi, Managing Director, Cargill Animal Nutrition & Health (India) talked about Cargill CSR initiatives in our country.
1. Tell us about your stint at Cargill.
I have been with Cargill for nearly 30 years and have worked in its food and feed divisions around the world. I came to India two years ago to manage Cargill's animal nutrition businesses here. I've had a great experience in India.
I am surrounded by talented people and business is interesting and dynamic here. Needless to say, India and the agricultural sector where we operate have huge growth potential. I am happy that we can contribute towards realising that potential in many different ways.
2. What kind of activities fall under Cargill CSR in India?
Cargill CSR works at the intersection of sustainability, food security and nutrition to find practical, scalable solutions. Through our programmes, we aim to nourish the world in a safe, responsible, and sustainable way and contribute towards improving nutrition indicators amongst communities.
We have an ongoing CSR programme with TechnoServe called Project Saathi which promotes sustainable agricultural development for over 5,000 farmer households in Davangere, Karnataka. The key objective of the CSR programme is to improve household incomes and provide holistic livelihood opportunities for the entire household.
To this end, Project Saathi has adopted a multi-pronged approach including components such as agriculture development and diversification, creation of livelihood opportunities for youth through the Cargill Agri-Fellows programme, economic empowerment opportunities for women, through promotion of best practices for agriculture and enhancing the capacity of women farmers.
We also launched a programme called Societymaker aimed at skilling women "homemakers" to become micro-entrepreneurs through trainings in product making and basic business skills. Cargill India organised these women into small collectives and provided them with the capital to set up their ventures.
Apprentices were also supported to establish market linkages to sell their products. In addition to this, our CSR project Samriddhi was introduced to empower women from disadvantaged and poor households through financial inclusion training programmes to enhance their financial literacy skills and provide them with an opportunity to start their own venture and improve family's income.
3. How has CSR in the Indian subcontinent changed in the wake of the pandemic?
The unprecedented COVID-19 crisis has largely affected the poor population in South Asian countries. Difficulties of several kinds, like limited access to health care services, job loss and spike in food prices resulted in limited access to food as well. Hence, CSR and civil society organisations played a significant role by reaching out to the population in need and making generous contributions to support the crisis caused by the pandemic.
Cargill in India also pledged and distributed 16 million meals to over 150,000 families across 16 cities in India. This included edible oil and wheat flour donation in family kits besides monetary contributions to PM CARES Fund.
Healthcare infrastructure, nutrition, food security have come even more to the forefront as issues during COVID-19. Cargill as an organisation is committed to food security through various channels.
4. Speaking of food security, how does your Hatching Hope CSR initiative align with the Global Goal of Zero Hunger?
Hatching Hope is a global CSR initiative developed jointly by Cargill and international development organisation Heifer International to address poverty and malnutrition through the power of poultry. Through the Hatching Hope initiative, we aim to ensure food security, enhance livelihoods, increase awareness and education about poultry production and consumption as well as increase access to products, services, solutions, and markets that improve poultry farmers' net income and productivity.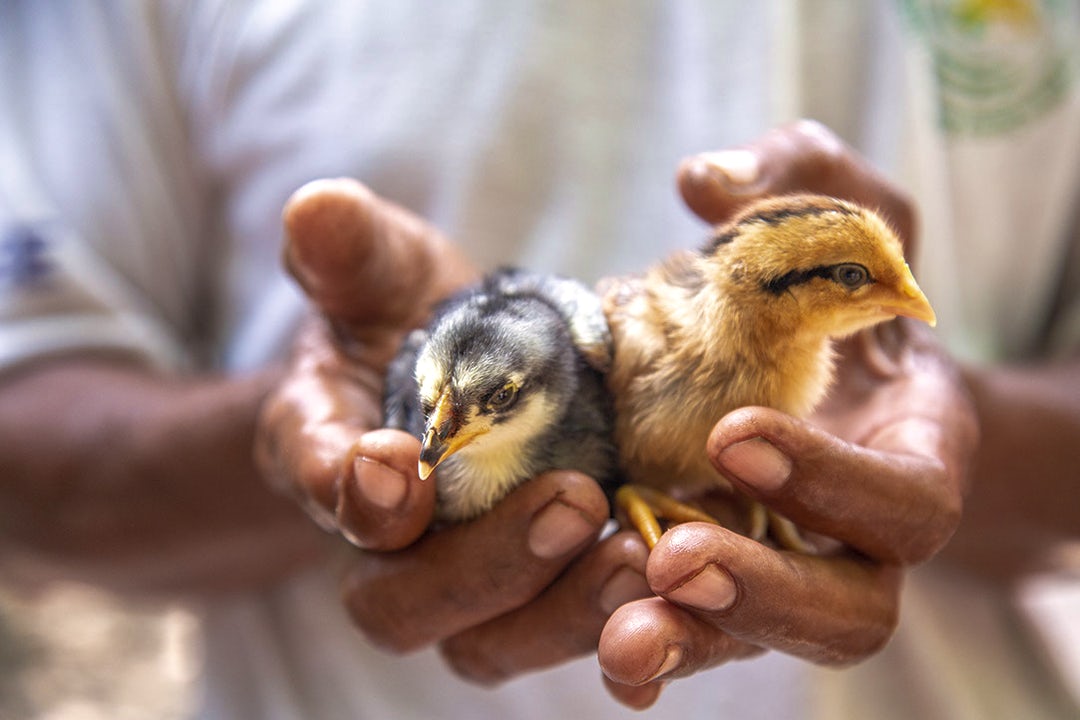 The goal of this CSR programme launched in 2018 is to reach 100 million people by 2030. The programme focus is aligned to the timeframe of the UN Sustainable Development Goal #2 of Zero Hunger. Hatching Hope is contributing towards these goals through working with the vulnerable indigenous population of Odisha which continues to be plagued by a high level of malnutrition.
In the first phase, we are reaching out to 3 lakh smallholder farmer households through increased income and improved nutrition through backyard poultry farming. We are also reaching out to local communities through awareness campaigns on nutrition through poultry products, which will further be scaled to reach another 3 lakh households in the state.
Hatching Hope leverages Cargill's technical know-how and market access expertise along with Heifer's socio-economic development approach to shift subsistence farmers into sustainable, efficient animal producers and successful entrepreneurs, actively participating in the poultry value chain. Moreover, the CSR initiative also promotes food security of small holder farmers through promoting homestead kitchen gardens.
Through the initiative, we are focused on ensuring holistic development of people including improved awareness on consumption of balanced nutrition by promoting poultry production as both, a means of employment as well as a source of nutrition.
5. As for nutrition, September 2020 was celebrated as National Nutrition Month in India. What can be done to improve India's nutritional index?
While India's malnutrition rates have steadily been reducing, the problem persists across the vast population. Good nutrition is a basic building block of life. Owing to cultural and geographical variance across states, combating malnutrition requires a granular approach in India.
The Hatching Hope Initiative is an effort to catalyse that change that brings stakeholders together for a concerted effort towards a common goal. The CSR programme works in partnership with stakeholders to solve local problems of nutrition and economic livelihood by promoting local solutions originating from the project regions.
We also believe innovation is key to accelerating progress towards nutrition goals, and industry and government together have an opportunity to lead. Technology plays a vital role in leveraging the power of food to find solutions to shared global challenges like hunger, malnutrition and the sustainability of our food systems. At Cargill, we are focused on ensuring that people around the world have access to safe, nutritious and affordable food.
6. How is Cargill CSR working towards improving the nutrition and livelihoods of 100 million people?
In the 12-year Hatching Hope Global Initiative, Heifer and Cargill India have the potential to reach 62 million people as part of the 100 million goal for the initiative through the production, promotion and consumption of poultry.
It brings Cargill and Heifer's collective knowledge, technical expertise, global reach and commitment to address poverty and malnutrition and stimulate livelihood opportunities in rural communities in India. To achieve this, we have created a three-pathway approach which not only focuses on improving livelihoods through poultry production but also aims to increase awareness on nutrition through poultry as well as improve access to products, services and solutions for improved productivity for backyard poultry producers.
The initial phase of programme in India that reaches out to 3 lakh households, focuses on achieving improved income and awareness on nutrition through backyard poultry (BYP) production in Mayurbhanj, Odisha. Project activities promote improved backyard poultry production techniques through community member training and through development of model farmers.
Poultry producer households benefit from training on improved poultry production techniques, which helps them increase their average flock size of eight birds to 80, thereby increasing their household income while also improving accessibility of poultry products in the region. Moreover, over 444 villages in Mayurbhanj are gaining access to knowledge on improved nutrition through awareness and advocacy campaigns.
In addition to this, Heifer provides training to smallholder farmers in developing backyard poultry as a family business, supports smallholders to establish Farmer Producer Organizations (FPO) and helps smallholders to link with markets, the private sector, etc. to expand their poultry business.
An improved feed mix formula has also been developed by the Heifer India and Cargill India's technical teams which enables farmers to get access to locally prepared, high-quality and affordable poultry feed to improve the health and weight of birds, while cultivating businesses for local producer entrepreneurs to meet the demand for poultry feed.
7. Where do Indian women farmers come into the picture?
When women have control over their income, it can be transformative for the whole family and the entire community. Women invest in their children, in the healthcare of the family and in improving their productivity.
Traditionally driven by women farmers, support on backyard poultry production by HHGI enhances gender equity across rural households in India. Our

Hatching Hope

programme has created development expertise to strengthen communities, removed barriers to women's economic empowerment and enhanced their ability to earn a living and become successful poultry producers.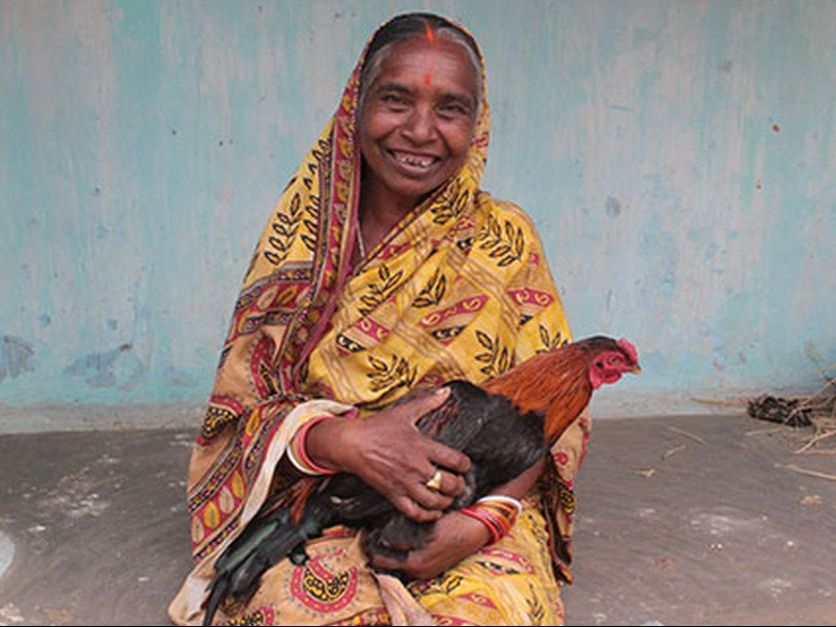 To foster women's empowerment and gender equality, Hatching Hope India organizes women into Self-Help Groups (SHG). An SHG is made of 10 to 15 women as group members, each representing their respective families who collectively work in goat and poultry value chain. The Cargill CSR programme provides supplemental leadership training and business development training to women to build their capacity and confidence to take all decisions related to their business.
Through the programme, 1,668 Self Help Group (SHG) members have already been trained to strengthen women-led institutions and the number is set to increase with the project scale-up.
To promote women's role in commercial aspect of BYP farming, the initiative supports women SHGs to form FPOs to formally register as for-profit companies to promote collective organized sales and improve their market access. Producers are organized into FPOs as members and shareholders. They lead the FPOs as Board of Directors and engage with market players such as buyers, traders and aggregators. The project provides business development training to FPOs to build and strengthen capacity of members
The initiative aims to take the journey with the women from their homes to building them as leaders and forerunners of development, until they themselves are donors and active contributors to the process of building their entire community.
8. Do you feel corporate social responsibility has come a long way from merely complying with the Companies Act?
The amendments in the Companies Act in 2014 mandated companies to match the efforts of the Government and NGOs in uplifting status of the underprivileged in the country. From initial teething problems to focusing on meaningful impact, corporate social responsibility has indeed evolved in the last 5 years.
The evolved partnerships between corporate and NGOs have helped them to identify their key strengths, shared skill-sets and deliver community-focused programmes. Cargill's Hatching Hope in partnership with Heifer India is one such successful CSR collaboration. Along with the communities, we have been exploring profitable ventures from back yard poultry farming which will not only generate livelihood opportunities but improve household nutrition for small landholder farmers in Odisha.