Home
Leaders Speak
World Water Day 2023: Mumbai's Water Hero Subhajit Mukherjee talks about his...
World Water Day 2023: Mumbai's Water Hero Subhajit Mukherjee talks about his book 'Jal Sanchay: The Urban Water Insurance'
The theme for World Water Day 2023 is to accelerate change to solve the water & sanitation crisis, according to the UN.
On World Water Day this year, Mumbai's Water Hero Subhajit Mukherjee opens up in an exclusive interaction, about his book 'Jal Sanchay: The Urban Water Insurance' the soft copy of which is being launched today.
An HR professional by profession, Subhajit Mukeherjee started an initiative called 'Mission Green Mumbai' in 2010 with an intention to add green cover in Mumbai and motivate people to plant trees.
However, a lot of people Subhajit approached, complained about scarcity of water in their area as a reason why they do not plant trees. This is when he began brainstorming into a way how grey water and rain water can be treated naturally to make them reusable for non-drinking purpose. He has even got his invention patented under the name of RWH Percolation Barrel.
Subhajit was honoured as a 'Water Hero' by the Ministry of Jal Shakti, Government of India in 2020. The hard copy of his book 'Jal Sanchay: The Urban Water Insurance' will be launched by Prime Minister Narendra Modi very soon. Below are excerpts from his conversation with The CSR Journal.
Please tell us about the grey water treatment system designed by you
I have invented a technique where just by spending Rs 1000-2000, you can convert all your grey water into usable water for gardening. If the water is non-chemical in nature, i.e, not coming from any laboratory etc., then basic treatment is done with natural resources like coconut husk, sand, charcoal and thick sand. I do water harvesting with both grey water and rain water.
In the system I have designed, there is always an exit drain for kitchen water which is going into a drum. The same applies for rain water coming from the terrace. It helps to catch the water, filter it and make it percolate into the ground. This is a process where we install a barrel inside the ground to increase water. Holding capacity and holes around the barrel allows the water soak into the ground slowly. After placing the barrel at the centre of the pit, we cover the gap with stones which acts as a filter bed and keeps the mud and other dust away from going into the ground.
This blue barrel is not compulsory but when we have very less space say in a city where only 5 ft by 5 ft is available. We have to put this barrel to increase the water collection during monsoon for percolation.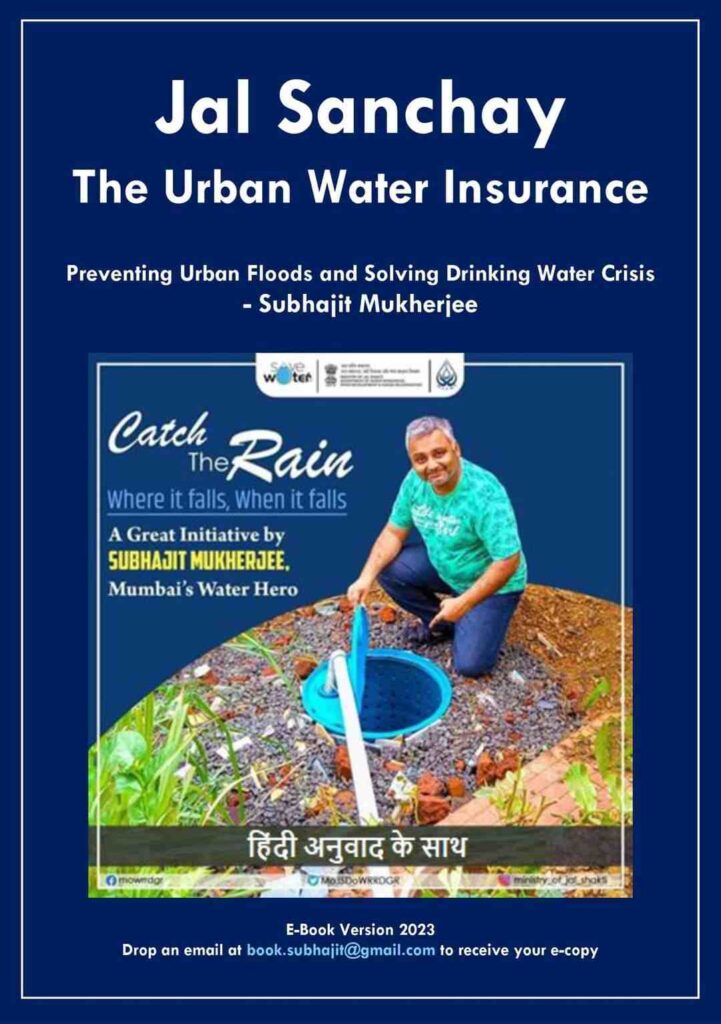 What is your book 'Jal Sanchay: The Urban Water Insurance' about?
The biggest challenge in the present day is that the cost of installation, why a person should install and how can we make it DIY. These three factors are the most important, which the Prime Minister suggested to me. Based on this, I have written a book which is a to the point, pictorial know-how of various types of buildings found in an urban landscape and how you can economically install a rainwater harvesting system, which will directly benefit you.
Whenever people approach me for installing a rainwater harvesting system, I always ask them why they want to install it. The reasons are mainly water shortage, water logging or flood like situation inside a residential or commercial building, ground floor apartment flooding in monsoon and very few people who want to do it as a way of contributing to the environment. With all these in my mind, I have designed this book.
In any urban landscape, there are 10 types of installations like bungalows, housing society, educational institutions, commercial premise etc. Every building has a different kind of water need. My suggestions on how to address that, has been mentioned in this book. I have tried to make every individual aware about water conservation, technical infrastructure and economic aspects. I have tried to make it as simple as possible so that everyone can understand and benefit from it and nobody is misguided by wrong suggestions. This is why this book is extremely important.
The hard copy will be launched by the Honourable Prime Minister very soon while the e-book will be freely available to everyone today onwards. The book is available both in Hindi and English.
How did you earn the honour of Ministry of Jal Shakti's Water Hero?
This grey water recycling system has become popular as Rainwater Harvesting Barrel. So, I got it patented under the name of RWH Percolation Barrel. This has become very popular and today more than 10,000 installations are there. The Government of India has made me a poster boy for this and has given this a lot of recognition. I have even got to meet our honourable Prime Minister and the honourable Minister of Jal Shakti Ministry Gajendra Singh Shekhawat Ji.
I was honoured as a Water Hero by the Ministry of Jal Shakti in 2020. After our Honourable Prime Minister announced the 'Jal Shakti Abhiyan: Catch the Rain' (focused on saving and conserving rainwater), Kiran Bedi ma'am already knew about my innovation of using grey water and referred my name to the Ministry of Jal Shakti and NITI Aayog.
Being a Water Hero, my job was to do a lot of seminars. I did more than 130 seminars during the lockdown especially with students and youth. Gradually, I gained expertise in rainwater harvesting, which is not just for watering trees but this grey water can also be used for non-drinking purpose like mopping floors, cleaning toilets etc.
Is this method useful in areas which are draught-prone or have very limited rainfall?
This system is designed for areas where there is no or very less rainfall. In places where people do not even get adequate water to drink and have to buy every drop from a tanker, in such areas my innovation can be utilised to convert grey water into reusable water for non-drinking purpose. This is a technique which will work 365 days, during monsoon as rainwater harvesting and before or after monsoon as grey water harvesting. If you make this system around a borewell, it will have water. All the dead and dry borewells of BMC (Brihanmumbai Municipal Corporation) garden department are now full of water because of this technique which they have installed. Most of these have been installed by me with CSR support.
Which companies have supported you with CSR fund?
Mahindra Logistics and Zim Intergrated Shipping Services have been a major support. BMC has also installed this system from their own pocket.
I have travelled in over 10 cities to install this, with the help of municipal bodies. These include Prayagraj, Delhi, Noida, Ajmer, Jaipur, Jaisalmer, Kolkata, Hyderabad and Pune. We have installed this system and also spread awareness through campaigns.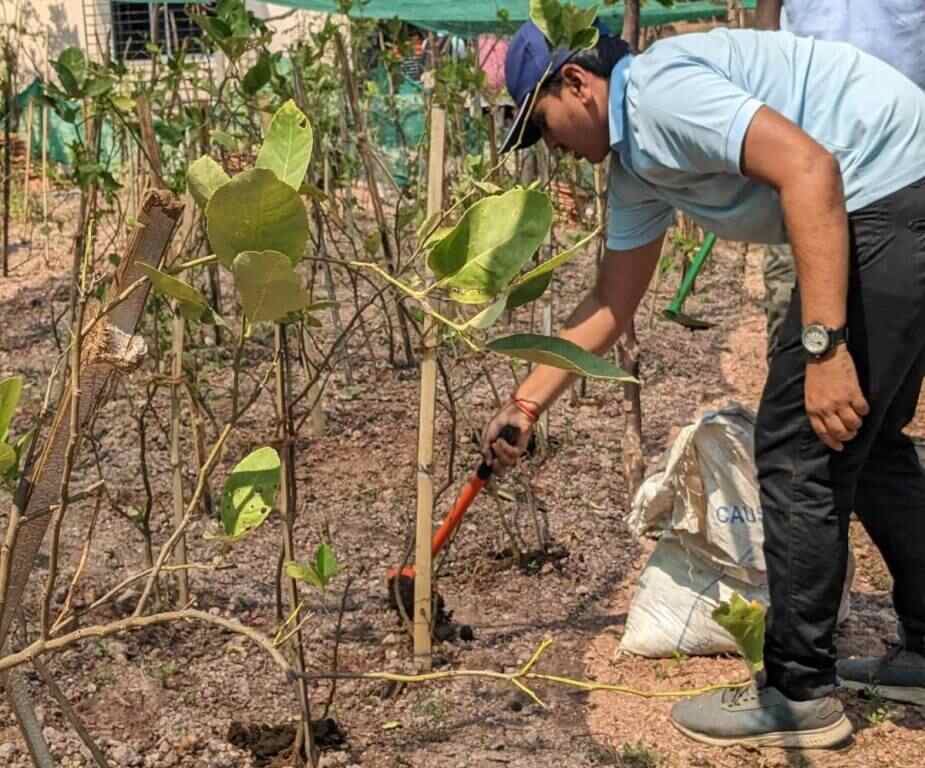 What is the role of 'Mission Green Mumbai'?
The initiative began by distributing saplings and then we started making gardens. We have planted more than 17,000 trees with the help of citizens and Brihanmumbai Municipal Corporation (BMC). Since 2017, I am full time into Mission Green Mumbai. Now we are even more structured than before because we have been doing this for more than a decade.
We give a special focus in three dimensions where first we plant new trees. Second, we protect the existing trees and third, we focus in spreading awareness by visiting his schools, colleges and community groups for tree care and awareness.
With the help of BMC I have introduced Miyawaki forests to Mumbai. BMC has helped me by giving a lot of space. I have built around 40 Miyawaki forests in Mumbai, a kind of dense micro-forest rich in biodiversity, which is gaining popularity in urban areas in the present day.
One thing I observed that whenever I tried to encourage people to plant trees, they replied saying there is a water crisis in their area. So, I invented a thing where you can use the grey water like bath water, kitchen water and washing machine water, filter it and use it for gardening purpose.
Please share a message for 'World Water Day 2023'
This is a very simple thought that there is no green without blue, which means there is no greenery without water. It is time all of us must start planting trees, otherwise we will not be able to breathe. And if you want trees to survive, without water it is not possible. So we have to conserve our part of water before we consume water.
Ahana Bhattacharya can be reached at ahana@thecsrjournal.in