Jalandhar's Meenal Verma is inspiring all to 'go zero waste'
How will you react if someone knocks your door one fine morning and says, "Please close the tap in your backyard, it's been open since the last two hours and water is getting wasted." Will this annoy you or will you quickly rush to rectify your mistake?
Jalandhar's Meenal Verma did not receive a warm response initially when she began with her door to door campaign a few years ago requesting her neighbours to stop wasting water. However, today when the 42-year-old architect and a mother of two is a 'water hero' as honoured by the Ministry of Jal Shakti, Government of India, people have started taking her seriously.
Going Zero Waste
Not just water conservation, Meenal and her community have been working relentlessly to encourage people towards 'Going Zero Waste' and lead a sustainable lifestyle by indulging in thoughtful and logical choices.
Opening up on the same, Meenal told The CSR Journal, "I had started a group called 'Going Zero Waste' on Facebook during the pandemic, which currently has over 4.7k members from across the globe. What we are trying to do is teach people how to go zero waste that is, staying away from single use plastics, single use cutlery and segregation of waste. Initially people were skeptical, but now a lot of them are following me."
Ministry of Jal Shakti's 'Water Hero'
How did it all begin? Meenal recalled, "I started with water management. I am a decorated water hero by the Ministry of Jal Shakti. I was honoured with a 'water heroes' award in 2020. I started off with water conservation and gradually began doing waste management also. I began with door to door awareness but that was not very fruitful, because people over here are not really ready to listen. Slowly, I shifted to social media and started writing for a local community group. Now there are 103k members in that group and everybody knows me now because of my awareness posts."
"Slowly and steadily, I made a group of like-minded people and now we have our own team that works for water and waste management. This is how my journey started in 2016 and gradually I've realized that everything is interlinked. If we have to work on water management, we have to work on waste management as well, so I had to focus on both," she added.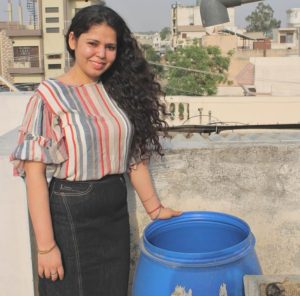 Shedding light on her activities, the social worker further said, "We have installed rainwater harvesting tanks in some people's places. We have also put up water recycling plants at a Gurudwara in the outskirts of Jalandhar. However, especially in Punjab, it is very difficult to convince people that there can be severe water shortage in the future and we must be careful from now to prevent it."
Kitchen or wet waste
Waste management comes in phases, informed Meenal. She said, "The first is the kitchen waste, which is segregated in three parts. One part goes to the stray animals, which is fresh peels of vegetables. The fruit peels are turned into Bio-enzyme, a DIY multipurpose cleaner. We use it for washing fruits and vegetables, mopping, cleaning utensils, glass, washing clothes, grease, grime, washrooms etc. The third part of kitchen waste is onion peels and other food waste which cannot be fed or turned into a cleaner, that we compost. This is how we are managing our kitchen waste, which cuts down 60 percent of the waste going from our homes to landfills."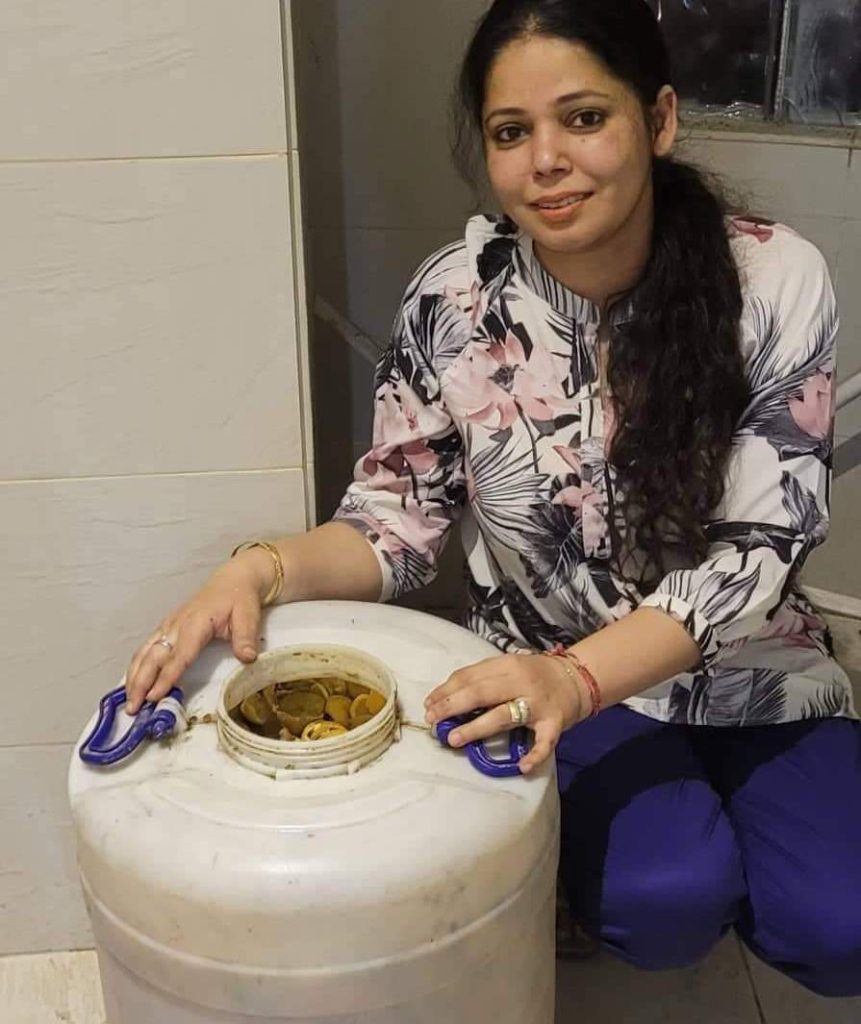 Dry waste
Talking about how she is managing the dry waste, Meenal informed: "Our dry waste comprises e-waste or electronic waste, plastic waste of different grades and then there are MLPs (multi-layered plastics) and pet bottles. Dry waste also includes scrap papers, cardboard and aluminium foils. Even though, I always advise people against using aluminium foils because they are not healthy."
No waste needs no management
"One concept that I follow is, no waste needs no management. This means, If you don't create that waste, you will not have to manage it. Group members and local residents who take part in my dry waste collection drive, I tell them to clean that dry waste, dry it and then hand it over. We do this once a month within the city and then we channelize it at different places. Everything is channelized accordingly, for example, the electronic waste goes to the e-waste industry, the plastics are further segregated into seven types and then channelized, the paper and cardboard goes to the scrap dealers," she informed.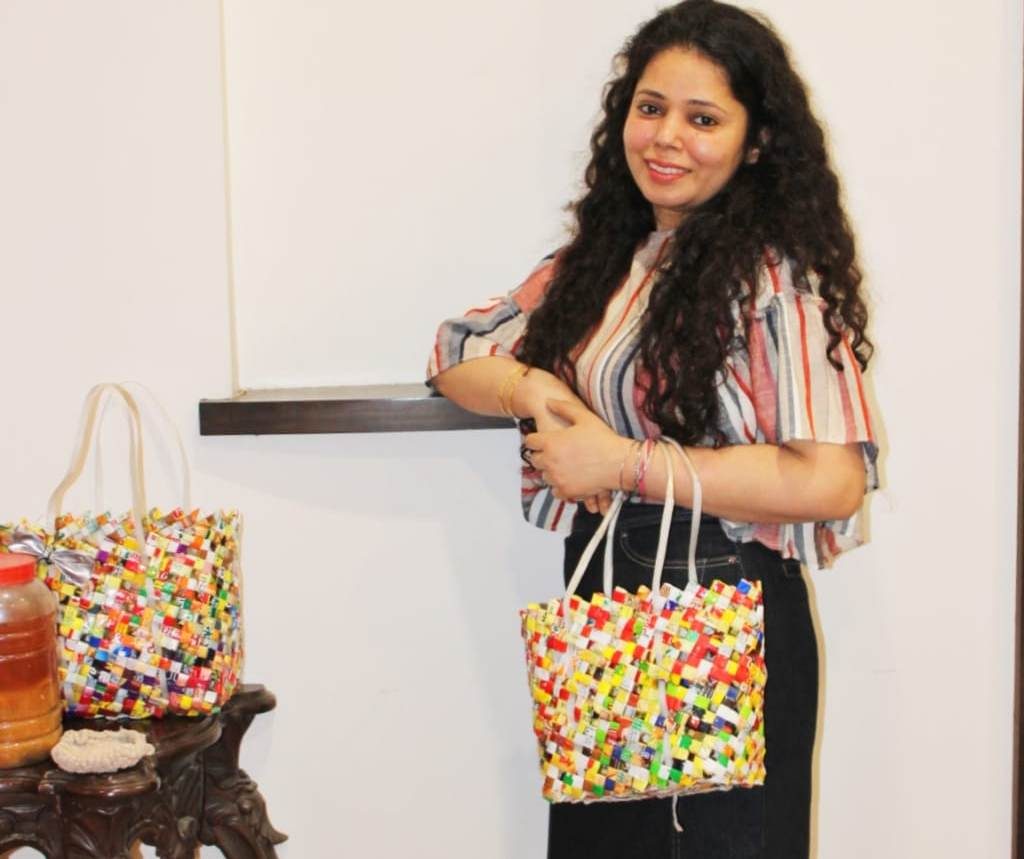 Weaving bags out of MLP and LDPE
Meenal has been weaving bags out of MLP or multi-layered plastics like the chips packet and LDPE (low density polyethylene) like milk packets. She said, "I am trying to upcycle them in a way so that one grade of plastic goes into the making of one product and there is no mixing. When I am using LDPE packets, I stick only to that while weaving, so that by the time it reaches the end of its life, it can be recycled accordingly."
Medical waste
Medical waste is a problem to which she has not been able to find a solution yet, regrets Meenal. "Medical waste like diapers and sanitary pads are actually toxic so we cannot handle it," said the 42-year-old with a tone of helplessness.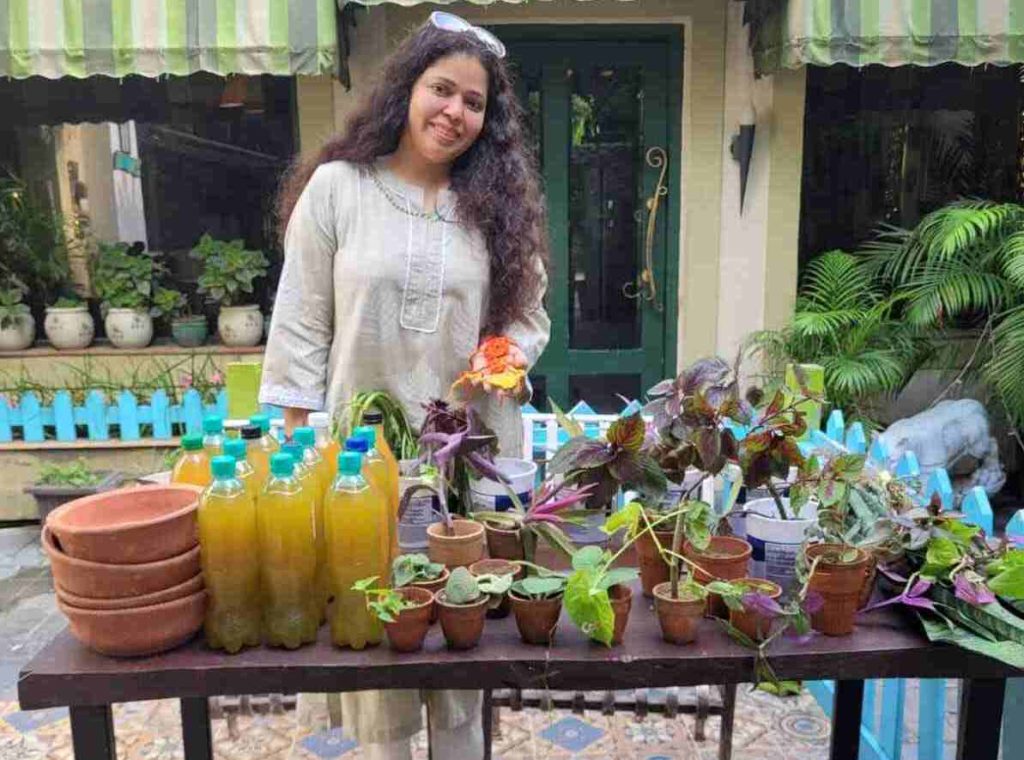 Biodegradable Rakhi
It is that time of the year when sisters tie rakhi around their brothers' wrist praying for their long life and well being. However, to encourage celebration of the festival in an environment-friendly way, Meenal has started designing biodegradable rakhis with cotton mauli thread.
"These are made without using any synthetic strand or plastic beads. They are totally environment friendly and even if thrown into a water body or soil, it won't harm animals like synthetic threads do. I've been making them for the last three years now. I take orders as well but not on a very high scale," she informed.
Obstacles
Any kind of social work does not come without its share of obstacles, and Meenal is no exception to this rule. It obviously has not been a cake walk as the first resistance came from her neighbourhood and family. She recalled, "If you go and tell people things like 'don't waste water' and 'keep your taps closed', the general tendency is that they will come home and complain to your family members. Due to this, my family initially discouraged me. But now they stand by me come what may. Also, people have started taking me seriously after I received the 'water heroes' award."
The Jalandhar girl further said, "Now, awareness is rising, people have seen the change coming and they know that the water levels are depleting. I believe, until and unless the change comes from within, things won't change. Initially, people who asked me to 'throw away' something redundant, now ask me to 'put it in the waste'. Yes, this much I could change."
A selfless job
"My journey has been incredible. It's a selfless job I am doing. I guide people towards a sustainable lifestyle but I don't charge them for the same. My aim is to see the change coming, that's it. Also, you cannot teach people through words, you have to lead by example," Meenal concluded with a smile.