World Smile Day 2020: CSR in India for Untreated Cleft
World Smile Day 2020 is spreading happiness all over today. You're officially obligated to smile today and do small acts of kindness. We are kidding. No one can force you to smile, it's an act of will. However, there are millions of children and adults who want to break into a wide grin, but can't because of a cleft lip or palate. They also face stigma because of their compromised appearance.
Companies like Himalaya, Muthoot, Heranba Industries and GSK Consumer Healthcare are trying to fix this in a big way through corporate social responsibility. These companies have been running strategic CSR initiatives that conduct free cleft lip and cleft palate surgeries. These targetted healthcare interventions are restoring one precious smile at a time.
What is World Smile Day?
World Smile Day has its origins in the ubiquitous smiley face. The symbol was actually created by American graphic artist Harvey Ball in the year 1963. The smiley face was an instant sensation, of course. It's so well recognisable that hearing the words "smiley face" instantly brings to mind the all-too-familiar yellow circle with two black dots and a curve for a happy grin. The symbol made its way into pop culture. Hollywood film Forrest Gump and social media have made it part of everyday communication. It has become a symbol of genuine happiness and cheer.
However, Harvey was not happy with the way his motif was being co-opted for commercial and political purposes. It took away from the genuine human connection for which he created the symbol in the first place. So, Harvey established October 2nd as World Smile Day – back in the year 1999 – to regain control over its true purpose. It's a day meant for smiling with abandon and for doing little acts of kindness. The day's purpose circles back to the CSR aspect where free surgeries can bestow a smile on millions of babies and children.
What is cleft?
Cleft lip and/or palate is a birth defect which occurs when certain facial tissues do not fuse properly during fetal development. In India, it is estimated that more than 35,000 children are born with clefts annually. While the incidence of cleft is related to the density of population, Madhya Pradesh and

Chhattisgarh

see about 3500 cleft births annually.
Children with untreated clefts not only live in isolation, but more importantly, face physical difficulties with eating, breathing, hearing, and speaking, and are prone to frequent ENT infections. Less than 50% of children with clefts get treatment due to ignorance and poverty in India. They face social isolation, and many drop out of school due to speech-related learning problems, which in turn, leads to losing employment opportunities. Surgery is the only solution for this condition.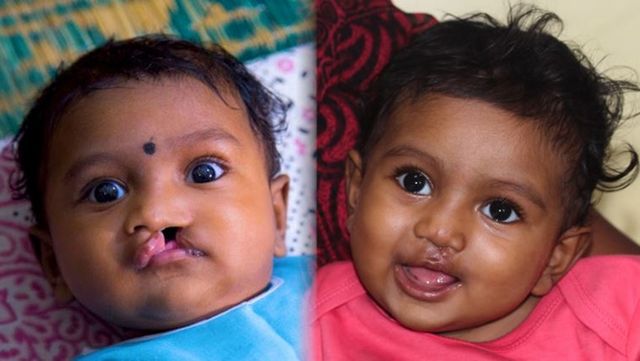 CSR for cleft surgeries in India
Cleft surgeries are safe, and the transformation is immediate. However, they are inaccessible in most parts of the country. Cleft surgeries prove expensive for patients from low-income families. This is where these CSR programmes prove a godsend.
1. Himalaya – Muskaan
Wellness company Himalaya rolled out its flagship social impact initiative, Muskaan in 2016, with an objective to spread awareness about cleft lip and palate conditions. In partnership with

Smile Train

, a leading cleft organization, the initiative will support free life-saving cleft treatment to children in need.
Smile Train's sustainable model provides training, funding, and resources to empower local medical professionals and hospitals across India to provide free cleft surgeries and comprehensive cleft care in their own communities. As a result, Smile Train has surpassed its 1.5 millionth smile globally.
Through the new campaign, "Ek Nayi Muskaan", Himalaya Lip Care will focus on spreading awareness around cleft lip and palate treatment at the grassroots level. The campaign kickstarted with a heart-warming video capturing the inspirational story of eight-year-old Munmun. The film portrays how Munmun's life was transformed with safe cleft surgery.
As part of the initiative, a multimedia awareness campaign has started reaching out to people across Madhya Pradesh and Chhattisgarh. Champion wrestler Geeta Phogat, Arjuna awardee and Commonwealth Gold Medalist, has extended her support to the initiative on World Smile Day 2020.
Says Rajesh Krishnamurthy, Business Director-Consumer Products Division, The Himalaya Drug Company, "Through our partnership with Smile Train India, we have been bringing smiles to a lot of families across India in the past five years by facilitating free cleft surgeries for their children. In the new normal, we have incorporated the latest guidelines to ensure our commitment towards the cause remains undeterred."
2. Heranba – Mission Smile
Heranba Industries Limited is an agro-chemical company associated with crop productivity. In 2016, Heranba first worked with NGO Mission Smile to conduct corrective cleft surgery for 50 persons in Vapi, Gujarat. The goal was to help them adjust as constructive members of the community. The company continues to treat people with cleft lip and cleft palate.
3. Muthoot Pappachan Group – Smile Please
Smile Please is the flagship CSR programme of MPF, the CSR wing of Muthoot Pappachan Group with headquarters in Kerala. MPF joined hands with NGO Mission Smile from July 2014 and started to provide free cleft surgeries and allied supportive service to children with congenital cleft issues. During Phase 1, the target was to provide free surgeries to 350 children from Tamil Nadu and Kerala, where the entire cost for the treatment is borne by MPF.
From the initial stage of this CSR programme, Muthoot India has been actively involved in the field. The company involved their staff in mass awareness and also identifying patients to provide expert services in cleft care. Branch staffers act as the single point of contact for these patients in providing them information on the cleft issue, free cleft care services, ensuring hospital connectivity for medical check-up and surgery, post-operative follow-ups etc.
This is a model for corporate engagement in CSR where various verticals of a conglomerate actively respond to a heath cause like cleft.
4. GSK Consumer Healthcare
GSK Consumer Healthcare is the company behind Crocin, ENO, Iodex and Sensodyne. In the year 2018, the company formed a five-year partnership with Smile Train to help more children with cleft lip or palate to lead full and healthy lives. In the first two and a half years of this CSR partnership, GSK's funding, support and expertise has helped more 3,719 patients with comprehensive cleft care. 11,141 patient families received support for food and transport.
The CSR programme also led to the country's first toll-free national cleft helpline. Smile Train India Cleft Helpline – 1800 103 8301, is accessible to people throughout India who are looking for information about cleft treatment.
Celebrate World Smile Day by giving a little, smiling (a lot). We all could do with good cheer right now.