World Humanitarian Day: Teachers offering free tuition for board students
A small act of humanity, of kindness, can make the world a much better place for all of us. Today, on the occasion of World Humanitarian Day, The CSR Journal brings to you the story of one such humanitarian act, which is helping a bunch of school students from suburban West Bengal, who will appear in their class 10 board examinations in 2023.
A humanitarian act
A group of school teachers from Raghunathgunj in West Bengal's Murshidabad district have started offering free private tuition to local students who will be appearing for the West Bengal 10th standard board examination or Madhyamik next year. Currently, the free group tuition is being offered in science subjects like physics, chemistry, mathematics and biology. While the fees for 10th standard private tuition is quite lucrative, this noble initiative by a few teachers has brought a smile on the faces of students and parents.
Jamil Aktar, who is a chemistry teacher at the local Umarpur Public School, has recently started this initiative in Murshidabad's Raghunathgunj along with a few other school teachers all teaching science subjects in nearby schools. Teachers who have volunteered for the cause include Pritam Kumar Biswas (biology), Rafikul Islam (chemistry), Pramod Das (mathematics) and a few others.
Free private tuition for board examinees
Talking about their initiative, Jamil Aktar told The CSR Journal, "I along with a friend of mine, Rafikul Islam, who also teaches chemistry, decided to start this free tuition class, so that we can provide an additional support to students appearing for board exams at least in our subject. It suddenly appeared on my mind a month ago. When we are teaching students in a school's classroom, it is not possible to give that personal attention to each and every student, what difficulties they are facing while understanding a chapter in a fixed time frame of one period daily. Our aim is to make the subject easy and understandable to every student appearing for Madhyamik exam in this area."
"Soon after we started, some of our colleagues, who also teach science subjects like Mathematics, physics and biology in schools, volunteered for the cause. We have been doing this for three weeks now, with one class every Saturday from 2.30 pm to 7 pm," he added.
Why this idea of providing free tuition
Private tuition being a good source of income for teachers, isn't this financially a loss? "We are all school teachers and get salary from our respective schools. Some of us also provide paid private tuition. Only this is a special class which is free. Any student, no matter what his or her family's financial condition is, can enroll in our free class. We don't want to differentiate between students coming from financially stable families and economically backward students. Hence, we have decided to keep it free for all and want to teach all of them together under one roof. This is not loss, being teachers, our profit lies in the students' success," he replied with a smile.
Why only class 10 students
Why is the weekly free tuition class being conducted only for students of class 10? Explaining this, Jamil shared, "Madhyamik or class 10 boards is the first major examination every person has to appear for in his/her life. We will not only teach these students, but we will also provide them with a guidance regarding the exam, which subjects they can choose in higher secondary, and also counsel students who are feeling a little nervous before their first major exam. By regularly conducting mock tests, we want to ensure they don't have any confusion regarding any science subject or exam phobia on their mind. We will prepare them from all possible angles."
Students signing up with word of mouth
The class, which began with 18 students, currently has around 40 students due to positive word of mouth publicity within the suburban town of Bengal. "We began by verbally spreading the word to a few students in the area about our free tuition class. Then it is spreading via word of mouth. We are getting a good response from students who will be appearing for the boards next year and also from their parents. A lot of students also want more than one class per week and they are willing to pay for it, but we have not agreed to do that. Because this class is completely free of cost," the chemistry teacher said.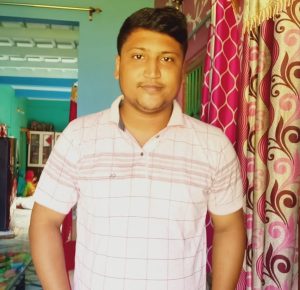 Planning to teach other classes also
Currently, the class is being conducted in Bangla as most of the students who have enrolled, study in Bangla medium schools. But any student willing to take lessons in English medium is also welcome. "We have started this tuition with class 10 students. This is because, we don't have a huge space where we can make a lot of students sit, and also, we are all school teachers and hence, we cannot dedicate the time required to teach students from different classes and age groups. However, gradually we have plans to provide this service to students of other classes as well," he said.
Jamil Aktar's philosophy
25-year-old school teacher Jamil Aktar lives with a simple belief. In his words, "Whenever we see a student loves a subject or lacks interest in a subject, always the teacher is responsible for the same. If a student is unable to understand any subject, I believe it is the failure of the respective teacher. Only by dedicating more time and personal attention can we help students overcome their fear and confusion in a subject. As a teacher, it is my primary aim to make every student fall in love with my subject."
Message for students
Jamil sir has a piece of advice for students who find chemistry difficult or confusing. He said, "Chemistry is fun! There is nothing to worry about in chemistry. Just start learning the subject with all your heart, and you will see how the subject also embraces you with open arms."