Top CSR Projects in Murshidabad
The city of Golden threads and palaces, Murshidabad plays a crucial role in the history of Bengal. Located near the Bhagirathi river, Murshidabad is known for being the residence of the Nawab Murshid Quli Khan (Murshidabad was named after him), Nawab Siraj-ud-Daula and other nawabs of Bengal. It was the capital of Subah Bengal during the Mughal period in the early 18th century, enjoying jurisdiction over Bengal, Bihar and Odisha. After the defeat of Nawab of Bengal Siraj-ud-Daulah at the Battle of Plassey in 1757, the British East India Company, Murshidabad started witnessing a decline.
Having a historical legacy of silk production, Murshidabad is famous for fine mulberry silk and is currently one of the major silk producers in West Bengal as well as India.
Currently, West Bengal Chief Minister Mamata Banerjee is on a short tour to Murshidabad ahead of West Bengal panchayat polls 2023. In this context, the CSR Journal takes a look into the top CSR projects in Murshidabad in 2022 and recent years.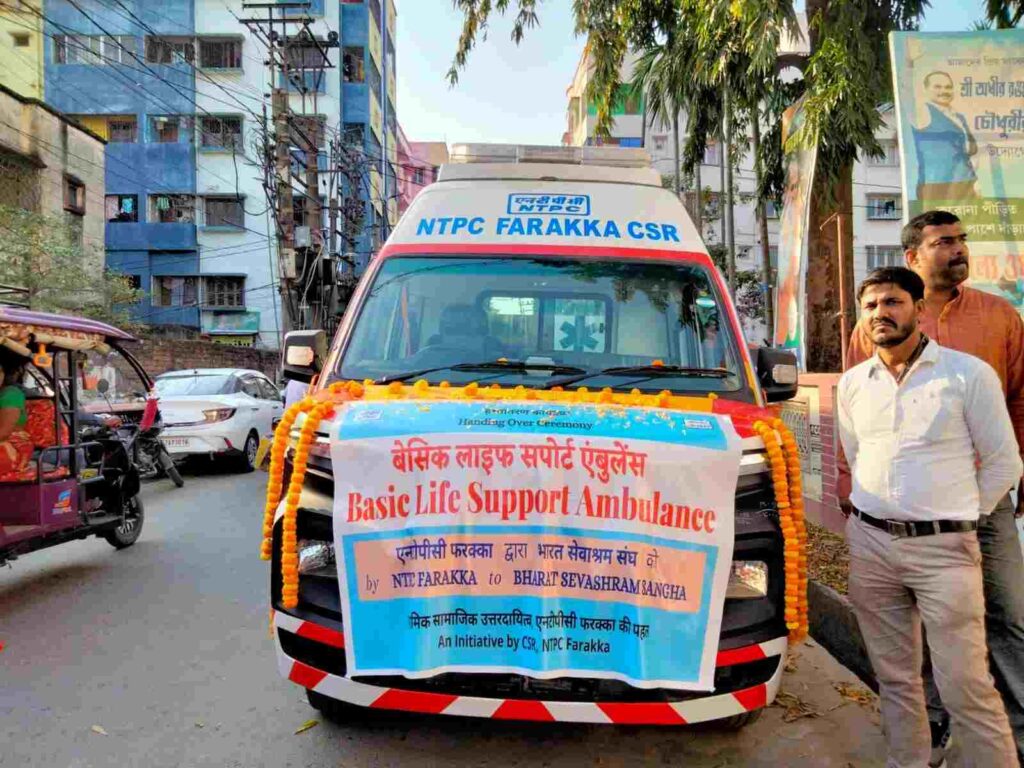 CSR of NTPC
As part of their CSR initiative, NTPC Farakka distributed blankets to the needy people of Farakka block on 31st December, 2022. Manirul Islam, MLA, Farakka, Ziaur Rahman, HOHR, NTPC Farakka, Nikesh Kumar, DGM(HR) and other dignitaries graced the event held at Ratan Pur, Dhuliya, Farakka, Murshidabad.
As part of the CSR initiative of NTPC, an interaction session was held with villagers in Farakka regarding the importance of girl child empowerment and education in May-June, 2022. The Girl Empowerment Mission (GEM) 2022 programme saw the participation of female students and their parents from various local and neighbouring schools.
As part of their CSR initiative, NTPC donated a basic Life Support Ambulance to Bharat Sevashram Sangh Baharampur branch. The ambulance was handed over by Baharampur MP and Leader of Opposition Adhir Ranjan Chowdhury to Swami Mangalananda Maharaj of Bharat Sevashram Sangh Baharampur branch.
Apart from these, the public sector power company runs an adult education centre in the district.
CSR of Hero Motocorp
As part of Corporate Social Responsibility initiative of Hero Motocorp Limited, 40 Hero Glamour motorcycles were handed over to Murshidabad Police Department in May 2022. The motorcycles were handed over by Himadri Das (Managing Director, Golden Motors Pvt. Ltd.) in presence of the Superintendent of Police.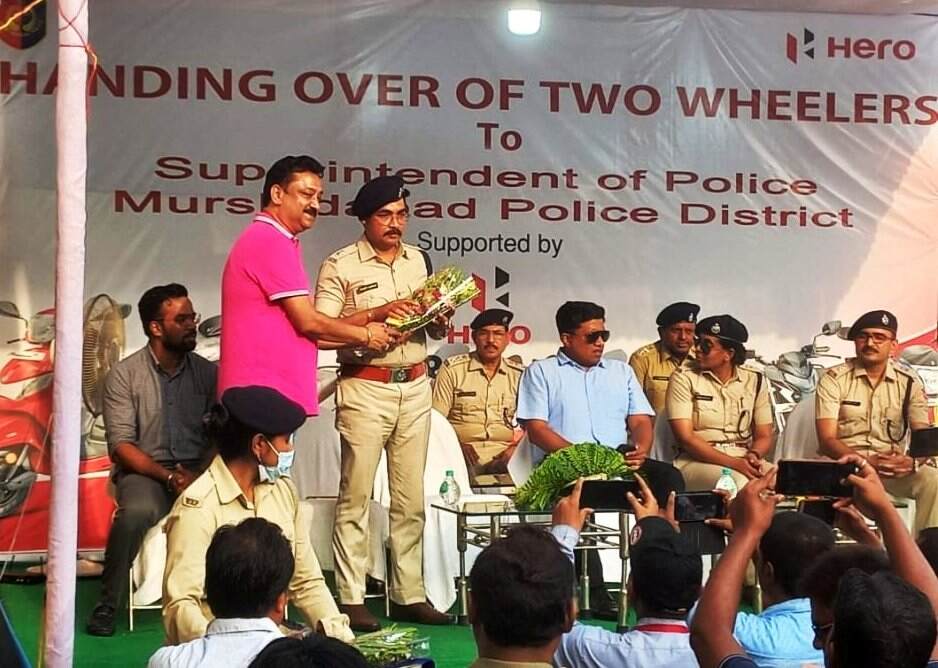 CSR of Ambuja Cement
Ambuja Cements Ltd built and inaugurated a check dam across the Kalnoi river at Murshidabad of West Bengal in July, 2022. The purpose is to ensure availability of water for irrigation by farmers, clean drinking water, and improve the quality of life of local residents. Over 10,000 households reportedly receive drinking water from the check dam located near the ash pond of Ambuja Cements' manufacturing unit in Kalaidanga.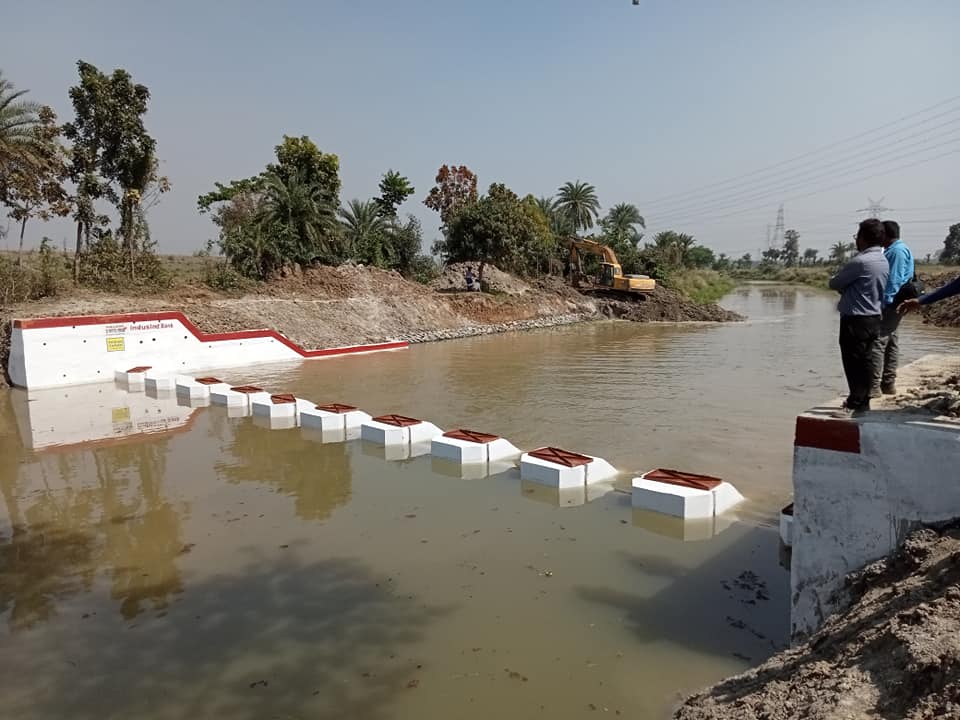 Bharti Enterprises – Satya Bharti Schools
In 2011, Bharti Foundation (the CSR arm of telecom giant Bharti Enterprises) launched six Satya Bharti Schools in the villages of Amaritakunda, Chanak, Chargachi, Patkeldanga, Noapara and Dhalsa in Murshidabad district.
More than 60% of the students at these schools are girls. Most of the children enrolled in these schools are first generation learners – their parents did not experience the joys of formal education. These children are not only receiving quality education, but also nutritious mid-day meals, exposure to a range of co-curricular activities.
The Satya Bharti Schools in West Bengal have been built incorporating the 'Building As Learning Aid' (BALA) technique. As per this technique, walls, windows and other structures of the school building are painted in the form of calendar month, school map, height charts, abacus grill, mathematics tables, distance markers.
This method ensured that with multiple exposures to the built-in learning aids in the school buildings, children remember them in the long run. The curriculum in the schools also integrates community campaigns to develop life skills as well as critical and creative thinking among the children.
Singer India – Women Empowerment Project
For women from the weaker sections of society, a vocational skill like sewing holds an important alternative as they can set up a sewing machine set up in their homes and cater to making clothes for their family and neighbourhood while still continuing their roles as homemakers.
As part of Singer India's CSR Programme of Ek Nai Pehchaan, the appliance maker has committed itself to aggressively aiming to uplift women from the weaker sections of society who are coming from the slums and lower-middle strata.
The Mahila Selai School in Murshidabad is a Skill Development Centre for providing women with vocational training in order to help them learn the skill of sewing. Most of the women are unemployed, school drop-outs and widows. The Singer skill centre is equipped with the latest industrial machines – all part of the training course aimed at making women embrace work in garment factories. The school offers three-month Certificate and six-month Diploma courses.
As part of the company's humanitarian efforts during COVID-19, the women at the Mahila Selai School have taken the initiative of making and distributing fabric face masks for the poor. Their mask-making efforts have found support from volunteer groups in the local community.
Other companies spending towards CSR in Murshidabad district include Pataka Industries Private Limited (promoting education), Bajaj Finance Limited (healthcare for children), East End Silks Private Limited (education), Baharampore-Farakka Highways Limited (healthcare) and Titan Company Limited (entrepreneurship skills for trafficked women).