World Bicycle Day – Initiatives by Indian Citizens
World Bicycle Day 2021 is being observed today at a time when lockdowns are being eased out here, and lifted in other parts of the globe, lending the annual day renewed importance. Cycling is being viewed with fresh eyes as "green recovery" becomes a buzzword in the "new normal" of the post-COVID-19 world.
Eco-friendly, ridiculously affordable, healthy, reliable and versatile, the bicycle reduces carbon footprint and has a bright future in green mobility. Speaking of carbon footprint, ditch the car and take the bicycle instead, and you will save 150 g of CO2 per kilometre. Cycle 7 km and you save an emission of 1 kg of carbon dioxide CO2 that your car would have spewed into the atmosphere for the same distance.
The Dutch, avid cyclists that they are, measured just how much pollution they avoided simply by taking the cycle instead of a vehicle: 1.41 million tonnes of CO2 each year was the answer; it's the equivalent of planting 54.4 million trees each year. When it comes to social impact, cycling in the city scores better than the costs involved in cars and buses. Each kilometre of cycling pays back a social benefit of Rs. 58, whereas cars and buses actually cost society a sum of Rs. 31.7 and Rs. 25 per km, respectively.
What is World Bicycle Day?
The seed for this day was sown in February 2015 when sociology professor and cycling activist Leszek Sibilski wrote the blog post "Cycling Is Everyone's Business". The post went viral as did his second post for the World Bank: "Why is there no special day for the bicycle?" a year later. Soon, he was speaking at public events in defence of the movement.
On April 12, 2018, the UN General Assembly declared 3 June as World Bicycle Day as an acknowledgement of the bicycle's unique place in the world's history and its contribution to health and environmental stewardship. On this day, it encourages initiatives for riding at the local and national levels and calls on all stakeholders to advance the cycling culture.
Whether you're a professional triathlete or a weekend rider, you will agree that World Bicycle Day 2021 is meant for celebrating the joy of cycling. Share your photos and stories on social media with the hashtags #worldbicycleday and #justride!
What about the fumes I inhale when I pedal in the open air, you may ask. Well, the fat you burn and the health benefits you receive outweigh the damage that air pollution does to your lungs. Daily exercise stretches your life expectancy by about 3.4 years whereas air pollution decreases it by a mere 12-40 days!
Citizen initiatives for cycling
India isn't the most suitable for cyclists, however. The exponential growth of cities and upward mobility over the years means longer daily commutes. Working executives have switched to the "faster" cars and bikes, while others take the local train. Roads are widened and highways built at the expense of cycling to make way for private vehicles. Cyclists and walkers, tax-paying citizens of India, are sidelined in the name of development.
Hero Cycles, Honda Motorcycles and Scooters India, Sony Pictures and RBL Bank are creating awareness as part of their CSR, donating bicycles and flagging off expeditions, there's no real cycling culture in the cities and towns. However, there's a growing number of citizens who have taken matters into their own wheels rather than crying foul. They are passionate about the cycling culture. They are collectively called Indian Bicycle Mayors.
Bicycle Mayors take the high road
Bicycle Mayors are found in countries across the world, thanks to Amsterdam-based

social organisation BYCS which appoints regular citizens to this special role

and generates critical mass for the movement. However, India is a special case in this regard because ours is the largest network of Bicycle Mayors in any one country. Not only is it active in working with local communities, it's mostly women; they are proving to be role models for young girls.
Yougal Tak in Udaipur was inspired by citizen movements like Car Free Day and Happy Streets to reclaim the streets. His initiative Mhari Cycle (meaning 'my cycle') marshalled people to occupy spaces across the city for a whole day every month. His message: the city and its streets belong to us, the People.
Pooja Vijay in Jaipur runs 'Pink Pedals' which is all about better access to cycles for all age groups. Her initiative attracts young kids via Junior Cyclothons. It launched a bike-share system at the prestigious JECRC university. Pooja's mission is to make the Pink City a pollution-free one. Pooja isn't the only one urging kids to pedal away.
Prakash Gopinath from Thiruvananthapuram runs an upcycling campaign called 'Cycle Brigade'. School children go bicycle hunting – asking grown-ups in the neighbourhood for old bikes they've discarded as they grew up. These are upcycled, complete with fresh spray paint, and given out to government schools. Students get a bike membership card which they can use for the whole year to commute. Prakash's campaign is unique because it involves children directly in

fostering a biking culture

.
Firoza Suresh is empowering low-income families in Mumbai with the bicycle. She is an activist for cycling infrastructure and designated lanes for cyclists. She believes road safety and urban cycling are interrelated. Arshel Akter has been organising umpteen cycling events on themes ranging from the obvious World Car Free Day to the less visible, drug abuse awareness.
Relief Riders deliver essentials during the pandemic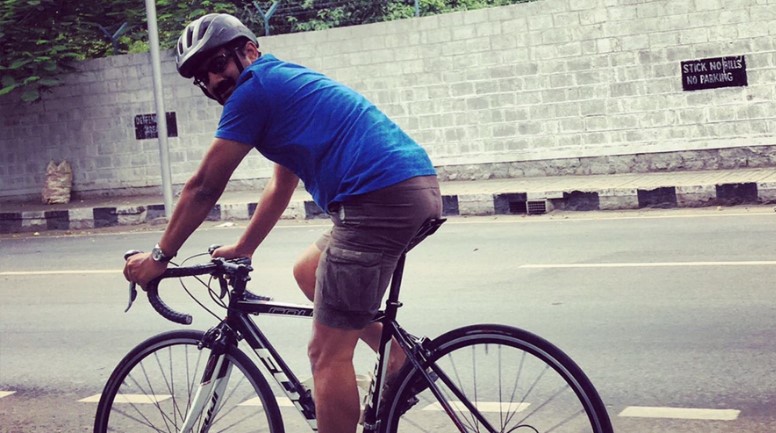 Bengaluru's Bicycle Mayor Sathya Sankaran heads Relief Riders in order to deliver medicines and essentials to the vulnerable groups in the city. Along with the Bengaluru cycling community, he formed Relief Riders during the first wave of the pandemic. With the city in the midst of a lockdown during the second wave, the cyclists returned to volunteer again. Now, more cities have joined the programme.
Activism through cycling
Bhairavi Joshi from Valsad is passionate about road safety for children and wants them to use bicycles for commuting. She hosted the Fit India campaign and was involved in the 2018 #cycletowork initiative. This young activist has even published a book about Bicycle Mayors as changemakers.
Baroda Bicycle Mayor Nikita Lalwani and Bhairavi were keynote speakers at the prestigious Walking and Cycling Conference 2018 in Australia. The same year, the Bicycle Mayors of India launched a new app to log new cycling commitments.
These citizen-driven initiatives are powerful examples of how people can drive change in tackling urban challenges and climate change through something as simple as cycling. As you observe World Bicycle Day 2021, think about all the ways you can make a change by hopping on your rusty ol' bike.