In 2018, India emerged as the fastest growing major economy in the World. With support from the aggressive service sector, which roughly accounts for 60% of the GDP, India is now the 6th largest economy in the World as per nominal GDP. A tick in all the right boxes from an economic standpoint, but are we doing enough to address larger sustainable development challenges for maintaining this growth?
All of India's nearly 600,000 villages are now electrified and as we transition from a developing country to a developed one, our energy demand is bound to increase substantially in addition to other challenges related to resource consumption. For example:
As per BP Statistic report 2017, India consumed 724 million tons of oil equivalent in 2016, which made India the 3rd largest consumer of primary energy. With increase in consumption of energy, the related GHG emissions are going to rise considerably, given that 60% of India's energy generation is coal powered
Pollution levels have skyrocketed with 10 of the 20 most polluted cities being located in India
India produces 62 million tonnes of urban waste annually which is estimated to increase to 165 million tonnes by 2030
To counter these challenges, there is a need for companies to adopt Circular economy and Zero waste to landfill strategy. These are just few of the challenges, as we try and maintain our impressive growth trajectory. On the other side, India, a country of burgeoning youth, has immense opportunity to tap potential. India's advantage through its demographic dividend need not be reiterated, but it is important to create a favourable ecosystem to translate this advantage to concrete outcomes. How do we encourage entrepreneurship and innovation? More importantly how do we increase the success rate of these bright minds to solve the challenges at hand?
Over the last decade, India has witnessed new age entrepreneurs, who have exhibited the characteristics of thriving under limited resources and have leveraged technology to create innovative models. These 'Responsible' entrepreneurs are trying to tackle threats of climate change, pollution and resource management, by disrupting conventional models. There is immense potential in these sectors, with World Bank estimating that the annual market of Cleantech in developing countries is worth USD 640 million and other reports estimating the potential value created through a circular economy at USD 218 billion by 2030 in India.
There is, thus, a clear need of creating an enabling ecosystem for entrepreneurship and new-gen accelerators can play a critical role towards achieving this quintessential target. Collaboration between Governments, private sector and civil society organizations can help promulgate hotspots and develop specific geographical areas as innovation hubs (creating a 'sustainability valley'), where multiple accelerators can come together to co-create business models. Before we strengthen the ecosystem, we need to zoom out and focus our efforts towards prioritizing the sectorial needs and deepen our impact over the next two years, by developing meaningful solutions in the three areas:
Air – Every winter, a large portion of India's northern plains are engulfed in thick haze and smog with sources attributing it primarily to crop burning and vehicular pollution among others. Could there be a set of start-ups accelerated to solve this problem through an anchor led program based in the National Capital Region?
Water – Studies point out that Bengaluru could be the next Cape Town with a severe water scarcity challenge and an impending Day-Zero. Can the silicon valley of India nurture an eco-system of start-ups to incentivize town planning and ground water management?
Waste – Metro cities like Mumbai, with dense population, are grappling with a problem of waste management and here lies an opportunity of converting the waste to energy as pioneered by global leaders like Sweden
While we have elementary accelerators aimed at incubating innovations at specific academic institutions in the country, the identified new-gen ecosystems would need to look at problem statements differently to re-imagine, rethink and reframe the challenges at hand. The tailwinds of sustainability are blowing strongly for India and all that is left for businesses and the government is to capitalize on this enormous opportunity, to generate lasting value across the triple bottom line, as we prepare our journey towards becoming a USD 5 trillion economy, albeit sustainably.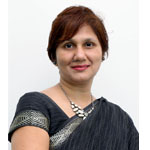 Namita Vikas is Group President & Global Head, Climate Strategy & Responsible Banking at YES BANK. As the Chief Sustainability Officer of the Bank, she spearheads Sustainable Development and CSR, thus driving sustainability principles within its core operations and its value chain towards creating stakeholder value. Namita has an Advanced Management Degree in CSR and Leadership from the Swenska Institute, Sweden.
Views of the author are personal and do not necessarily represent the website's views.
Thank you for reading the story until the very end. We appreciate the time you have given us. In addition, your thoughts and inputs will genuinely make a difference to us. Please do drop in a line and help us do better.

Regards,
The CSR Journal Team