Where the mind is without fear and the head is held high: Remembering Rabindranath Tagore on his 162nd birth anniversary
The 9th of May every year is celebrated as the birth anniversary of Nobel Laureate world famous poet Rabindranath Tagore. However, only addressing the legend as a 'poet' will be doing injustice to his versatile talent and vast sea of literary work. Popularly addressed by names like 'Kabiguru' and 'Gurudev', Tagore was a scholar, poet, novelist, playwright, composer, philosopher, social reformer and painter.
The composer of our National Anthem 'Jana Gana Mana' Rabindranath Tagore is also remembered for his patriotism not only for his patriotic songs and poems but also for rejecting the 'Knighthood' conferred upon him in to protest against the ghastly Jallianwala Bagh massacre, which took place on 13th April 1919 and goes down in history as one of the most dreadful example of cold-blooded genocide. However, not only the Indian National Anthem, the 'Bard of Bengal' also composed 'Amar Sonar Bangla' which is the National Anthem of Bangladesh.
While Rabindranath Tagore was born on 7th May, 1861 at his ancestral house Jorashanko Thakurbari in Kolkata, his birth anniversary is celebrated on the date which coincides with his birthday 25shey Boishakh (25th of Boishakh or Baisakh, the first month of the Bengali Calendar). Accordingly, this year, his 162nd birth anniversary is being celebrated on the 9th of May. On Gurudev's birth anniversary, The CSR Journal takes a look into English translation of some of his powerful and motivational quotes and poems.
Where the mind is without fear…
"Where the mind is without fear and the head is held high, Where knowledge is free, Where the world has not been broken up into fragments by narrow domestic walls; Where words come out from the depths of truth; Where tireless striving stretches its arms towards perfection; Where the clear stream of reason has not lost its way into the dreary desert sand of dead habit; Where the mind is led forward by thee into ever widening thought and action, into that heaven of freedom, my father, let my country awake."
Let me not pray to be sheltered from dangers…
"Let me not pray to be sheltered from dangers but to be fearless in facing them. Let me not beg for the stilling of my pain but for the heart to conquer it. Let me not look for allies in life's battlefield but to my own strength. Let me not crave in anxious fear to be saved but hope for the patience to win my freedom. Grant that I may not be a coward, feeling your mercy in my success alone; but let me find the grasp of your hand in my failure."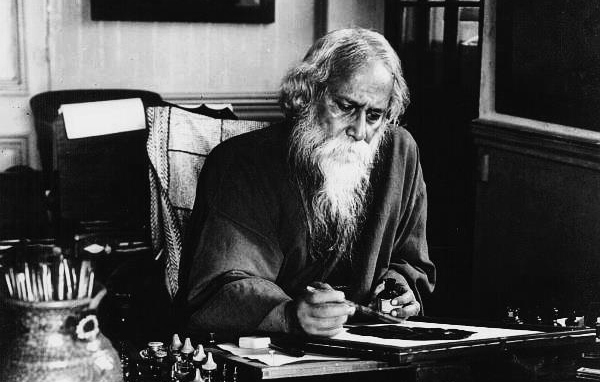 Walk alone…
"If they answer not to your call walk alone, if they are afraid and cower mutely facing the wall, open thy mind and speak out alone. If they turn away, and desert you when crossing the wilderness, trample the thorns under your tread and along the blood-lined track travel alone. If they do not hold up the light when the night is troubled with storm, with the thunder flame of pain ignite your own heart and let it burn alone."
On positive thinking
"The most important lesson that man can learn from life is not that there is pain in this world, but that it is possible for him to transmute it into joy."
"If you cry because the sun has gone out of your life, your tears will prevent you from seeing the stars."
On hard work and determination
"A lamp can only light another lamp when it continues to burn in its own flame."
"I slept and dreamt that life was joy. I awoke and saw that life was service. I acted and behold, service was joy."
"You can't cross the sea merely by standing and staring at the water."
"Reach high, for stars lie hidden in you. Dream deep, for every dream precedes the goal."
Rabindranath Tagore's definition of Education
"Education means enabling the mind to find out that ultimate truth which emancipates us from the bondage of dust and gives us wealth not of things but of inner light, not of power but of love. It is a process of enlightenment. It is divine wealth. It helps in realization of truth."
"The highest education is that which does not merely give us information but makes our life in harmony with all existence."
On teaching
"The main object of teaching is not to give explanations, but to knock at the doors of the mind."
On inclusion
"The problem is not how to wipe out all differences, but how to unite with all differences intact."