Top CSR Projects in Mizoram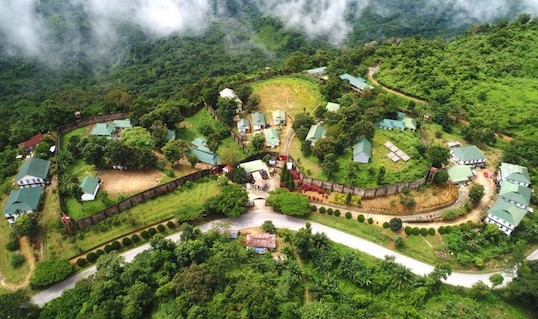 Mizoram is a border state in the north-eastern part of India, which is known for its evergreen hills and dense bamboo Jungles. Known as the land of Blue mountains, three-fourth of the state is under forest cover. The majority of population in the state falls under Scheduled Tribe category, making it very important to preserve their culture and support their development.
Despite being deserving to CSR investments, Mizoram is one of the least favoured destinations for corporate philanthropic activities in India. According to data by provided by the Minister of Finance and Corporate Affairs, Nirmala Sitharaman on November 18, 2019, in reply to a Starred Question in the Lok Sabha, in the three financial years prior to 2019, the CSR expenditure in Mizoram was merely Rs 1.38 crore. This is very less as compared to the funds received by states such as Maharashtra that received more than 2000 crores worth of CSR investment in the same period while already having a better development status than Mizoram.
CSR Projects in Mizoram
CSR of Tata Sons
To address problems like low productivity, income, deforestation, soil erosion, nutrient loss and loss of biodiversity in rural areas of Mizoram, Tata Sons Private Limited has conceived a 5 years CSR intervention in developing alternative integrated livelihood options for the farmers in Aizwal, Serchipp and Lunglei districts and practices for sustainable utilisation of natural resources.
These include expanding the scope of traditional backyard piggery for small holders, facilitating a shift from Jhum farming by engaging households under kharif cultivation, increasing productivity of land through crop diversification, promoting orchard development, livestock management, enhancing knowledge and awareness of better agriculture and horticultural practices, promoting sustainable use of water resources through rainwater harvesting and forming Farmer Producer Organisations for shared inputs.
Initiative by Tata Trusts
The Navajbai Ratan Tata Trust and the Government of Mizoram signed a Memorandum of Understanding on October 10, 2013 towards improving the quality of Education in Mizoram. The MoU extends for a period of 5 years where NRTT and the Government of Mizoram have collaborated in implementing projects to improve the quality of education in the State.
Through this Memorandum of Understanding, the Trusts propose to work in the state on a range of issues aiming at improving quality of preschool services, elementary schools, provision of teaching learning materials in local Mizo and other languages, ensuring life skill and vocational skill education for youth and adolescents, providing access to secondary schools by supporting residential facilities and use of modern Information Communication Technology tools to make teaching – learning relevant and joyful.
In 2016, The Government of Mizoram and Tata Trusts signed another MoU to nurture sports talent in the state by harnessing the rich wealth of talent and existing sports infrastructure. Tata Trusts set up a Centre of Excellence (CoE) in Aizawl, Mizoram in 2018, equipped with international and Indian coaches, nutritionists, physiotherapists and other support staff.
CSR of Oil India
Oil India Limited (OIL), a state-owned enterprise of the Government of India, partnered with the Switzerland-based Global Fund for combating HIV/AIDS, tuberculosis and malaria in its operational areas of Mizoram and four other Indian states for five years.
OIL has invested heavily in developing infrastructure by way of roads and bridges to improve basic surface communication for the benefit of the people and communities in its operational areas. Over the years, the company has constructed many public stages, auditoriums, libraries, lecture halls, computer centers, waiting sheds, playgrounds, schools and institutes of higher education as well as upgraded and developed rural hospitals for augmentation of rural infrastructure in its areas of operation in Mizoram and four other states.
CSR of SBI
SBI Foundation started 'SBI Sanjeevani – Clinic on wheels', a mobile medical unit in South Sikkim during FY 2016-17, to provide primary healthcare services to the rural communities. The project has improved the quality of life of the communities in the remote villages by providing doorstep medical services. The project has been expanded to Mizoram and a few other Indian states in FY 2021-22 with an estimated outreach of over 2 lakh beneficiaries across 250 remote villages. The project has been well-received by the communities, and local Health departments are also supporting the initiative.
CSR of Infosys
With the backing of Infosys Foundation, Avanti Fellows has launched the Girls STEM Education Programme, aiming to offer free engineering and medical test preparation assistance to female students. In fiscal year 2023, the organization placed its focus on educating girls in several states of India including Mizoram.
To equip the students with the necessary skills, the program provides them with 6-12 hours of intensive test preparation classes on a weekly basis, conducted outside regular school hours. The Avanti team diligently conducted weekly assessments, spanning 1-3 hours, to gauge the students' learning levels and track their progress. These evaluations were comprehensive and diagnostic in nature, generating valuable data points that were utilized to customize the guidance and support needed for each student. Alongside the test preparation classes, the students were provided with JEE/NEET online learning resources, class recordings, mock tests, and orientation sessions.
Magic Bus' SCALE programme in Mizoram
Poverty alleviation programme Magic Bus has been actively working with children and communities since 2014, in Mizoram. Its 5-year SCALE (School Completion and Livelihood Enablement) programme has been funded by Azim Premji Philanthropic Initiative (APPI) and Laureus Sport for Good Foundation. The programme provides training to teachers from government schools across Mizoram, to build their capabilities to conduct life skills sessions to adolescents in schools, through activity based learning.
After the successful training sessions since 2014, Magic Bus conducted online training sessions for teachers starting 7th September 2020, to prepare them for schools post lockdown. Teachers have been trained to take up sessions on mental well-being, relevance of life skills during the ongoing and post-pandemic situation, identifying and working on children with vulnerability, rekindling interest of learning among adolescents and COVID-19 prevention. The training has also equipped teachers with skills to conduct virtual sessions, how to motivate children virtually and ways to implement the need based curriculum with adolescents.
Magic Bus conducted a survey to understand the impact of COVID-19 on marginalised families and children in India. As per findings reported in Mizoram, more girls (56%) than boys (48%) feared dropping out of school. Teachers have been trained specifically to address this pressing issue. The SCALE programme has been working to construct a system that focuses on building capabilities at the adolescent stage, enabling them to complete their education and expedite their journey out of poverty. The training aims to eradicate any challenges or interruptions to education.
In addition to the support they have provided for the training under SCALE, the Azim Premji Philanthropic Initiative (APPI) has funded Magic Bus's COVID-19 relief efforts in Mizoram. Magic Bus Young Leaders and employees have distributed ration kits, impacting more than 5200 people from affected communities.
REC Foundation
REC Foundation, the CSR arm of the Navratna Central Govt. Public Sector Enterprise REC Limited, has increased its efforts in a big way to support welfare work across aspirational districts of the country. The foundation has partnered with at least half a dozen aspirational districts in the thematic areas of Health, Nutrition and School Education.
The focus of the foundation has been on all-around development of India's unnoticed regions and has travelled far and wide to select ambitious projects in districts where most organizations aren't able to reach.
REC Foundation has committed a total sum of around Rs. 55 crore towards projects aimed at transforming school education and improving health services. Of the aspirational districts it is implementing the project at, is Mamit District of Mizoram. REC signed a memorandum with Mamit District in Mizoram for transforming school education in government schools and improvement of health services in government health facilities. It committed about Rs 20.63 crore under the initiative.
The initiative aimed at bringing out-of-school children back to formal education, improvement of facilities in schools from water filters to biometric attendance trackers. On the healthcare front, the foundation will work with more than 40 facilities to improve their services. It will include mobile vans, life support equipment and medical test facilities apart from 'telemedicine' equipment for all 52 government medical facilities.
Nestle
20% of India's population constitutes adolescents (10 to 19 years), which makes adolescent health particularly important to meet the Sustainable Development Goals (SDGs) – a set of universal goals to end poverty, hunger and achieve equality.
The Nestlé Healthy Kids Programme was a breakthrough initiative that was launched in 2009 to show the company's commitment to promoting nutrition, health and wellbeing among adolescents.
Nestle has extensively worked in the nutrition domain all over the world and it uses this knowledge and core competency in its CSR activities as well. Creating and selling products in the health and nutrition space has armed the company with the right knowledge on how to tackle the evil of malnutrition. The key to Nestle Healthy Kids Programme is the understanding of a balanced diet, healthy eating habits, awareness of food and personal hygiene and regular exercises in form of some physical activity like sports and games.
This CSR program was started by Nestle in 2009 and it is celebrating its 10th year of implementation. Over the last 10 years, the programme has done some phenomenal work and has expanded to include other facets of tackling the problem of malnutrition. It also includes parents and teachers as direct beneficiaries in the programme as they are important stakeholders if we are to defeat malnutrition.
Nestle CSR collaborates with other partners with a common cause who have the expertise in the local conditions to create real impact and bring about a real change in the life of the community where the company operates. The company is implementing this programming in two modes:
1. Conduct Classroom sessions in partnership with Six Regional Universities
2. Partnering with Magic Bus India foundation that has pioneered the 'Sports for Development' model
a) The classroom sessions are conducted in partnership with Universities through the Department of Home Science and Food Science, wherein information on the nutrition status of the local food habits is collected through their extension activities and the programme content is developed jointly with Nestlé India team. Each student receives nutrition training – encouraging them to eat more vegetables and fruits, ensuring their meals are as nutritious and diversified as possible. Pre and post programme behavioural and knowledge tests are conducted to measure the effectiveness of learning and implementation.
b) Embracing non-traditional learning method of 'sports for development', implementing partner Magic Bus India Foundation, engages with the adolescents in interactive sessions in which they receive nutrition knowledge and are encouraged to play regularly. By their very nature, sports is about participation, inclusion and a sense of belonging, and as a result of the Magic Bus sessions, the entire community comes together to promote a healthier lifestyle.