Home
Header News
Top CSR projects working towards menstrual health and hygiene in India
Top CSR projects working towards menstrual health and hygiene in India
Menstruation is a natural phenomenon that every woman goes through. However, lack of proper knowledge about menstrual hygiene is a major issue for women living in slum areas. It often leads to poor hygiene, infections, and other health problems, further exacerbating their struggles and hampering their overall progress.
Even though we are progressing as a nation and winning accolades on the global stage, rural India continues to battle challenges like poor menstrual hygiene, taboos, superstitions and lack of awareness.
It is a shocking fact that menstruation acts as a major barrier to girls' education and women's participation in the workforce in rural area even today.
On April 10, the Supreme Court of India called for a 'uniform national policy' to be developed by the Central Government, in consultation with States and Union Territories, to ensure menstrual hygiene in schools. The policy aims to provide sanitary pads, vending and disposal mechanisms, and exclusive washrooms for girl students in schools.
On this occasion, The CSR Journal takes a look at some of the latest Corporate Social Responsibility (CSR) initiatives which aim to spread awareness around menstrual health and hygiene in India thus empowering adolescent girls and women.

Ujaas' efforts to ceate awareness around menstrual hygiene
Aditya Birla Education Trust's social initiative, Ujaas, is working towards creating awareness about menstrual health and hygiene in India. Ujaas recently organized a wall painting activity in the presence of Advaitesha Birla, Founder Ujaas and school students, including girls and boys from Narsinh Vidyalaya, Tathwade, Pimpri-Chinchwad, Pune. The painting was done on the school wall which has over 1000 students across all standards. The activity aims to emphasize the importance of menstrual health and hygiene through the medium of art.
Ujaas has further pledged to undertake the wall painting initiative in 20 more schools across Maharashtra reaching out to approximately 15000 students. In India, menstruation is still considered a taboo subject. Ujaas is leveraging the power of art to initiate conversations and break down these social barriers by encouraging students to express themselves through art. Ujaas aims to facilitate more open and comfortable discussions around menstrual health and hygiene in India.
C3 distributes menstrual hygiene kit to young girls in Haryana
Centre for Catalyzing Change (C3) and Open Text (formerly called Microfocus) is working to disseminate menstrual hygiene information and resources to young girls in Pataudi District of Haryana. To help young girls navigate puberty, which is often a time of significant physical and emotional upheaval, C3 has been working in five schools of Pataudi district, Haryana. The initiative is supported by Open Text, and has been equipping over 1000 adolescent girls with life skills, digital and financial literacy, and information on menstrual health and hygiene, they recently announced.
Under this intervention, C3 distrubuted 'Navya Kits' to the girls, which are a collection of products and information that would help these young girls understand and manage their periods and dispel myths and taboos surrounding menstruation. The kits contain six reusable pads (that would last up to 2 years), a hot water bottle for menstrual pain management, a diary with interactive information on menstrual hygiene and taboos, and a detergent bottle that will help the girls wash and re-use their pads. To further supplement wider usage and safe disposal of sanitary napkins, C3 has also begun setting up incinerators in all of the five schools in which the initiative has been running.
Apexon and Karma Foundation's menstrual health initiative
Apexon, a digital-first technology services company recently announced partnership with Karma Foundation to launch a campaign to drive menstrual wellness and hygiene awareness across India.  The 'Happy Periods' initiative is being driven through Apexon's philanthropy platform, Ignite, and will see the two organizations join forces to manufacture and distribute sanitary products to economically challenged women across India.
At an event held in Makarba Police Headquarter, Ahmedabad recently, over 5000 sanitary pads were distributed to more than 100 Women Police. The Happy Periods sanitary pads distribution drive is an end-to-end initiative which includes the manufacturing of sanitary pads and distribution of free sanitary packets to women in disadvantaged areas, combined with menstrual health educational material and awareness sessions on the ground.
The initiative aims to benefit women and girls belonging to underserved communities. A total of over 62,500 packets, each containing eight sanitary pads, will be distributed by Karma and Ignite volunteers across several States in India including Gujarat, Maharashtra, Madhya Pradesh, Uttar Pradesh, West Bengal, Goa, Rajasthan, Odisha, Jharkhand, Bihar, Chhattisgarh, Andhra Pradesh, Karnataka, Tamil Nadu, Telangana, Kerala, Himachal Pradesh, Delhi, Punjab, Haryana, Pondicherry, and Chandigarh, they recently announced.
Ignite and Karma Foundation aim to provide dignity, vocational skills and financial opportunities to more than 60 inmates at Sabarmati Jail, Ahmedabad through various training activities. 'Sabarmati Saheli' sanitary pads are being manufactured by the female inmates of Sabarmati Mahila Jail, allowing the inmates to learn important skills for their future careers while positively contributing to society. The Sabarmati Saheli pads will also be given to schools, NGOs and all Apexers, who will further distribute it to the local community.
PNB Housing Finance's menstrual hygiene programme for rural women
PNB Housing Finance has undertaken a mission to create awareness and train rural women about the importance of menstrual hygiene. A program on menstrual hygiene management (MHM) was inaugurated on 19 January 2023 under which the Company, in association with the Desai Foundation, has set up a sanitary napkin production unit at Sitapur Road in Lucknow.
PNB Housing Finance's CSR arm, the Pehel Foundation, has taken this initiative to eliminate a key barrier to girls' education and women's participation in the workforce. The programme aims to increase awareness about menstrual hygiene among rural women and provide them with easy access to quality and affordable sanitary napkins. A three-pronged approach, i.e., creating awareness, establishing a local production unit, and building a robust distribution network of female sales representatives, will help foster a sustainable ecosystem and boost their financial empowerment.
While this programme aims to help provide livelihood opportunities to rural women, the company is confident that the direct distribution model will increase access to menstrual hygiene, which can prove to be a catalyst for change in the entire community. It also plans to extend a similar program in other locations in the coming future.
Vantage Circle's menstrual hygiene initiative in the slum areas of Assam
On the occasion of International Women's Day recently, Vantage Circle, a global employee engagement company announced its initiative to support women from slum areas by providing them with free sanitary napkins and assorted ration items.
On the occasion, employees of Vantage Circle forged harmony and unity amongst all by taking the initiative of addressing some of the core issues of menstrual hygiene faced by the women in the slum areas. This step was implemented in collaboration with an NGO 'Snehalaya Kendra.' The employees imparted how women living under such circumstances can manage their menstrual health with dignity by providing them with essential nourishment to fuel their growth and development.
Baazi Games promotes menstrual hygiene among adolescent girls in Delhi
On the occasion of Children's Day last year, Baazi Games announced association with the initiative 'Project the Power of Periods' to promote menstrual health and hygiene amongst adolescent girls in India. The campaign aims to touch the lives of 200 million women in India who are unaware about safe, sustainable, and menstrual health practices.
The campaign addresses two major concerns of 'lack of awareness' and 'lack of sanitary material' surrounding sustainable menstrual hygiene in India. The mission is to spread awareness about simple and sustainable practices to maintain menstrual hygiene.
 As a part of this initiative, reusable/eco-friendly sanitary pads, school bags and stationary items were donated to over 200 girls from the 6th grade of Sarvodaya Kanya Vidyalaya School in Saket (Delhi) to empower the girls on taking charge of their lives and menstrual health into their own hands. On the sidelines of the program, an educating and engaging session was organised to combat the myth and taboo around periods, how to tackle them along with imparting the girls with the knowledge of making the right decisions about menstrual health and hygiene.
The initiative aims to educate young girls on periods and sustainable menstrual practices that can easily be adopted to make this world a plastic free and environment friendly planet to live in.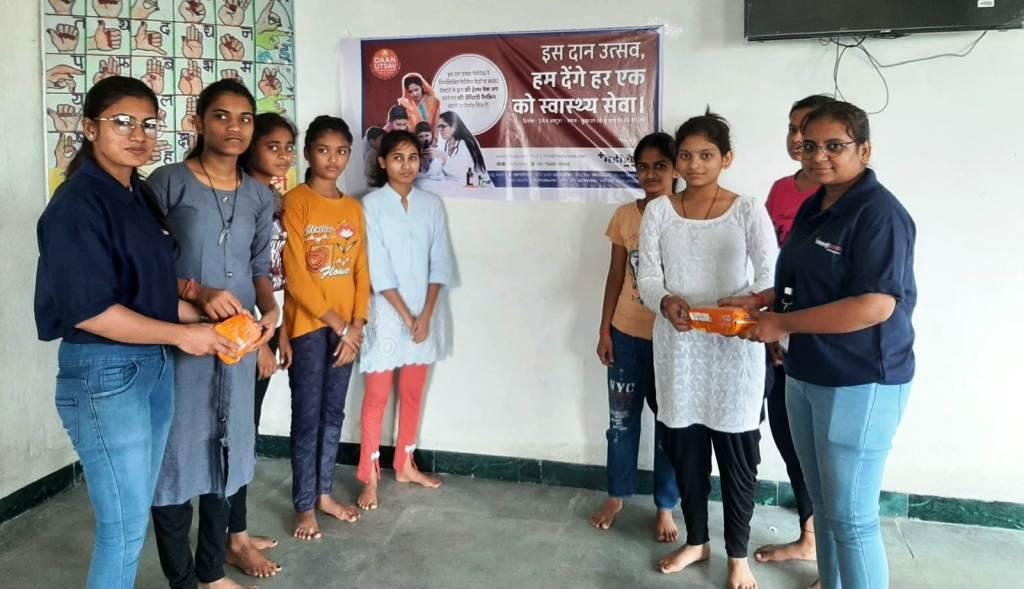 Medyseva's menstrual hygiene awareness initiative
Madhya Pradesh-based telemedicine healthcare startup Medyseva has started an initiative to spread awareness on menstrual hygiene in rural areas as part of their flagship campaign 'Har Ghar Swasth'.
As part of this campaign, periodic healthcare awareness sessions are conducted at schools, colleges and other places mostly in rural areas of Maharashtra, Uttar Pradesh, Bihar, Jharkhand, Chhattisgarh and Assam. Along with this, menstrual health and hygiene is also discussed. They also conduct webinars and sessions in public places to create awareness around menstrual hygiene while sanitary napkins are distributed among rural women for free.