India has close to 31 lakh Non-Governmental Organizations, commonly referred to as NGOs, who are working intensively towards some of the fundamental challenges in the society like health care, educational, environmental, human rights, women empowerment, public policy, social and community development, and other areas.
The goal of every NGO varies depending on the objective and mission of the organization. An NGO can cover any topic related to improving a region, country or the state of the world in some way. They are finding success in various fields by doing excellent work in meeting the changing needs of society. However, in spite of their achievements and success, NGOs are facing tough challenges.
Problems of NGOs
NGOs in India are facing major problems from weak leadership to organisational irrelevance, from inadequate funding to the inability to market themselves to their target audience. Some NGOs often face acute funding shortages and get trapped in a vicious cycle (presented below).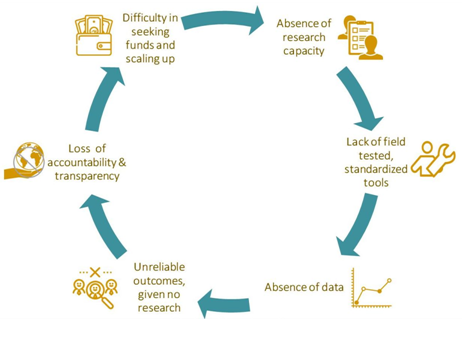 The personnel and volunteers working in NGOs must have a sense of dedication, commitment and interest in the social services. In most of the cases, lack of training is the reason that volunteers are inefficient. Also, the extent of volunteerism is declining day by day with its gradual professionalization.
The Solution
India needs committed, devoted and dedicated organizations that work for the betterment of the country. NGOs are the ones who fit into these sections who care for the uncared and the bottom of the social stratum. So, the government, the leaders, the donors, the politicians and the people should support these organizations and help them to solve their problems at the grassroot level.
NGOs should use the latest technologies like internet, apps, websites etc., for increasing their funds, to have mutual associations, and to advertise their work.
Technology shift
Technology is leaving everyone behind in every aspect of life. Some tech-savvy individuals have come with apps and web-based platforms to help NGOs solve the problems they are facing.
1. Track Your Metrics (TYM)
Track Your Metrics (TYM) is an innovative, all-in-one, web-based platform and application which will provide cost and time-effective methods for concurrent impact assessment.
TYM will consist of three components: survey formulation facilities on a web-based platform from the available master question bank, combined with an android App to facilitate offline data collection, even in the remotest of areas; and lastly, a data visualisation dashboard on the platform for simplistic representation of the data collected to showcase metrics, thereby enabling them to evaluate their progress and troubleshoot problem areas.
This platform will empower stakeholders to make data-driven decisions and will not only benefit NGOs that suffer from funding shortages but also independent researchers, think tanks and academic institutions. All of them can benefit from a library of valuation tools and questions. Funders and donors can now ensure that the organizations they are funding have credible evidence of their social impact.
2. AppsBazar
The app has information about several NGOs, along with its events and activities to engage with the people that support or volunteer in a subtle manner. It majorly notifies users to increase awareness and let people know the activities organized for some major causes.
In this app, users have an interactive interface for their search regarding NGO services. The user will also be able to volunteer via registration and enrol into several activities for a chosen NGO. Donation to the respective NGO can also be done via the app. User can provide recommendations and suggestions in the form of feedback for the betterment of the NGOs.
3. Youth Social Service: NGO
Youth Social Services (Y2S) is an independent youth volunteering Non-Governmental Organization. The main aim of this NGO is to provide hope, health and security to abused, abandoned and neglected children living in deprived areas of the city. Y2S has a mission to work for children in orphanages, slums by educating and guiding them towards their betterment, for the betterment of our society in turn.
The NGO has come up with an app called Youth Social Service: NGO. Through this platform they hope to get more and more passionate persons who thrive on helping others. The application has details like the NGO's work profile and regular event updates with photos.
Technology can help transform people's lives. By leveraging the capabilities of Information Tech, NGOs can meet technology needs to become more efficient, to scale up their operations, to realize the goals and to deliver them effectively, thereby affecting a positive transformation in society.
Thank you for reading the story until the very end. We appreciate the time you have given us. In addition, your thoughts and inputs will genuinely make a difference to us. Please do drop in a line and help us do better.

Regards,
The CSR Journal Team