Over the past four years, India Inc. has progressively adopted the national CSR directive having spent more than INR 30,000 Crores, with over INR 9,000 Crores invested in FY 2017-18 alone. This expenditure surpassed expectations and brought to fore the need for enhanced governance and accountability measures, strengthened with quantifiable social impact.
Given that CSR interventions entail participation of multiple stakeholders directly or indirectly, i.e. the investors, implementing agencies, beneficiaries and the communities, and are becoming increasingly complex with multiple tiers of implementation, a streamlined project management approach is required. Adopting innovative technological solutions, such as Blockchain, Internet of Things (IoT) and Artificial Intelligence (AI), could be the path forward for reimagining CSR in India. These disruptive technologies can offer a wide array of solutions to the hurdles faced during execution of the CSR projects.
Revolutionary technologies such as Blockchain would allow multiple stakeholders involved in CSR projects to access reliable information at their own convenience. Blockchain based smart contracts would enable transparent communication aided by digital contracts. The traceability of records through project lifecycle provides support in disclosures, and would facilitate access to philanthropists, investors and regulatory bodies.
Recognising the potential of IoT, the manufacturing sector has been actively integrating it with operations which is resulting in better optimisation and efficiency. Similarly, corporates can leverage the use of IoT for social development. For example, IoT could prove valuable in agriculture, if used acutely. Weather conditions can be mapped to water requirement and crop pattern of a particular agricultural field and aligned with automated pump for required water dispensation. This could benefit farmers in enhancing their efficiency and increasing the harvest. Given the nascent stage of said technology, CSR spend could be utilised for pilot launch, showcasing advantages associated with it and mitigating risks of the farmers. With the count of IoT enabled objects to reach 30 billion by 2020, IoT would bring sea-changes in CSR activities.
Stakeholder management and impact analysis is often quite a challenge for organisations executing CSR projects. Most often, data may not be readily available and even in cases where it is available, there is a severe lack of standardised information, making it extremely ineffective for analysis and impact measurement. Big Data could be a breakthrough in CSR project management with instant analysis and actionable insights. For example, CSRHub, by aggregating and normalising the information from 530 data sources, has created a broad, consistent rating system and a robust database that links millions of rating elements back to their source. Data management solutions enabled by blockchain coupled with Big Data can be instrumental in reducing human errors and contribute to successful management of CSR projects.
Alignment of technology with CSR operations is inevitable, as stakeholders are expecting disclosures beyond expenditure, and more attuned to social impact. Beneficiary identification and measurement of social outcome requires careful consideration to avoid duplication of impact numbers. Biometrics and data systems may be employed to effectively collate, screen and verify impact of the projects. Aadhar based authentication is an example of a robust use case where beneficiaries can be identified and traced through biometrics. Analytical tools like Social return on investment (SROI) would allow the quantification of social impact in a more extensive and logical manner.
In this era of increasing internet penetration and growing social network, digital media provides a perfect platform for CSR activities to reach a global audience. With advancements in technology, the future holds exciting opportunities and technological innovations have the potential to transform the way CSR is executed. Incorporating technology into CSR would not only improve the confidence of stakeholders, but would also streamline CSR efforts towards identifying and creating long term shared value.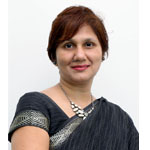 Namita Vikas is Group President & Global Head, Climate Strategy & Responsible Banking at YES BANK. As the Chief Sustainability Officer of the Bank, she spearheads Sustainable Development and CSR, thus driving sustainability principles within its core operations and its value chain towards creating stakeholder value. Namita has an Advanced Management Degree in CSR and Leadership from the Swenska Institute, Sweden.
Views of the author are personal and do not necessarily represent the website's views.
Thank you for reading the story until the very end. We appreciate the time you have given us. In addition, your thoughts and inputs will genuinely make a difference to us. Please do drop in a line and help us do better.

Regards,
The CSR Journal Team