While the World Environment Day is celebrated in the month of June globally every year, honourable Chief Minister of Maharashtra Eknath Shinde and the Brihanmumbai Municipal Corporation are taking steps towards making Mumbai cleaner and more sustainable in this month.
Within a week of World Environment Day (5th June), a host of new initiatives have recently been launched towards this direction. These include a proposed biogas plant, a rooftop solar power project and a WhatsApp Helpline where city residents can complain about uncollected garbage in their area.
Chief Minister Swachh Mumbai WhatsApp Helpline
The Chief Minister Swachh Mumbai WhatsApp Helpline or Chief Minister Clean Mumbai WhatsApp Helpline was launched by Minister Eknath Shinde on 7th June. Residents of Mumbai will have to contact the WhatsApp helpline number 81696 81697 to register garbage and debris related complaints. This waste and debris complaint management system has been created by the Mumbai Civic Body BMC. The BMC has partnered with Meta for this initiative.
Talking about how this is expected to work, the official Twitter handle of CMO Maharashtra shared, "Garbage and debris should be removed immediately after Mumbaikars complained on 'Mukhyamantri Swachh Mumbai WhatsApp Helpline'. For this, Mumbai Municipal Corporation should keep the system alert. The chief minister @mieknathshinde directed that the roads in Mumbai should be made clean and garbage free by using this system effectively. Meanwhile, the Chief Minister also said that he will make a comprehensive policy to promote redevelopment projects in Mumbai."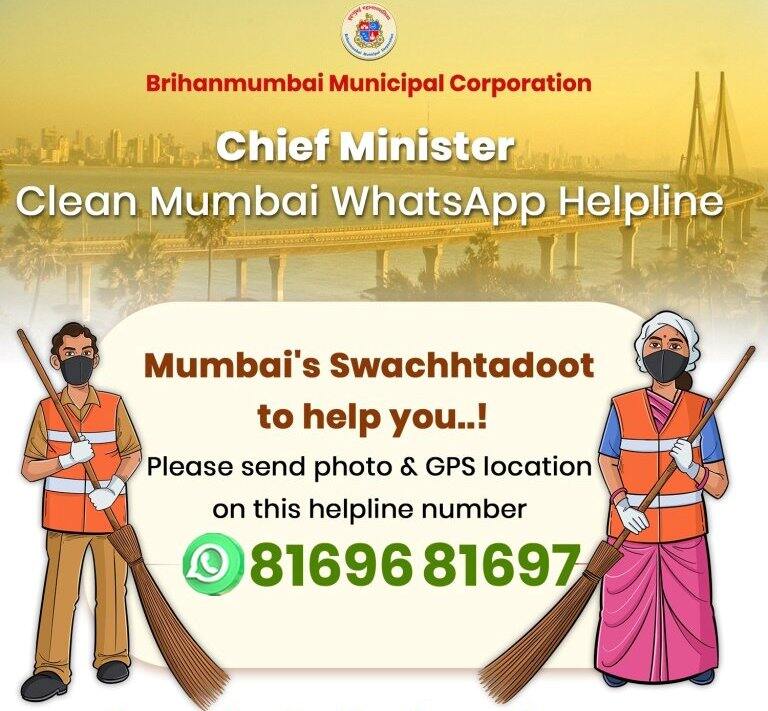 How to complain on this helpline
Unlike the earlier helpline number, where city residents had to make a phone call to lodge a complaint, the new one is relatively easier as a WhatsApp text is all they will need to send to complain about uncollected garbage in their area. Residents complaining about garbage lying openly in any area within the city will have to send a photo of the same along with the GPS location of the area, to help civic body workers reach the spot quickly.
Instructing citizens regarding how to lodge any garbage related complaint at the helpline, BMC tweeted on Sunday, "Please send photo and GPS location to WhatsApp helpline number 81696 81697 to lodge a complaint regarding garbage."
BMC and Mahanagar Gas to set up Compressed Biogas Plant
In a step towards using renewable energy, the Brihanmumbai Municipal Corporation (BMC) and Mahanagar Gas Limited (MGL) have signed a memorandum of understanding to set up a Compressed Biogas Plant. The proposed plant will process organic waste and produce 1,000 tons of biogas daily.
For this purpose, food and vegetable waste will be collected from various restaurants, hotels, banquet halls and fruits/vegetables markets within the city, which will be managed by the civic body. The compressed biogas produced by the plant will be reportedly consumed within the city.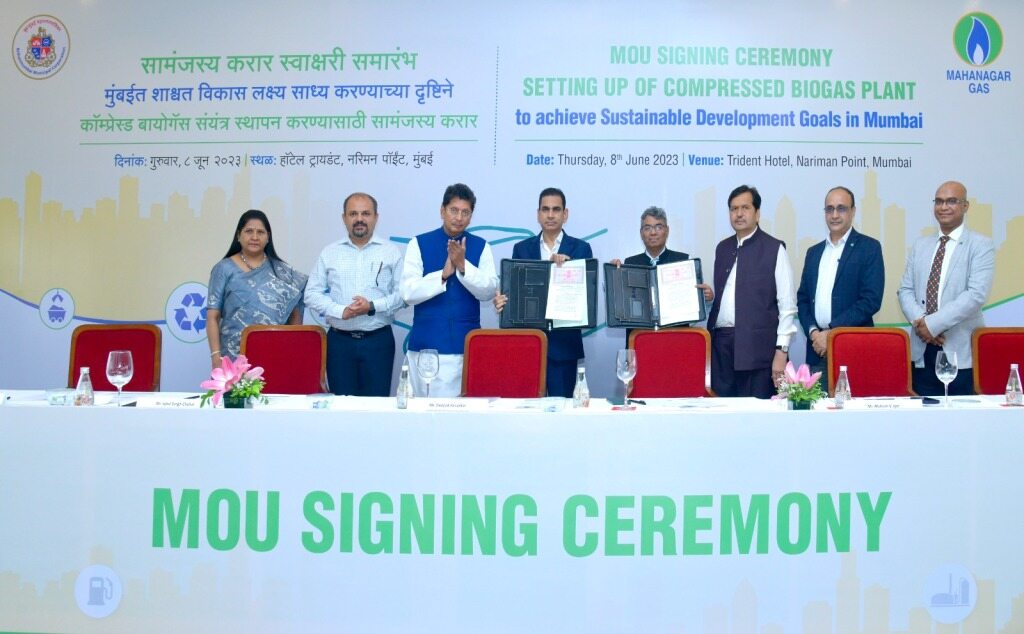 The MoU was signed by Ms. Chanda R Jadhav, Deputy Municipal Commissioner (Solid Waste Management) of Brihanmumbai Municipal Corporation and Mr. Manas Das, Vice President (Business Development & Commercial), Mahanagar Gas Limited on 8th June.
Minister of School Education and Mumbai City District Guardian Minister Deepak Kesarkar, Minister of Tourism, Women and Child Welfare, and Mumbai Suburban District Guardian Minister Mangal Prabhat Lodha, BMC Commissioner and Administrator Iqbal Singh Chahal, Additional Municipal Commissioner (City) Shravan Hardikar, Chairman of Mahanagar Gas Limited Shri Mahesh Iyer and Manager Aashu Singhal, other dignitaries were present at the occasion.
Latest solar power projects in Mumbai
As a step towards environmental conservation, a 50 KW Solar Power Project has been commissioned on the rooftop of P South Ward Office. The project will produce 5,000 units electricity every month and help to save Rs.42,500 a month, as per announcement by the BMC.
?एम पश्चिम विभाग कार्यालयाच्या छतावर ५० किलोवॅट क्षमतेचा सौर ऊर्जा प्रकल्प कार्यान्वित

?दरमहा ५ हजार युनिट वीज निर्मिती होणार

?दरमहा ४२ हजार ५०० रुपयांच्या बचतीसह पर्यावरण संवर्धनासही मदत होणार
—
?50 KW Solar Power Project commissioned on the rooftop of P South Ward… pic.twitter.com/mzQLciLg2F

— माझी Mumbai, आपली BMC (@mybmc) June 11, 2023

Another 230 KW Solar Power project has been commissioned on the rooftop of Bandra Pumping Station. The initiative will help in producing 30,000 units of electricity every month and is expected to save Rs. 2,40,000 a month, as per an announcement by the BMC.
These initiatives come just a month after the Mumbai civic body set up a solar power generation plant on the roof of Asia's largest sewage pumping station at Mahim causeway in May this year.