Home
Header News
Rajasthan gets 33 Khelo India Centres for development of Sports
Rajasthan gets 33 Khelo India Centres for development of Sports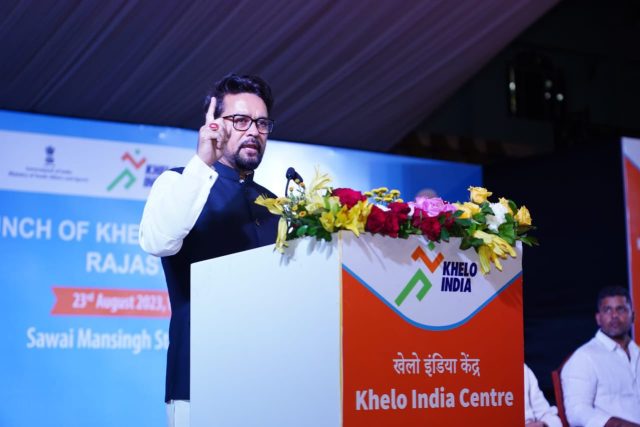 Union Minister of Youth Affairs and Sports Anurag Singh Thakur inaugurated 33 Khelo India Centres in the State of Rajasthan at the Sawai Mansingh Stadium in Jaipur on Wednesday. The minister announced that a National Centre of Excellence with a dedicated Sports Science Centre will be set up in Rajasthan along with additional 18 Khelo India centres.
It was also announced that competitions will be organised between the Khelo India Centres while Coaching the Coaches programme will also be extended to the these centres. Coaches from these centres will be trained in guidance of national & international coaches.
The Minister says
Addressing the event, the Sports Minister mentioned, "We want all States to grow in terms of sports. When State Governments work in tandem with Central Govt with a unanimous vision for sports, more medals will come for India."
"Success of the Khelo India scheme as well as the Target Olympic Podium scheme has resulted in the highest number of medals internationally over the last few years, be it in Olympics or Paralympics or Commonwealth Games or a historic event like a Thomas Cup win. Antim Panghal too created history by becoming U20 wrestling world champion twice. In chess too, Praggnanandhaa reached the final of the FIDE World Cup. This is an unbelievable phase for Indian sports. In 60 years, there were only 18 medals at the World University Games. This year itself, we won 26 medals in the tournament," Thakur further said.
Emphasising on the importance of Khelo India, the Minister added, "The Khelo India games have a big role to play in all of this success. Every year, so many athletes participate in the Youth, University and Winter Games, and the exposure is taking them to big competitions. Through these Khelo India Centres, I am hopeful that more and more athletes from Rajasthan will be moulded from here. The present, past and future athletes are also getting equipped through these."
Ashok Chandna, Minister of Youth Affairs and Sports, Government of Rajasthan, as well as other eminent dignitaries from the state, Ministry of Youth Affairs and Sports and Sports Authority of India (SAI) were present at the launch.
Khelo India programme
Government of India's Khelo India programme has been introduced to revive the sports culture in India at the grass-root level by building a strong framework for all sports played in our country and establish India as a great sporting nation.
The Khelo India programme comprises of the following verticals—
1.State Level Khelo India Centres
2.Annual Sports Competition
3.Talent Search and Development
4.Utilisation and Creation/Upgradation of Sports
5.Support to National/Regional/State Sports Academics
6.Physical Fitness of School Children
7.Sports for Women
8.Promotion of Sports amongst People with Disabilities
9.Sports for Peace and Development
10.Promotion of Rural and Indigenous/Tribal Games
Athletes
As per official data, currently, over 17,000 athletes are getting trained in Khelo India Centres and 699 past champion athletes have been hired across the country. The total number of Khelo India Centres currently notified across India is 960, out of which 715 are operational. The total number of Khelo India Centres notified in Rajasthan is 33, out of which 32 are operational. These are specific training centres looking after sports disciplines like cycling, basketball, wushu, hockey and more. Under the Khelo India Scheme, initial and annual financial support is also provided to the past champions as well as these centres for running the sports training, coaching and operations.