Home
Header News
India: First to Successfully Land Spacecraft on Lunar South Pole with Chandrayaan-3...
India: First to Successfully Land Spacecraft on Lunar South Pole with Chandrayaan-3 Mission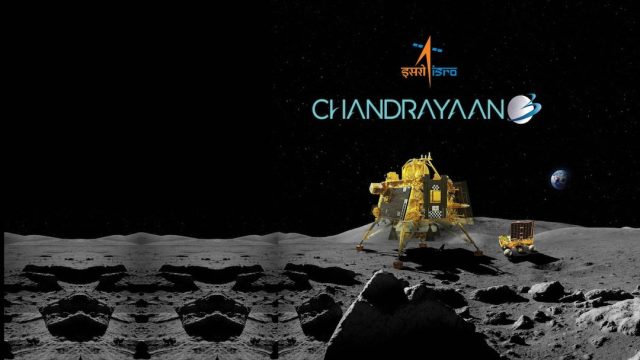 In a historic feat of space exploration, India achieved a significant milestone on August 23, 2023, by becoming the fourth nation in the world to successfully land a spacecraft on the Moon. In a remarkable twist, India also secured its position as the first country to softly land a spacecraft on the lunar south pole. The successful mission, named Chandrayaan-3, marks a momentous advancement in India's space endeavours.
The Chandrayaan-3 Mission's success comes after a span of four years following the setback faced by the Chandrayaan-2 mission in 2019. This achievement aligns India with an elite group of space pioneers including the United States, the former Soviet Union, and China – the only other nations to have achieved the feat of lunar spacecraft landings.
The mission's spacecraft had embarked on its journey on July 14, and the culmination of its voyage arrived on August 23 with the commencement of the descent at 5:45 pm. The Indian Space Research Organisation (ISRO) made this event accessible to the public by initiating a live telecast at 5:20 PM, engaging millions with the unfolding historic event.
Economic Implications
The successful landing of Chandrayaan-3 highlights a significant turning point in India's journey toward becoming a strong and influential player in the realm of space exploration. This accomplishment is like a bright spotlight on India's growing prowess in space activities, backed by a history of achievements that speak volumes about the nation's capabilities.
By achieving this remarkable feat, India is taking a giant step towards being recognized as a major contender in space exploration. This isn't just a one-time success; it's a part of a series of accomplishments that showcase India's determination and dedication to advancing in the field of space science and technology.
Beyond the scientific and technological realm, the success of Chandrayaan-3 also holds exciting prospects for India's economy. Experts predict that this achievement could lead to a remarkable boost in India's space economy, potentially pushing its value to a staggering $12.8 billion by the year 2025. This isn't just a number – it's a sign of how space exploration can be a driving force for economic growth.
Imagine all the people involved in making this mission successful: the scientists, the engineers, the technicians, and many more. They are creating opportunities for themselves and others as they pave the way for future space endeavours. With every success, the world takes note of India's capabilities, attracting more collaborations, investments, and partnerships. This, in turn, stimulates the growth of industries related to space technology and research, which means more jobs, more innovation, and a stronger economy overall.
Furthermore, the success of Chandrayaan-3 demonstrates that India isn't just sending machines to space; it's sending a message that it's a nation to be reckoned with. This accomplishment boosts India's standing on the global stage, making it a valuable partner for international space missions and collaborations. As India continues to build a reputation for achieving ambitious space goals, it inspires confidence in its abilities and encourages other countries to collaborate, share knowledge, and work together to explore the mysteries of the universe.
In essence, Chandrayaan-3's triumphant landing isn't just about reaching the Moon – it's about reaching new heights for India as a space power and an economic force. This success isn't confined to the boundaries of science and technology; it has the potential to touch lives, create opportunities, and drive progress on multiple fronts. It's a testament to the incredible things that can happen when a nation's determination aligns with the boundless possibilities of space exploration.
A Rare Accomplishment
The Chandrayaan-3's successful landing on the Moon is a big deal, especially when you consider that not many missions like this have succeeded. Out of 47 attempts by different countries to gently land on the Moon, only 21 have worked, including Chandrayaan-3. This staggering statistic underscores the immense challenges and complexities associated with lunar missions, transforming Chandrayaan-3's triumph into a truly exceptional feat.
Lunar exploration is a challenging endeavour that demands the collaboration of a multitude of factors, including precise navigation, complex propulsion systems, intricate communication protocols, and a deep understanding of the lunar environment. The Moon's surface, though serene in appearance, is fraught with obstacles such as craters, uneven terrain, and temperature extremes. Navigating a spacecraft to perform a gentle landing on such a dynamic and rugged landscape requires an unparalleled level of precision.
The low success rate in lunar landings highlights the formidable obstacles that space agencies must overcome to achieve success. Technical malfunctions, communication glitches, navigation errors, and unforeseen challenges can derail even the most meticulously planned missions. The fact that Chandrayaan-3 not only met but conquered these challenges attests to the expertise, dedication, and meticulous planning of the Indian Space Research Organisation (ISRO) and its team of scientists and engineers.
In this light, India's accomplishment with Chandrayaan-3 reverberates far beyond national borders. It underscores India's growing influence in the global space exploration community and solidifies its reputation as a player capable of achieving extraordinary scientific and technological milestones. As countries around the world strive to unlock the mysteries of the cosmos, the successful landing of Chandrayaan-3 serves as an embodiment of the human spirit's unyielding pursuit of knowledge and exploration.
Furthermore, the success of Chandrayaan-3 holds the potential to inspire future missions by demonstrating that the challenges posed by lunar exploration are surmountable with the right blend of innovation, perseverance, and expertise. As nations and space agencies endeavour to expand our understanding of the universe, Chandrayaan-3's victory offers a beacon of hope and determination, encouraging the pursuit of even more ambitious space exploration missions.
Congratulatory Messages from Leaders of India
Prime Minister Narendra Modi, addressing Isro scientists virtually from Johannesburg, said India made a resolve 'on the Earth and fulfilled it on the Moon'. "India's successful Moon mission is not India's alone … Our approach of one earth, one family one future is resonating across the globe … Moon mission is based on the same human-centric approach. So, this success belongs to all of humanity," he said.
Political leaders from across party lines took to X (formerly Twitter) to congratulate Isro and hail the successful landing on Moon's South Pole.
The Congress termed the success of Chandrayaan-3 the collective success of every Indian. Party president
Mallikarjun Kharge said an elated nation with 140 crore aspirations today witnessed yet another achievement in its six-decade-long space programme and the entire world is looking up to Isro which is a matter of special pride for all Indians.
"We are deeply indebted to the remarkable hard work, unparalleled ingenuity and unflinching dedication of our scientists, space engineers, researchers and everyone involved in making this mission a triumph for India," Kharge said.
Union Home Minister Amit Shah hailed the successful landing of Chandrayaan-3 on the lunar surface and said with this, India became the first nation to touch the south pole of the moon.
"This landmark achievement is not only a testament to the power of Indian genius but it also launches India's voyage through the Amrit Kaal to emerge as a global leader in the realm of space, as envisioned by Prime Minister Narendra Modi Ji," Shah wrote on 'X'.
"Sky is not the limit," said Union minister Jitendra Singh adding that the country is converting into reality what the world dreams of.
"While the world fantasises about the moon, we have actually felt the moon … the world dreams of the moon, and we have seen the dream getting converted into reality … sky is not the limit," Singh said.
Former Congress chief Rahul Gandhi congratulated the ISRO team for today's "pioneering feat". "Chandrayaan3's soft landing on the uncharted lunar South Pole is the result of decades of tremendous ingenuity and hard work by our scientific community," he said.
Joining the country in congratulating the scientists of Isro, West Bengal CM Mamata Banerjee said, "Our scientists have testified the country's scientific and technological progress. India is now in the super league of space. Sincere congratulations to all the proud architects and stakeholders of the expedition".
"India will lead the world on the path of both material as well as spiritual progress," RSS chief Mohan Bhagwat said congratulating the scientists and government after the successful landing of Chandrayaan-3 on Moon.
NCP president Sharad Pawar said Chandrayaan-3 was India's most important attempt in space exploration.
"Chandrayaan-3's success has given confidence to the scientific community. It will will make the whole world proud along with our country. Best wishes to all the scientists and fellow Indians. May such innovative experiments of Isro continue to fly into space!," Pawar wrote on X, formerly Twitter.
Samajwadi Party leader Akhilesh Yadav too took to X and wrote, 'Chand Mubarak.
Rajasthan Chief Minister Ashok Gehlot hailed ISRO for its success and posted pictures of himself watching the Moon landing with children and teachers of Jaipur schools. "Hail ISRO research. Hail Science, Hail India!," he said in a post on X.
President Droupadi Murmu said that the landing of Chandrayaan-3 on the lunar surface was "truly a momentous occasion" which happens once in a lifetime and it has made the whole country proud.
Messages from Leaders Abroad
US Vice President Kamala Harris congratulated India on the success of Chandrayaan-3 in a tweet on Wednesday. She wrote, "Congratulations to India for the historic landing of Chandrayaan-3 on the southern polar region of the moon. It's an incredible feat for all the scientists and engineers involved. We are proud to partner with you on this mission and space exploration more broadly,"
President Putin has congratulated India's President Draupadi Murmu and Prime Minister Narendra Modi on the successful landing of the Indian space probe Chandrayaan-3 on the Moon near its South Pole, the Kremlin's press service said.
"Please accept my heartfelt congratulations on the successful landing of India's Chandrayaan-3 space probe on the Moon near the South Pole. This is a long stride in the exploration of outer space and, of course, evidence of the impressive progress made by India in science and engineering," Putin said in his message.
South African President Cyril Ramaphosa, while addressing the open plenary session of the 15th BRICS Summit, said Chandrayaan-3's success is a success for the BRICS Family. "I would like to congratulate India, particularly as you speak about the need for cooperation in Space, in a few hours India's spacecraft Chandrayaan-3 will be landing on the moon," Ramaphosa said.
"We congratulate you. This for us, as the BRICS family, is a momentous occasion and we rejoice with you. We join you in the joy of this great achievement," the South African President further added, referring to the BRICS Space Consortium proposal put forward by Prime Minister Modi.
Sheikh Mohammed bin Rashid Al Maktoum, Vice President and Prime Minister of the UAE and Ruler of Dubai, congratulated India on becoming the first country to land a spacecraft on the lunar south pole, which has difficult terrain.
"Congratulations to our friends in India for the successful landing on the moon. Nations are built through perseverance, India continues to make history," he said in a message posted on his account on X, formerly known as Twitter.
Nepalese Prime Minister Pushpa Kamal Dahal 'Prachanda' also congratulated his Indian counterpart on the success of Chandrayan-3.
"I congratulate Prime Minister Shri Narendra Modi ji and ISRO team of India on successful landing of Chandrayan-3 on the surface of the moon today and the unleashing of a historic achievement in science and space technology," he said in a post on X.
European Commission President Ursula von der Leyen congratulated Prime Minister Modi on the successful landing of Chandrayaan-3. "Congratulations to PM Narendra Modi for the successful landing of Chandrayaan-3. A historic milestone and proud moment for the Indian people. India has become a true pioneer in space exploration. This Indian success will benefit researchers all over the world," she said in a post on X.
British Foreign Secretary James Cleverly described it as a "historic moment." "Congratulations to India for the first-ever landing on the moon's South Pole. An extraordinary achievement by the Indian people," he said.
Maldives Foreign Minister Abdulla Shahid congratulated India for creating history.
"India creates history! As a South Asian nation, and neighbour, we are proud of the successful landing of #Chandrayaan3 near the moon's south pole. This is a success for all of humanity! Opening new avenues for new areas of exploration. Congratulations #India," he posted on X.
Iran's Foreign Minister H Amirabdollahian Congratulated India "on the flawless Chandrayaan3 mission", saying this achievement resonates around the world.
"Congratulations to India's great achievement on launching and landing safely and successfully its spacecraft on the moon. The moon never looked so beautiful as it is now," Israeli Foreign Minister Eli Cohen said in a post on X.
Mauritius Foreign Minister Alan Ganoo congratulated the leadership of India and ISRO on the "momentous achievement" of the Chandrayaan-3 breakthrough lunar mission.
"This is not only a moment of national pride for our Indian friends but also an important milestone in the advancement of space science and technology, which ultimately contributes to making our lives better," Nepal's Foreign Minister N P Saud said in his congratulatory message.