Organ Donation Day 2020: Gift that keeps on giving
Organ Donation Day 2020 is close. We will celebrate it on August 13th in gratitude of donors and by recipients like would-be engineer Shreya Siddanagowder. Back in 2016, she was a fiercely independent 18-year-old student, when her life changed course forever. She was travelling by a Volvo bus from Pune one early morning. The bus driver couldn't navigate a wrong turn and ended up overturning the whole vehicle. The bus dragged for 100 meters in that position, jamming Shreya's forearms in the process. She came out alive from the near-fatal accident but lost both her arms.
Prosthetics didn't work. Bilateral amputees face many unique challenges. "Seeing the stumps where my hands were, every morning was agonising. I couldn't do the most basic tasks… eating, wiping my nose. I couldn't even sit up by myself," she says. Shreya would have been condemned to a half-life if it wasn't for a rare bilateral transplant almost a year later (it takes 8 months of healing before the operation can be attempted).
Hand transplant
This was possible only because of a young boy named Sachin, whose parents agreed to donate his organs after his demise. Not only did his arms make Shreya's life (and body) whole again, Sachin continues to live on through six people who've received the precious gift of his organs: two kidneys, liver and two corneas (apart from his arms that were transplanted on Shreya).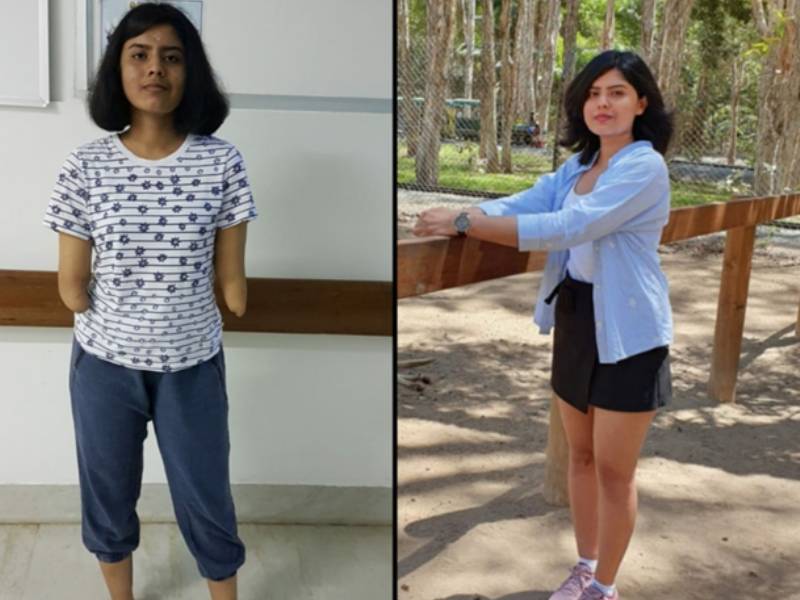 The hand transplant was successful under the leadership of Dr. Subramania Iyer, Professor and HoD of Head and Neck Surgery, Amrita Institute of Medical Sciences in Kochi. Shreya became the first person in Asia to receive an above-elbow hand transplant for both arms and the first girl in the world to receive male hands. After countless hours of physical therapy and immunosuppressants, Shreya was able 'handle' herself quite well. She's able to carry out 85% of all the tasks she did before her accident.
Organ Donation Day 2020
Shreya is among the millions of people whose lives have been restored to normal because they found a donor. Organ Donation Day 2020 is all the more relevant since we are witnessing the fragility of the human body during the pandemic. Age and religion are no barriers to be an organ donor. In fact, only if you are under 18 years old do you need permission from parents or a guardian to sign up for organ donation.
There are many fears about this beautiful act of charity in people's minds. The aim of Organ Donation Day 2020 is to clear misconceptions so that more people pledge to donate their precious organs after their death for the needy.
Did you know that 500,000 people die every year because of non-availability of organs? This number will reduce only if more people come forward to make a pledge. The

Ministry of Health & Family Welfare

has urged to come forth for the noble cause of saving lives like Shreya's.
She is proud to have written her engineering semester exams all by herself this year, something she hadn't pictured after the amputation. "My current handwriting matches my previous handwriting. It makes me think that our body is capable of anything, it's our mind we have to convince," she says. For able-bodied people out there, it's your mind you have to convince to make a pledge for organ donation.