Olympic medalist Lovlina Borgohain joins young climate champs in call for clean air
Given the ongoing pandemic and increasing impact of climate change, the COP26 UN Climate Change Conference was critical as world leaders deliberated on climate action to forge consensus on climate change mitigation strategies. At the conference, India promised to achieve carbon neutrality by 2070. While the promise is to work towards the long-term goal, India needs to address the immediate crisis of air pollution. Major cities across the country are grappling with poor air quality.
Children and young climate champions have joined conversations at COP26 by creating a video highlighting the ground realities of air pollution across India. The video showcases the impact of air pollution on health and wellbeing.
The young climate champions have received support from Boxer and Olympic medalist Lovlina Borgohain. Lovlina Borgohain became the third Indian boxer, after Vijender Singh in Beijing 2008 and Mary Kom in London 2012, to win an Olympic medal, when she bagged a bronze medal in the women's Welterweight category at the Tokyo Olympics earlier this year.
In the Let Me Breathe video, she is seen asking everyone to raise their voice against air pollution as Hawa ke Rakshaks and to keep the commitment to 1.5°C climate goal alive.
This #ChildrensDay????, Olympic bronze medallist @LovlinaBorgohai wants to know if you'll be #HawaKeRakshak ??

? POLLUTION CHECK❗ What's the #AQI in your city right now? Share a story and join the virtual tour too ? pic.twitter.com/skdwXnycOC

— #LetMeBreathe ™ ? (@LetMeBreathe_In) November 14, 2021
The video features children from various parts of the country explaining the impact of air pollution on health. The children say the problem has roots in increasing road traffic, garbage burning, and quarrying. The children advocate a ban on burning garbage, a reduction in cars on roads, planting more trees and making companies accountable so they limit emissions.
While the world leaders decide the future course of action at the #COP26, our #HawaKeRakshak are making an important appeal for cleaner air #RaceToZero#LMBatCOP@arifismail0@guddig271 pic.twitter.com/2MKgDEZA0N

— #LetMeBreathe ™ ? (@LetMeBreathe_In) November 10, 2021
Looking to explore sustainable solutions, youth champions and climate advocates across Odisha, Maharashtra, Kolkata and Uttar Pradesh have been sharing their stories and ground reports across social media and platforms like LetMeBreathe – India's largest community platform on climate change, pollution and sustainability stories – in an appeal to the public to be #HawaKeRakshak.
Trained by People Powered Digital Narratives (PPDN), these children have been learning about climate change, the role of storytelling and cinema, and how it can help create more awareness about this urgent issue. Through their stories, they continue to engage actors, environment activists, doctors, medical students and others across sectors.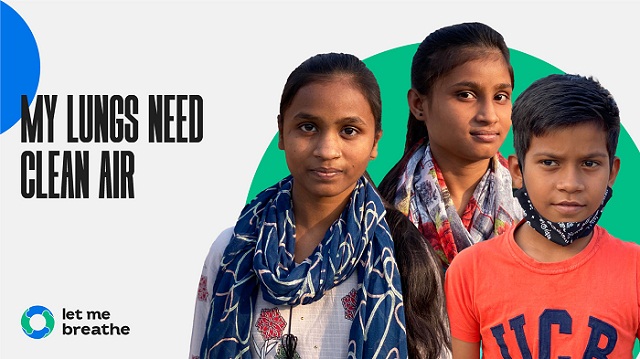 The Hawa Ke Rakshak initiative has received support from Neelam Makhijani, Country Director, ChildFund India, Dr Manoj Goel, Director, Pulmonology, Fortis Healthcare and Saurabh, Fotokatha, Wildlife Photographer among others.
As the world stares at rapid climate change, we must take steps to address air pollution. Curtailing air pollution can save 13 lives every minute in India, according to data from The World Health Organization. PPDN has been supporting young climate champions to highlight air pollution and support the call for clean air. PPDN is a collaborative effort to help adolescents learn about issues including Girl Capital (Education and Employability), air Quality, adolescent reproductive and sexual health and rights and express their opinion using innovative storytelling and social media.
PPDN is creating online spaces that will help adolescents develop into active citizens. The aim is to equip them to talk about and influence the issues that affect them, making a positive difference in and beyond their communities. It is currently active in the peri urban and rural areas of Uttar Pradesh, Rajasthan, Maharashtra, and Jharkhand. Her Akshar, Hawa Ke Rakshak and Ankaheen Baatein are online communities under this initiative, which is supported by Praxis UK and its partners.