Odisha gets 63 new PM SHRI schools and an Eklavya Model school for tribal students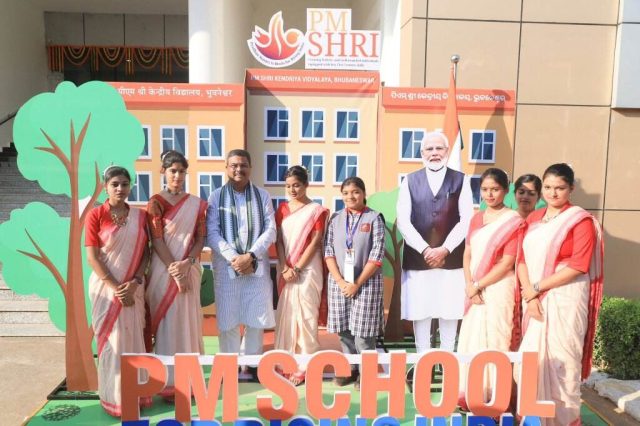 Union Minister for Education and Skill Development & Entrepreneurship, Dharmendra Pradhan launched 37 PM SHRI Kendriya Vidyalayas and 26 PM SHRI Jawahar Navodaya Vidyalayas in Odisha in the presence of dignitaries, officials, academicians and students.
At the inauguration, the minister said these schools will work in full spirit of the National Education Policy 2020 and provide quality education to the students with comprehensive and inclusive education. He also informed that about 800 government schools in Odisha will be developed into PM Shri Schools and more than Rs. 1600 crore will come.
He also requested the Chief Minister of Odisha Shri Naveen Patnaik to sign an MoU to implement the PM Shri Yojana in Government Schools of Odisha through which, two writing schools in every block and urban area of Odisha will be developed into PM Shri Schools.
What is PM SHRI School
On 7th September, 2022, the Cabinet approved a new Centrally Sponsored Scheme named Pradhan Mantri Schools for Rising India (PM SHRI). These schools will showcase the implementation of the National Education Policy 2020 and emerge as exemplar schools over a period of time, and also offer leadership to other schools in the neighbourhood. They will provide leadership in their respective regions in providing high-quality education in an equitable, inclusive and joyful school environment that takes care of the diverse background, multilingual needs, and different academic abilities of children and makes them active participants in their own learning process as per the vision of NEP 2020.
Under the scheme, there is provision of setting up of more than 14500 PM SHRI Schools by strengthening the existing schools from amongst schools managed by Central government/State/UT Government/local bodies. Maximum two schools (one Elementary & one Secondary/Senior Secondary) would be selected per block/ULB with upper limit of number of total schools across India.
The duration of scheme is proposed to be from 2022-23 to 2026-27; after which it shall be the responsibility of the States/UTs to continue to maintain the benchmarks achieved by these schools. The total cost of the project will be Rs 27360 crore spread over a period of 5 years which includes central share of Rs 18128 crore.
President of India to inaugurate Eklavya Model Residential School
Honourable President of India Droupadi Murmu is set to inaugurate the new Eklavya Model Residential school campus of Kuliana during her visit to Mayurbhanj on 20th November, 2023, Monday. These schools are aimed at the overall development of tribal students.
The President will inaugurate the school at Kuliana, Mayurbhanj, for which a budget of Rs. 38 cr has been sanctioned by the Ministry of Tribal Affairs, which is being constructed by Hindustan Steel Construction Ltd (HSCL), a public sector enterprise under Ministry of Housing and Urban Affairs.
Features
The Kuliana EMRS campus is constructed in about 12 Acres of land. It will be having 16 class rooms for 480 students comprising of 240 girls and 240 boys. There are separate boys and girls' hostels, Mess, residential accommodation for Principal, teaching and non-teaching staff, administrative block, play ground, computer and science laboratories.
EMRS in Mayurbhanj district
Out of 87 new EMRS sanctioned in Odisha, Mayurbhanj district alone has got 19 schools one in every block, which is the largest for any district in India. In the last two years, in coordination with the state Government, the construction work at 48 places in Odisha is in progress of which 19 schools are in Mayurbhanj.
What is Eklavya Residential Model School
Eklavya Residential Model School is a flagship scheme of Government of India for imparting quality education to the tribal students. In 2019, 452 new Eklavya Residential Model Schools were sanctioned by the central government, one in every tribal block with 50% or more ST population and 20,000.
The scheme was launched on 12th September 2019 from Ranchi Jharkhand by Prime Minister Narendra Modi. With 288 schools sanctioned before 2019 under the old scheme, Ministry of Tribal Affairs would be setting up total 740 schools by March 2026, including construction of 452 schools approved in 2019.
The Ministry of Tribal Affairs is implementing this scheme through National Education Society for Tribal Students (NESTS) on the lines of Navodaya Vidyalayas. The NESTS is also recruiting more than 38,000 teaching and non-teaching staff for these schools.
The state governments are required to provide encumbrance free land of about 15acres for construction of these schools. In Odisha, total 114 schools are to be constructed, of which 106 have been sanctioned.